The best new classical albums: Editor's Choice, January 2021
Monday, January 4, 2021
The Editor's pick of the finest recordings from this month's reviews, including Frank Peter Zimmermann, Patricia Kopatchinskaja, Francesco Corti, Behzod Abduraimov, The Orlando Consort, Michael Spyres, Lawrence Brownlee and more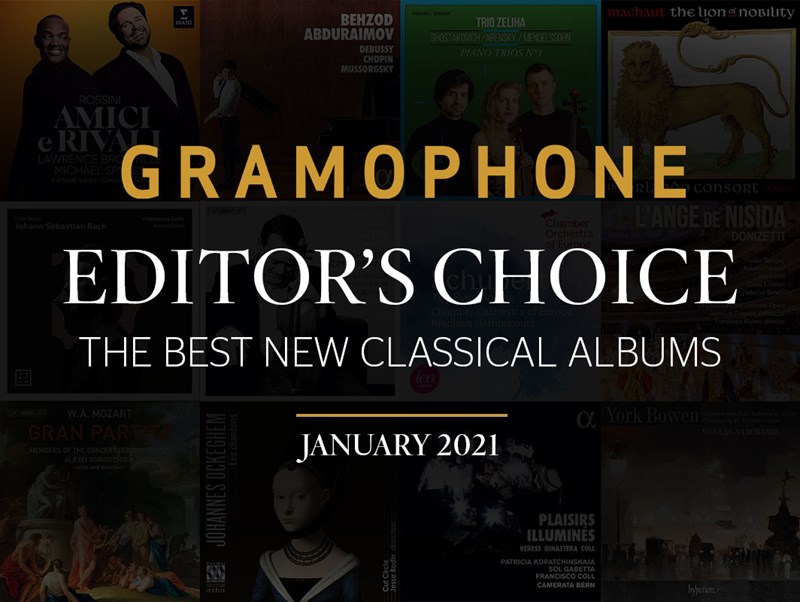 Recording of the Month

Martinů Two Violin Concertos Bartók Solo Violin Sonata
Frank Peter Zimmermann vn Bamberg Symphony Orchestra / Jakub Hrůša
BIS
Frank Peter Zimmermann brings a beautiful, lyrical tone to bear on the two Martinů violin concertos, and is completely inside the composer's idiom, which makes for a wonderful album.
☆

'Plaisirs illuminés'
Patricia Kopatchinskaja vn Camerata Bern
Alpha
A characteristically thoughtful programme from violinist Patricia Kopatchinskaja, which, as she puts it, also offers a showcase of the qualities of the Camerata Bern.
☆

Arensky. Mendelssohn. Shostakovich Piano Trios No 1
Trio Zeliha
Mirare
Trio Zeliha is our One to Watch, a decision made purely on the strength of this gorgeous album – three evident musical personalities who collaborate beautifully.
☆

Mozart Gran Partita, K361
Members of the Royal Concertgebouw Orchestra / Alexei Ogrintchouk ob
BIS
Mozart's 'Gran Partita' receives a stylish performance from these colleagues from the Royal Concertgebouw Orchestra.
☆

JS Bach 'Little Books'
Francesco Corti hpd
Arcana
'One of the most enjoyable Baroque recitals I've heard in a very long time' – there's not much that needs adding to reviewer Patrick Rucker's perceptive words on this wonderfully engaging harpsichord album!
☆

Bowen Piano Works
Nicolas Namoradze pf
Hyperion
Pianist Nicolas Namoradze proves himself an adept and inspired virtuoso in these unfamiliar York Bowen works – just the sort of project with which the superb Hyperion label so often enriches the catalogue.
☆

Chopin. Debussy. Mussorgsky Piano Works
Behzod Abduraimov pf
Alpha
Behzod Abduraimov's move to Alpha was reported last month – and what a start to the partnership, an album of distinguished musicianship, elegance and sheer delight.
☆

Machaut 'The Lion of Nobility'
The Orlando Consort
Hyperion
This ongoing Machaut series from the Orlando Consort continues to attract acclaim, and it's easy to see why – their understanding of the medieval French composer's songs is superb.
☆

Ockeghem 'Les chansons'
Cut Circle / Jesse Rodin
Musique en Wallonie
More excellent early music this month, from a century later, though just as individual in its approach – Cut Circle's album is brilliantly recorded and beautifully presented.
☆

Rossini 'Amici e rivali'
Michael Spyres, Lawrence Brownlee tens I Virtuosi Italiani / Corrado Rovaris
Erato
A celebration of Rossini's writing for tenor, and in Michael Spyres and Lawrence Brownlee, two very fine singers of today.
☆
DVD/blu-ray

Donizetti L'ange di Nisida
Sols; Orchestra Donizetti Opera / Jean-Luc Tingaud
Dynamic
Following Opera Rara's studio recording, this is the wonderful stage premiere of Donizetti's hitherto unperformed opera.
☆
Reissue/archive

Schubert Complete Symphonies
Chamber Orchestra of Europe / Nikolaus Harnoncourt
ICA Classics
'Brilliantly played performances, caught in a warm, clear acoustic,' writes reviewer Richard Wigmore of these live 1988 recordings, issued here for the first time.
Never miss an issue of Gramophone, the world's leading classical music magazine since 1923 – subscribe today!