Jed Distler's Cliburn Blog No 12: Four last recitals – and the finalists revealed
Monday, June 13, 2022
The competition moves towards its conclusion - but who has made it through?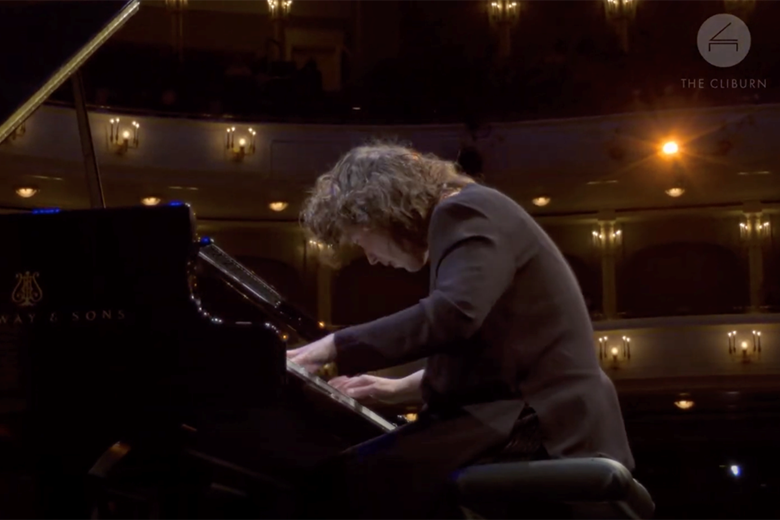 We start the day with yet another Ravel Gaspard de la nuit, in a performance totally different in detail and temperament from what we've heard so far this year at The Cliburn.
What would the composer have made of Uladzislau Khandohi's high wire tempo fluctuations and peek-a-boo inner voices throughout Ondine?  Would he have preferred it to Marcel Tadokoro's steadier, more Apollonian vantage point? In Le Gibet, I appreciated Khandohi's three-dimensional textures more than his heavy-gaited pacing. His fast and accurate finger work in Scarbo grew more clangorous as the movement unfolded, falling short of Masaya Kamei's devil-may care lightness. Khandohi's mercurial tendencies seem to operate more comfortably and idiomatically in Rachmaninov. He made his unusual rubatos work in the Etude-tableau Op 39 No 3, while bringing just the right orchestral thrust to No 4. Some audience members may prefer his meatier Rachmaninov Corelli Variations over Tadokoro's relatively patrician and classically oriented traversal; a matter of apples versus oranges, perhaps.
It took a few measures for Dmytro Choni to settle into his opening Brahms Rhapsodies Op 79. The pianist's marble sonority and powerful projection suit these burly works well, although he needs to harness his rhetorical tendencies within a stronger architectural framework. On the other hand, his grounded and unusually literal-minded Scriabin Fourth Sonata sounded positively Brahmsian.
The promise Choni displayed in the first two Debussy Images Book I shattered when he tore into the third piece Mouvement at an aggressive, machine-like clip that completely missed the music's puckish point. Happily, Choni aced Ginastera's First Sonata, nailing the second movement's rapid unison passages and delivering an unusually exuberant, madly swinging first movement.
One must say that Jinhyung Park showed up for each of his rounds prepared to the nines. However, his Semi Final Prokofiev Sixth Sonata and Schumann Fantasiestücke Op 12 further demonstrated his limited tonal resources, often bland phrasing, casual attention to accents, and lack of palpable tension and release.
On the other hand, Anna Geniushene's Semi Final recital featured her finest playing of the competition. She shed fresh light, shade and character upon each of Beethoven's Op 33 Bagatelles, while giving a veritable master class in the art of finger legato, using the sustain pedal sparingly. Furthermore, this pianist is brilliant at knowing just which note to elongate, where to insert a dramatic breath pause, how to create meaningful transitions and how to give full impact to Beethoven's signature subito dynamics. Her intelligent foreground/background textural layering in the Verdi/Liszt Danza sacra e duetto finale d'Aida revealed Geniushene's effortless assimilation of Liszt's keyboard aesthetic. What is more, her inflected phrasing took its cue from Verdi's original vocal lines.
One commentator called Geniushene's performance of the Prokofiev Eighth Sonata 'barnstorming'. From a standpoint of sheer brawn and rhythmic determination, that's a fair assessment. But there was so much more to her playing than meets the ear at first encounter. She approached the long first movement less like a pianist than a seasoned conductor who has gone over every nook and cranny of the score, and knows both how to anticipate and navigate the potential traps. Even the thickest chords in register extremes had melodic definition, while her scaling of tempo fluctuations and dynamics always kept the big picture in mind. In the Finale, however, Geniushene's seriousness turned overly earnest and her tone grew monochrome and bleak, missing out on irony and sparkle that one hears in recorded performances by Sviatoslav Richter, Emil Gilels, Frederic Chiu and – yes, I have to mention her absorbing Preliminary performance again – Kate Liu.
In any event, Geniushene made it into the Finals, along with Dmytro Choni, Uladzislau Khandohi, Yunchan Lim, Ilya Shmukler and Clayton Stephenson. Each of these artists conveyed strong personalities, albeit at different stages of development. Not all consistently satisfied from a purely musical standpoint, but if you take the totality of their performances into account, you'll understand what propelled the jury's decisions.
Personally, I would have campaigned like crazy for Marcel Tadokoro, a far more interesting artist than two particular pianists whom I wouldn't have admitted to the Finals (no, I won't name names!). For that matter, I plan to add Masaya Kamei's stunning Preliminary and Semi Final recitals to my permanent collection.
To watch more videos of the performances discussed above, visit the Cliburn International Piano Competition website: cliburn.org
Gramophone is a Media Partner of The Cliburn International Piano Competition