Jed Distler's Cliburn Blog No 9: the semi-finals move onto Mozart
Friday, June 10, 2022
Our correspondent at the competition continues his superb series of reports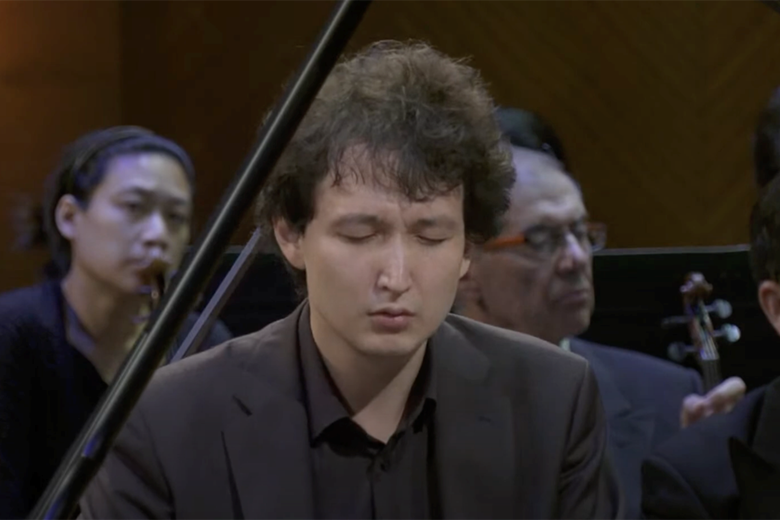 I intended to catch the Semi-final round's first Mozart Concerto instalment online in real time. Its transmission coincided with the first of the January 6 Committee Public Hearings. With laptop and iPad side by side, I go channel surfing. I casually switch between harrowing images of the breached Capitol and sublime piano cantabiles. A violent mob undermines democracy with carnage and chaos on one screen, while peaceful musicians serve Mozart with order and harmony on the other screen.
It's hard to keep focus as the worst and the best of the human spirit collide before my jetlagged eyes. Fortunately, the Cliburn Competition posts all of the rounds on YouTube, so it's easy to catch up with the Mozart in the morning, with calm and with coffee.
As it happened, I needed a jolt of espresso to hold my attention in the evening's opening Mozart's D minor Concerto, K466, due to pianist Honggi Kim's formulaically tapered and foursquare phrasing, with all of the notes in place, and all the little rubatos predictably doled out.
What a world of difference to hear Marcel Tadokoro fully engage with the B flat Concerto, K595, whether imparting a conversational profile between the hands, or adjusting his articulation to interact with his orchestral colleagues in genuine chamber fashion. He was completely attuned to the first-movement development section's startling modulations, while the Larghetto reclaimed the backbone it had lost in the cosmically indulgent hands of competitors from previous years.
The Allegro finale sported a welcome urgency and angularity that contrasts to the wilting refinement that Clifford Curzon made standard (heresy, I know, and I expect Gramophone readers to bombard me with hate mail!). In turn, the Fort Worth Symphony Orchestra and conductor Nicholas McGegan responded in kind, with wonderfully perky woodwinds to the fore. It's a good thing McGegan didn't notice Tadokoro occasionally conducting from the side!
When it comes to Mozart's honey of an early masterpiece, the E flat Concerto, K271, fast outer-movement tempos are all well and good, but Uladzislau Khandohi's breakneck pace for the Rondo finale found his fingers sometimes outrunning his brain. Still, McGegan managed to keep up and (more-or-less) reign in the bucking bronco at the keyboard.
Thanks to YouTube, one can readily sample the concert's bookending Mozart D minor K466 performances at close range. What a contrast between the soggy opening rendition from Honggi Kim and the taut, incisive closing one, with a far more energised and enlivening (if occasionally glib) soloist in tow. Dmytro Choni played Honggi Kim under the table in all three movements. True, his bouncy body language and facial grimaces are distracting to watch. But you can simply look away from the computer screen.
I nearly forgot to take the day's two recitals into account. Having been exposed to Clayton Stephenson's stimulating repertoire juxtapositions and interpretative originality, his oddly chosen semi-final recital programme initially gave me pause. Surely no one in their right mind would sandwich Lowell Liebermann's Gargoylesbetween two large-scale C major Sonatas (Beethoven's Waldstein and Brahms's No 1).
That said, Stephenson's dynamism, textural layering and polyphonic acumen dug deeper in comparison to Masaya Kamei's relatively facile Waldstein the day before. He also executed the Rondo coda's celebrating scales in breathtaking octave glissandos. Most competitors efficiently toss off Gargoyles as if the three pieces were ersatz Prokofiev, but Stephenson's variegated phrasings and forceful accents explored the grotesque disquiet gurgling under the music's surface. He scrubbed decades worth of fatty interpretative build-up from the Brahms Sonata in a lean and propulsive reading where Julius Katchen's effusive ghost seemed to guide Stephenson's fingers from beyond.
Changyong Shin's Semi-final recital got off to a strong start as his Bach D major Toccata sang and danced. The pianist may not have probed between the lines in Schumann's Humoreske, yet he kept the music alive, animated and constantly moving forward. In Prokofiev's Seventh Sonata, however, fleet exactitude gave way to harsh and percussive banging.
To watch more videos of the performances discussed above, visit the Cliburn International Piano Competition website: cliburn.org
Gramophone is a Media Partner of The Cliburn International Piano Competition