Editor's Choice: July 2023 | The best new classical recordings
Thursday, June 8, 2023
Outstanding new recordings of Handel's Serse, Beethoven's Piano Concertos, Bruckner's Motets, Chesnokov's All-Night Vigil and more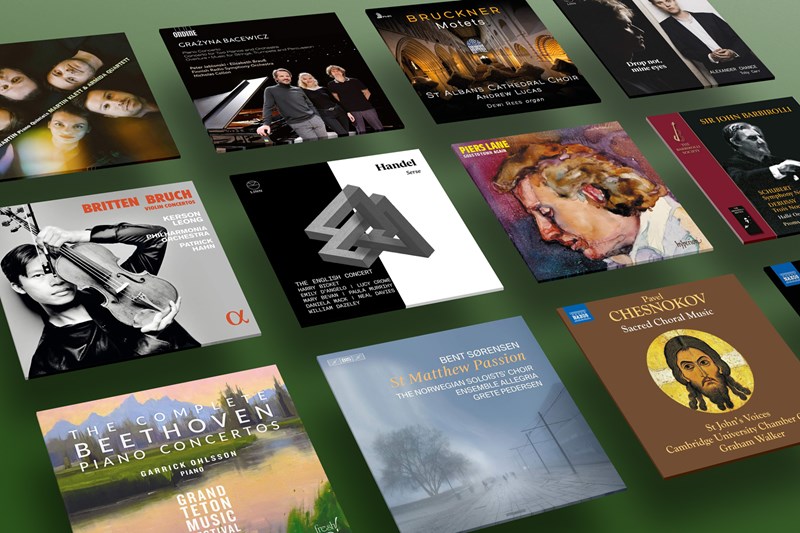 In every issue of Gramophone, Editor Martin Cullingford chooses 12 albums (10 new releases, plus one DVD/blu-ray and one archive recommendation) as his Editor's Choice. Below, you will find the albums selected as Editor's Choice in the July 2023 issue, beginning with the Recording of the Month. 
We've included links to the album reviews in Gramophone's Reviews Database, a digital archive of all of our reviews from 1983 to today. To find out more about subscribing to Gramophone and the Reviews Database, please visit: magsubscriptions.com
Recording of the month

Handel Serse
Sols; The English Concert / Harry Bicket 
Linn 
Highly engaging from the famous first aria onwards, this account of Serse – with a superb set of soloists led by Emily D'Angelo in the title role, all perfectly shaped by Harry Bicket – is a triumph. 
---

Bacewicz Concertos for One and Two Pianos
Peter Jablonski, Elisabeth Brauss pfs Finnish Radio Symphony Orchestra / Nicholas Collon
Ondine 
An excellent collection of Bacewicz's works, from committed advocates of her music. 
---

Beethoven
 

Piano Concertos

 

Garrick Ohlsson pf Grand Teton Music Festival Orchestra / Sir Donald Runnicles

Reference Recordings 

We explored the background to these Beethoven concertos in May – the rapport between its artists is wonderful to hear. 
---

Britten. Bruch
 

Violin Concertos

 

Kerson Leong vn Philharmonia Orchestra / Patrick Hahn

Alpha 

Excellent Bruch is coupled with a truly impressive account of Britten's Concerto, Kerson Leong exploring its paths and power with sheer panache.
---

Franck. Martin
 

Piano Quintets

 

Martin Klett pf Armida Quartet

AVI-Music 

There's a strong sense of composed control from the Armida Quartet and Martin Klett here, two different works receiving fascinating and thoughtful interpretations. 
---

'Piers Lane goes to Town Again'
Piers Lane pf
Hyperion 
This return visit to a fascinating area of repertoire by a pianist, Piers Lane, who clearly loves and excels in it, gets an enthusiastic recommendation from our reviewer Jeremy Nicholas. 
---

Bruckner Motets
St Albans Cathedral Choir / Andrew Lucas 
First Hand 
Bruckner's Motets require a choir on top form – combining tonal beauty and sheer stamina, as reviewer Malcolm Riley puts it – and a conductor of impeccable insight, both of which they receive here.
---

Chesnokov
 

All-Night Vigil

 

St John's Voices / Graham Walker 

Naxos 

This survey of music by the prolific Russian choral composer Pavel Chesnokov – the first full album of his music by an English choir – is rich in spiritual drama and gloriously recorded. 
---

Sørensen
 

St Matthew Passion

 

The Norwegian Soloists' Choir / Grete Pedersen 

BIS 

Bent Sørensen's work is a powerfully crafted portrayal of the Passion's relationship between suffering and love, exquisitely performed by the superb Norwegian Soloists' Choir.
---

'Drop not, mine eyes'
Alexander Chance counterten Toby Carr lute
Linn 
The countertenor Alexander Chance recently joined the Gramophone Podcast to discuss this album – in his voice, these centuries old songs speak afresh to modern audiences. 
---
DVD/blu-ray

Puccini Tosca
Sols; Dutch National Opera / Lorenzo Viotti 
Naxos 
A Tosca that, Neil Fisher reveals, doesn't shy from the tyrannical brutality of the story and the regime it is set in, preserving the well-known work's ability to shock.
---
Reissue/archive

Schubert Symphony No 9
 

Debussy Nocturnes

 

Hallé Orchestra / John Barbirolli 

Barbirolli Society 

Very fine Schubert and Debussy from Barbirolli and the Hallé and a revealing insight into the distinction between the conductor's work in the studio and in the concert hall.