Handel
Born: 1685
Died: 1759
George Frideric Handel
George Frideric Handel (born February 23 1685; died April 14, 1759) is one of the giants of musical history – a great man in physical stature, spirit and vision. His is happy, confident, melodic music imbued with the grace of the Italian vocal school, an easy fluency in German contrapuntal writing and the English choral tradition inherited from Purcell.
---
Quick Links
---
George Frideric Handel: a biography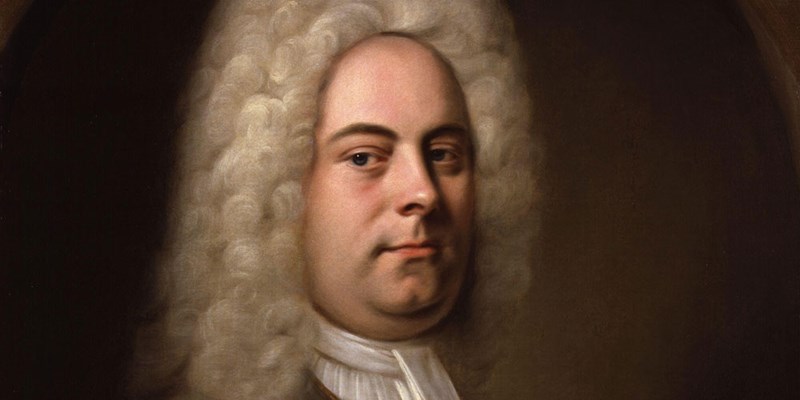 George Frideric Handel's father was a barber and valet to the Prince of Saxe-Magdeburg. He was in his mid-sixties when his son was born and he hated music. Somehow young Handel managed to learn the organ and spinet. From these unpromising beginnings flourished the greatest keyboard instrumentalist of the day – and it happened quickly.
In 1693 the Duke of Saxe-Weissenfels heard the boy play the organ at one of the Sunday services, filled his pockets with gold coins and insisted that he be allowed to study music. Handel was put in the care of Zachau, the organist of the Lutheran church in Halle, who quickly realised he had a genius on his hands.
After three years, Zachau confessed there was nothing more he could teach the boy. Handel was just 11. He doesn't appear to have had any further instruction from anybody.
See also: Top 10 Baroque composers
Early achievements
After studying law for a while in Halle, he was organist at the Cathedral of Moritzburg – only 18 years old and already people were talking of 'the famous Handel' – and then moved to Hamburg, the seat of German opera. Fed up with the petty jealousies and cabals there, in 1706 he moved to Italy, where he turned to writing opera in Florence and Venice and oratorio in Rome. All were triumphs and soon 'Il Sassone' ('The Saxon') was one of the most talked-about musicians in Italy.
In Italy he absorbed and studied all the current music being written and came into contact with such figures as Corelli, Alessandro Scarlatti and his son Domenico, with whom he had a celebrated keyboard 'duel' to determine whom was the finer player. Result? Scarlatti was adjudged to be the better harpsichordist but Handel the finer organist. (Scarlatti admitted that till he heard Handel play the organ he had no conception of its powers.) The two retained a lifelong mutual admiration.
From Italy, Handel moved to Hanover in 1710 as court musician to the Elector – a prescient decision, as it turned out. After a year he was given leave to go to England, where he wrote an opera (Rinaldo, 1711) which was an astonishing success. Back to Hanover – but London was too tempting and he returned to England and further triumphs. Time passed (two years in fact) and Handel was still absent from the Hanoverian court. When Queen Anne died in 1714, who should succeed her on the throne? None other than Handel's German employer, the Elector of Hanover.
See also: Top 10 Opera Composers
Handel in London
If George I was displeased at his musician's cavalier attitude, it didn't last long, for soon Handel had a royal pension of £400 a year – with an additional £200 from the Princess of Wales – and he was able to embark on a series of operas underwritten by the nobility and cast with the finest European singers. The Royal Academy of Music in London (not the famous music college, which came later) was set up to present Italian opera and the entrepreneurial Handel was made its artistic director. He was, unassailably, the most powerful musician in the land.
Perhaps it was his very success, or the fact that he was a foreigner, or the fact that he was dictatorial in his demands, but he was frequently attacked and ridiculed. Despite royal patronage and his popularity with the public, despite his capacity for making friends and supporting the underprivileged, Handel found he had many enemies. One particular rival appeared in the form of Giovanni Bononcini and for a time there was intense competition as to who was the better composer. Handel saw him off in the end, of course, but not before the poet John Byrom had written:
Some say, compared to Bononcini
That Mynheer Handel's but a ninny.
Others aver that he to Handel
Is scarcely fit to hold a candle.
Strange all this difference should be
'Twixt tweedledum and tweedledee.
And that's how the phrase was coined.
Financial disaster
By the late 1720s, not long after Handel became a British citizen, public taste for Italian opera waned (the British had discovered John Gay's The Beggar's Opera to be more accessible and with tunes they already knew). Handel, now quite wealthy from shrewd investment, sank £10,000 of his own money into another Italian opera company and lost the lot.
Faced with bankruptcy and the debtors' prison, his health broke down (rheumatism set in and he suffered a paralytic stroke), he appears to have had some sort of breakdown and then...changed course. He wrote himself back into financial success and public favour by resurrecting a genre that was relatively unknown in England – the oratorio. These were dramatised Bible stories set to music, music of the same verve as the operas but with massive choruses and grand orchestral writing. Nothing like them had been heard before. In the interludes he would appear at the organ to play a concerto, improvising the brilliant solo part.
Fame and fortune
By 1741 Handel knew he had taken the right direction – public demand was overwhelming. Then, in 1742, inspired by an invitation to Dublin by the Duke of Devonshire and the Lord Lieutenant to present one of his works for charity, came Messiah, written in a feverish 25 days, one of man's grandest musical achievements. A succession of oratorios followed – among them Semele, Judas Maccabaeus, Joshua and Solomon – showing Handel to be at the height of his creative powers. The 'great Handel' ruled the musical world again, only to be knocked sideways by another cruel blow. He became blind, a condition not helped by being once operated on by the same quack surgeon who attempted to save Bach's sight.
Indomitably, he continued to play the organ and conduct, one of the wonders of London, for people flocked to hear him. Handel knew his own worth and asked to be buried in Westminster Abbey – which he duly was, with a statue of him at his working table and the score of Messiah open at 'I know that my Redeemer liveth'.
---
The Gramophone Podcast: Handel episodes
Exploring Handel: a special in-depth exploration of the music of Handel
Bridget Cunningham on Handel's Caio Fabbricio
Harry Christophers on Handel's Acis and Galatea
John Butt on Handel's Ode for St Cecilia's Day
Handel's last Prima Donna
If you are a library, university or other organisation that would be interested in an institutional subscription to Gramophone please click here for further information.