Bruch's Violin Concerto No 1 – a quick guide to the best recordings
Gramophone
Monday, May 24, 2021
A quick overview of the essential recordings of Bruch's evergreen concerto
---
Welcome to Gramophone ...
We have been writing about classical music for our dedicated and knowledgeable readers since 1923 and we would love you to join them.
Subscribing to Gramophone is easy, you can choose how you want to enjoy each new issue (our beautifully produced printed magazine or the digital edition, or both) and also whether you would like access to our complete digital archive (stretching back to our very first issue in April 1923) and unparalleled Reviews Database, covering 50,000 albums and written by leading experts in their field.
To find the perfect subscription for you, simply visit: gramophone.co.uk/subscribe
---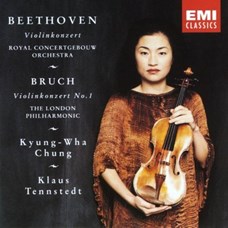 Violin Concerto No 1 with Beethoven Violin Concerto
Kyung Wha Chung vn Concertgebouw Orchestra; London Philharmonic Orchestra / Klaus Tennstedt
Warner Classics
Kyung Wha Chung has recorded both of these concertos before (Decca) but these performances not only have the benefit of more modern sound but are more spontaneous in their expressive warmth. The Bruch was recorded in the studio and reflects Chung's growing ease in a recording environment. Notoriously, she dislikes the constraints of recording, when she's so essentially spontaneous in her expressiveness. Here her rubato is freer, so that in the first movement the opening theme is more impulsive, and her freedom in the second subject conveys the sort of magic you find in her live performances. The slow movement brings extreme contrasts of dynamic and expression from orchestra as well as soloist, and the finale is again impulsive in its bravura.
The Beethoven is a live recording. Chung sustains spacious speeds very persuasively indeed. She's freely flexible in her approach to Beethoven, as Tennstedt is too, but magnetically keeping an overall command. The element of vulnerability in Chung's reading adds to the emotional weight, above all in the slow movement, which in its wistful tenderness is among the most beautiful on disc. As for the outer movements, they're full of flair, with a live event bringing few if any flaws of ensemble. Altogether an exceptionally attractive release.
---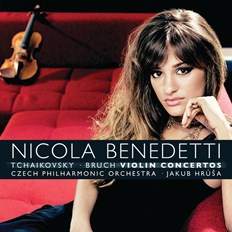 Violin Concerto No 1 with Tchaikovsky Violin Concerto
Nicola Benedetti vn Czech Philharmonic Orchestra / Jakub Hruša
DG
This makes an excellent coupling. Benedetti's interpretations have much that is individual in them, notably that more regularly than most great virtuosos on disc she uses very often the gentlest of whispered pianissimos, with impressive effect. She establishes that quality in the long first movement of the Tchaikovsky, where so many artists in the lyrical second subject play with a big, fat tone. Her phrasing too is freely expressive but her regular use of extreme rubato rarely if ever sounds contrived, always spontaneous and from the heart.
The Bruch is just as compelling. The first movement is deeply meditative, with exceptionally clean and precise double-stopping. As in the Tchaikovsky, the slow movement is unusually slow and played with much rubato but the result is deeply thoughtful and well sustained, with inner tensions conveyed, while Jakub Hrusa draws from the Czech Philharmonic playing that's just as free in its use of rubato, a tribute to the players' responsiveness and to his control. Altogether a very competitive coupling of two of the great violin warhorses.
---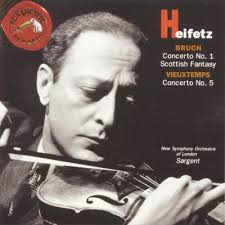 Violin Concerto No 1 with Scottish Fantasy & Vieuxtemps Violin Concerto No 5
Heifetz; New SO of London / Sargent
RCA
A delectable souvenir of Jascha Heifetz's incomparable gifts. Similarly superlative accounts of Bruch's Scottish Fantasy and Vieuxtemps's Fifth Concerto make for ideal bedfellows.
---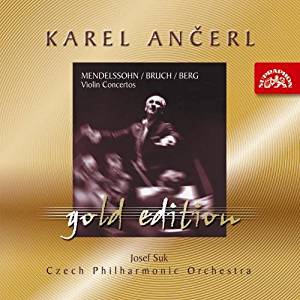 Violin Concerto No 1 with violin concertos by Berg and Mendelssohn
Suk; Czech PO / Ancerl
Supraphon
An irresistibly songful, warm-hearted 1963 performance. Suk's sweet, silky tone gives much pleasure, and he generates a profoundly satisfying rapport with Ancerl.
---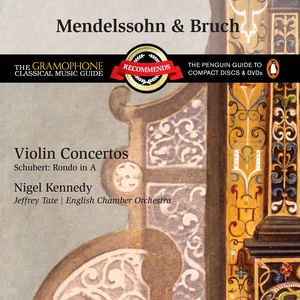 Violin Concerto No 1 with Mendelssohn Violin Concerto & Schubert Rondo in A
Kennedy; ECO / Tate
Warner Classics
A powerful reading from a youthful Kennedy. It's not been out of the catalogue in 20 years and it's not surprising: this is Kennedy at his most poetic.
---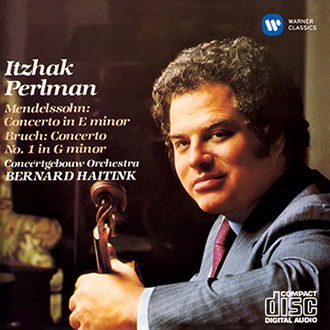 Violin Concerto No 1 with Mendelssohn Violin Concerto
Perlman; Concertgebouw Orchestra / Haitink
Warner Classics
Sweetness and poetry characterise this likeable performance by one of the fiddle's greats. Haitink is a sympathetic accompanist.