Contemporary Composer: Errollyn Wallen
Pwyll ap Siôn
Monday, January 18, 2021
Pwyll ap Siôn profiles the British-Caribbean composer who's a true force to be reckoned with and has found her own path in music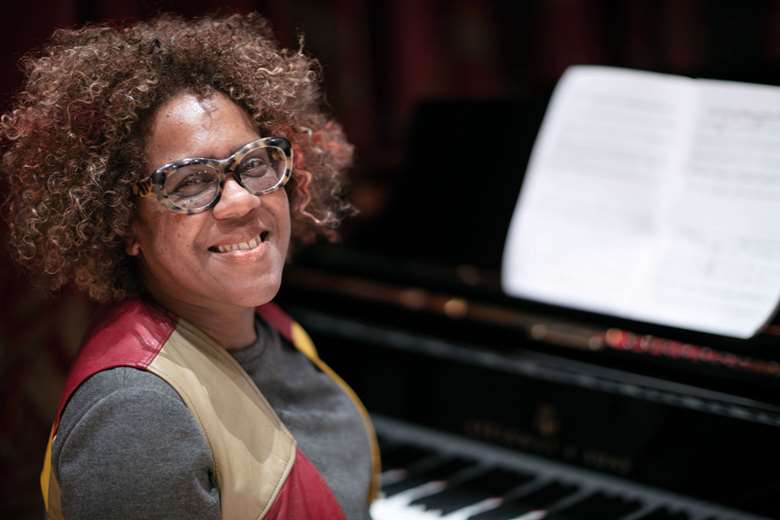 An influential figure and inspirational role model for young musicians, respected and admired by fellow composers and performers, and recognised by the pillars of the British musical establishment, Errollyn Wallen is a leading figure in today's classical music world. But the journey that she has taken has been nothing if not unconventional. Indeed, it could never have been any other way.
She was born in Belize, and at the age of two moved to London with her parents. She became a musician almost by accident, owing to the fact that she came from a musical family: her father was a fine amateur singer who wrote songs and introduced his young daughter to jazz, blues and the recordings of Ella Fitzgerald. Being a keen dancer, Wallen first experienced classical music at a ballet class when an accompanist suddenly started playing Chopin. She was absolutely mesmerised and immediately set about exploring classical music – in both its traditional and its more contemporary forms.


Wallen points out that 'so little was expected of me', but her career has been not so much about proving others wrong as a case of proving herself right

Piano lessons with Edith Vogel during the 1970s taught Wallen about the importance of shaping time, and her early influences were Bach, Beethoven and Stravinsky – composers who possessed an innate ability to turn music into a living, breathing form by channelling its harmonic undercurrents and rhythmic flow. Studies in the late 1970s and early 1980s at (what was then known as) Goldsmiths College, London, with Melanie Daiken and then at King's College London with Nicola LeFanu introduced Wallen to the rigours of compositional method and technique. LeFanu had been a pupil of Egon Wellesz, and thus represented a direct line back to Schoenberg. Wallen soaked it all up but nevertheless eventually realised that this was not her only music nor her only musical tradition, that she needed to create a language that could find a place also for the music of her childhood and background, which she did not wish to disown – a language that could embrace Bach and the blues, Beethoven and jazz.
Wallen's reassessment of her musical identity occurred at a time when new music was undergoing its own crisis. The influence and impact of non-Western forms and popular cultures on styles such as minimalism were changing the landscape. The effect of this can be heard in early Wallen pieces written for Graham Fitkin's two-pianos eight-hands ensemble Nanquidno, such as Big Business (1988) and The Girl in my Alphabet (1990), the latter finally quoting from 'The Girl from Ipanema' after taking a wild musical walk via Nancarrow's player piano studies, Dave Grusin's smooth jazz and Stravinsky's The Rite of Spring.
Nevertheless, large parts of the old order remained closed off to those who weren't white, male and British. 'It was made quite clear to me that I didn't belong to the classical music establishment,' she reflects. 'People still see my colour before they even know to show any interest in the work I've done.'
A teacher once walked up to the nine-year-old Wallen as she played the violin in the school orchestra and said, apropos of nothing: 'You know, little girl … this music isn't for you.' Wallen says: 'I don't know what she was doing, but she just came right up to me and said it.' Such shocking put-downs aside, it was the stony white wall of silence that in many respects proved the most unsettling. Wallen points out that 'so little was expected of me', but her career has been not so much about proving others wrong as a case of proving herself right.

Adopting the approach that 'every composer has to work out their own path in music', she has evolved a distinctive style that synthesises classical and pop elements without the tired clichés and mannerisms that one often finds. Her music can be divided into large-scale 'landscape' compositions, operas, chamber music and more smorgasbord-like works such as song-cycles and suites. Examples of the last category are the half-serious, half-humorous song-cycle set to her own text Are You Worried about the Rising Cost of Funerals? (Five Simple Songs) (1994), for voice and string quartet, and the instrumental ensemble work in four movements Horseplay (1998), with its infectious dancelike rhythms.
The landscape works lend themselves especially to the broader palette of large ensembles and orchestras. These include works such as the aforementioned The Girl in my Alphabet, Hunger (1996), for chamber orchestra, and Mighty River (2007), which was written to mark the bicentenary of the 1807 Abolition of the Slave Trade Act. Dedicated to her great-great-great-great-great-great grandmother, the work includes excerpts from hymns and spiritual songs, including 'Amazing Grace', 'Deep River' and 'Go Down Moses', and the journey of the river is used by Wallen to signify hope and the 'innate human instinct to be free'.

Recently, Wallen has shown her support for the Black Lives Matter movement by harmonising and arranging Johnnetta Bryant's song for her son Keedron Bryant, 'I Just Wanna Live'. Wallen scored it for string quintet: violinists Nicola and Stephanie Benedetti and Braimah Kanneh-Mason, and cellists Grace Chatto (of Clean Bandit) and Sheku Kanneh-Mason. Others of her works that mark important historical figures and events include In our Lifetime (1990), for baritone and tape, which honours Nelson Mandela and his fight against apartheid in South Africa, and the choral symphony Carbon 12 (2008), commissioned by Welsh National Opera to highlight the struggle of Welsh coalmining communities.
The concerto form has also held particular fascination for Wallen, who points out that 'a composer can have a lot of fun with it'. Her enjoyment in writing for it is particularly evident in the exuberant Percussion Concerto (1994), which marked her arrival as a composer. Premiered by Colin Currie in the 1994 BBC Young Musician of the Year finals, it juxtaposes sweeping big-band-like statements in the brass with atmospheric moments on the vibraphone allied with shimmering effects on the marimba. Latin American rhythms gatecrash the party in the final movement before being swept along by infectious blues-style chord patterns. The Cello Concerto (2007) is a very different work, demonstrating the extent and breadth of Wallen's style. The opening cello cadenza returns at the end in an altogether different guise. The energetic, pocket-sized four-movement Concerto grosso (2008) has also proved exceptionally popular, and was recently released by Chineke! on its 'Spark Catchers' album (NMC, 5/20).
A large portion of Wallen's output consists of vocal music, either written for herself in a more pop-based context, such as on the seminal 1998 album 'Meet Me at Harold Moores' and the eponymous solo album 'Errollyn' (2004), or for the more operatic voices of singers such as Patricia Rozario, Alwyn Mellor and Golda Schultz. To date, she has composed 18 operas, collaborating with a range of writers as well as writing her own librettos. Many of the songs written for herself appear in The Errollyn Wallen Songbook (Edition Peters). Schultz (who sang in 'Jerusalem – our Clouded Hills', Wallen's arrangement of Parry's 'Jerusalem' for this year's Last Night of the Proms) is due to appear in the premiere of Wallen's forthcoming opera Dido's Ghost (to a libretto by Wesley Stace) at Milton Court in the Barbican, London, in June 2021, and featuring the Dunedin Consort. (Dido's Lament is a personal favourite of Wallen, who sings it on the track 'In Earth' on the album 'Photography'.)
The lyrical qualities of Wallen's vocal style are vividly captured on the album 'Peace on Earth'. Recorded in June 2019 by the Choir of King's College, Cambridge, under the direction of the late Stephen Cleobury, the three-track digital release provides a tantalising glimpse into Wallen's musical world – gritty in the Brittenesque 'See that I am God' (2014), strangely ethereal in 'Pace' (2017), calm and restful in the beautiful 'Peace on Earth' (2006).

In a career that has spanned some 30 years, Wallen has been a pioneer. She was the first black female composer to have a piece performed at the BBC Proms (in 1998), and the first to have been commissioned by the Royal Opera House (in 2003, for the opera Another America: Earth). And in 2013, she became the first woman to receive the Ivor Novello Award for Classical Music. The recent announcement of her appointment as Visiting Professor of Composition at the Royal Conservatoire of Scotland also marks another significant first.
To come first is not without its problems, however, and in Wallen's case one is faced with the more basic question: what really comes first? The composer, or her colour? Her music, or her gender? It is often easy to lose sight of the fact that music should always come first. Unlike people, music does not discriminate against race, gender or ethnicity. We would do well to follow suit.
This article originally appeared in the December 2020 issue of Gramophone. Never miss an issue – subscribe today!