Rodrigo's Concierto de Aranjuez: which recording is best?
Tuesday, May 25, 2021
The greatest recordings of this ever-popular guitar concerto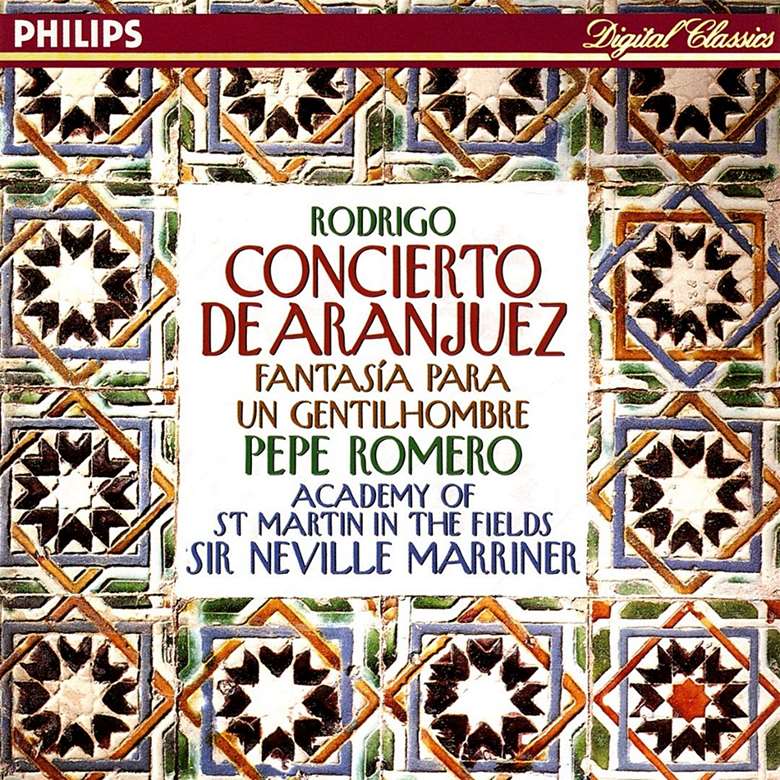 ---
Welcome to Gramophone ...
We have been writing about classical music for our dedicated and knowledgeable readers since 1923 and we would love you to join them.
Subscribing to Gramophone is easy, you can choose how you want to enjoy each new issue (our beautifully produced printed magazine or the digital edition, or both) and also whether you would like access to our complete digital archive (stretching back to our very first issue in April 1923) and unparalleled Reviews Database, covering 50,000 albums and written by leading experts in their field.
To find the perfect subscription for you, simply visit: gramophone.co.uk/subscribe
---
Joaquín Rodrigo's Concierto de Aranjuez is arguably one of the most popular concertos of all time, thanks in no small measure to the extraordinary beauty of its central Adagio, which has been arranged for everything from mouth organ to brass band. This popularity has perhaps obscured the fact that the concerto is also one of the most original masterpieces of the 20th century, despite its rather conservative musical language. Aranjuez, south of Madrid, was the summer residence of both the Habsburgs and the Bourbons, whose former presence is remembered by the magnificent Royal Palace and gardens. In much the same way, Spain's past is remembered by the musical garden that is the Concierto de Aranjuez: Rodrigo compels the Spanish national instrument to articulate a fundamentally neo-classical, nationalist aesthetic by allowing its character to be refined and amplified by the orchestra – but not tamed. The Spain of the Concierto de Aranjuez is the guitar's dream just as much as it is Rodrigo's. 
The Recordings
Out of the multitude of available recordings, I've chosen to focus on six that I believe manage to capture the essence of the Concierto and yet are sufficiently diverse in their approaches to warrant detailed comparison. To this end, I thought it might be useful to concentrate on one movement at a time, given the varying success with which the players come to terms with the very distinct character of each. We can then move on to look at some other recordings which should by no means be considered also-rans. I urge you, if possible, to try them all.
Allegro con spirito
As Rodrigo himself admitted, this is the most consciously constructed of the Concierto de Aranjuez's three movements. Despite this, bursts of rasgueado (strumming) and rapid scale passages seem to flash almost spontaneously across the typical sonata-form structure like lights over the ruins of some classical temple, powerfully evoking both Spain's flamenco tradition and her imperial past. Every bar is alive with colour and rhythm, yet the orchestration is wonderfully transparent, almost severe – no doubt a legacy of Rodrigo's years studying with Paul Dukas in Paris. 
Most performances tend to favour either the neo-classic elements in the score or its essentially Romantic underpinnings. Or they try to balance the two, which is of course the ideal, though the results are not always totally convincing. Those of Julian Bream and the Monteverdi Orchestra under John Eliot Gardiner are, especially given the wonderful balance achieved between the guitar and the orchestra, as well as among the instruments of the orchestra itself. Bream's somewhat intense,highly focused playing is beautifully complemented by logical changes in tone colour and articulation. There's an alchemy here that I don't find present in Bream's subsequent recordings (though his last, with the CBSO under Simon Rattle, does have some remarkable qualities).
By contrast, Craig Ogden and the BBC Philharmonic under Sachio Fujioka are slightly quicker, if more workmanlike. But there's a relaxed, natural musicality that shines through Ogden's playing that's hard to resist. And his technique is superb.
Actually, Ogden's natural fluency approaches Pepe Romero's, whose 1992 recording with the Academy of St Martin in the Fields under Sir Neville Marriner is as near-perfect as you're likely to get. This is magisterial playing, from both soloist and orchestra. Romero is startlingly fluid, his scale passages particularly beautiful and his phrasing utterly idiomatic. The development is genuinely exciting, the electric by-product carried over into the recapitulation before being gently drained away in the concluding bars of the coda.
Manuel Barrueco brings a slightly harder edge to this movement which is counterbalanced by the lush sound of the Philharmonia Orchestra under Plácido Domingo. Regardless of what you might think of his conducting, Domingo always ensures that any solo contributions from the principals really 'sing' – listen to Andrew Shulman's cello, for example.
I recall disliking Roland Dyens's recording with the Serenata Orchestra under Alexandre Siranossian the first time I heard it, but have since learnt to appreciate its many fine qualities, so much so that it's now in my Top Six! From the outset, Dyens immediately grabs your attention with a startlingly curious approach to the introduction; the remainder of the performance of this movement is characterised by a combination of real freedom and rhythmic precision that comes close to Paco de Lucia's flamenco version. The guitar sound is perhaps a little too far forward, and the tone is often hard, but the incisive playing more than compensates. Quite the opposite for David Russell's super-slick performance with the Naples Philharmonic Orchestra under Erich Kunzel. His tone is attractive, his technique beautifully clean. And yet there's ne'er a whiff of the clinical here – even in the development, which is perhaps not as exciting as Bream's or Romero's, there are a clarity and depth that generate their own tensions. Clarity there is too from Kunzel and the orchestra, with some of the less salient lines given extra definition to enrich the overall texture of the sound.
Adagio
A couple of months after Rodrigo's meeting with Spanish musician Regino Sáinz de la Maza the haunting theme of what was to be the second movement of the Concierto de Aranjuez arose in his imagination. This is the flamenco world of the saeta, the Andalusian cante hondo sung during the processions of Holy Week and Corpus Christi. In this movement, the plaintive song of a cor anglais and its elaboration by the guitar are echoed by the latter instrument's two cadenzas. The first is introspective, the guitar taking up the main theme again but in the lower register and setting it against its own chordal accompaniment; the second sees an increasingly frenzied recitative that erupts into an orchestral tutti before a gentle coda.
If anywhere, this movement is where many players, faced with sailing between the Scylla of stubborn refinement and the Charybdis of sickly sentimentality, lose their nerve and are unable to pass through into the safe waters of purposeful propriety. Not so for any of our six. Bream again proves himself a master colourist, his changes in tone lending weight to subtle variations of rhythm in the florid ornamentation of the thematic material. His first cadenza is quite free, while he builds the tension nicely in the second through quite precise changes in tone, tempo and dynamics. Ogden is more reticent but there's still lots of colour and the second cadenza is very brisk and intense. Fujioka makes sure the orchestral tutti packs a real punch.
Romero here is a model of emotional poise. The rhythm is fairly strict, but there's a subtle weighting at significant points along the way that sounds peculiarly Spanish. His cadenzas speak to the silent orchestra to such an extent that when Marriner does bring it in again it's as though the contents of the guitar's soul have been emptied and taken up by a fragrant breeze. It's quite simply magical. Barrueco can't compete here; nevertheless the crispness of his articulation brings a compelling corporeality to his line, and the second cadenza is full of fire. Again, Domingo really brings something special to the principals' solos. Jane Marshall's cor anglais is especially beautiful.
Dyens is surprisingly languid and sensual; his tone now softened, he allows more room for variation of touch. This is especially apparent in the first cadenza, while the second cadenza is appropriately improvisatory. If Russell's approach at first sounds almost prosaic by comparison, this soon proves to be illusory. His is a more subtle intelligence; never one to wear his heart on his sleeve, he uses his sublime technique to speak plainly and openly. The results are just as moving as Bream's or Dyens's more demonstrative contributions. And certainly, his orchestra is better than Dyens's.
Allegro gentile
The theme of this rondo apparently came to Rodrigo soon after that of the Adagio. The constant shifts between duple and triple metre and the dance-like character of the theme explicitly refer to the music of the past – an idea Rodrigo was to develop to a much greater extent in his Fantasía para un gentilhombre, written for Andrés Segovia (who was apparently a little miffed that the Concierto de Aranjuez wasn't dedicated to him and consequently never performed it).
The theme of this movement has also been compared with a Spanish children's song. So there's plenty of wit and charm to be found here, as well as a certain naivety. Bream is suitably jaunty and captures the humour in the writing to perfection, while Gardiner manages to inject a real cheekiness into the orchestral playing. Ogden initially comes across as rather earnest but you soon realise that it's all tongue-in-cheek. Again, the playing is technically assured and there's plenty of tonal variation, though the BBC Philharmonic is not as light on its feet as it ought to be.
Both Romero and the ASMF are very sprightly indeed, the rhythmic character of the movement precisely captured. Romero's percussive strumming contrasts nicely with his sweet-toned scales and rapid arpeggios, while Marriner drolly pinpoints the many humorous asides in the score. Barrueco skips gracefully through his part with an attractive cohesiveness that's lacking in some of the other recordings, while again Domingo seems to find a tenor hidden under every note on the page.
Dyens emphasises the fanfare quality of the opening with a staccato, sul ponticello approach. The following episodes and the return of the theme are deliberate and sharply etched, though always extremely musical. In many ways, Dyens is an orchestra unto himself – his tonal palette seems inexhaustible. His scale passages, however, do tend to stutter a little in the search for definition, his strumming can be almost aggressive at times and the wit and lightness in the writing tend to elude him. But there's a spontaneity here that is hard to resist. Russell, however, is again more understated – his humour is gentle, his colours more muted. The emphasis is still on tone quality and getting the sense of the music just right without too much fuss – the master-craftsman at work. 
A Wider Field
Many will possibly disagree with my final selection, and indeed there are so many fine recordings of this popular concerto that in the final analysis it must come down to personal preference. But as far as the others are concerned: near the top of the list must surely be Paco de Lucía's stunning flamenco version from 1991, which Rodrigo himself thought so powerful. Yes, there's a certain roughness about it, but it's so full of vitality that it makes an otherwise excellent performance like that of Göran Söllscher's sound a little too chilly by half. 
There's no shortage of excitement in Angelo Romero's 1967 recording. This is very much a young man's reading – extrovert, impetuous and yet still full of tonal variety. His second recording, 10 years later, fails to capture the same energy. Exciting, too, despite the poor sound quality, is the premiere recording by its dedicatee Regino Sáinz de la Maza.
Actually, the idea for this concerto was prompted by a meeting between Rodrigo and Sáinz de la Maza in 1938; by the spring of the following year the Concierto de Aranjuez was completed. Sáinz de la Maza, together with the Barcelona Philharmonic under César Mendoza Lasalle, gave its first performance on November 9, 1940, at the Palacio de la Música in Barcelona; around eight years later de la Maza made his recording with the Spanish National Orchestra conducted by Ataulfo Argenta. Upon first hearing it, I was taken aback by just how good de la Maza's playing was. His rhythmic control and facility in the faster passages is astounding. He might have slowed down a little at the Adagio though – eight minutes is more allegretto.
Narciso Yepes was another early champion of the work (he gave the official Paris premiere in 1950); his 1969 recording is probably his best, full of character and real understanding. I have a soft spot, too, for Siegfried Behrend's recording from 1960 with the Berlin Philharmonic, as it was the first one I ever heard. It's very fast but Behrend still finds time to indulge in some extra ornamentation in the first movement. 
For the budget conscious, Naxos has three recordings on offer, and all are good, Norbert Kraft and Ricardo Gallén in particular. The former is quite relaxed, with less emphasis on colour and more on integration through smoothness of execution; the latter's technique is equally impressive, but his approach is more animated. Gallén's partners, the Asturias Symphony Orchestra under Maximiano Valdés, are correspondingly lively. Carlos Bonnell's excellent 1989 reading for Collins Classics, reissued on Regis, is worth a listen, even if the playing can seem overly cautious. Another budget contender of some merit is Ernesto Bitetti's on EMI, despite a slightly stodgy Philharmonia Orchestra. 
Sharon Isbin's 2004 recording with the New York Philharmonic under José Serebrier, the first that orchestra ever made with a guitarist, is a glamorous affair, with a very forward guitar sound and some gorgeous string playing from the orchestra. There's also glamour aplenty in Christopher Parkening's 1993 EMI recording, while John Williams's 1983 recording with the Philharmonia Orchestra under Louis Frémaux is anything but – robust, confident and utterly fluent playing, but with the same distancing hardness of tone present in both his 1966 account with the Philadelphia Orchestra under Eugene Ormandy and the ECO under Barenboim from 1974. Also of interest is Marco Socías's recording for French Harmonia Mundi, which features some attractive playing and excellent support from the Orquesta Ciudad de Granada under Josep Pons. In much the same vein is Alvaro Pierri on Analekta, though his palette is richer and he can't resist adding the occasional ornament.
However, if I had to pick one recording of the Concierto de Aranjuez as a vade mecum it would be Pepe Romero's 1992 account with the ASMF and Marriner. Romero's profound yet smiling interpretation, beautifully amplified by Marriner and the orchestra and coupled with a technique to die for, is more consistently satisfying than any I've heard. It may lack something of the fraught intensity of Bream's or the spontaneity of Dyens's, for example, but for some those qualities perhaps more properly belong to the concert hall and will tend to grate with repeated listening. As Samuel Johnson put it, 'the pleasures of sudden wonder are soon exhausted and the mind can only repose on the stability of truth'. 
The Historical Choice: Regino Sáinz de la Maza; Spanish National Orchestra / Ataulfo Argenta (Chanterelle CHR004 - nla) 
This is the premiere recording of Rodrigo's Concierto de Aranjuez by the guitarist to whom the work is dedicated, and is therefore self-recommending. Sáinz de la Maza's superb playing overrides any concerns about sound quality. 
The Flamenco Choice: Paco de Lucía; Orquesta de Cadaqués / Edmon Colomer (Philips 510 301-2) 
Paco de Lucía may be a little fast and loose with the letter of Rodrigo's masterpiece but captures its spirit like no other. The playing is passionate, fresh and, from a certain point of view, utterly authentic.
The Top Choice: Pepe Romero; Academy of St Martin in the Fields / Sir Neville Marriner (Philips 438 016-2) 
Capturing the work's poise and poetry, this recording has it all. Romero's taste and execution are flawless, while Marriner and the ASMF provide a richly detailed aural landscape through which the guitar freely flies. Also available on DVD with a documentary, 'Shadows and Light – Rodrigo at 90'. Buy from Amazon
Selected Discography
Date / Artists / Record company (review date)
1948 Sáinz de la Maza; Spanish Nat Orch / Argenta / Chanterelle CHR004
1960 Behrend; BPO / Peters / Belart 450 028-2
1965 Williams; Philadelphia Orch / Ormandy / Sony MK44791
1967 A Romero; San Antonio SO / Alessandro / Mercury 475 6184MSA
1969 Yepes; Spanish Rad & TV SO / Alonso / DG 439 458-2GCL; 439 526-2GGA; 469 629-2GEQ
1974 Bream; Monteverdi Orch / Gardiner / RCA 09026 61605-2
1974 Williams; ECO / Barenboim / Sony SMK89753
1977 P Romero; LSO / Previn / EMI 747693-2; 585063-2
1978 P Romero; ASMF / Marriner / Philips 432 828-2PM (7/92); 462 296-2PM2
1979 Yepes; Philh / Navarro / DG 415 349-2GH (3/86); 469 190-2GP2
1982 Bream; COE / Gardiner / RCA 09026 61611-2 (2/94); 82876 60870-2
1983 Williams; Philh / Frémaux / Sony / SK37848 (7/85)
1989 Bonell; ECO / Bedford / Regis RRC1090
1989 Söllscher; Orpheus CO / DG 429 232-2GH (6/90)
1990 Bream; CBSO / Rattle / EMI 754661-2 (7/93)
1991 De Lucía; Orch de Cadaqués / Colomer / Philips 510 301-2
1992 Kraft; Northern CO / Ward / Naxos 8 550729 (4/94)
1992 Parkening; RPO / Litton / EMI 754665-2 (9/93)
1992 P Romero; ASMF / Marriner / Philips 438 016-2PH (8/94)
1995 Barrueco; Philh / Domingo / EMI 556175-2 (4/98)
1996 Pierri; Amati Ens / Dessaints / Analekta FL2 3082
1997 Ogden; BBC PO / Fujioka / Chandos CHAN9604 (1/99)
1997 Russell; Naples PO / Kunzel / Telarc CD80459 (4/98)
1999 Bitetti; Philh / Ros Marbà / EMI 569577-2
1997 Dyens; Serenata Orch / Siranossian / L'Empreinte Digital ED13074; ED13191 (2/04)
2001 Gallén; Asturias SO / Valdés / Naxos 8 555841 (3/03)
2001 Socías; Granada City Orch / Pons / Harmonia Mundi HMC90 1764 (5/03)
2004 Isbin; NYPO / Serebrier / Warner Classics 2564 60296-2 (4/05)