The 50 best Johannes Brahms albums
Sunday, January 1, 2023
50 of the finest Brahms recordings available, complete with the original Gramophone reviews and an exclusive playlist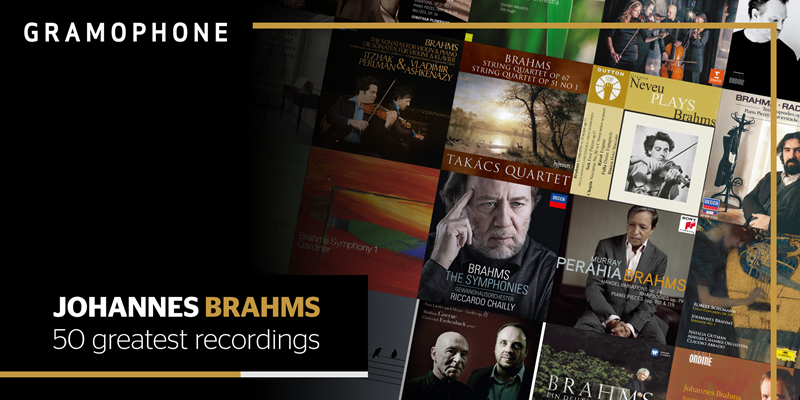 Johannes Brahms's many masterpieces have a confidence and ebullience, an irresistible lyricism and melodic charm, and show no sign of losing their appeal more than 120 years after his death.
There have been many outstanding recordings of Brahms's music, far too many to include here, but the albums listed below will give you the best possible way of beginning or continuing your journey through Brahms's music. The list is organised by genre, beginning with concertos and symphonies, then moving though chamber, instrumental, and finally vocal works.
We have also included extracts from the original Gramophone reviews, drawn from Gramophone's Reviews Database. To find out more about subscribing to this unique and endlessly fascinating resource, visit: gramophone.co.uk/subscribe. 
Piano Concertos

Piano Concertos Nos 1 & 2
Nelson Freire pf Gewandhaus Orchestra, Leipzig / Riccardo Chailly (Decca) Recorded live 2005-06
This is the Brahms piano concerto set we've been waiting for. Nelson Freire and Riccardo Chailly offer interpretations that triumphantly fuse immediacy and insight, power and lyricism, and incandescent virtuosity that leaves few details unturned, yet always with the big picture in clear sight. The D minor's headlong opening tutti updates Szell/Cleveland's patented fire and brimstone (Sony) with a warmth of tone that manages to convey both line and mass as few others do. Timpani and brass proudly step up to the fore in both concertos, while frequently buried lines emerge from the gnarly textures with uncommon clarity and specificity. In Chailly's hands, a genuine chamber music aesthetic consistently governs the lustrous warmth of Brahms's underrated orchestrations, to say nothing of the heights to which the conductor has led his revitalised Leipzig Gewandhaus ensemble.
Balanced within the orchestra as an equal partner, Freire is completely on top of and inside both works' solo parts, from No 1's fervent yet cogently shaped octave outbursts and the B flat's graceful, light-footed finale to both slow movements' unforced simplicity, organic flow and freedom from sentimentality. No doubt that the presence of an audience fuels the palpable give and take between soloist and conductor. Just as the Szell/Cleveland cycles with Serkin and Fleisher, and Gilels/Jochum (reviewed below) were benchmarks in their day, these gorgeously engineered, stunningly executed and temperamentally generous performances will stand as points of reference for generations to come.
☆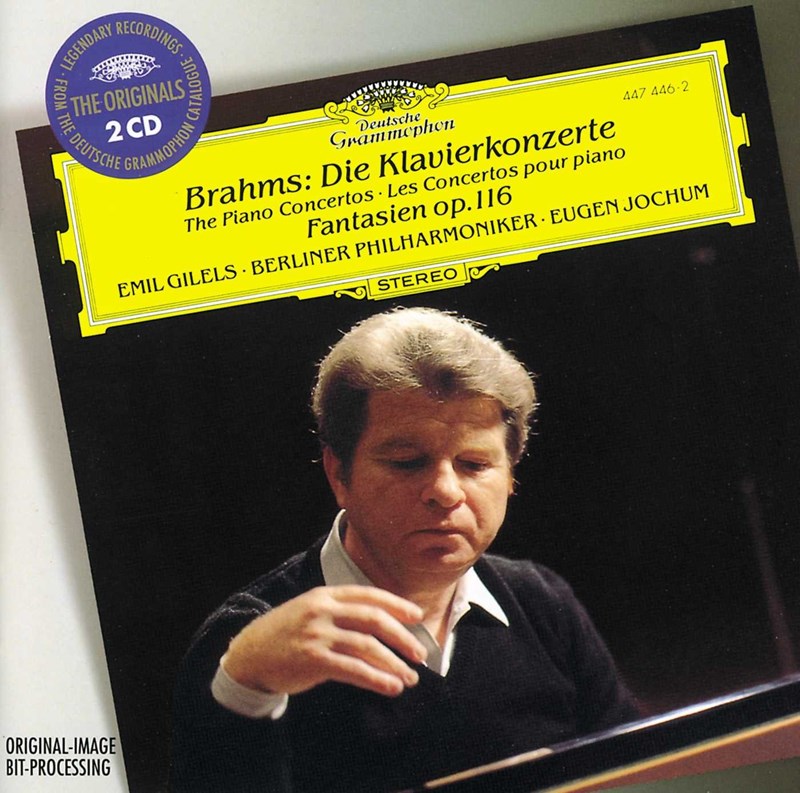 Piano Concertos Nos 1 & 2. Seven Piano Pieces, Op 116
Emil Gilels pf Berlin Philharmonic Orchestra / Eugen Jochum (DG) Recorded 1972-75
The booklet-notes make reference to the original Gramophone review, in which Gilels and Jochum were praised for 'a rapt songfulness that in no way detracts from Brahms's heroism, and so comes closer to that unique and complex combination of attitudes that for me is Brahms more than any other performances of these concertos I have ever heard, on records or otherwise'. It might be added that Jochum and the Berlin Philharmonic make plain sailing where others struggle with choppy cross-currents (admittedly sometimes to Brahms's advantage) and that the recordings don't sound their age. Other interpreters have perhaps probed a little deeper here and there; neither concerto rests content with a single interpretation, the Second especially. As for the Seven Piano Pieces, Gilels viewed the opus as a single piece, a musical novella in several chapters.
---
Welcome to Gramophone ...
We have been writing about classical music for our dedicated and knowledgeable readers since 1923 and we would love you to join them.
Subscribing to Gramophone is easy, you can choose how you want to enjoy each new issue (our beautifully produced printed magazine or the digital edition, or both) and also whether you would like access to our complete digital archive (stretching back to our very first issue in April 1923) and unparalleled Reviews Database, covering 50,000 albums and written by leading experts in their field.
To find the perfect subscription for you, simply visit: gramophone.co.uk/subscribe
---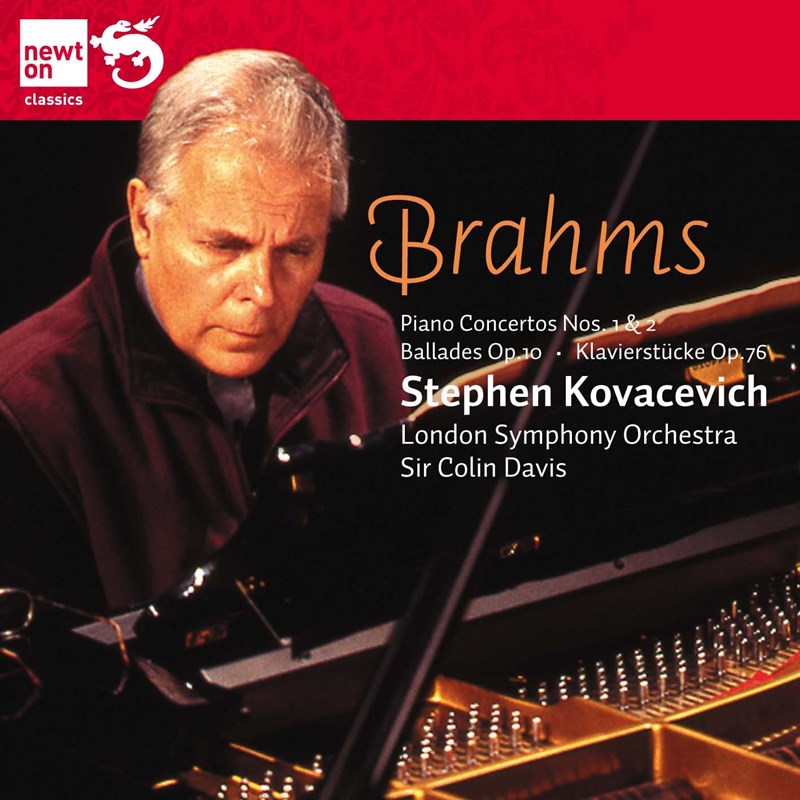 Piano Concertos Nos 1 and 2. Four Ballades, Op 10. Scherzo, Op 4. Eight Pieces, Op 76
Stephen Kovacevich pf London Symphony Orchestra / Sir Colin Davis (Newton Classics) Recorded 1979 & 1983
This superb reissue is a timely reminder of Stephen Kovacevich's stature as one of the great musicians of our time. His Brahms concertos with Colin Davis have always stood the test of time and once more take their place among the finest recordings. In the First Concerto others may burn with an even whiter heat or play with greater breadth and grandeur. But Kovacevich's poise at the close of the Adagio, like some glorious sunset slowly sinking into oblivion, is unforgettable and his blistering pace in the finale is characteristically trenchant and exhilarating.
In the Second Concerto you are made to feel a sense of romantic turbulence beneath its towering spans and arches, and every formidable demand is met with unflagging brio and a fierce musical commitment. The finale, too, in such hands becomes a 'glory of tumbling gaiety' (Edward Sackville-West). True, others are gentler and more giving in the more autumnal pages of Op 76 and the Four Ballades but the E flat minor Scherzo benefits immeasurably from a fierce propulsion. Sound and balance are admirable.
☆

Piano Concertos
Orchestra of the Age of Enlightenment / András Schiff pf
ECM New Series
These beautiful period-instrument performances, directed by András Schiff from a restored 1859 Blüthner, bring a compelling freshness to Brahms's much-loved piano concertos.
Read the review in Gramophone's Reviews Database
☆
Violin Concerto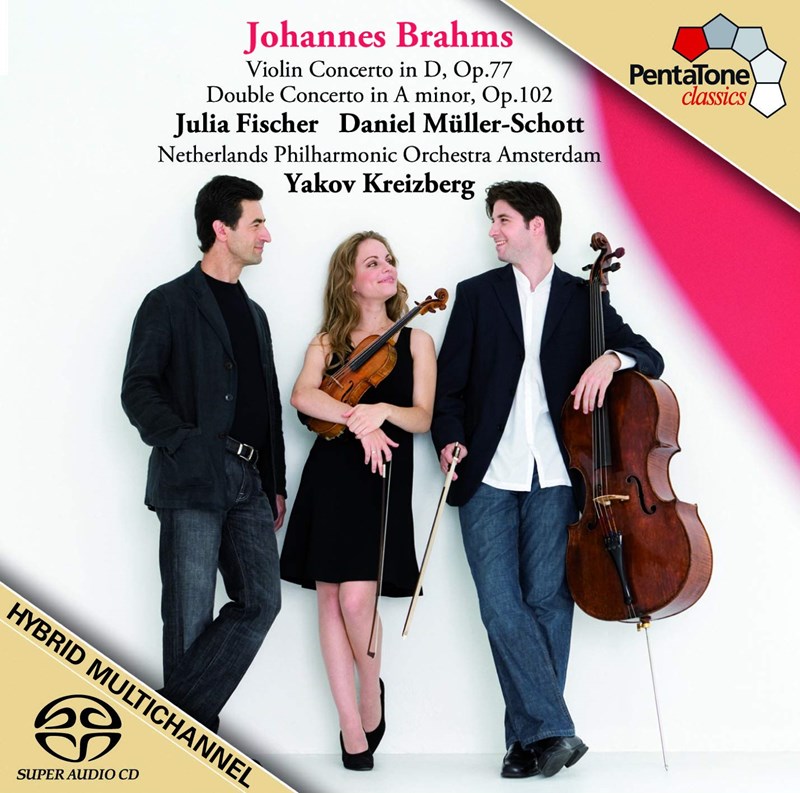 Violin Concerto. Double Concerto, Op 102
Julia Fischer vn Daniel Müller-Schott vc Netherlands Philharmonic Orchestra / Yakov Kreizberg (Pentatone)
Julia Fischer offers this ideal Brahms coupling in strong and sympathetic readings, joined in the Double Concerto by her brilliant young compatriot, cellist Daniel Müller-Schott. In the Violin Concerto, Fischer takes an expansive view of the first movement, freely varying the tempo as she did in her outstanding version of the Tchaikovsky Concerto. The 23-minute timing even underestimates her spaciousness, as she uses an unidentified cadenza rather shorter than the usual Joachim one (the booklet incorrectly says it's the Joachim).
Others offer tauter and brisker accounts of the first movement but Fischer amply justifies her spacious and flexible speeds in the feeling of spontaneity. Her performance never feels self-conscious or too studied and her range of tone and dynamic is extreme, bringing pianissimos of breathtaking delicacy. Fischer's slow movement, too, is expansive while in the finale she lets the tempo relax just enough to allow a persuasive spring in the rhythms, bringing out the Hungarian dance flavour.
The Double Concerto is not nearly as expansive: no doubt the influence of Müller-Schott was important here as the cello takes the lead in introducing each theme, with the cellist matching his partner in warmth and brilliance. Fischer and Müller-Schott are relaxed and easily lyrical in the slow movement, brilliant and thrusting in the finale. An outstanding disc which stands high on the list of this perfect coupling.
☆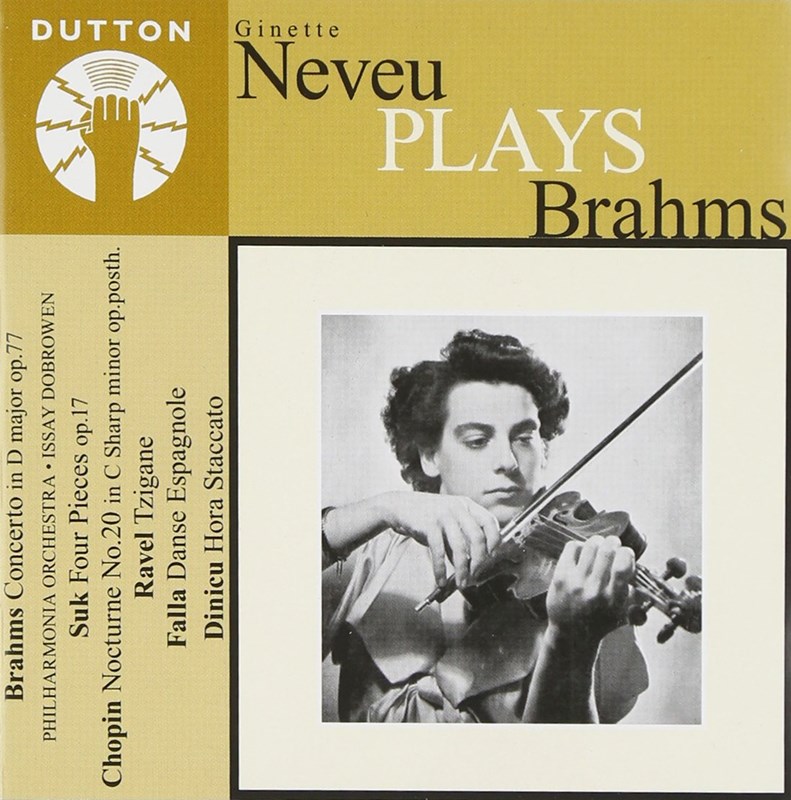 Violin Concerto
Coupled with short works by Chopin, Dinicu, Ravel and Suk
Neveu; Philharmonia / Dobrowen (Dutton mono)
Dutton improves on EMI's own transfer of this magnificent performance, giving it a winning warmth and body. Neveu was a commanding violinist and there's never a moment's doubt that she has the measure (and beyond) of this great work. Her technique is astounding and the accuracy of her playing an object lesson in great musicianship.
Double Concerto, Op 102

Double Concerto, Op 102. Clarinet Quintet, Op 115
Renaud Capuçon vn Gautier Capuçon vc Paul Meyer cl Aki Saulière vn Béatrice Muthelet va Gustav Mahler Jugendorchester / Myung-Whun Chung (Virgin Classics / Erato)
The stellar young Capuçon brothers seem incapable of setting a foot wrong on disc and they put their considerable chamber-music experience to great use in Brahms's final orchestral work, with cellist Gautier Capuçon proving an eloquent lead in the vehement first movement.
The other striking aspect about this performance is the sheer range of colour, not only from the soloists but also from the Gustav Mahler Youth Orchestra, who play their hearts out for Myung-Whun Chung in this most symphonic of concertos. If Oistrakh and Fournier are still irresistible in the slow movement, offering a perfect balance of melodic lines that are lovingly cherished but never saccharine, the Capuçons are still very impressive, and their finale is full of vitality, making much of the folk-tinged inflections and achieving a seemingly telepathic unanimity in their shared passages.
For a change from the usual concerto companion we get Brahms's Clarinet Quintet, written in 1891, four years after the Double Concerto. In this coupling it's easy to hear the Quintet's famous autumnal quality prefigured in the outer sections of the concerto's Andante. Paul Meyer is an ideal protagonist, producing a wide array of mellow shadings in the opening movement, yet never underplaying the more agitated passages within the piece, notably the Presto of the third movement. The quartet are minutely responsive to Meyer's every move and even seasoned Brahms aficionados will find new detail to relish in both the performances here.
☆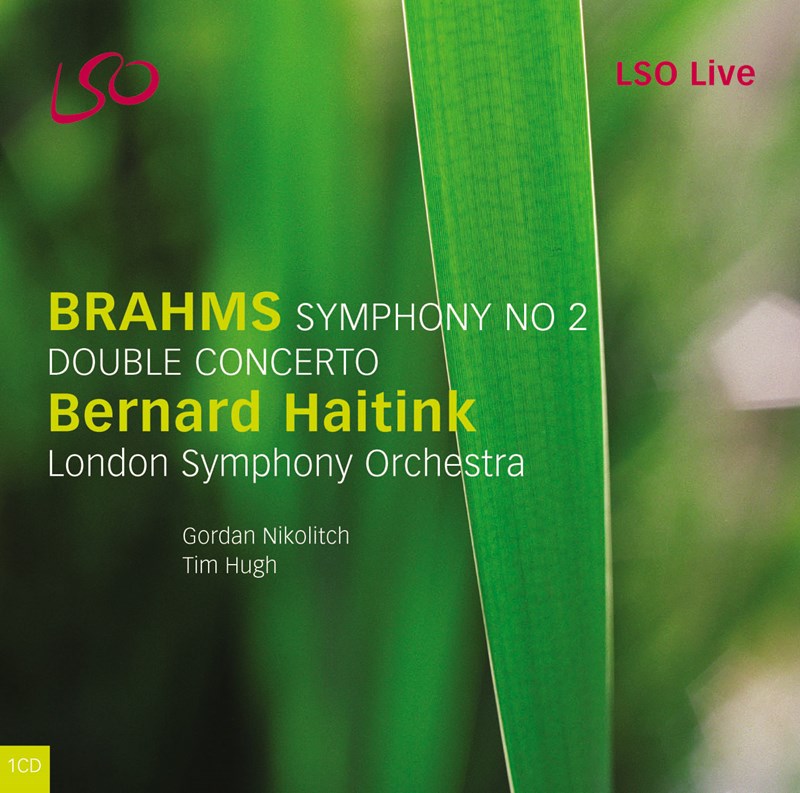 Double Concerto. Symphony No 2 in D, Op 73
Gordan Nikolitch vn Tim Hugh vc London Symphony Orchestra / Bernard Haitink (LSO Live)
Labels such as LSO Live bring altered priorities and fresh perspectives. When did a studio-based company last contemplate recording Brahms's Double Concerto with soloists drawn from within the orchestra? Brahms wrote the work with Joachim and his colleague in the Joachim Quartet, Robert Hausmann, in mind. It has a chamber-music dimension to it, yet it's also a work of real symphonic power. Haitink's accompaniment is superb, allowing the soloists the space for the lyric outpourings at the heart of the work. The sweet-toned Gordan Nikolitch and the burlier-sounding though endlessly responsive Tim Hugh are perfectly matched, and grow ever closer and more eloquent as the romantic, at times almost operatic colloquy of the two opening movements unfolds. After which, slippered ease and remembered passion is the order of the day in a sweetly judged reading of the finale. The recording, rich and immediate, brings out the tactile quality of Brahms's writing.
Haitink's 1990 Boston recording of the symphony for Philips had a certain Mediterranean glow to it. In this imposing and beautifully shaded new LSO performance, we return north again with a reading that's weightier and cleanly articulated.
Symphonies

Symphonies Nos 1-4
Gewandhausorchester / Riccardo Chailly (Decca)
Back in 1988, Chailly's Brahms was seen as being not especially Italianate. If it wasn't then, it is more so now. His account of the Haydn Variations resembles Toscanini's in the tautness of its argument and its finely adjusted sense of tempo relations within and between variations. In the symphonies, however, the analogy works less well. Where Toscanini in his later years would often harry the music, bending it too much to his will, Chailly's approach is more nearly aligned to Klemperer's, where swift tempi, buoyant phrasing and forward winds are married to strongly drawn lines which move the music unerringly towards its appointed goal.
It is an approach that informs the entire cycle. Weingartner spoke of the First Symphony 'taking hold like the claw of a lion', which indeed it does in Chailly's performance. But, like Klemperer, Chailly brings a similar approach to the first movement of the Second Symphony. The result is a degree of urgency which more pastorally minded Brahmsians might think better suited to the tragic pronouncements of the Fourth Symphony than the 'lion and the lamb' mood of the Second. Yet everything is of a piece. Rarely have I heard so angst-ridden a realisation of the moment towards the end of the first movement where a woodland horn effects an extraordinary dissolution of the germinal D-C sharp-D motif with which the symphony begins. There will be no such controversy about the symphony's two closing movements. It's difficult to imagine them being better done. As to the Fourth Symphony, Chailly's new account has a concentration of gesture and urgency of movement which his earlier Concertgebouw reading rather lacked. The opening still sounds understated but the performance builds steadily until the coda glows white hot.
Wilhelm Furtwängler liked to argue that it is in moments of transition that the deeper truths lie. This may be so but it requires Brahms-conducting more like that which we encounter in Kurt Sanderling's epic 1971-72 Dresden cycle to realise the point. Broad tempi and sudden indwellings are not Chailly's way. Yet his account of the Third Symphony – as finely ordered and dramatically direct a performance as any on record – misses few if any of the work's darker undercurrents. The nocturnal mysteries of the two inner movements are beautifully realised.
☆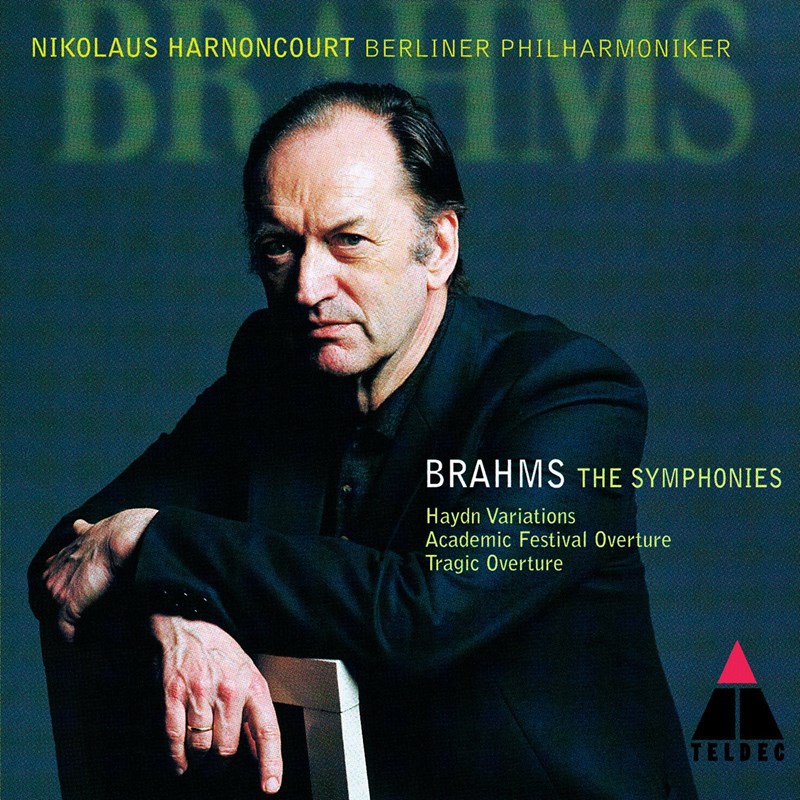 Symphonies Nos 1-4. Variations on a Theme by Haydn. Academic Festival Overture. Tragic Overture
Berlin Philharmonic Orchestra / Nikolaus Harnoncourt (Teldec) Recorded live 1996-97
Any fears that Nikolaus Harnoncourt's Brahms will be quirky, provocative or abrasive can be dispelled. There are interpretative novelties (freshly considered articulation and clarified counterpoint) and the Berlin strings project a smooth, curvaceous profile. Harnoncourt makes a beeline for the brass, and the horns in particular. The live recordings have remarkable presence and are mostly cough-free.
The First Symphony's opening Un poco sostenuto seems a trifle soft-grained but the pounding basses from bar 25 are beautifully caught and the first-movement Allegro is both powerful and broadly paced. The Andante sostenuto slow movement is both limpid and conversational, with trance-like dialogue between oboe and clarinet and sparing use of vibrato among the strings. Harnoncourt makes real chamber music of the third movement, though he drives the Trio section to a fierce climax, and the finale's first accelerating pizzicatos are truly stringendo poco a poco – the excitement certainly mounts, but only gradually. The Second Symphony's first movement is relatively restrained. Harnoncourt's strategy is to deliver a sombre exposition and a toughened development. Again, the slow movement is fluid and intimate, with some tender string playing. The third movement's rustling Trio is disarmingly delicate and the finale, tightly held, keenly inflected and heavily accented: the coda threatens to break free and the effect is thrilling.
First impressions of the Third Symphony suggest a marginal drop in intensity, yet the first movement's peroration is so powerful that there's a retrospective suspicion that all the foregoing was mere preparation. The middle movements work well but the rough-hewn, flexibly phrased finale really makes the performance.
Like the Third, the Fourth opens with less import than some of its older rivals, yet the development intensifies perceptibly, the recapitulation's hushed piano dolce opening bars are held on the edge of a breath and the coda is recklessly headstrong. The slow movement has some heartfelt moments, the top-gear Scherzo is quite exhilarating and the finale forged with the noble inevitability of a Baroque passacaglia. Ultimately, Harnoncourt delivers a fine and tragic Fourth. Harnoncourt's Brahms is the perfect antidote to predictability and interpretative complacency.
☆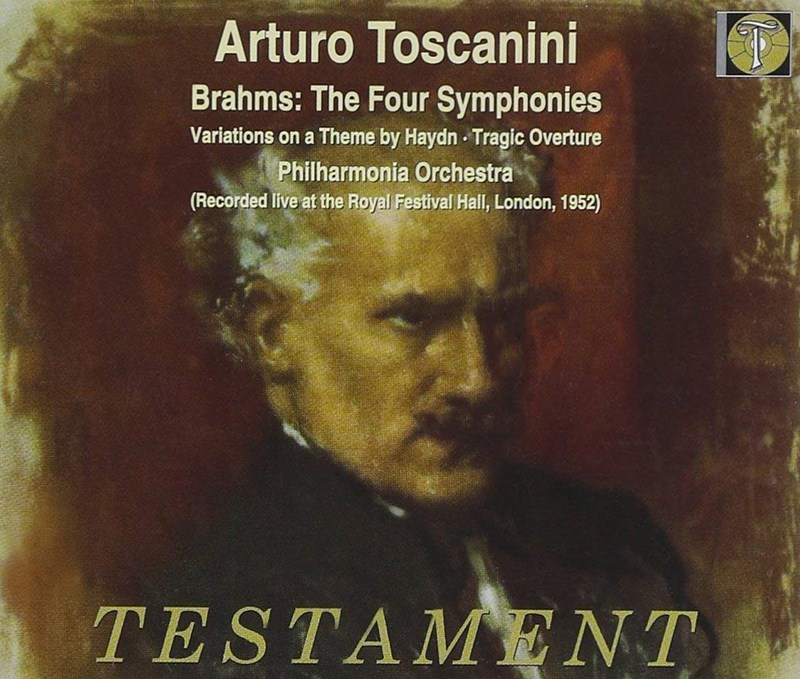 Symphonies Nos 1-4. Tragic Overture. Variations on a Theme by Haydn
Philharmonia Orchestra / Arturo Toscanini (Testament mono) Recorded live 1952
The concerts recorded here preserve the two legendary occasions in the autumn of 1952 when Toscanini conducted the Philharmonia Orchestra, then only six years old but already the front runner among London orchestras. The recording itself, now legendary, has generated pirated versions, but never before has the original made by EMI, under the supervision of Walter Legge, been officially released. Testament's remastering is a revelation. This new set brings the clearest of demonstrations that the RCA recordings of Toscanini and the NBC Symphony Orchestra made during the last years of his life (including his Brahms cycle of the very same 12-month period) give only an imperfect picture of a conductor who at the time, and for a generation or previously, was almost universally counted the greatest in the world. That reputation has been eroded over the years, but this issue may help to put the record straight.
Take for example the quite different NBC version of No 3 that he recorded in New York barely a month after this performance: as Alan Sanders says in his note, a 'rhythmically staid recording which entirely lacked the lyricism and eloquence of the Philharmonia performance'. His description points to the marked contrasts, not only in No 3 but in all four symphonies. Whereas the New York performances, resonant and superbly drilled, have a hardness and rigidity, with the dynamic contrasts ironed out, thus eliminating pianissimos (partly a question of recording balance), the Philharmonia's consistently bring a moulding of phrase and subtlety of rubato which bears out the regular Toscanini instructions to 'Sing!'. And in contrast with most Toscanini recordings, the hushed playing is magical. The New York players, by comparison, seem to have forgotten how to respond to the finer subtleties of this notorious taskmaster among conductors. The extra flexibility of the Philharmonia performances over the NBC has an interesting effect on tempo too. Whereas in No 1 the NBC speeds of 1951 are faster, not just than those of the Philharmonia but of the 1941 NBC performance, in the other three symphonies the Philharmonia timings tend to be a degree quicker, notably in No 3, where for example the Andante flows far better.
☆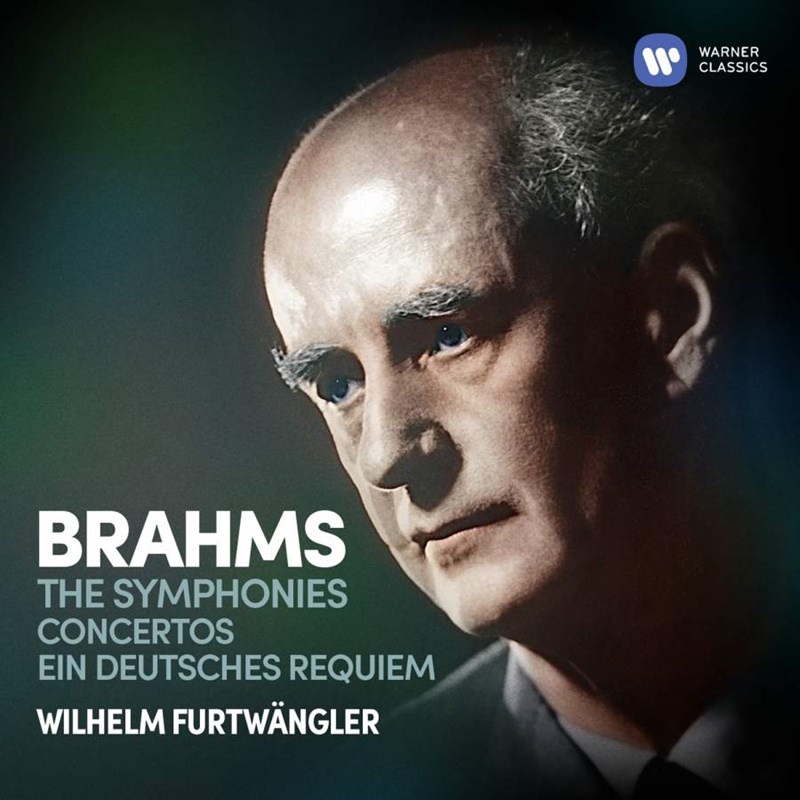 Symphonies Nos 1-4
BPO, VPO / Wilhelm Furtwängler (EMI mono / Warner Classics)
These are extraordinary performances, the Third and Fourth Symphonies especially. In the Fourth it is almost as though Furtwangler, to a Berlin audience in 1948, were saying "You still don't believe that this symphony is an appalling tragedy? Listen!" It is desperately serious from the very beginning: austere, big-phrased, with sober grace amidst the intensity, but also suspense, troubled anxiety. The coda is wildly turbulent, and ends in blackness. The slow movement begins in an unearthly hush, soon giving way to expressive warmth, but the rejoinder of the strings is unutterably poignant: the movement is a mourning procession, relieved only by vain defiance. And the scherzo, which Brahms marked giocoso? More like grim determination, and although there are moments of relaxation the very fast tempo maintains uneasy tension through them. The finale is baleful, the strings returning to their intense eloquence, the chorale subdued and prayer-like, the fierce conflict terribly urgent, ending in bleak despair.
☆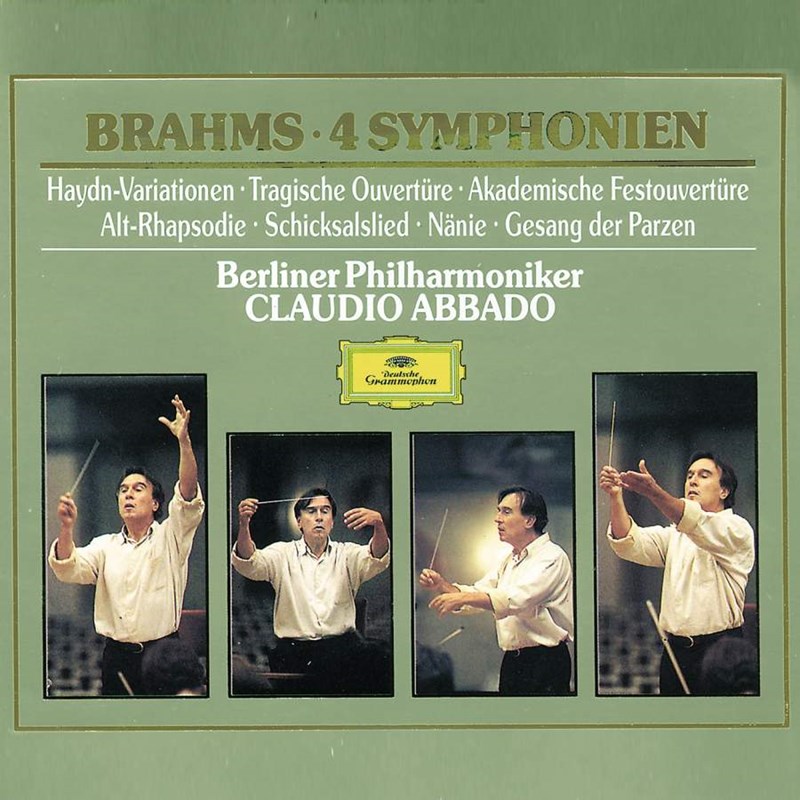 Symphonies Nos 1-4
Coupled with overtures, choral works, St Antoni Variations
BPO / Claudio Abbado (DG)
One of the finest of modern Brahms cycles with stylish, sleek orchestral work.
☆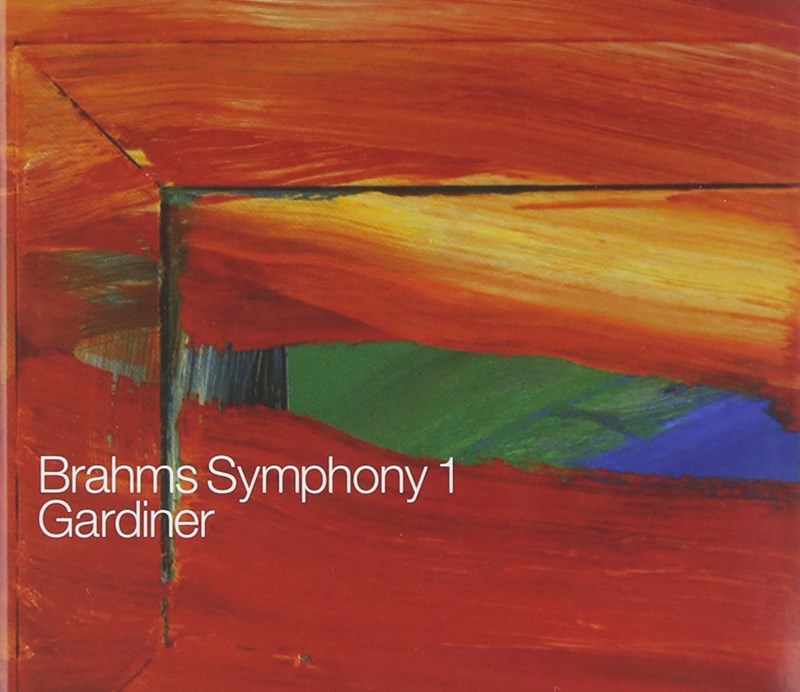 Symphony No 1. Begräbnisgesang, Op 13. Schicksalslied, Op 54
Monteverdi Choir; Orchestre Révolutionnaire et Romantique / Sir John Eliot Gardiner (Soli Deo Gloria) Recorded live 2007
Part of a project whose purpose is to contextualise Brahms's four symphonies and German Requiem, this is a record that needs to be heard chronologically and complete, not cherry-picked for individual items.
Sir John Eliot Gardiner's project promises to bring into play the work of Schütz and Gabrieli, along with choral pieces by admired contemporaries. Here Mendelssohn is the representative 'other', his superb Mitten wir, composed three years before Brahms's birth. It is flanked by Brahms's Begräbnisgesang (1858), a threnody for chorus, winds and timpani that openly anticipates the second movement of the German Requiem, and the sublime yet troubled Hölderlin-inspired Schicksalslied ('Song of Destiny', 1868‑71) which can be seen as a pendant to the Requiem.
Brahms's setting of Hölderlin's poem was controversial. Where Hölderlin supplants his opening vision of celestial quiet with images of the hell of earthly existence, Brahms ends by revisiting that celestial vision in a ruefully beautiful orchestral coda in C major. Schicksalslied tells us a good deal about the First Symphony. In Gardiner's powerful juxtaposition, the descent from that rueful C major coda to the C minor of the symphony's tumultuous opening is a true coup de théâtre, the terrible enactment of another Fall.
These are intensely dramatic performances, powerful and unmanicured. The gathering drama of the three choral pieces is channelled and unleashed in a towering account of the First Symphony's opening movement. When Klemperer conducted the symphony in Los Angeles in 1941 a player recalled: 'He drove, as in a huge chariot, to the highest planes of expression.' There is something of that spirit here in Gardiner's gaunt, no-holds-barred account of the work.
The use of period instruments and their deployment in the brooding acoustic of Paris's Salle Wagram are clearly factors in the performance's wider impact. It has to be said that the playing in the symphony's middle movements is rather rough and ready. In the third movement, which under Gardiner is neither allegretto nor grazioso, Sir Charles Mackerras's historically informed Scottish Chamber Orchestra version (Telarc) is much to be preferred. Not that comparisons matter. This is a mighty Brahms First which, like the programme it inhabits, is a thing sufficient unto itself.
☆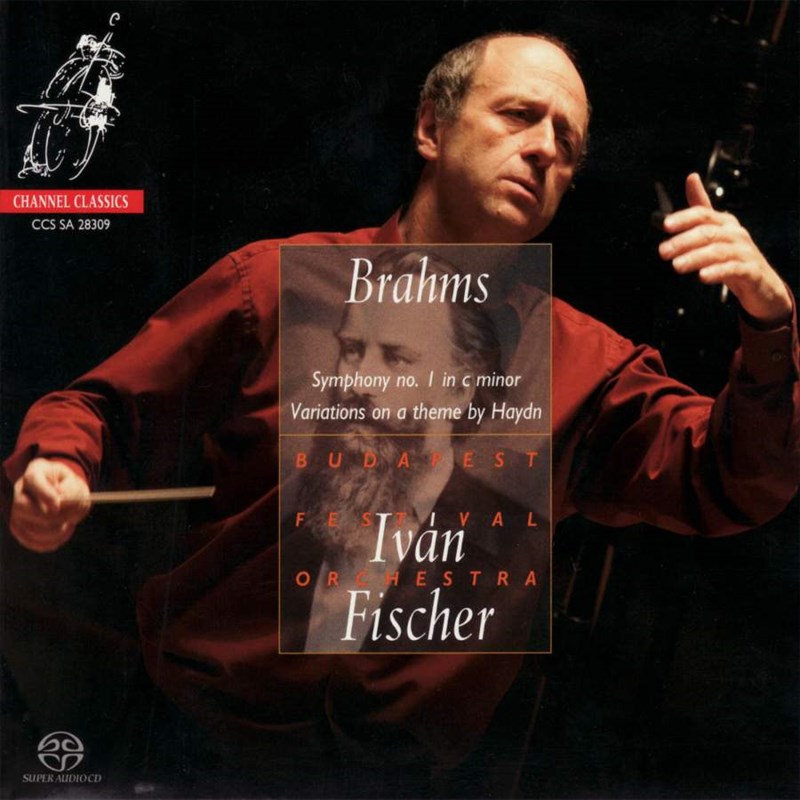 Symphony No 1. Variations on a Theme by Haydn. Hungarian Dance No 14 (arr Fischer)
Budapest Festival Orchestra / Iván Fischer (Channel Classics)
The decision to begin this disc with Iván Fischer's own arrangement for strings of Brahms's soulful Hungarian Dance in D minor puts down a marker. This is Brahms seen from the perspective of the borderlands to the east of Vienna, Brahms Hungarian-style.
Fischer and his decidedly classy Budapest orchestra treat the Variations as an affectionate tribute to Haydn, an east-of-Vienna man if ever there was one. Finely sprung and nicely styled, the performance even has its own zigeunerisch dimension – in the finale where Brahms's witty and heroic use of the triangle is neatly pointed. A superlative recording helps.
And what of the symphony, which Fischer describes with Polonius-like elaboration as Brahms's first 'German Hungarian Gypsy Swiss Austrian symphony'? This too is a vibrant affair, stylish and alert, played with clarity and sheen (and the merest hint of string portamento).
Fischer brings out the dance element in the first-movement Allegro, the music's youthful purpose. After a slow movement exquisitely voiced on the orchestra, the third movement has a pace and grace that again seems decidedly Hungarian. Fisher is comprehensively floored by the weirdly fluctuating pizzicato transition near the start of the finale but poise and momentum are soon restored. The symphony's peroration is more than usually fiery.
This is a more extrovert reading than many you will hear, less burdened. Conscious of this, and perhaps wanting to have the best of both worlds, Fischer plays the lyric sections of the first movement rather broadly and begins drawing down the coda a whole 20 bars before the brief 15‑bar meno allegro Brahms asks for. Furtwängler did something similar but subtly and disarmingly. Since Fischer's command of a subtly fluctuating pulse is not in the Furtwängler league, the effect seems manufactured. Better conduct your own Brahms well than someone else's badly. Happily, for most of the performance Fischer does just that.
☆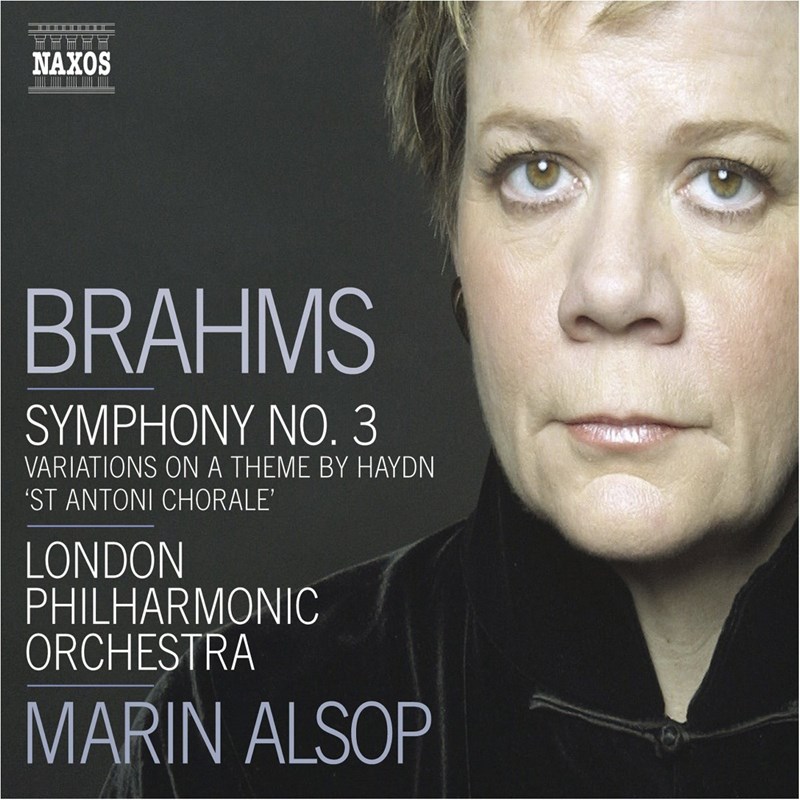 Symphony No 3. Variations on a Theme by Haydn
London Philharmonic Orchestra / Marin Alsop (Naxos)
Brand-new budget-price recordings which can rub shoulders with the best are rarer than one imagines but this fine new Brahms disc probably comes into that category. Finding a recommendable Brahms Third is more difficult than one might suppose. Since Felix Weingartner made his very fine LPO recording in 1938, the number of great, or even successful, Thirds can probably be listed on the fingers of two hands.
Marin Alsop's reading is certainly fine: dark of hue, lyrical and long drawn, though never, even for a moment, comatose. Rhythm is good, articulation keen, phrasing exquisite, the reading's crepuscular colours glowingly realised by the LPO. The reading has a quality of melancholy, a wistfulness crossed with a sense of incipient tragedy, which is almost Elgarian (Elgar's fascination with the piece is well attested).
Readings such as Furtwängler's and Sanderling's, which are more inclined to tower and course, may not have allowed themselves to be overtopped by the Haydn Variations, yet there is something rather wonderful about the transition we have here from dark to light. It is a long time since we had a performance of the Variations as well grounded and as keenly profiled as this. Winds are splendidly to the fore: skirling flutes, songful oboes, grumbling descants on the horns 'in deep B'. It is, above all, a reading of great character: the horn-led sixth variation a burgherly jaunt, the seventh variation a handsome galliard, the finale a Meistersinger-like revel.
☆
Symphony No 4
Vienna Philharmonic Orchestra / Carlos Kleiber (DG The Originals)
Kleiber's charismatic 1981 Vienna recording, a classic of sorts and still sounding exceptionally well, continues to stand its ground. From the beginning, he keeps the speed fairly steady. In the first movement's coda, he scores over many of his rivals with prominent horns and a particularly exciting conclusion. He opens the second movement in a rather perfunctory manner, but the Vienna cellos make a beautiful sound in the piano dolce second subject. In the Scherzo, Kleiber pulls back for the two accented notes that dominate the first theme, an interesting gesture that lends the music an appropriately swaggering gait. This, arguably, is his finest movement – also from 4'48", where he keeps the timpani's triplets crystal-clear, then pushes his horns very much to the fore. Overall, Kleiber in the Fourth is the knight with shining breast-plate, bold, handsome, outgoing, relatively straightforward and (this will court controversy) perhaps just a little superficial.
☆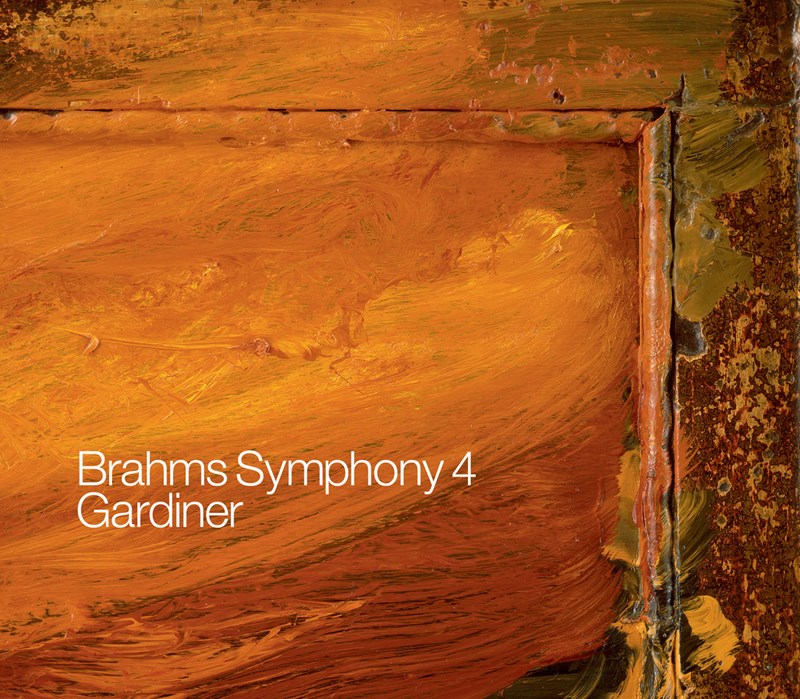 Symphony No 4. Geistliches Lied, Op 30. Fest- und Gedenksprüche, Op 109 
Monteverdi Choir; Orchestra Révolutionnaire et Romantique / John Eliot Gardiner (Soli Deo Gloria) Recorded live 2008
If Brahms's Fourth Symphony is an essay in self-consummation, so too is the life that effected its making. And it is this which John Eliot Gardiner's superbly planned 10-item programme so revealingly explores. After the gauntlet has been thrown down by Coriolan, the story is taken up with music by two earlier composers from whom Brahms learnt his craft. Brahms included Giovanni Gabrieli's Sanctus and Benedictus and Schütz's scarifying brief psychodrama of Saul's conversion on the road to Damascus in a concert with the Vienna Singakademie in 1864. Gardiner has examined Brahms's score for the occasion, with its astutely pencilled markings. The Monteverdi Choir realise Brahms's vision to perfection.
Movements follow from the Bach cantata whose subtly modified concluding chaconne provided the germ-cell for the symphony. From there we descend into the pool of quiet which is Brahms's own Geistliches Lied, a workshop essay in fashioning a double canon at the ninth which is also a vision of the peace which comes from the acceptance of God's will. Finally there are the three linked a cappella 'festal and commemorative sentences' which post-date the symphony but which wonderfully complement it in their creative redeployment of Baroque craft.
Gardiner's account of the symphony begins with a brisk and cleanly voiced account of the exposition, its literalness and flexibility nicely matched. Unusually for a period-instrument performance, there is a finely developed use of legato here, even on occasion a hint of Viennese portamento.
What follows is a good deal more of a disjunct. The movement ends with a blazing account of the coda which out-Furtwänglers Furtwängler in the frenzy of the (unmarked) acceleration through the final 40 bars. The development, however, is skated over. This is odd since the slow movement is beautifully done, the old instruments bringing out the music's quaint ballad-like quality to illuminating effect.
In the third-movement Allegro giocoso, the last to be written and taken here at a terrific lick, there is little sense of the epic revel Brahms has created. The finale, by contrast, is superbly done, Gardiner and his players bringing the symphony – and the cycle – to a compelling close.
There have been finer individual Fourths than this yet there has never previously been a recording which so vividly magics the work out of its own private hinterland for our delectation and awe.
Serenade No 1, Op 11

Brahms Serenade No 1 Schumann Cello Concerto
Natalia Gutman vc Mahler Chamber Orchestra / Claudio Abbado (DG) Recorded live 2006
The most enjoyable feature of this superbly engineered CD is the high level of musical interrelation that it more or less consistently conveys, between Natalia Gutman and the orchestra in the Schumann, and between Abbado and his young players in both works. Gutman's playing, like Abbado's conducting, is communicative and conversational, earnestly so at times, her tone mostly warm in texture, her bowing seamless and in the quieter sections quite ravishing, although she's also capable of muscular attack. For a sustained sense of musical line, try the opening minute or so of the slow movement – note how easily the music breathes, even at a relatively slow tempo. The effect is of poignancy beyond words. The finale is playful and fairly genial, and the clarity of Gutman's articulation means that the solo line never sounds merely 'busy'. The orchestra is there with her every bar of the way, ever responsive, attentive and affectionate.
Schumann's Cello Concerto is a late work whereas Brahms's First Serenade is relatively early. Abbado's performance is chamber-like, modestly individual and for the most part beautifully played by the Mahler CO. Just listen to the easeful charm of the opening and the adoring way Abbado draws the first movement's second subject, gradually slowing the tempo before picking it up again for a return to the otherwise pervasive ebullience. No single movement anticipates the later, equivocal Brahms more tellingly than the whimsical Scherzo, thoughtfully played here, while the tripping finale is both assertive and delicate – though, again, the second set is poetically underlined. This is prime-quality Abbado: points are made but never overstated, and there's always the sense that quality musicians are working together with a common musical aim. Who could possibly ask for more?
String Sextets

String Sextets Nos 1 & 2
Raphael Ensemble (Hyperion)
Completed after the First Piano Concerto but still comparatively early works, the Sextets are typified by lush textures, ardent emotion and wonderfully memorable melodic lines. The First is the warmer, more heart-on-sleeve piece, balancing with complete naturalness a splendidly lyrical first movement, an urgent, dark set of intricate variations, a lively rustic dance of a Scherzo, and a placidly flowing finale. The Second inhabits at first a more mysterious world of half-shadows, occasionally rent by glorious moments of sunlight. The finale, however, casts off doubt and ends with affirmation. Both works are very susceptible to differing modes of interpretation, and the Raphael Ensemble has established distinctive views of each, allowing the richness of the texture its head without obscuring the lines, and selecting characteristically distinct tone qualities to typify the two works. The recording is clear and analytic without robbing the sound of its warmth and depth. An impressive recording debut for this ensemble.
☆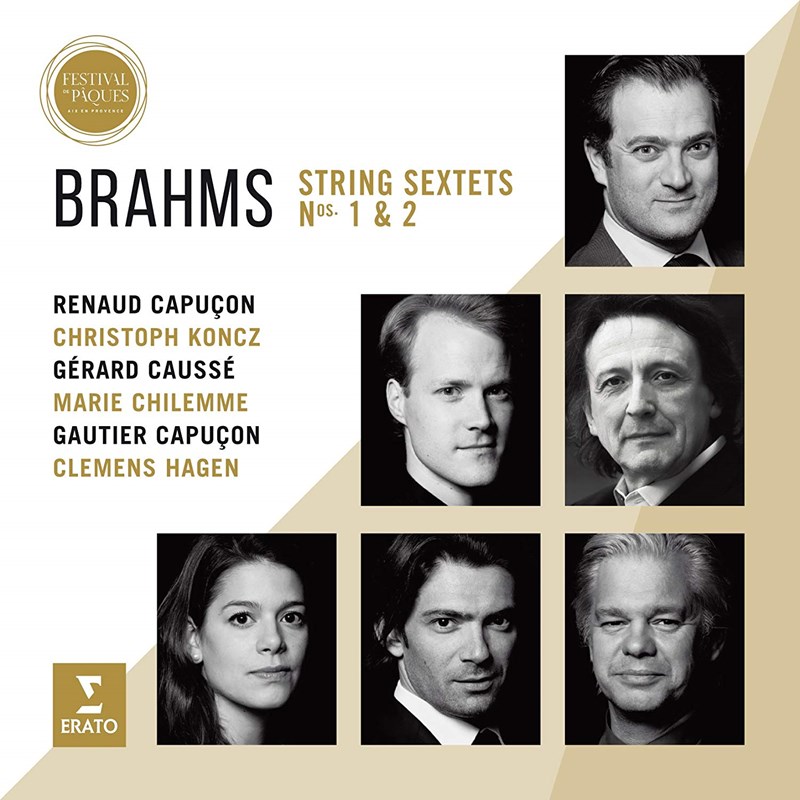 String Sextets Nos 1 & 2
Renaud Capuçon, Christoph Koncz vns Gérard Caussé, Marie Chilemme vas Gautier Capuçon, Clemens Hagen vcs (Erato)
It's been some years since we've had a disc of Brahms's sextets as thoroughly satisfying as this one, recorded live at the 2016 Aix-en-Provence Easter Festival. The Capuçon brothers and their colleagues may be an ad hoc group but they play with the unanimity and blended tone of a veteran ensemble. Even in the most intricate passages, the six parts dovetail seamlessly, not only in terms of the smoothness of execution but in consistency of phrasing as well. Best of all, the musicians find a near-ideal balance of urgency and patience – the hallmark of a great Brahms interpretation.
The opening movement of the B flat First Sextet is appropriately relaxed yet there is always an underlying sense of propulsion, so that one feels that inexorable and inevitable pull from one phrase to the next. And there's so much character to the playing, too. Listen, for instance, to the development section, beginning around 7'30", and how naturally it evolves from the spontaneously conversational to the passionately argumentative (at 8'20"). The slow movement is purposeful yet intensely expressive within the music's structural and rhythmic constraints that underscore its kinship with a Baroque chaconne. Perhaps the Scherzo could have a little more verve – it's marked Allegro molto, after all – but any misgivings are swept away by the joyful and generous lyricism of the finale.
Clarinet Quintet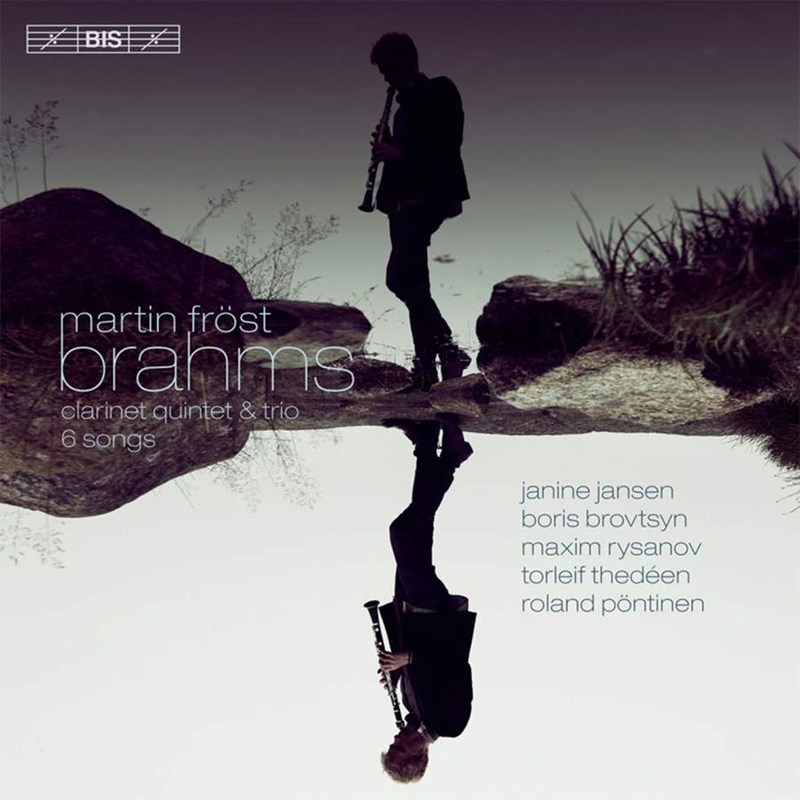 Clarinet Quintet
Martin Fröst cl Janine Jansen, Boris Brovtsyn vns Maxim Rysanov va Torleif Thedéen vc Roland Pöntinen pf (BIS)
Contradictions rule. Brahms's biographer Florence May (1905) says of the Clarinet Quintet: 'The tone of gentle loving regret that prevails suggests the composer's feeling that the evening is not far away from him.' William Murdoch (1933) disagrees: 'Rapturous, one can hardly believe that the composer is not a young man full of the joy of life.' Early recordings are divided too, Charles Draper (1928) broadly closer to May whereas Reginald Kell (1937), Frederick Thurston (1941), Leopold Wlach and Alfred Boskovsky (1950s) are generally with Murdoch. Martin Fröst finds the tone of gentle love but no regret, autumnal but not wistful, with a young man's spring fire coursing through the scherzo. Sensuous beauty and taut sinew mingle for an interpretation from five soloists whose fastidious attention to internal balance and every musical detail result in sovereign excellence, in a sovereign recording.
Piano Quintet in F minor, Op 34

Brahms Piano Quintet Schumann Piano Quintet in E flat, Op 44
Leif Ove Andsnes pf Artemis Quartet (Virgin Classics / Erato)
Leif Ove Andsnes has an uncanny knack of revealing the inner truth of the music he plays without recourse to excessive gimmickry. He also has exquisite taste when it comes to choosing his chamber music collaborators, as this pairing of the two cornerstones of the piano quintet repertoire demonstrates.
Schumann's Quintet has become the most famous of his chamber works, with its boundless energy and melodic generosity. Andsnes and the Artemis let the notes speak for themselves, never lingering too lovingly on mere details. It's an approach that serves the work well, and an ideal instrumental balance helps illuminate the work's compelling textures throughout.
It's a similar story in the Brahms. Andsnes and the Artemis are alive to all the possibilities in the pregnant opening phrases of each movement and maintain the intensity of the impetuous passion implicit in this youthful music. The Brahms hasn't fared as well on disc as the Schumann and this recording of it can certainly take its place among the finest. As for the Schumann, it's undoubtedly up there with the best.
☆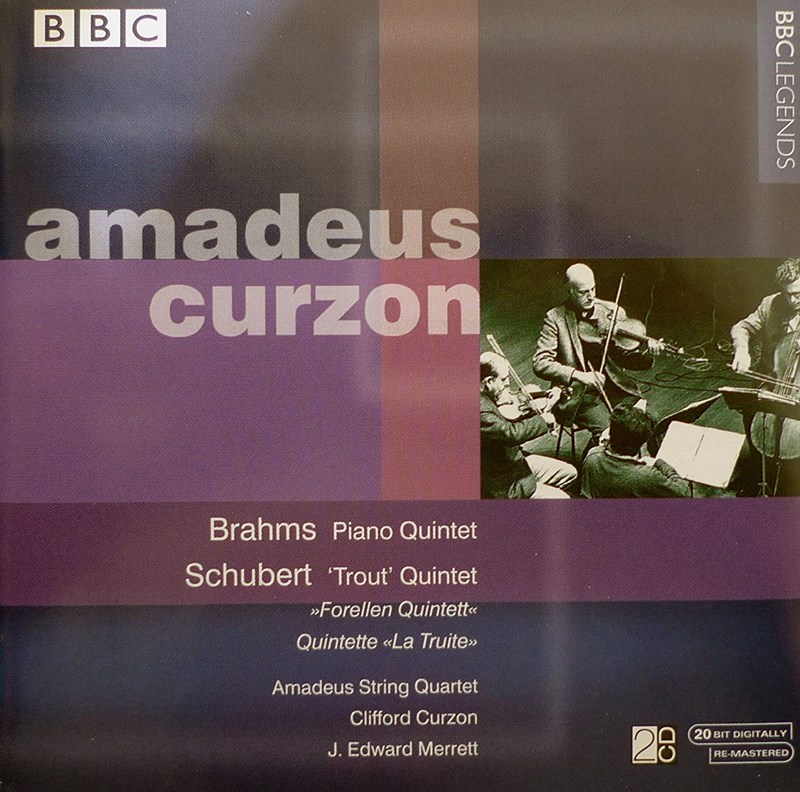 Brahms Piano Quintet Schubert Piano Quintet in A, D667, 'Trout'
Sir Clifford Curzon pf Amadeus Quartet with James Edward Merrett db
(BBC Legends) Recorded live 1971, 1974
The 1971 recording of the Schubert sounds marginally better than the 1974 Brahms, but the visceral excitement generated by the Brahms Quintet has to be heard to be believed. It would be fairly easy to imagine a tidier performance, but not one that's more spontaneous or inspired. Sir Clifford Curzon's grand vision registers within a few bars of the opening movement and heats to near boiling-point by the start of the recapitulation. The emotional temperature rises even higher for the second movement.
The distinction of the performance resides in the co-operation of all five players, which reaches unprecedented heights in the finale. No wonder the audience explodes: it's doubtful that anyone present has heard a finer performance since. The Trout's repeated exposition is even more exciting than its first statement, and there's some gentle tempo acceleration during the development. True, the strings make a fractionally late entrance at the beginning of the Andante, but the vitality of the Scherzo would be hard to beat, while the Theme and Variations features notable playing from Lovett. There's an amusing spot of premature congratulation when applause momentarily breaks in at the end of the Allegro giusto's exposition, but it soon withers to silence for a joyous finale. Here the recording rather favours the strings, but better that than have the piano drown everyone else out. Wonderful stuff, all of it.
☆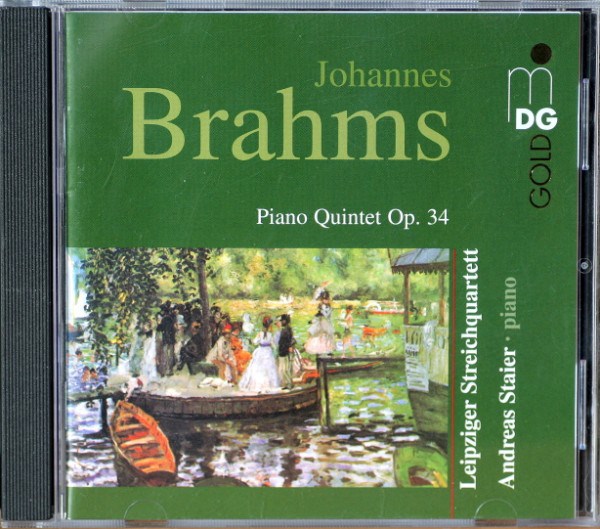 Piano Quintet
Andreas Staier pf Leipzig Quartet (Dabringhaus und Grimm)
Here's something quite unusual! Andreas Staier is playing a Steinway Model D dating from 1901; not exactly contemporary with the Quintet (1865), but producing a noticeably lighter sound than its modern counterpart, and taking us closer to what would have been familiar to Brahms.
On this excellent recording we're aware that the dominating resonance of the present-day concert grand is missing; the balance shifts in favour of the strings, making the work seem more colourful, less sombre. The first movement and the Scherzo are especially successful, with full, resonant tuttis contrasting dramatically with the more tenuous, atmospheric music. The Leipzig Quartet maintain a notably pure sound, without excessive vibrato, adding to the feeling of transparency.
Other performers, such as Peter Serkin and the Guarneri Quartet, have delved more searchingly into the Quintet's emotional content, bringing out the moments of deep pathos or soaring lyricism. But Staier and the Leipzigers will expand your view of this great work.
Piano Quartets

Piano Quartets Nos 1-3. Three Pieces, Op 117
Marc-André Hamelin pf Leopold String Trio (Hyperion)
Brahms's finest chamber works are the quintets and sextets, whereas in the smaller line-ups textures can sometimes get clogged, as if the composer had metaphorically donned one overcoat too many. His three piano quartets sometimes exhibit this tendency but in performances as fine as these it is triumphantly surmounted with a combination of brisk speeds and an extraordinary collective joie de vivre.
The First Quartet opens simply, with Hamelin shaping the line beautifully but unaffectedly, the Leopold players gradually entering, their playing filled with ardour. The finale is irresistibly ebullient, with a jaw-dropping ending. The other impressive aspect is the sense of absolute precision, which lightens the textures and keeps edges crisp. Sample, for instance, the Scherzo of No 3 which can, in some hands, sound positively elephantine. Not here though, Hamelin dealing with Brahms's dense chords as easily as if they were single lines.
The epic Second Quartet, more a symphony than a quartet, is a considerable challenge to players and audience. Hamelin and the Leopold get to the heart of the matter in the soulful Poco adagio and while they in no way lack heft when it's needed, there's always a dancing quality to their playing which does much to illuminate textures. This music certainly benefits from their defiantly un-Germanic approach. Hamelin signs off with the Op 117 Intermezzos, elegantly played.
String Quintets

String Quintets – No 1 in F, Op 88; No 2 in G, Op 111
Nash Ensemble (Onyx)
Brahms, by adding a second viola to the string quartet line-up, revelled in the richness such bulking-out in the mid-range afforded him. The two string quintets (1882 and 1890) are essentially sunny creations, conceived during happy times in Bad Ischl. The First Quintet strikes a characteristic Brahmsian balance between economy and expansiveness, telescoping slow movement and scherzo into the single span of the central variations, and framing this with the autumnal, Schubertian unfolding of the opening Allegro non troppo and the Beethovenian contrapuntal discursiveness of the final Allegro energico. Brahms conceived the Second Quintet as his final work and in one of the most striking openings in all chamber music, upper-string sirens blaze off in hot pursuit of a drive-by cello solo. The slow movement and waltzish Intermezzo are in Brahms's elegiac mode, while the finale demonstrates his love of Hungarian gypsy music.
The Nash Ensemble are nothing less than the London regiment of chamber music's crack troops, and they present this joyful, compelling music in its best light. Recorded with appealing immediacy.
String Quartets

String Quartets Nos 1 & 3
Takács Quartet (Hyperion)
Viola to the fore in the third movement, Agitato, of No 3; and Geraldine Walther, firm-toned and assertive, rises to the occasion as the only unmuted instrumentalist here. Agitation isn't consistently maintained though because the Takács Quartet tend to ease the tension in places. Yet there is no slack in the other movements. This close-knit group unanimously stretch or tighten the rhythm, achieving evenly matched dynamics such as the sotto voce sequences in the opening Vivace, the hushed dolce e grazioso in the recapitulation of the Andante and the stilled peace of the G flat sixth variation in the finale. Walther is well in the picture in this movement too whereas elsewhere she appears occasionally to lose focus.
Not so in No 1. Her place on the right of the ensemble is firmly assured here. The work is 'commonly held to be representative of Brahms's austerity and asceticism' (Edwin Evans), and these epithets are apposite for the Takács, spare of style and tone. The players' control over the first movement doesn't preclude a range of rubato that serves to sharpen the musical argument. Nor does it preclude a linear drive that knits the six themes of the last movement into a coherent whole, while they do not let up on the melancholy of the middle movements, the third particularly dark. The recording is tonally credible but is widely separated.
☆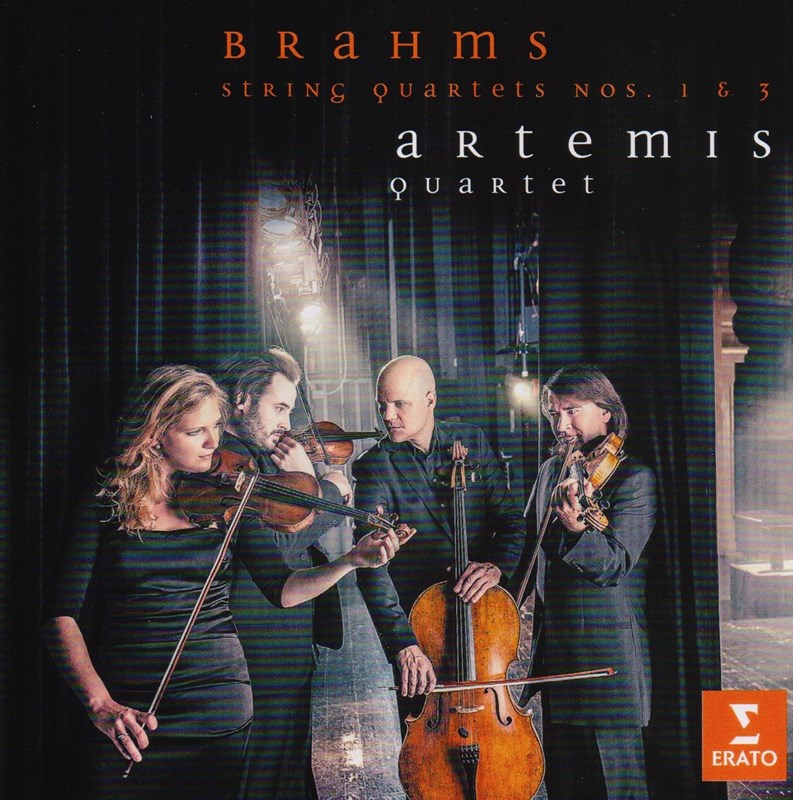 String Quartets Nos 1 & 3
Artemis Quartet (Erato)
From the quick vibrato of the opening of the First Quartet to the viola's pure tone that leads to the second subject just 10 bars later, the Artemis give us a Brahms of and for our time, inevitably informed by their work on Bartók and Ligeti just as much as on late Beethoven. Even the time taken over that second theme, the first violin's expansive freedom over his cadenza at the end of the exposition and the suspense hanging over their tentative passage into the development are 'natural' expressive devices that have nonetheless swung into and out of fashion ever since Brahms didn't write them down but left them up to the good taste and sense of his musicians.
The Artemis have both that taste and sense in abundance, and we could count ourselves very lucky to hear nowadays a performance of the C minor Symphony that matched this recording for its urgency and discretion of response to a work that swings no less wildly between fretful pacing, outright grief and elation. Much of both inner movements is played under the breath, which the engineers capture admirably, with just enough of the musicians' own breath to let us know they are there in the room with us.
Cello Sonatas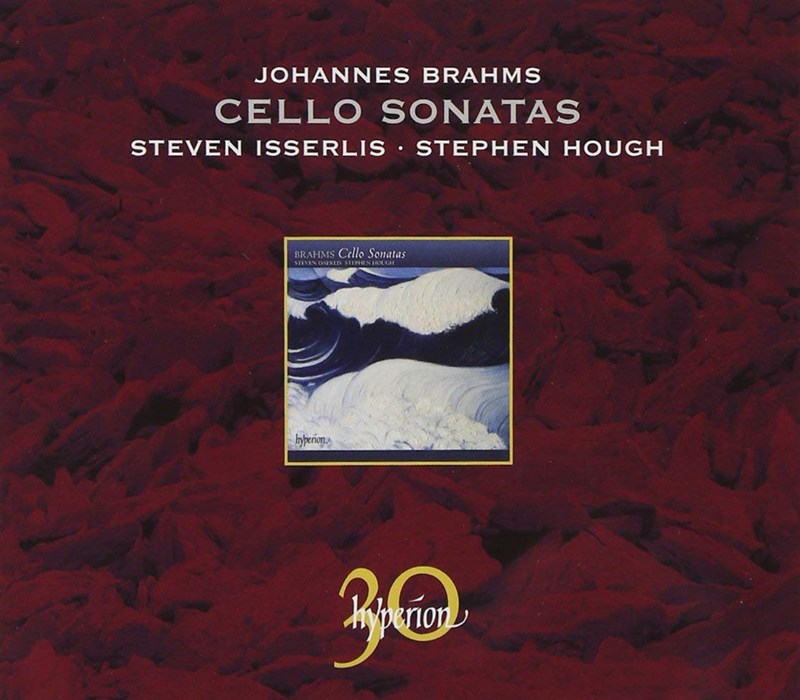 Brahms Cello Sonatas Nos 1 & 2 Dvořák Silent Woods, Op 68 No 5. Rondo, Op 94 Suk Ballade, Op 3 No 1. Serenade, Op 3 No 2
Steven Isserlis vc Stephen Hough pf (Hyperion)
In 1984 Steven Isserlis made excellent recordings for Hyperion of the Brahms sonatas with Peter Evans; this time he's added some substantial extra items – the two Suk pieces, wonderfully played, are particularly welcome. The new recording is fuller in sound and more realistic; Stephen Hough's commanding playing of Brahms's 'big' piano parts could, one feels, overpower the cello but, thanks to his sensitivity, this never happens.
In the sonatas, the timings are in nearly every case slightly shorter, due not to any very different tempi but because the music now flows more easily, with less sense of effort. Some listeners may miss the intensity of Evans's involvement with the music but the new versions have a wonderful sense of line, and Hough's more detached approach comes with vivid characterisation – seen in the sinister colours of No 2's Allegro passionato, for example, or the limpid, elegant playing of No 1's Allegretto quasi menuetto.
Only in one place, the finale of No 2, is there the feeling that Hough's fluency creates a problem: repeating the opening theme, he pushes on in a way that detracts from the sunny, contented atmosphere at the start. These are deeply considered, immensely satisfying accounts. Isserlis and Hough make a formidable team.
☆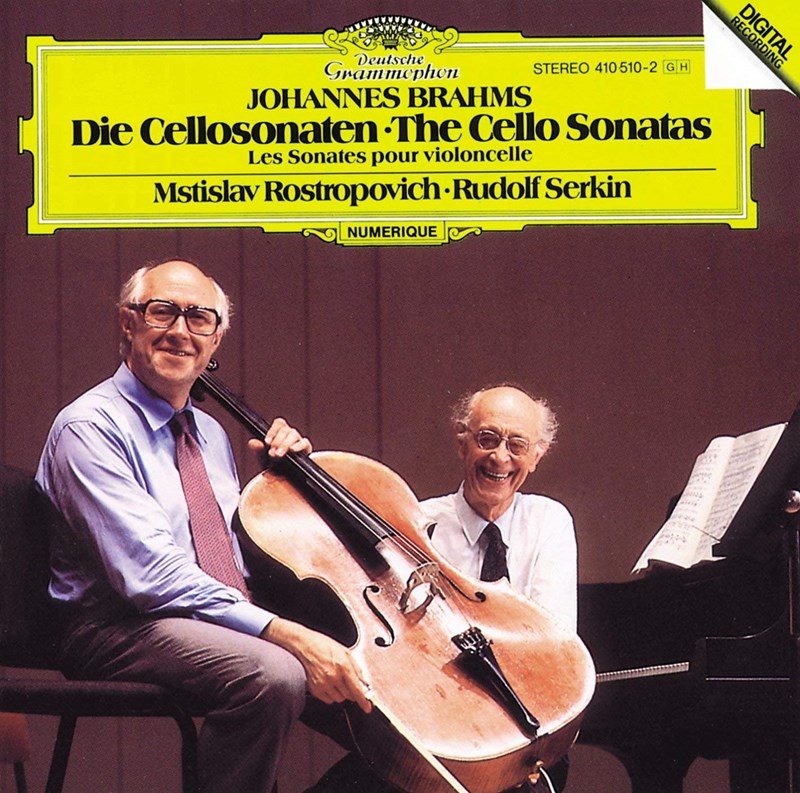 Cello Sonatas Nos 1 & 2
Mstislav Rostropovich vc Rudolf Serkin pf (DG)
Our younger generation of cello soloists seems to favour a tone production which balances a refined upper range with a middle and lower register that's strong and well focused, rather than expansively rich and resonant. Readers will not need to be told that Rostropovich's solo image is definitely not of this ilk: his musical personality is in every sense larger than life and in this magnificent coupling of the cello sonatas, in partnership with Rudolf Serkin, the very forward balance of the recording exaggerates this impression in the most vivid way. By comparison the piano image – to the right of and behind the cello – is more reticent in timbre and seldom matches Rostropovich's rich flood of sound, which isn't, of course, to suggest that Serkin fails to project the music, merely that the microphone placing makes Rostropovich very much the dominating artist. This passionately warm-hearted and ripely Brahmsian music-making almost overwhelms the listener in its sheer impact. But with playing of this calibre, with both artists wonderfully attuned to each other's responses, every nuance tells and Brahms's bold melodic lines soar out from the speakers to capture the imagination, and provide an enthralling musical experience in each and every work.
Violin Sonatas

Violin Sonatas Nos 1-3
Itzhak Perlman vn Vladimir Ashkenazy pf (EMI / Warner Classics)
If anyone doubts that these three sonatas represent Brahms at his most blissfully lyrical, then this is an essential set to hear. The trouble-free happiness of these mellow inspirations, all written after the main body of Brahms's orchestral music had been completed, comes over richly and seductively in these fine performances. In their sureness and flawless confidence, they carry you along cocooned in rich sound. Perlman consistently produces rich, full-bodied tone, an excellent illustration being the way that he evokes a happy, trouble-free mood in the melody which opens the second-movement Adagio of No 3. The obverse of this is that with such consistent richness and warmth, the three sonatas come to sound more alike than they usually do, or maybe should, a point which comes out the more from playing them in sequence. It's true that Perlman does quite often play softly, but for some tastes he's placed too close to the microphone, and the actual dynamic level stays rather high, however gently he's playing. This isn't to say that, with sharp imagination and superbly clean articulation from the pianist, these performances lack range of expression – in particular, there's the rhythmic pointing, which gives a Hungarian or a Slavonic tang to such passages as the first contrasting episode in the 'raindrop' finale of No 1 or the contrasting vivace passages in the second movement of No 2, where the last pizzicato reprise is made totally delectable. These performances are both distinctive and authoritative. The recording is bright, with a good sense of atmosphere to give bite to the piano tone without diminishing the warmth of Perlman's violin.
☆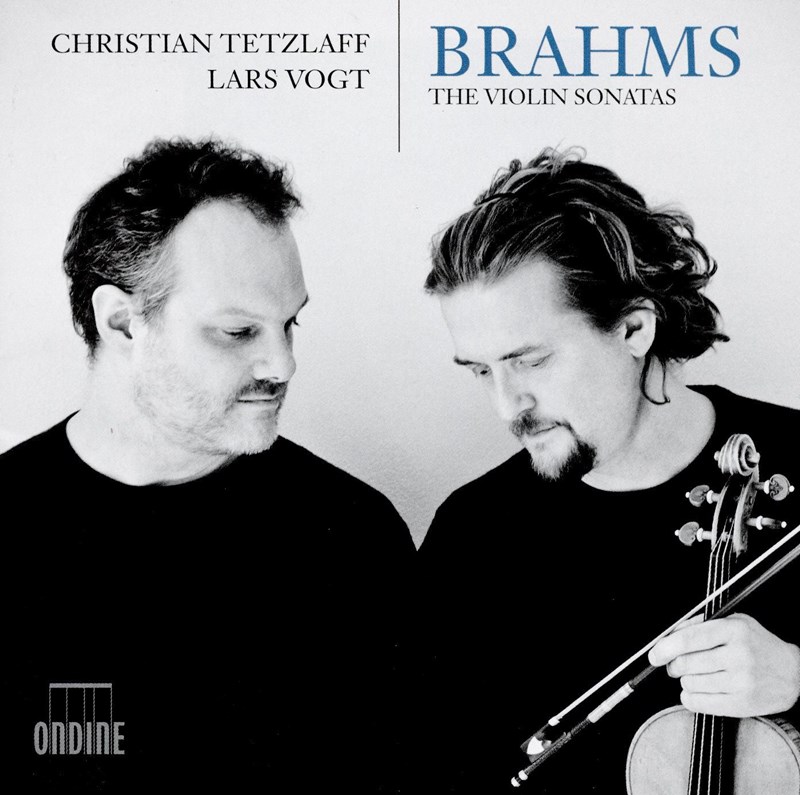 Violin Sonatas Nos 1-3
Christian Tetzlaff vn Lars Vogt pf (Ondine)
As in their live recording, Tetzlaff and Vogt favour flowing tempi, yet there's an even greater sense of spontaneity and elasticity here than before – as the opening movement of Op 78 illustrates so beautifully. Although it's marked Vivace ma non troppo, the players start out serenely; indeed, there's little if any sense of vivace at all. Rather, one becomes aware of a growing ebullience. It's signalled subtly at the beginning, as liquid streams of quavers gather into a gentle cascade, and reaches fruition only in the coda, which surges exultantly. In between, though, there's an ebb and flow, a multiplicity of swirling currents that are somehow contained as an uninterrupted, unified body. Listen at around 2'58", where the instruments trade searching, syncopated melody and breathless accompaniment. Tetzlaff and Vogt imbue this intertwining dance with tender intimacy, and the resulting feeling of anticipation is exquisite.
Piano Works

Piano Sonatas – No 1; No 2, Op 2; No 3, Op 5. Variations. Waltzes, Op 39. Two Rhapsodies, Op 79. Scherzo in E flat minor, Op 4. Piano Pieces – Op 76; Op 116; Op 117; Op 118; Op 119. Hungarian Dances
Julius Katchen, Jean-Pierre Marty pfs (Decca) Recorded 1962-66
The American pianist Julius Katchen made his name in the early 1950s and died in 1969, but although he's generally thought of as a distinguished figure from the last generation, it's salutary to realise that his career ended when he was only 42. Even so, his legacy of recordings reminds us of his gifts and the breadth of his repertory, and the present Brahms cycle has distinction. It begins with an account of the Paganini Variations that gives ample proof of his assured technique: the playing tells us at once that the challenging variations in sixths (Nos 1 and 2 in Book 1) held no terrors for him, and the athleticism here is matched by a fluency in the leggiero writing of the variation that follows. In this work, though, you're generally made more aware of a keyboard virtuoso than a poet; there are other performances which balance these two qualities more finely. Tempi tend to rapidity, too, and the piano sound tends to have a hardish brilliance. However, he does bring a gentler quality to the three other sets of variations here, not least in his freer use of rubato and tonal nuance, as witness (say) the serene Variations Nos 11-12 in the big Handel set, where the recording from three years earlier is easier on the ear. Here, as elsewhere, there's a little tape hiss, but not enough to distract.
Poetry is to be found in good measure in Katchen's playing of the Four Ballades, Op 10. These pieces belie the composer's youth in their deep introspection, though the pianist takes a brisk view of the Andante con moto tempo in No 4. The 16 Waltzes of Op 39 are attractive too in their crispness and charm, and the early Scherzo in E flat minor has the right dour vigour. The three sonatas are also impressive in their strong, energetic interpretative grasp, though you could wish that the first-movement repeat of No 1 had been observed. Also, slow movements could have a still more inward quality to convey that brooding self-communion which is so characteristic of this composer – though that of Sonata No 3 in F minor is pretty near it. That F minor Sonata is spacious and thoughtful as well as leonine, and this is a noble performance, well recorded in 1966.
The shorter pieces are finely done also. Katchen is in his element in the Two Rhapsodies of Op 79, balancing the stormy and lyrical qualities to perfection. The Fantasias, Op 116, aren't so well recorded (the sound is a bit muffled). However, the playing is masterly, with tragedy, twilight mystery and storm and stress fully playing their part, and giving a golden glow to such pieces as the lovely E major Intermezzo which is No 6 of the set and the A major Intermezzo, Op 118 No 2. Possibly more sensuous gypsy charm could be found in, say, the B minor Capriccio of Op 76 but it's very attractive playing, and the playful C major Intermezzo in Op 119 is delightful, as is the tender lullaby that begins Op 117.
Only the first 10 of the 21 Hungarian Dances exist in the composer's own (very difficult) version for piano solo, and in the others, written for piano duet, Katchen is joined by Jean-Pierre Marty; there's plenty of fire here and much to enjoy. Altogether, this Brahms set is a fine memorial to Katchen and a worthy issue.
☆

Piano Sonata No 3. 16 Waltzes, Op 39
Antti Siirala pf (Ondine)
Antti Siirala has been a serial entrant of piano competitions. He wins most of them, including the Beethoven, London, Dublin and Leeds (2003) events, but he is a great deal more than a jury-pleaser. This is a strikingly good disc, notable both for the full-bodied, golden tone of the piano (superbly recorded) and his ability to hold together both long movements and large structures with playing of refined musicality. After the first two pages of the F minor Sonata other mighty performances spring to mind – Katchen, Solomon, of course, Grainger and Bauer from an even earlier era. After the leonine first movement comes the long nocturnal narrative of the second. To hear Siirala at his most expressive, try the final section (andante molto) from 9'02", sensitive to every nuance, deeply felt and aching with regret. He characterises the rumbustious Scherzo and its chorale-like Trio equally well, and builds to the impassioned climax of the finale with abandon.
Siirala brings colour and imagination to the Op 39 Waltzes. He makes subtle use of all the repeats, and the sighing falls of No 12 are beautifully done, though it's debatable whether almost all the left hand of the famous A flat waltz (No 15) should be played staccato (only the first four bars and six towards the end are so marked). It's a detail, to be sure, an aspect of the music to which Siirala, otherwise, pays admirable attention.
☆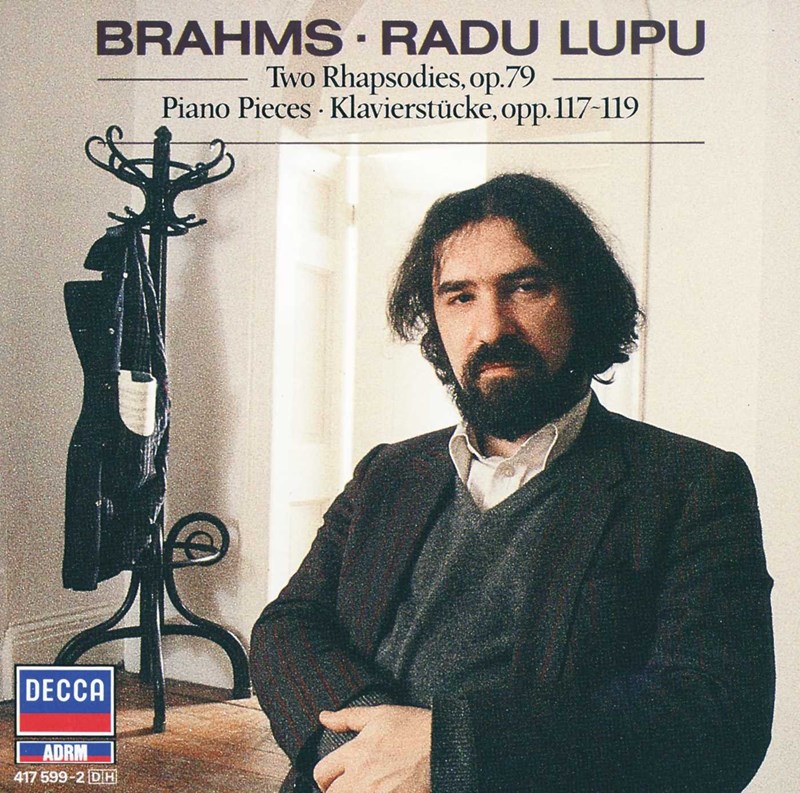 Two Rhapsodies, Op 79. Three Intermezzos, Op 117. Six Pieces, Op 118. Four Pieces, Op 119
Radu Lupu pf (Decca)
Here are 71 minutes of the finest Brahms piano music, played by one of the outstanding Brahms exponents of our day. What's most treasurable about it is the quiet rapture of some of the most quintessentially Brahmsian moments; for example, the way Lupu sleepwalks into the last section of Op 117 No 3 and the revelation in Op 118 No 2 that the inversion of the theme is even more beautiful than its original statement. The Op 79 Rhapsodies are perhaps a fraction less memorable. Decca's recording sounds a little bottom-heavy, in the manner of certain Ashkenazy records of this vintage, and in the heavier textures of the Rhapsodies Lupu compounds the problem by reinforcing the bass with octaves and even fifths. Still, this remains as fine a selection of Brahms's piano works as you're likely to find on one disc.
☆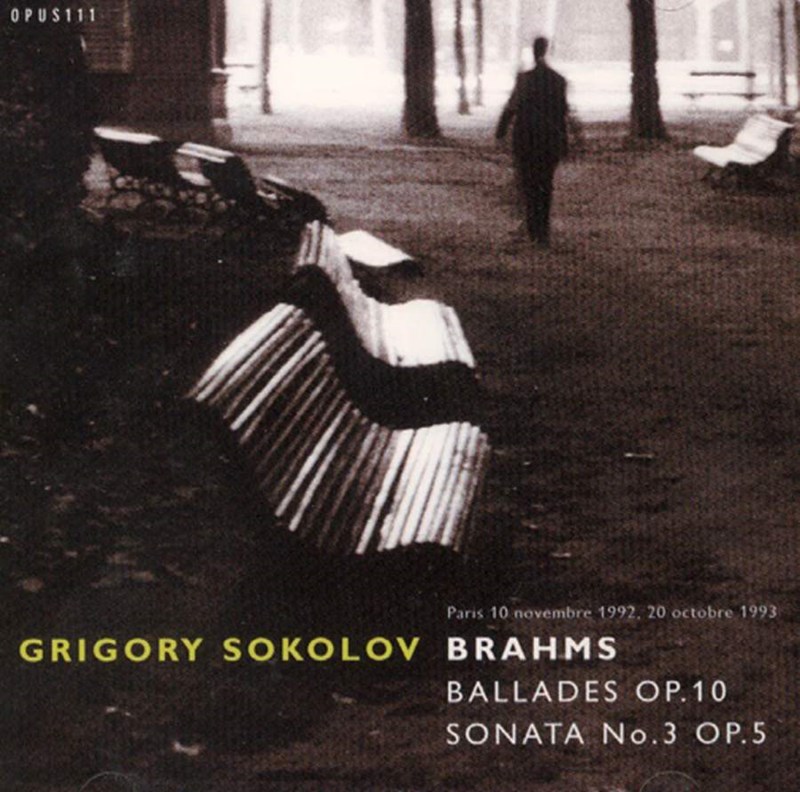 Piano Sonata No 3. Ballades, Op 10
Grigory Sokolov pf (Naive) Recorded 1992-3
Grigory Sokolov's live 1993 coupling of Brahms's Op 10 Ballades and Op 5 Sonata makes articulate use of the emphatic gesture in as intense and intimidating performances of these works as you're ever likely to encounter. Big-boned, certainly, but plenty of flesh and muscle, too.
☆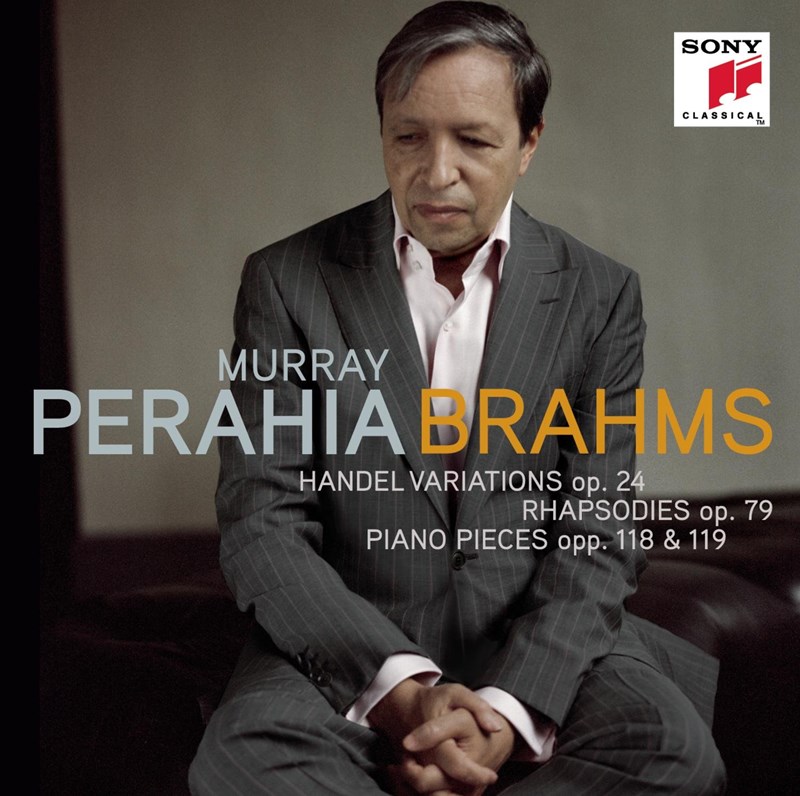 Variations and Fugue on a Theme by Handel, Op 24. Two Rhapsodies, Op 79. Piano Pieces, Op 118; Op 119
Murray Perahia pf (Sony Classical)
It may be 20 years since Murray Perahia's last Brahms release but the wait has been gloriously worthwhile. For here, once more, is a pianist who achieves the highest musical quality with the most economical means. Time and again Brahms's potential for strenuousness and opacity is clarified with a superfine musical intelligence and technique. The opening Aria from the Handel Variations is unusually thoughtful and considered, and in the sciolto of Var 14 he conveys all of Brahms's riotous brilliance while characteristically remaining in superb control. This is a performance for those poor souls who, amazingly, take a dim view of Brahms's keyboard variations.
Translucent voicing and texture characterise Perahia's way with the Op 79 Rhapsodies and most of all the Opp 118 and 119 Intermezzos. Perahia achieves a burning clarity (even when the music is marked piano and sotto voce) at the start of Op 118's concluding Intermezzo, bringing a wealth of concentrated detail and an impeccable line and impetus to this heart-stopping epic in miniature (if the paradox be allowed), a mirror of the inner desolation that afflicted Brahms both early and late in his life.
There are, of course, other approaches to these works, yet has there been a pianist since Lipatti more finely attuned to every harmonic and rhythmic subtlety? This disc, finely recorded, forms a vital part of Perahia's crowning return after several years of debilitating illness.
☆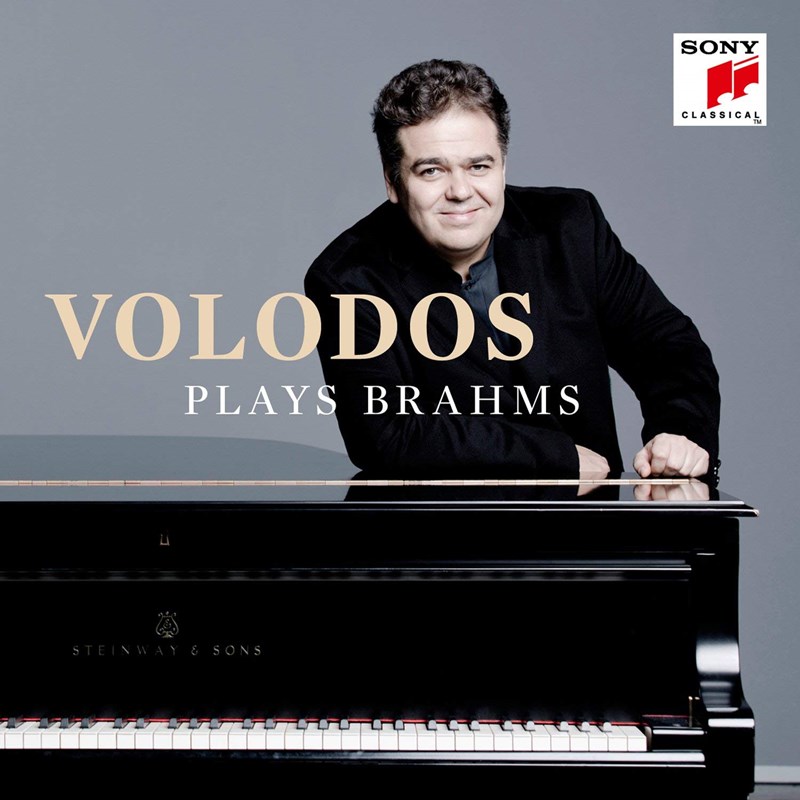 'Volodos plays Brahms'
Arcadi Volodos pf (Sony Classical)
This is one of those discs where a word count is a strange thing. For it needs only four: Go Buy This Disc. Or 4000, trying to capture why it is and how it is that Volodos creates the magic he does. It's four long years since his quietly astounding Mompou recital (8/13), which put the composer on the map for many and walked off with pretty much every award going. Brahms might seem a very different proposition but Volodos inhabits every note, every phrase with just as much conviction. My only plaint is that there could have been more – we get only the first four out of the Eight Piano Pieces, Op 76, though Opp 117 and 118 are complete. But that is a minor niggle; all these pieces have featured in his recitals and his familiarity with their every phrase is abundantly obvious. And whatever he does, you can't imagine the music going any other way, which is perhaps the definition of a great artist.
The sound Volodos coaxes from the piano, for starters, is like no one else's and has been captured superbly by Sony's engineers, utterly true to the way he sounds live in concert. It's one that is entirely devoid of hard edges, with myriad shadings right through the register, as we hear in the agitated opening piece of Op 76. Brahms's fondness for alto and tenor registers is luxuriantly realised too, though such is the subtlety of Volodos's voicings that nothing ever becomes opaque. Readings are often broad in terms of pacing, but it has the effect of giving the music time to speak and to register. From the turbulence of No 1 we move to an entirely different world in the second piece of Op 76, here reminiscent of Schubert at his most carefree, the motion deliciously wound down at the close. The third ranges from the extraordinary fragility of the writing in the upper reaches – sounding here more than ever like a music box – down to the refulgent bass, while the gentle melody of the fourth finds itself clothed in new colours on every repetition, Volodos subtly altering the mood with each one.
☆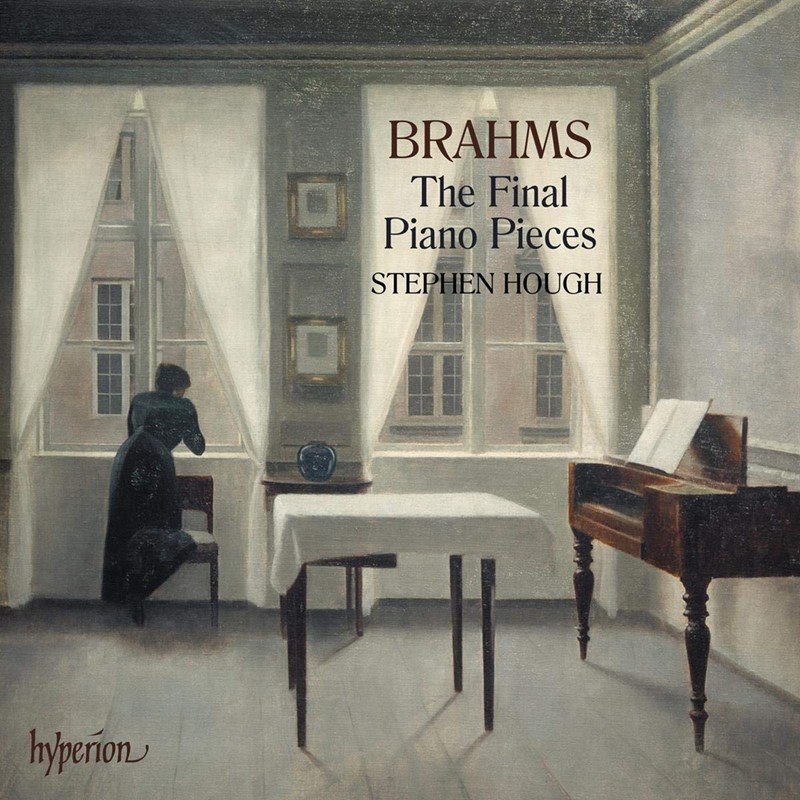 'The Final Piano Pieces'
Stephen Hough pf (Hyperion)
Hough reveals each miniature as a compact piece of theatre, putting an array of timbres and varied accentuation at its service. For him late Brahms is evidently not so much Prospero hanging up his magic garments as a compilation of many characters and soliloquys, and certainly much more than 'lullabies of his grief'. I wonder if Brahms would have regretted those words about his Op 117 Intermezzos (if indeed he ever actually said them) had he heard the self-indulgent sentimentality that bedevils so many modern recordings. Hough takes his cue rather from the often ignored moderato and con moto that qualify the Andantemarkings in the first and third of this set. As well-intentioned as some of the more conventional rival readings may be – Plowright (too plodding), Ohlsson (remarkably flat and two-dimensional) and even, dare I say, Volodos – Hough's noble and cleansing version (closer to the tempos of Kempff in 1963 than anyone else) makes it hard to go back to hearing these pieces that way.
Take the final Intermezzo of Op 118, for instance. How persuasively it grows out of the resignation of the preceding F major Romance, via its own solitary opening gesture, into a full-blown tragedy, culminating in an earth-shattering outcry of protest. Remembering this as the last piece I ever heard my own teacher play before her death, I have cried to many interpretations; but for me none has reached the profundity of Hough's. Naturalness, nobility and simplicity in the face of apparent complexity are his main weapons. Compared to him, Volodos, for all the equal mastery of his pianism, feels theatrical and impersonal. You feel you are somehow sitting beside Hough's Brahms at the piano, being taken right inside the music; whereas Volodos is on a big stage where you can only marvel from afar.
☆
'Works for Solo Piano, Volume 3'
Jonathan Plowright pf (BIS)
One thing that makes Plowright's interpretations so compelling is that they sound totally fresh, as though a fully formed, cultured musician, unencumbered by conventional approaches or received wisdom, took up these scores for the first time in maturity. The results are often unexpected, yet always apt and never less than convincing.
The B minor Capriccio (Op 76 No 2) is unrushed, diffident, as though confiding its drolleries in a whisper. The robust C sharp minor Capriccio (No 5), with its swaggering cross-rhythms and passionate assertions, creates a miniature epic. It's difficult to think of another performance that delineates the mercurial mood-swings of the C major Capriccio (No 8) with greater finesse and insight.
☆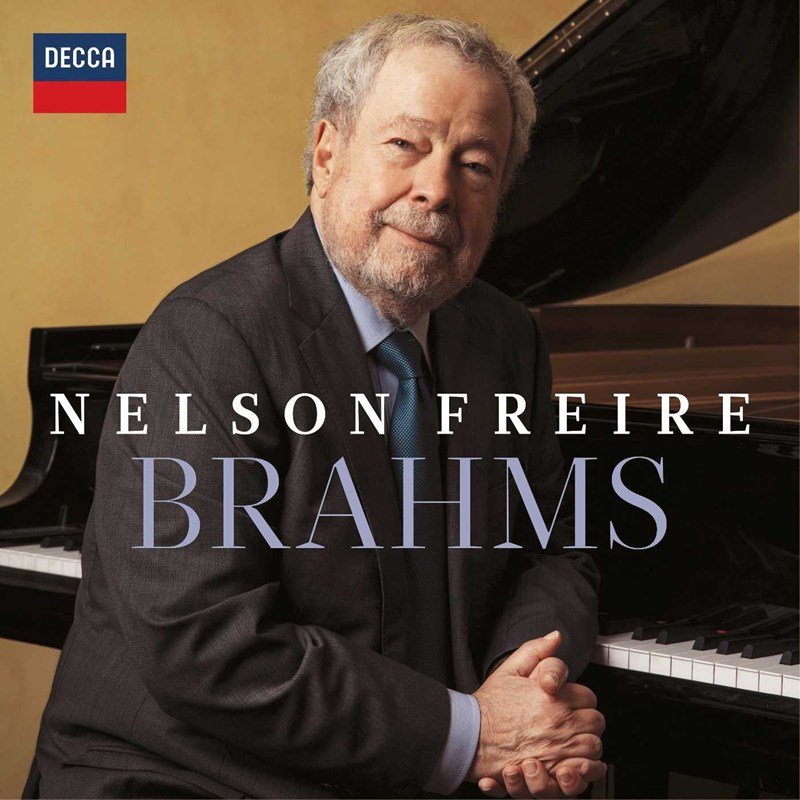 'Nelson Freire: Brahms'
Nelson Freire pf (Decca)
Highlights are many – the regret-filled duet of the middle section of Op 118 No 2 or the way he brings to such a quiet close the Ballade, Op 118 No 3. He is different in his approach from Volodos in Op 118 but no less compelling. I hope the inclusion of the final works, Op 119, is not an indication that Freire is done with this composer: they are touched everywhere with an ineluctable beauty without the slightest degree of self-consciousness. No 1 draws you in, unfolding with complete naturalness, spinning lines out of air, while the chattering No 3 is superbly vivid. Freire gives No 4 not only strength and fervency but an almost symphonic splendour in its colouring, the inner section having an easeful quality before being quickly banished. By way of an encore, we get a deliciously poised reading of the Waltz, Op 39 No 15. Enough adjectives. Go and buy it, and set it on your shelves next to Volodos.
Ein deutsches Requiem, Op 45

Ein deutsches Requiem
Elisabeth Schwarzkopf sop Dietrich Fischer-Dieskau bar Philharmonia Chorus and Orchestra / Otto Klemperer
(EMI / Warner Classics) Recorded 1961
Brahms's German Requiem, a work of great concentration and spiritual intensity, is rather surprisingly the creation of a man barely 30 years old. Klemperer's reading of this mighty work has long been famous: rugged, at times surprisingly fleet and with a juggernaut power. The superb Philharmonia is joined by its excellent chorus and two magnificent soloists – Schwarzkopf offering comfort in an endless stream of pure tone and the superb solo contribution from Fischer-Dieskau, still unequalled, taking us closer to the work's emotional, theological and musical sources than any other. Digital remastering hasn't entirely eliminated tape noise, but the engineers appear to have encountered few problems with the original tapes. A uniquely revealing account of the work.
☆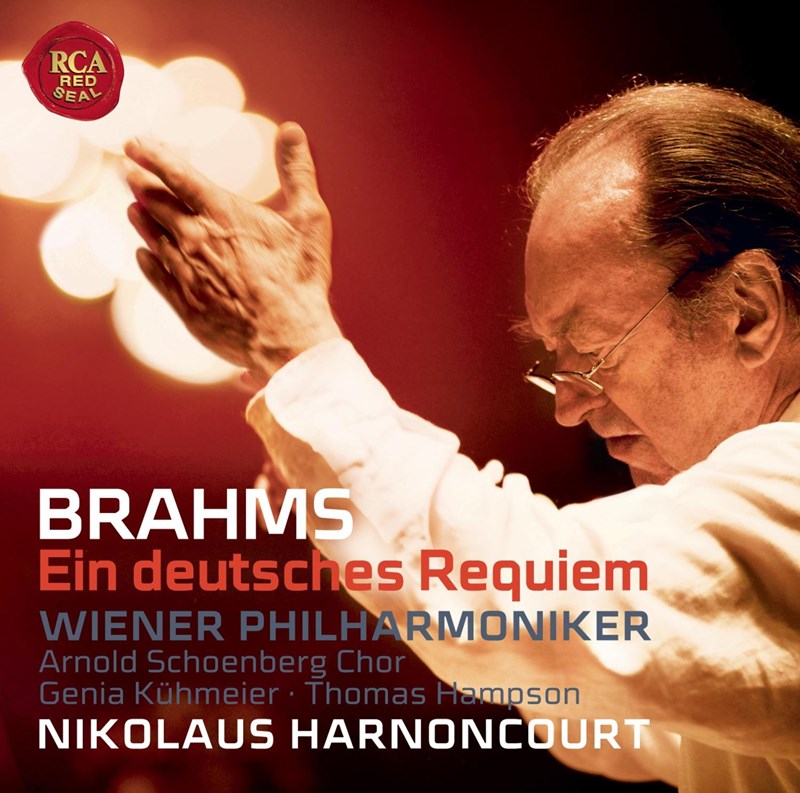 Ein deutsches Requiem
Genia Kühmeier sop Thomas Hampson bar Arnold Schoenberg Choir; Vienna Philharmonic Orchestra / Nikolaus Harnoncourt (RCA Red Seal) Recorded live 2007
Nikolaus Harnoncourt's expertly engineered Vienna Philharmonic recording of Ein deutsches Requiem is both beautifully shaped (especially from the woodwinds) and devotional in spirit. The closing 'Selig sind die Toten' presents a warming richness of texture, the underlying rhythmic pulse admirably clear, while the sombre processional of 'Denn alles Fleisch' builds well, the contrasting 'So seid nun geduldig' ('Be patient, therefore') lightened with the subtlest touch.
☆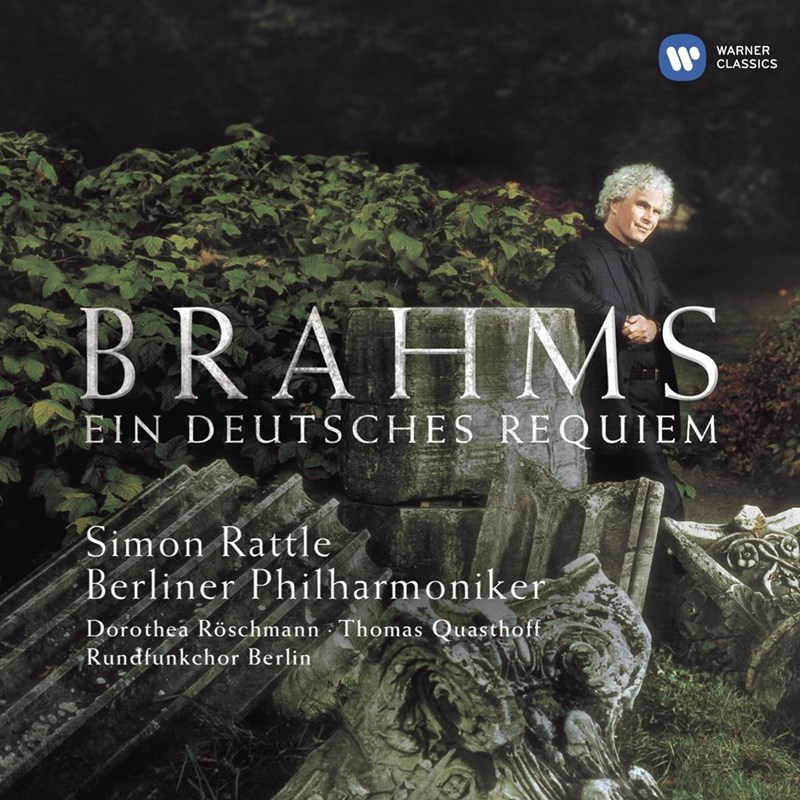 Ein deutsches Requiem
Dorothea Röschmann sop Thomas Quasthoff bar Berlin Radio Chorus; Berlin Philharmonic Orchestra / Sir Simon Rattle (EMI / Warner Classics)
This is a lovely performance, sensitive to the work's consolatory mood, free-moving and sweetly sung. Rattle's reading does not obscure Brahms's debt to Schütz, Bach and the other great pre-classical German Protestant composers, but it stresses more the work's roots in the new German school: to the influence, above all, of Brahms's cherished and much mourned mentor, Robert Schumann.
This is not a period performance in the sense of attempting to conjure forth period sounds. The opening colloquy for violas and divided cellos is pure Berlin (Nikisch would have recognised the sound, as would the young Karajan). The singing is awed and reverential, with ravishing pianissimos from the superb Berlin Radio Chorus. What we have here is not authenticity of sound but authenticity of feeling and effect. Has there ever been a swifter performance of the fourth movement, 'Wie lieblich sind deine Wohnungen', or a more calming one? A flowing tempo which creates a sense of deep repose suggests that most sought-after of all qualities in an interpreter, the art that disguises art.
Throughout, Rattle strikes a shrewd balance between the work's affective nature and its narrative power. Tempi are brisk in the two movements with baritone solo which carry much of the work's doctrine. The great choral codas to the second, third and sixth movements are also superbly judged. In the great choral peroration to the penultimate movement, space is provided for the words to tell, as Brahms clearly intends.
Thomas Quasthoff, who seems a little out of sorts, is no match for Fischer-Dieskau on Klemperer's unignorably splendid recording (reviewed above); and Dorothea Röschmann's reedy tone and tight vibrato in 'Ihr habt nun Traurigkeit' may not appeal either. Still, the movement is so persuasively shaped that, heard in context, it, too, 'speaks' to us through the sonic squall. Internal balances between choir, soloists and orchestra are generally well judged: apt to a performance which treats this great memorial prose poem with a mixture of acumen and affection that is entirely special.
☆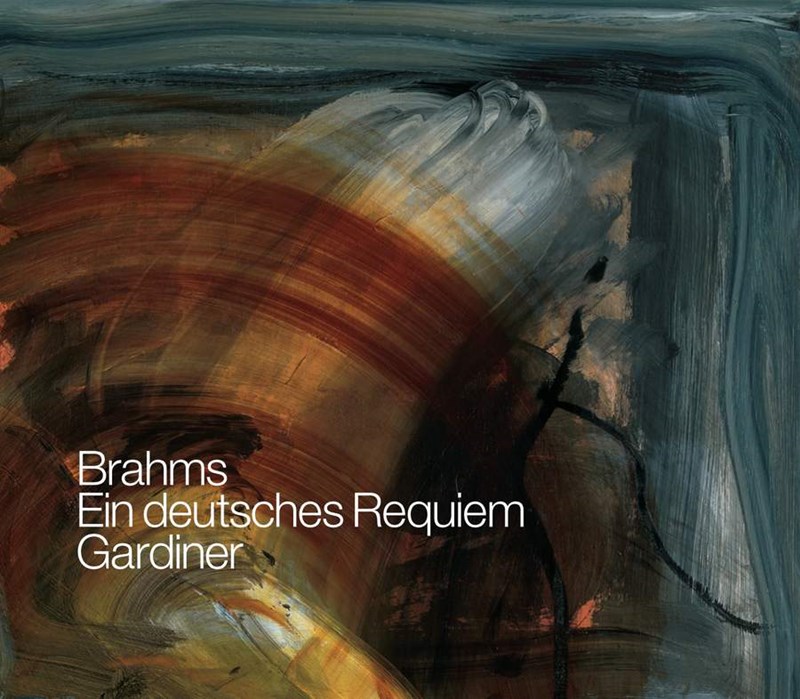 Ein deutsches Requiem
Katharine Fuge sop Matthew Brook bass Monteverdi Choir & Orchestre Révolutionnaire et Romantique / John Eliot Gardiner (SDG)
John Eliot Gardiner first recorded the German Requiem in 1990, one of the first discs with his then newly formed Orchestre Révolutionnaire et Romantique. That studio recording was as remarkable for Gardiner's monumental conception of the work as it was for a certain degree of mannerism – affectation occasionally usurping affection. He returns to the work 18 years later in a live performance from Usher Hall, Edinburgh, presenting what is recognisably a similar interpretation while at the same time demonstrating a root-and-branch rethink of the work's very sound: a reconsideration of the warp and weft of the fabric from which it is made. This is palpable right from the start: in the viol-like sonorities of the violas; in a fastidiously researched approach to portamento (there's a corker at the beginning of 'Wie lieblich sind deine Wohnungen'); and in a recording that is spacious enough (while not approaching the analytical clarity of the Philips disc) to let Brahms's distinctly Germanic harp-writing glow like a halo across the whole work. Gardiner is acutely aware, too, of the importance to the Requiem's tinta of Brahms's finely crafted writing for the brass and timpani.
Liebeslieder Waltzes, Op 52

Liebeslieder Waltzes. Neue Liebeslieder Waltzes, Op 65. Three Quartets, Op 64
Edith Mathis sop Brigitte Fassbaender mez Peter Schreier ten Dietrich Fischer-Dieskau bar Karl Engel, Wolfgang Sawallisch pfs (DG)
These delightful works will be eagerly snapped up by lovers of these seemingly simple but, in fact, quite complex settings for one, two or four voices. The performances are thoroughly idiomatic, both as regards the singers and pianists, with full value given to the words and their meaning. It isn't merely a question of fine singing, which with this quartet can be more or less taken for granted: the subtlety and charm of the interpretations makes what can all too often be a dreary sequence of three-four numbers into a poetic response to the nature of the waltz. There's an intelligent give-and-take between the soloists, so that voices move in and out of the limelight, as the skilful recording allows, and an extra dimension of the music is disclosed here that's too often obscured. The immediate sound is here a great advantage. This is a very worthwhile and welcome reissue of a most attractive individual record.
Songs

Vier ernste Gesänge
Matthias Goerne bar Christoph Eschenbach pf (Harmonia Mundi)
But for all the beauty on show, I never get any sense of self-indulgence or narcissism – not even in performances of the Heine pair of 'Sommerabend' and 'Mondenschein' in which time seems to stand still. In the Vier ernste Gesänge, those brought up on Hans Hotter might admittedly miss the voluminousness of a true bass, especially in 'Ich wandte mich, und sahe', but the seraphic, weary calm that concludes 'O Tod, wie bitter bist du', offers ample recompense, as does the sense of quiet, heartfelt earnestness Goerne creates throughout.
The Op 32 Lieder und Gesänge have a less illustrious history on record, but Goerne's recording must be among the finest of recent accounts: certainly he's a better fit, for me, in terms of voice than Ian Bostridge, for all the English tenor's artistry (Hyperion, 9/15); and I also prefer his approach to that of the rather more burly and garrulous Thomas Quasthoff (DG, 6/00). The stream of 'Der Strom, der neben mir verrauschte' feels a tad viscous perhaps, but Goerne's new-found Wagnerian power helps him bring a real sense of fist-shaking resolve at the conclusion of 'Wehe, so willst du mich wieder' and a powerful angsty gravitas to 'Du sprichst, dass ich mich täuschte'. It's nevertheless the heart-stopping beauty of his – and Eschenbach's – take on the concluding 'Wie bist du, meine Königin' that lingers in the memory.
☆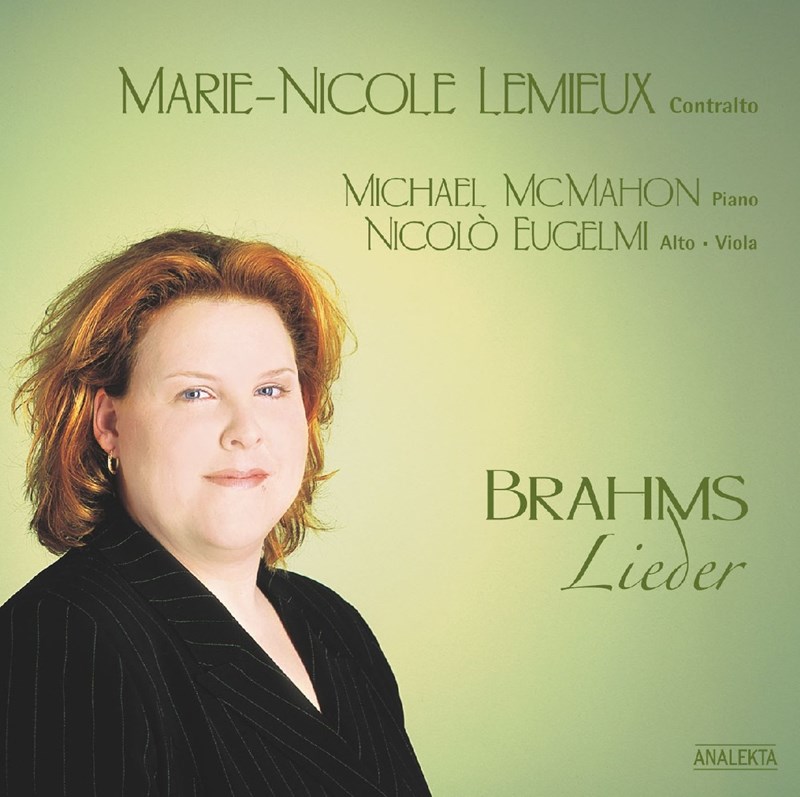 Vier ernste Gesänge, Op 121. Neun Lieder, Op 69. Sechs Lieder, Op 86. Zwei Lieder, Op 91
Marie-Nicole Lemieux contr Nicolò Eugelmi va Michael McMahon pf (Analekta)
The absorbing six songs that make up Op 86 are all easily encompassed by Marie-Nicole Lemieux, not least because her technique is so secure that she can pay attention to the meaning of each song. 'Feldeinsamkeit', so inwardly sung, and 'Todessehnen' receive particularly thoughtful readings, all supported finely by Michael McMahon's perceptive playing. The nine songs of Op 69 are expressly designed for a woman and have their moments, but they're among the less inspired in Brahms's large output of Lieder. Not so, of course, the two songs with viola – the admirable Nicolò Eugelmi here. To these gently lulling, timeless pieces, Lemieux brings the sovereign virtues of firm line and apt phrasing. The CD reaches its zenith in Brahms's last and greatest Lieder, his Vier ernste Gesänge. Lemieux rises to their challenge. The interpretations are properly earnest, but intimate, never over-blown. Her partner is again exemplary in his discreet yet positive playing.A natural acoustic adds to the pleasure to be gained from this sensibly planned recital.
☆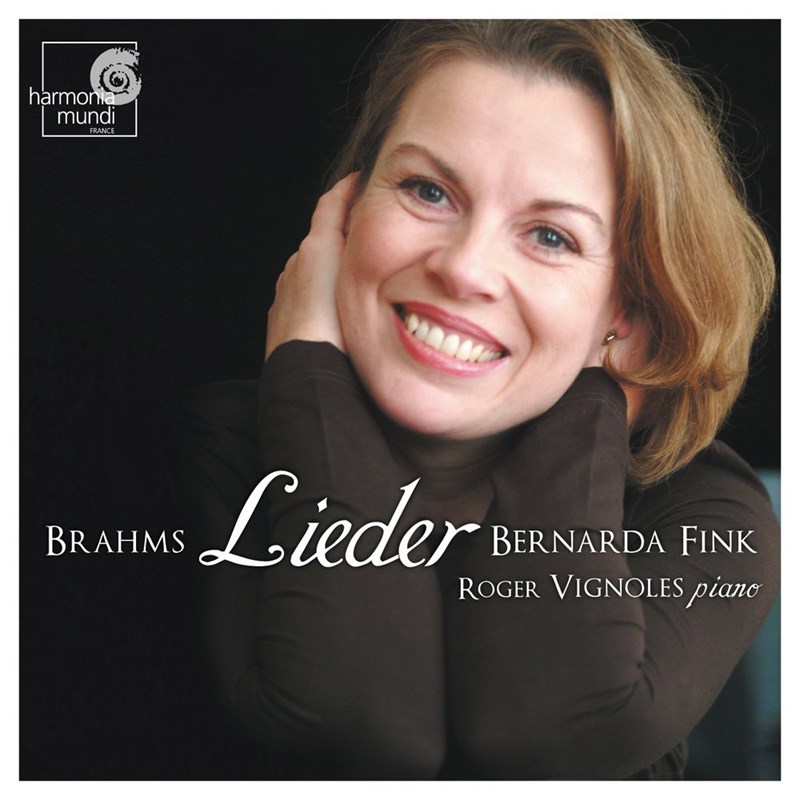 Various Lieder
Bernarda Fink mez Roger Vignoles pf (Harmonia Mundi)
'Bei dir sind meine Gedanken', one of Brahms's happiest songs, makes an inviting aperitif. Buoyed by the evanescent shimmer of Roger Vignoles's accompaniment, Bernarda Fink is all confiding eagerness, phrasing deftly and gracefully, and showing a natural feeling for Brahmsian rubato. One would expect Fink's warm, luminous mezzo, flecked by darker, deeper tints, to be near ideal for, say, the nostalgia of 'Alte Liebe' or the many songs of elegiac loss and heartbreak, all touchingly done here. But having thought of her as an essentially 'serious' singer, dignified, eloquent, the vivacity and 'face' she brings to 'Bei dir sind meine Gedanken' and other lighter songs is sheer delight. 'Ständchen', here more sunlit than moonlit, is charmingly characterised, with an affectionate caress on the dreaming girl's 'Vergiss nicht mein'. Fink is playfully coquettish without archness in the delicious 'Spanisches Lied', and sings 'Vergebliches Ständchen' with an outgoing boldness and witty touches of timing – and the tender lingering on the penultimate 'Mein Knab' suggests that the boy's luck may soon be about to change.
Other singers have brought a more intense yearning to 'Die Mainacht' and found greater mystery amid the slumberous balm of 'Feldeinsamkeit'. But Fink's flowing performances, sensitively shaped and inflected, are never less than satisfying. It is good to be reminded, too, that, for all its melancholy, 'Die Mainacht' is also a song of spring, suffused by warm major-key harmonies, with a hint of excited anticipation at the line 'Wann, o lächelndes Bild'. On the face of it, Fink's lyric mezzo would seem to be on the light side for 'Von ewiger Liebe'. But with Vignoles imaginatively 'orchestrating' the keyboard part, she gives a finely graded, deeply moving performance, vividly contrasting the contained passion of the boy's words with the girl's gentle candour. The glowing climactic avowal of eternal love is truly overwhelming, setting the seal on a Brahms recital of rare distinction.