Jed Distler's Cliburn Blog No 13: the Cliburn on record
Tuesday, June 14, 2022
Ahead of The Cliburn's Final Rounds, our correspondent looks at the competition on record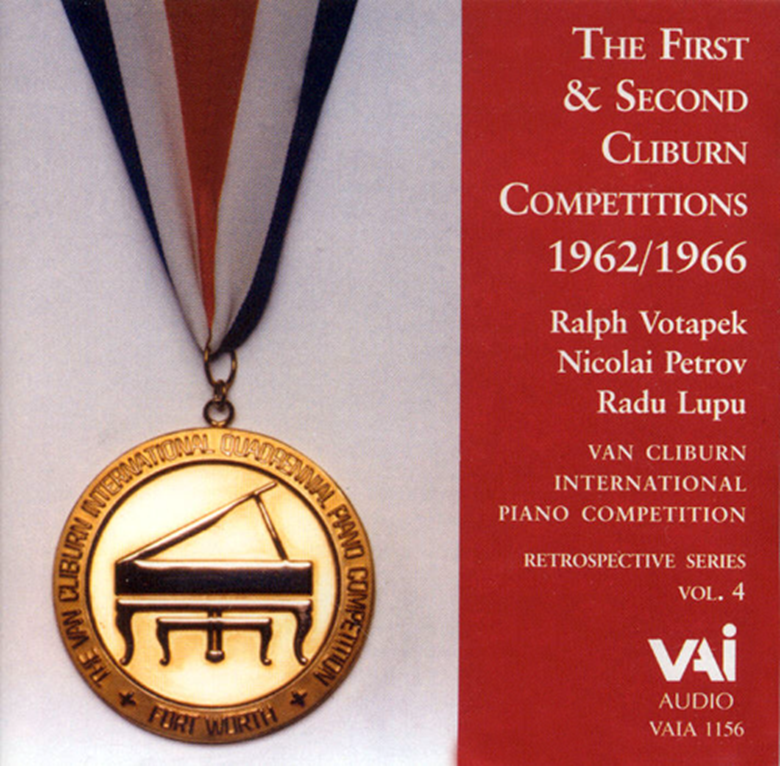 As we anticipate The Cliburn's Final Rounds with baited breath, I want to take this performance-free day to talk about The Cliburn on record.
Numerous archival performances from past Cliburn competitions have been released over the years in various formats. They tend not to stay in print for long, although certain items might be easier to source than others. I'm not sure if anyone has compiled a complete discography of The Cliburn on Record, or written a comprehensive guide. However, I'll attempt to give you an informal overview of releases that I think might be a good starting point for piano mavens and collectors who are curious about The Cliburn's archives.
Between 1997 and 1999 the VAI label brought out nine CD releases covering performances dating back from 1962 up through 1993. Volume 4 (VAIA 1156), for example, documents the first two contests. It holds special interest for its inclusion of 1966 Gold Medalist Radu Lupu in the first movement of Prokofiev's Second Piano Concerto. Lupu never recorded this work commercially, nor was he known for playing any Prokofiev for that matter.
Volume 3 (VAIA 1147) focuses on 1969's winners. I treasure this disc because it fleshes out the late Minoru Nojima's scant discography with a musicianly Bartók Sonata, and an unfettered Liszt Feux Follets that contrasts with the pianist's gossamer-tinged studio recording for Reference Records: the latter garnered attention when it appeared as part of the Liszt Transcendental Etudes release credited to Joyce Hatto. And if you can find Volume 2 (VAIA 1146), grab it, for it features 1977 Bronze Medalist Jeffrey Swann's Schumann C Major Fantasy, one of the most impassioned and heartfelt interpretations of this huge work I know.
Years ago in a London charity shop, I stumbled upon an elusive out-of-print two-disc set featuring 1989's winners (Teldec 246103-2), and snapped it up. One can understand why the late Alexei Sultanov's victory polarized pianophiles. One of my colleagues called him 'A BMW without the driver' (he described Alexei Gavrilov in exactly the same way), and, indeed, Sultanov's Beethoven Appassionata and Chopin B minor Sonatas are about as subtle as Led Zeppelin. However, Gavrilov behaved himself playing that year's required commissioned work, William Schumann's Chester. By contrast, intelligently crafted readings of Schumann 'Abegg' and Brahms Op 9 Variation sets with José Carlos Cocarelli better stand the test of time, as do Benedetto Lupo's Chopin Scherzo No 2 and Rachmaninov Piano Sonata No 2.
The latter work turns up on 1997 Gold Medalist Simone Pedroni's release, along with Mussorgsky's Pictures at an Exhibition and Hindemith's Suite '1922', praised by Bryce Morrison in Gramophone for the pianist's 'classic strength and maturity' (Philips 438-905). Personally I preferred the disc shared by the runners-up (Philips 438-906), where Valery Kuleshov effortlessly sails through five Liszt Transcendental Etudes, and Christopher Taylor makes awesome light of the Boulez Second Sonata.
I direct readers to Gramophone's coverage of the various Harmonia Mundi CDs documenting the 1997, 2001, 2005, 2009 and 2013 Cliburns, along with Decca's download and limited physical CD releases covering 2017. The Cliburn itself has uploaded a massive amount of 2001, 2005 and 2009 performances available to download or stream, and not just featuring top winners.
For example, I cited Robert Plano's 2005 Cliburn hardy and soulful performance as my download choice for my 2007 Gramophone Collection article about the Brahms Piano Sonata No 3 in F Minor. I love the untrammeled creativity throughout Alessandro Deljavan's 2009 Preliminary round Liszt B minor Sonata, and how Alexei Koltakov dared to stretch things to the brink in his 2001 Semi-final reading. Elizabeth Joy Roe's Ravel La Valse from 2005 may be under many piano lovers' radars, yet it's a staggeringly over-the-top performance that belongs in any serious collection. While Sean Chen's 2013 and Nobuyuki Tsuji's 2009 Beethoven Hammerklavier Sonata Cliburn performances generated serious scrutiny, few remember how Maria Mazo daringly and successfully brought out Op 106 in her 2005 Preliminary.  Although the 2005 and 2009 top prizes eluded Stephen Beus, all of his Cliburn performances are worth savouring.
It remains to be seen if The Cliburn also will generously upload material from 2013, 2017 and, indeed 2022 – I fervently hope so!
To watch more videos of the performances discussed above, visit the Cliburn International Piano Competition website: cliburn.org
Gramophone is a Media Partner of The Cliburn International Piano Competition