Jed Distler's Cliburn Blog No 18: 'It ain't over until it's over?'
Sunday, June 19, 2022
The winners are announced - our correspondent reflects on the final result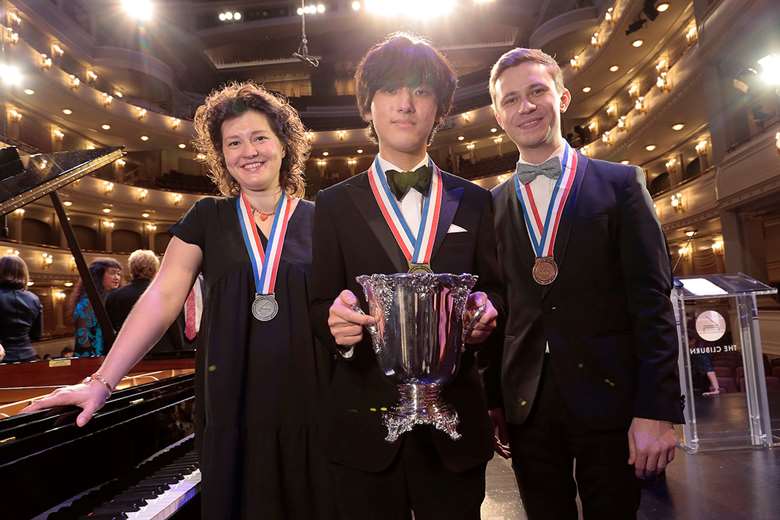 Yesterday I likened Ilya Shmukler's Grieg Concerto to a fifth wheel, surrounded and enveloped by Rachmaninov Concerto No 3 performances.
I also wrote how Clayton Stephenson's Rach 3 had many admirable qualities that caught my ear and held my attention.
Yet the sheer fluidity, effortlessness, and absolute control at all speeds that Yunchan Lim brought to his Rach 3 unquestionably dominated the evening and galvanized the audience. Pianist colleagues clogged my social media feeds with texts and posts, all basically saying 'Gold Medal' over and over again.
It's not fair to declare an outright winner when the contest hasn't yet concluded. Or, to quote the legendary New York Yankee catcher Yogi Berra, 'It ain't over until it's over'. However, Dmytro Choni's mannered phrase taperings in the Beethoven Piano Concerto No 3's first movement lopped off classical style points I tallied throughout his Semi-Final round Mozart D Minor Concerto. He regained musical composure in time for a shapely and sustained slow movement. The Rondo featured deft interplay between soloist and orchestra, albeit not quite on Yunchan Lim's audacious scale a few nights earlier.
Uladzislau Khandohi's delivered his finest Cliburn concerto performance in Chopin's E Minor, especially in the Rondo Finale, where his fleet passagework rippled with polished symmetry and combination of poise and elan. Naturally a Cliburn competition can not take place without at least one Final Round performance of Van Cliburn's greatest hit, the Tchaikovsky Piano Concerto No 1. Nothing in The Cliburn's rule book says that one must perform the Tchaikovsky as Cliburn himself did, meaning more lyricism and balletic impulse than fire and brimstone.
Nevertheless, I couldn't help but equate Anna Geniushene's seasoned pianism to Cliburn at his best. Let's just take that final octave peroration as an example. Most ambitious contestants try to draw attention to themselves, playing as furiously fast as possible. Geniushene, by contrast, takes up the music from where the orchestra leaves off, shaping the passage out of what came before and building up the climax in a way that assiduously leads into the coda, rather than leaving the orchestra hanging. I also noticed how Geniushene was willing to accompany and allow the second movement's first-desk soloists their due.
Due to airport delays and related travel hassles, I couldn't catch the final day's proceedings in real time.  When I finally arrived at my Toronto hotel to watch them on YouTube, the closing ceremony had already come and gone. It took every ounce of discipline for me not to look at the list of winners until the Tchaikovsky Concerto's last notes resonated. Not surprisingly, Yunchan Lim took the Gold Medal. The Silver Medal went to Anna Geniushene, while Dmytro Choni placed third. I also wasn't surprised by Lim winning the award for audience favorite.
I regret that certain of my favorite candidates did not make it through to the finals, and I'm sure that there will be lots of post-competition debate about why pianist X rather than pianist Y placed second or third. Yet I've tried to call things as I heard them, so to speak, and to guide readers towards a wealth of wonderful music making. I can only imagine all of these pianists' joy in returning to the world of live performance.
To watch videos from this year's competition, visit the Cliburn International Piano Competition website: cliburn.org
Gramophone is a Media Partner of The Cliburn International Piano Competition