Jed Distler's Cliburn Blog No 15: Stretching and Pushing
Thursday, June 16, 2022
The finals continue with three more concerto performances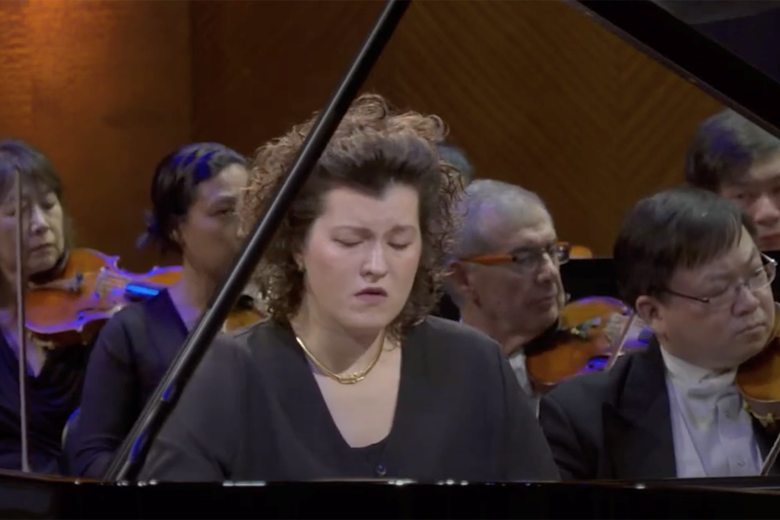 A journalist colleague attending The Cliburn's final rounds in person felt that the Forth Worth Symphony Orchestra were holding back, and not playing full out. I've been streaming the competition online from the start, and listening with professional headphones for the most part, and I have no complaints. Naturally a multi-miked broadcast transmission constitutes a different listening experience than from the perspective of a concert hall seat. But isn't that the point? After all, the majority of us following The Cliburn are doing so online.
Since most of the Rachmaninov Second Concerto's thematic interest occurs in the orchestra, I was more attuned to Marin Alsop's conducting (the third movement's sharply delineated fughetta, for example) than Uladzislau Khandohi's powerfully projected yet indulgent and often shapeless pianism. The way he kept stretching the slow movement's phrases to the breaking point diffused the music's polyrhythmic textures. Still, Alsop managed to follow the pianist all the way, and, again, the eloquent first-desk soloists contributed positively.
Anna Geniushene's lively and disciplined Beethoven Piano Concerto No 1 provided a welcome antidote, not to mention Alsop's balancing the Fort Worth Symphony Orchestra's woodwinds to the fore. I'll bet that the jurors took Geniushene's crisp articulation, forceful accents, astounding in-tempo glissandos in the first movement cadenza, and awesomely even trills into serious account. There's still a slightly regimented quality to her phrasing that doesn't invite humour, while her slow movement never reached its emotional boiling point. In this sense Geniushene's Beethoven is closer to Emil Gilels than Leon Fleisher; make of that what you will.
My kvetching last night about Ilya Shmukler's notey, texturally undifferentiated and musically monotonous Rachmaninov Third applied equally to Dmytro Choni's Prokofiev Third, served up in fifty shades of monochrome. Where was the supple melodic pointing, the contrasts of mood, the pockets of lyricism, the rhythmic élan, the smooth handling of the third movement's tricky tempo changes, and the airborne phrasing? Not here, that's for sure. When it was over, I did something unfair; I pulled down my Prokofiev Third recordings with Martha Argerich and Julius Katchen, just to compare certain passages alongside Choni. No comparison. Argerich smokes. But Katchen inhales!
To watch more videos of the performances discussed above, visit the Cliburn International Piano Competition website: cliburn.org
Gramophone is a Media Partner of The Cliburn International Piano Competition