Contemporary Composer: Caroline Shaw
Jonathan Shipley
Tuesday, March 8, 2022
The Pulitzer Prize-winner, who has worked with Renée Fleming and Kanye West, has much going for her, says Jonathan Shipley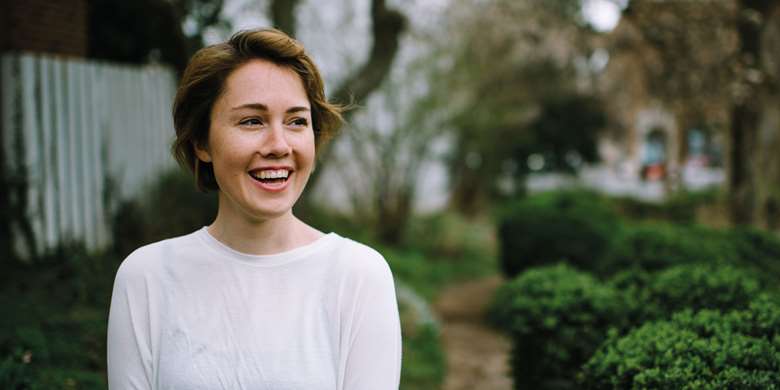 What were you doing when you were 30 years old? Caroline Shaw is unlikely to forget, for this was her age when she received the Pulitzer Prize for music. The year was 2013, and the accolade was for her a cappella piece Partita (2009-11) for eight voices. Composed for the vocal group Roomful of Teeth, of which she was (and still is) a member, the work was released on their Grammy-winning self-titled debut album in October 2012. It didn't receive its full premiere until November the following year, when it was performed by the group at (Le) Poisson Rouge in New York.
Partita for eight voices made Shaw the youngest ever recipient of the Pulitzer Prize for music. And in 2019, The Guardian ranked it as the 20th greatest work of classical music since 2000. All this for good reason – the piece is a vocal joyride. It begins with spoken word: 'To the side. To the side. To the side and around' – followed by a wall of harmonised euphoria. It continues with tides of song gathering and then drifting apart; flooding in and falling back. The work as a whole is inventive and pulls out all the stops when it comes to what a mouth and a pair of lungs can do: speech, whispers, sighs, wordless melodies and sundry other vocal techniques. It was inspired by artist Sol LeWitt's Wall Drawing 305 – 'born', as Shaw says, 'of a love of surface and structure, of the human voice, of dancing and tired ligaments, of music, and of our basic desire to draw a line from one point to another'.

Shaw's musical career, ironically perhaps, has followed anything but a straight line. Rather than travelling on a single track, it's a 'big bang' of music – ever expanding, and glittering with starlight. She has worked with the likes of soprano Renée Fleming and rapper Kanye West. She's written string quartets as well as film scores. She's worked with pianist Jonathan Biss and with multi-instrumentalist Richard Reed Parry of indie rock band Arcade Fire.
Born in Greenville, North Carolina, Shaw was all of two years old when a violin and bow ended up in her hands, having been given to her by her first music teacher: her mother. By the age of 10 she was composing her own music. And thus continued her burgeoning musical life. In 2004, she received a bachelor of music degree in violin performance from Houston's Rice University; three years later, she received her master's degree in the same subject from Yale University. In 2010, she entered Princeton University as a student on the PhD programme in composition.


'To the Hands' has angsty breaths, agitated strings, a cacophony of spoken word and fine webs of crystalline-like prayer

Shaw's works have been performed by Roomful of Teeth, Sō Percussion, American Contemporary Music Ensemble (ACME), the Mark Morris Dance Group Ensemble, Bretano Quartet and many others. Her voice compositions go well beyond her Pulitzer Prize-winning piece. Take, for instance, To the Hands (2016), a six-part 19-minute work that begins like new-minted Gregorian chants formed for the opening scene of a Ridley Scott epic. The piece continues with chorus and angsty breaths; angelic strains and agitated string accompaniment; a cacophony of spoken word and fine delicate webs of crystalline-like prayer.
There's also her 2021 cover of Abba's disco song Lay All your Love on Me, for voices and marimba. The original is stripped naked, then slowed right down so it moves like a river of cold honey, before being built back up with haunting background vocals and undercurrents of indiscernible noises coming from the singers' mouths: like chattering insects or a handful of typewriters from a room down the hall. From a decade earlier, By and By for voice and string quartet sets the song Will There Be any Stars in my Crown, plucked strings harkening back to the old American hymn.

Her vocal stylings have become more readily available of late. Narrow Sea (2017) is the title-track on an album released in January 2021. Written for Sō Percussion, Dawn Upshaw and Gilbert Kalish, it is an exploration of folk songs with a panoply of sounds – ceramics, hums, flowerpots, a piano played like a dulcimer by five people at the same time. The piece is inspired by text from The Sacred Harp, a collection of shape-note hymns first published in the 19th century.
Even more recent is an album collaboration with Sō Percussion called 'Let the Soil Play its Simple Part'. Released in the summer of 2021 and produced by Grammy-winning engineer Jonathan Low, the album reflects the ever evolving interests of Shaw and her collaborators. Words by James Joyce can be heard; other inspirations include a poem by Anne Carson and the Bible's book of Ruth.
Although perhaps best known for her inventive voice work, Shaw is also drawn to strings. The Attacca Quartet's album 'Orange' (2019) includes six pieces she wrote for string quartet. Rooted in the classical tradition yet refracted through a contemporary lens, the works showcase dramatic changes in tempo, mood and texture. Following closer acquaintance with her catalogue overall, one could perhaps describe these string quartet works as 'Shawesque': alongside hints of mystery and melancholy, a bright future awaits – much as it surely must do for the composer herself.
---
This article originally appeared in the December 2021 issue of Gramophone. Never miss an issue – subscribe today