An introduction to the theorbo – a strange and beautiful instrument
Toby Carr
Friday, May 13, 2022
This giant bass lute can be over 6 feet long, typically has 14 or so strings and is characterised by it's rich but clear sound, an ideal accompaniment to the human voice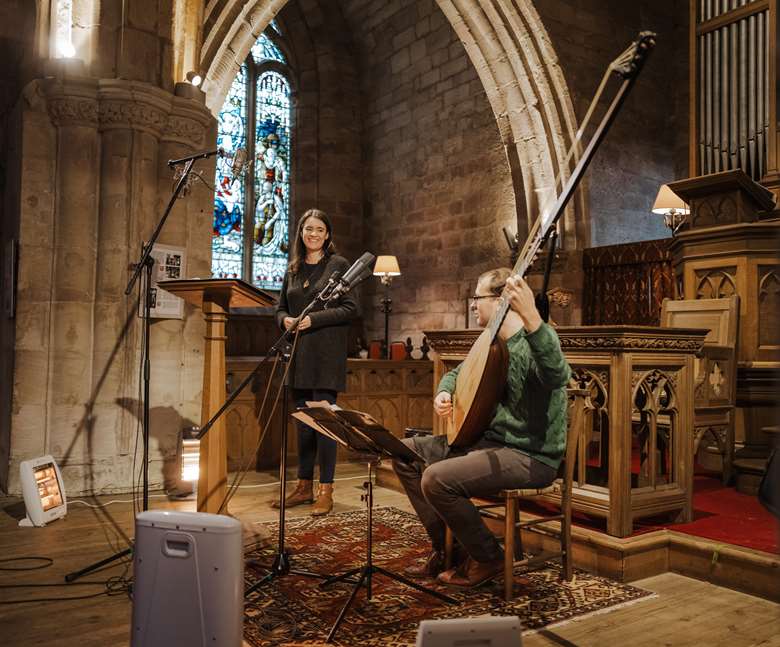 Towards the end of the 16th century, a group of musicians in Italy began experimenting with a new way of tuning their lutes, lowering the top two strings by an octave and using much longer strings to create an instrument with a particular tone quality and a bright resonance, known as the theorbo. When combined with the new fashion for neck extensions carrying an extra set of long bass strings – unreachable for the left hand – this created an instrument which was visually as well as aurally striking. This giant bass lute can be over 6 feet long, typically has 14 or so strings and is characterised by it's rich but clear sound, an ideal accompaniment to the human voice. You may recognise the theorbo from 17th century paintings – you can certainly glimpse a few in a stroll around the national gallery – and I would also recommend the always inspirational Elizabeth Kenny's video on the instrument over on YouTube.

A little more than 500 years after the conception of the instrument, as a classical guitar student at a conservatoire I sat in a practice room awaiting my lute teacher, having taken up the offer of second study lessons after dabbling in a bit of Dowland on my guitar. I can vividly remember him coming through the door with a monstrosity of a case that looked like a guitar crossed with a giraffe; little did I know that this instrument would be something that I enjoyed playing so much that I was even willing to carry it around and on all kinds of transportation – cars, buses, trains, bikes(!) and even planes! I got my own theorbo in 2015 – a wonderful instrument by the master luthier Klaus Jacobsen – and in 2020 it underwent an operation whereby a hinge was added to allow the neck to fold while maintaining the tension on the long strings. Consequently, transporting it is now a great deal easier and less conspicuous.
The theorbo was developed specifically to accompany the new style of singing which was emerging from composers such as Giulio Caccini, Jacopo Peri and soon the great Claudio Monteverdi. It's use is synonymous with 'basso continuo,' whereby all that is written to accompany the upper voice(s) is a single bass part, often with 'figures' which indicate appropriate harmonies to add to fill out the accompaniment. This way of writing existed all throughout the 17th century and well into the 18th, and in some contexts was used well beyond that. This notation can be a bit intimidating at first, as modern classical musicians are often considerably less comfortable with 'filling in the gaps' than our baroque predecessors, but with study and practice one learns to – hopefully – create characterful and expressive accompaniments in a style appropriate to that of the composer you are playing.
Crucially for me, playing the theorbo brought opportunities to collaborate with other musicians in ways that I never would have been able to otherwise, from being in the pit for baroque opera, chamber music with smaller groups of colleagues to duo recitals. The genius of basso continuo as a notation system is in its flexibility – the same piece can be accompanied by a huge battery of lutes, harps, keyboard instruments, bowed bass instruments etc, or by a single player and neither option is more 'correct.' In this way an aria from a Handel opera, a French baroque instrumental Sonata or a song by Monteverdi can all be seen to be part of the theorbo's repertoire.
For our album 'Battle Cry: she speaks' Helen Charlston and I have created a recital programme for just voice and theorbo, a combination whose sound world will be familiar to any fan of the singer-songwriter tradition, from John Dowland or Barbara Strozzi to Joni Mitchell or Bob Dylan. Works by Monteverdi, Purcell and Strozzi – three composers whose works might make it into a list of core repertoire for the aspiring theorbo player – sit alongside a new song-cycle written for us by Owain Park, commissioned by London's City Music Foundation.
The starting point of the programme for us was Monteverdi's Lamento d'Arianna, a devastating expression of grief which centres Theseus's abandoned lover. Other historic and mythological women are heard from, including Boudicca and Dido, both in music by the great Henry Purcell. Dido's lament may be the most famous piece in all of baroque music, so at first I was a bit reluctant to try it without the original string parts, however I'm glad to say that it really works and has resulted in a unique, stripped-down version of this great piece, a reminder that ultimately it's just a song like any other.
It was in this context that Owain was approached to write a companion piece to further explore these women's stories, and his Battle Cry sets texts by Georgia Way about Boudicca, Philomela, Sappho and Marietta, giving a new voice to familiar subjects. The Italians musicians who developed the theorbo at the beginning of the baroque period were keen to stress the links between the theorbo and the ancient Lyre and Kithara – instruments used to accompany the telling of stories – so it seems very apt to be using this combination of theorbo and voice to create new versions of these stories for the 21st century.
We are performing at the London Festival of Baroque Music on Monday, May 16, 7.30pm at St John's Smith Square, Westminster. There will be other chances to see a theorbo in action in the same festival, including the Illyria Consort's Adriatic Voyage on Sunday, May 15 and Monteverdi's Vespers on Thursday, May 19 with the Choir of Westminster Abbey and St James' Baroque.