What makes Meredith Monk one of contemporary music's most original, individual, and innovative figures?
Pwyll ap Siôn
Thursday, January 19, 2023
This US composer Meredith Monk has continued to work in multiple art forms and to break the mould for more than 50 years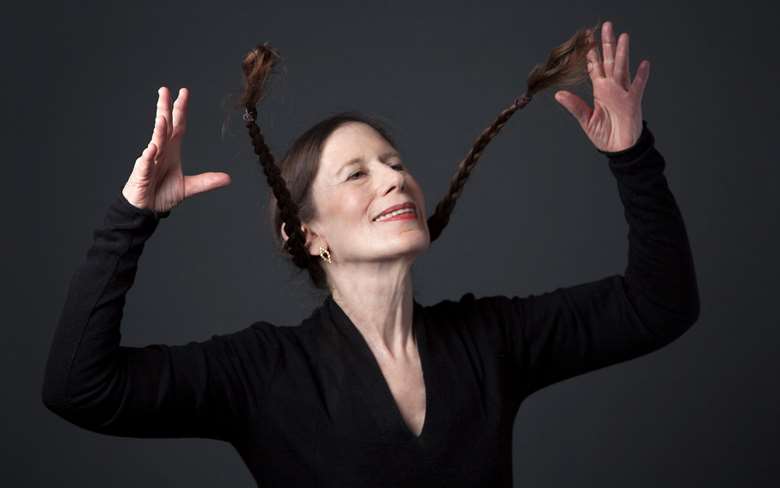 As a musician, singer, pianist, actor, choreographer, dancer, film-maker, producer and performance artist, Meredith Monk continues to sidestep boundaries and elude classification in her oeuvre. For more than 50 years, this dynamically creative New Yorker has established herself at the vanguard of American music, evolving a creative synthesis of multiple art forms. However, when asked who or what she is, Monk has always been very clear: 'I am a composer.'
Monk's music has not been without its critics. In a 1987 review of the album 'Do You Be' in The Wire, Ben Watson describes its 'pseudo-ethnicity' as 'a parade of undigested effects, a noodling with atmosphere-producing ingredients'. Today, her work is admired and appreciated in equal measure. Monk has become the doyenne and figurehead of contemporary avant-garde, post-minimalist and alternative pop scenes. Icelandic pop singer Björk is a longstanding fan, as are some of new music's leading names, such as Julia Wolfe, Sarah Kirkland Snider and Missy Mazzoli. One need only compare the opening bars of Wolfe's 'The States' from Steel Hammer with Monk's 'Panda Chant I' from her sci-fi opera The Games (composed in 1983) to appreciate how deep these influences go.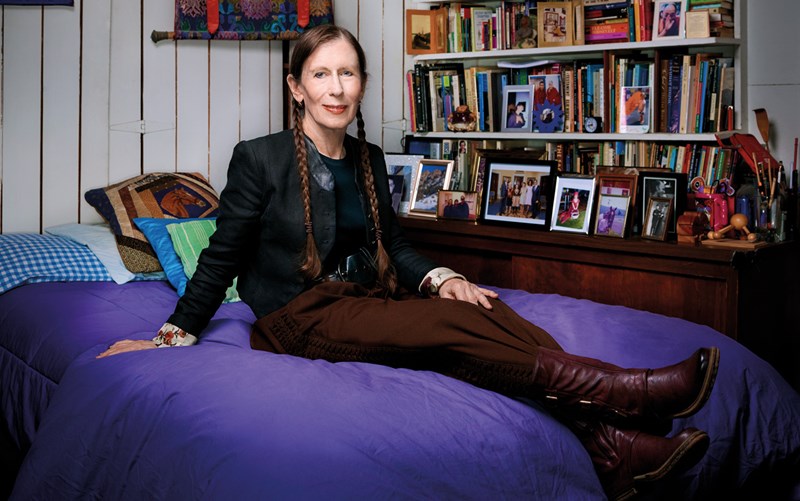 Meredith Monk (photo: Brad Trent)
Monk was raised in a musical family. Her grandparents were professional musicians and her mother – a gifted singer and actress who went by the stage name of Audrey Marsh – appeared in several American TV shows, radio jingles and adverts from the 1920s to the 1950s. As a child, Monk was introduced to Dalcroze Eurhythmics, whereby music is taught through rhythm, movement and dance. For Monk, music has always been strongly linked to movement and the body. She continued to pursue this interest at Sarah Lawrence College during the early 1960s, where a performing arts programme enabled her to combine singing, acting, dancing and composition. The notion of a single art form that could fuse Monk's many interests and talents began to take shape.
Monk's own voice (and later the voices of her own vocal ensemble) has remained central to her creative output, performances and recordings throughout a long career. Her music makes us aware of the body as its primary sound source. She has always thought of the voice as possessing its own language, and her refusal for many years to set words in fact freed her up to unleash its rich timbral potential.
We hear it croaking, gurgling, moaning, shouting, squealing, wailing, whispering and yodelling. Guttural clicks are melded with soft sounds or strangled, stuttering screeches. With infant shrieks, stentorian coughs, bird calls, miaows, animal chatter, priestly chanting, nonsense syllables and ritualistic incantations, Monk's voice swoops, dives, soars, floats, flies and falls. She will stretch the voice to its very limits by flaunting and magnifying its cracks, breaks, folds and deep fissures. According to Monk, each voice possesses its own sonic character and landscape, which has the potential to unearth feelings, energies and memories that exist beyond verbal meaning.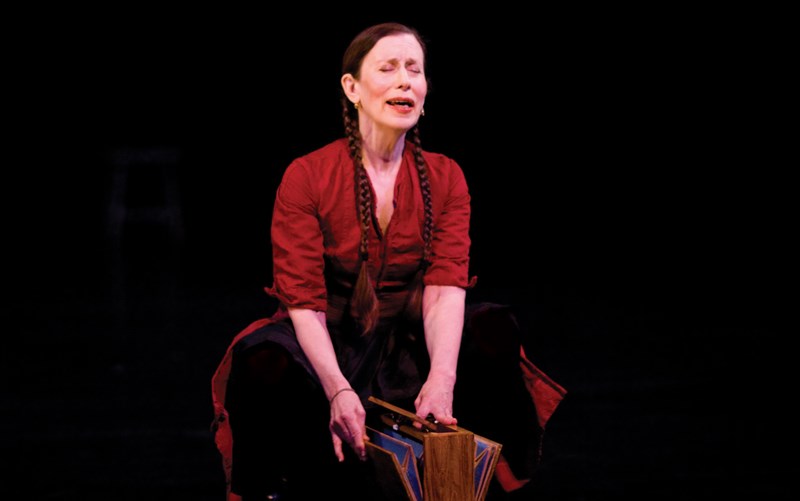 Meredith Monk (photo: Cameron Wittig, courtesy of Walker Art Center)
Drawing as these sounds do on a common, cross-cultural palette of archetypal sources, one hears in them echoes of vocal traditions from across the world, such as Inuit throat singing, Balkan nasality, Tibetan chanting or the sound of Japanese kabuki. The ritualistic effect of the music can be both familiar and disconcerting – as if one hears folk songs from another planet – but the uncanny familiarity is there because these sounds are generated from the well-spring of human voices.
From 1968 to 1975, Monk worked mainly as a soloist, developing a unique musical vocabulary by exploring the possibilities of her own voice. Her breakthrough work, the 25-minute 16 Millimeter Earrings (1966), engaged film, singing, dance, movement, technology and video projection to create a poetic, multidimensional statement.
The edgy, raw quality of Monk's early work is heard on her debut album, 'Key', released on Los Angeles imprint Increase Records in 1971. A back-to-basics approach is taken on 'Our Lady of Late' (released in 1973), where Monk's voice is supported only by sustained notes generated from tuned water glasses. The vibrating drones provide a springboard for her virtuosic flights of vocal fantasy.
If not operas in the conventional sense, several works from the 1970s are certainly 'operatic' in scope. Monk describes Vessel (1971), based on the life of Joan of Arc, as 'an opera epic'. One of its songs, 'Do You Be', makes use of a gently falling and rising chaconne-like pattern on the piano, which became one of her trademark techniques. Vessel was followed by Education of the Girlchild (1972-73), another 'opera' that places the female character in a central role and whose song 'Travelling' represents a haunting depiction of a journey backwards in time through a woman's life.


Critic K Robert Schwarz said it was like hearing a foreign language for the first time yet understanding every single word

Having incorporated voices into her multimedia works during the mid-1970s, Monk established her own vocal ensemble in 1978. Her first important work for this group was Dolmen Music (1979), which started off as a challenge to write a piece featuring different kinds of vibrato and their effects. As with many Monk compositions, Dolmen Music sounds simultaneously old and new, archaic yet futuristic. Her next project, Turtle Dreams, which she began in 1980, was rooted more in contemporary society, oscillating patterns on electric organs reflecting the fears and anxieties of urban existence. Book of Days (1985) further developed these ideas by drawing parallels between war, strife, pestilence and religious persecution during the Middle Ages with life in New York in the mid-1980s.
Atlas (1991), Monk's first fully fledged opera, remains one of her greatest achievements. Critic K Robert Schwarz said it was like hearing a foreign language for the first time yet understanding every single word. Based on the life of Belgian–French explorer Alexandra David-Néel, this is an opera without libretto which proved something of a catalyst: since then, not only has Monk started using words and texts but she has also composed music for forces other than her own voice and her ensemble.
Possible Sky (2003) for choir and orchestra was premiered by the New World Symphony under Michael Tilson Thomas; this was followed by Stringsongs (2005) for the Kronos Quartet. Weave (2010), for two voices, chamber orchestra and chorus, was co-commissioned by the Los Angeles Master Chorale and the St Louis Symphony Orchestra, and Realm Variations (2012) by the San Francisco Symphony.
Monk has continued to compose and perform with her vocal group well into this century. Recent projects have included Cellular Songs (2017-18), a multimedia piece inspired by Siddhartha Mukherjee's 2010 book The Emperor of All Maladies: A Biography of Cancer, which posits the idea that cells are intelligent beings and got Monk thinking about cells as the organisational principle behind both music and life itself.
In the 1990s, composer William Duckworth posed a question to Monk, asking, if only one of her pieces was to survive into the 21st century, which one would it be? Her answer was Dolmen Music, because she thought it might possess the kind of objectivity that 21st-century people would appreciate. Whether they're objective or not, it seems certain from the vantage point of the present day that very many more works by Monk will survive well into the 21st century and beyond, which can only be a good thing for future generations.
---
This article originally appeared in the December 2022 issue of Gramophone magazine. 
Life is better with good music in it. Subscribe to Gramophone today