Gramophone Artist of the Year 2022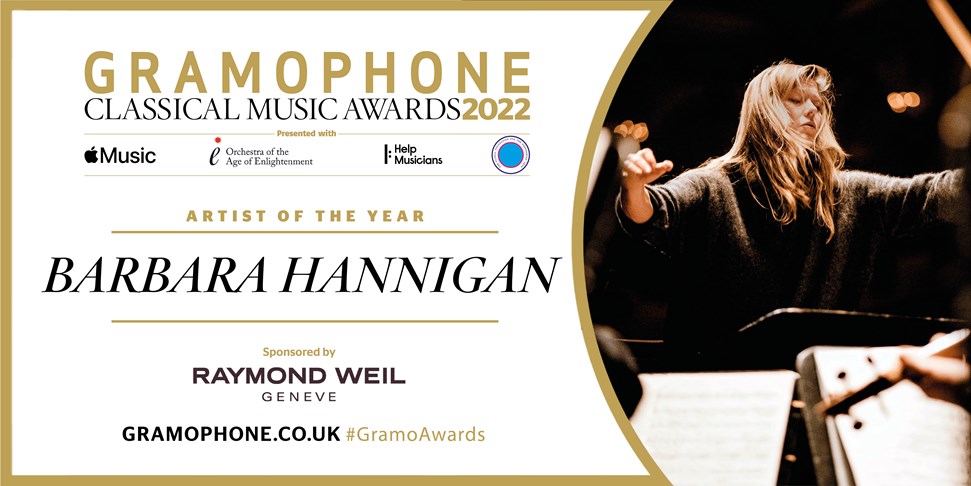 Soprano-conductor Barbara Hannigan entered the classical mainstream from the side door. Rather than cycling through the usual operatic debuts (Mozart and so on), the Nova Scotia-born, Toronto-trained Hannigan enjoyed a whispering campaign in the new-music community, starting in 1999 with the premiere of Louis Andriessen's opera Writing to Vermeer.
Among Handel sopranos, the younger Hannigan was excellent and one of many. But nobody brought bel canto lyricism to Boulez's Pli selon pli, or so clearly projected the inner narrative of Dutilleux's Correspondances, or burst upon an unsuspecting Philadelphia Orchestra audience costumed as a dominatrix in music from Ligeti's Le Grand Macabre. The formidable challenges of Berg's Lulu are so fluidly met by her lustrous, precise, middle-weight voice that there are no barriers to her becoming the title-character. The latest George Benjamin/Martin Crimp opera, Lessons in Love and Violence (premiered 2018), takes her to the top of her range with an extended high note, goes even higher and then launches into a coloratura passage – all of which Hannigan delivered along with the musical intention behind the notes.
That's the hallmark behind her greatest hit, Hans Abrahamsen's 2013 song-cycle let me tell you (Winter & Winter, 3/16), which portrays Shakespeare's Hamlet from Ophelia's perspective, and where Hannigan found a marriage of words and music that she felt she almost could have composed herself. Her voice is immersed in the composer's glistening, icy orchestration, particularly in the extended denouement for which she scales back her voice as Ophelia drifts below the water. She went on to sing Abrahamsen's multilayered grand opera The Snow Queen in 2019, releasing the recording this year.
With her characteristically restless sense of revisionism, she was simultaneously conducting and singing Ligeti by 2011. Few conductors would be so bold as to pair Copland's seldom-heard Music for the Theatre with Gerald Barry's Wiener Blut – a deconstruction of the operetta classic. Less radically, she solved the Mozart Requiem programming problem, filling out the concert with Richard Strauss's Second World War lament Metamorphosen, aided by a rehearsal technique that allowed both epic pieces to be heard in shipshape. Not all her ideas gel, such as the vague video projections she is known to use in Metamorphosen. Her primary blind spot is her all-too-considered Gershwin.
However adventurous she is on stage, Hannigan is cool-headed, well organised and no-nonsense off stage – as she would have to be in order to tread the paths that she chose early on. While a student at the University of Toronto, she gave, aged 17, the first of what now amounts to more than 80 world premieres; she sang Anne Trulove in The Rake's Progress at age 19; and she played percussion at university, joining the African drumming ensemble.
From there, intense and sometimes conspiratorial collaborations have become the near constant current in her life, and not just with Abrahamsen, with Sir Simon Rattle (with whom she has sung Ligeti) and with pianist Reinbert de Leeuw. As a conductor, she frequently works with the Ludwig Orchestra and the Gothenburg Symphony Orchestra. On the opera stage, Katie Mitchell is often her director, not just in the Benjamin operas (including Written on Skin) but also in Pelléas et Mélisande.
Her next major collaborator is the LSO, which in February appointed her Associate Artist for a three-year period. What to expect there? Recordings and radio broadcasts suggest Mahler with slow tempos – Celibadache-slow, but with a far greater sense of discovery. Choral works such as Mozart's Requiem will have crisp projection of the text. She's great at locating a piece's specific sound world (such as that of The Rake's Progress, which she has also conducted). My hope for this residency, though, is more Wolf, whose Goethe songs were the highlight of her 2018 Alpha release with de Leeuw, 'Vienna: Fin de siècle'. At 51, Hannigan is at her vocal peak. With her cognitive intelligence, mastery of language and pinpoint vocal clarity illuminating Wolf at every turn, the spirit of Elisabeth Schwarzkopf is most encouraging. David Patrick Stearns
---
Gramophone Awards 2022 – The Winners
Select an Award-winner below to read full reviews of each of the winning albums and expert insights from our writers. 
Recording Categories
Korngold: Die tote Stadt (Sols; Bayerisches Staatsorchester / Kirill Petrenko)
Ysaÿe: Six Solo Violin Sonatas (James Ehnes)
Josquin: 'Baisiez Moy' (Thélème / Jean-Christophe Groffe)
Mahler: Symphony No 7 (Bayerisches Staatsorchester / Kirill Petrenko)
Bartók. Beethoven. Berg: Violin Concertos (Frank-Peter Zimmermann; Berlin Philharmonic Orchestra / Alan Gilbert, Daniel Harding, Kirill Petrenko)
Beethoven: Diabelli Variations (Mitsuko Uchida)
Enargeia (Emily D'Angelo; Das Freie Orchester Berlin / Jarkko Riihimäki)
Abrahamsen: The Snow Queen (Sols; Chorus and Orchestra of the Bavarian State Opera / Cornelius Meister)
'Round Midnight (Quatuor Ebène; Antoine Tamestit; Nicolas Altstaedt)
JS Bach: St Matthew Passion (Sols; Pygmalion / Raphaël Pichon)
Rachmaninov: Songs – 'Dissonance' (Asmik Grigorian; Lukas Geniušas)
'BariTenor' (Michael Spyres; Strasbourg Philharmonic Orchestra / Marko Letonja)
Ravel: Orchestral Works (Sinfonia of London / John Wilson)
---
Special Awards
Mozart Momentum (Leif Ove Andsnes; Mahler Chamber Orchestra)
If you are a library, university or other organisation that would be interested in an institutional subscription to Gramophone please click here for further information.