Gramophone Special Achievement Award 2022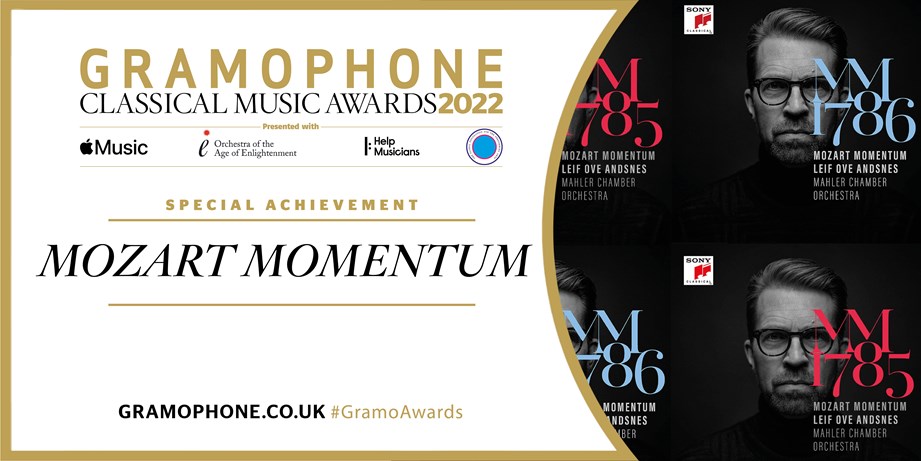 On Sunday, August 7 I went to my first Prom since 2019. Fittingly, it was a celebration of Mozart and the very special relationship between the Mahler Chamber Orchestra and Leif Ove Andsnes, celebrated in their two Mozart Momentum volumes for Sony Classical in which they explore the miraculous years of 1785 and 1786.
This had Gramophone Award written all over it from the off. And that would have been the case even without considering the extraordinary circumstances under which it came into being. For this was not just a lockdown project but one that was blighted even before Covid, after Leif Ove Andsnes succumbed to pneumonia in 2019, meaning that planned concerts and tours were cancelled. The concertos on the first volume (K466, 467 and 482) and the Masonic Funeral Music were recorded in the Berlin Philharmonie by a socially distanced Mahler Chamber Orchestra in November 2020, with the recording's producer John Fraser taking remote working to a whole new level, based as he was in London. Even by the time of the second tranche of concertos the following November, when social distancing had been eased, the world was still a scarred, scared place.
Circumstances apart, what makes this so special? Common to both volumes is a sense of exploration, a belief that music is a living, breathing art-form. It would be too simplistic to describe these merely as benchmark recordings, for while that's undoubtedly true in terms of quality, it implies something too fixed for this most inspired and fluid of music-making: these albums capture the musicians' thoughts on a particular day, but the day after a phrase, dynamic or articulation would come out differently.
So let's abandon the term 'benchmark'. What is striking is the egalitarianism: Andsnes is the leader of a gang who clearly adore him both as person and musician (you can hear it in every note, just as you could see it watching him and his fellow musicians interact in the Royal Albert Hall). These recordings could not have been made without the experience of the earlier 'Beethoven Journey' project, but Andsnes's relationship with the orchestra, impressive then, has deepened, and the arrival of Matthew Truscott as leader has seemingly cemented that bond.
Let's not forget either that Andsnes is a master programmer – something honed at his festivals at Risør and Rosendal – so the interconnections we experience when the concertos are taken out of their boxed-set purgatory can be revelatory – as are his sometimes unusual cadenza choices – not least Hummel in the finale of K466 and John Fraser and Géza Anda in K482.
In an interview with Hugo Shirley in these pages Andsnes admitted that it took him a while to 'get' Mozart and when he did it was through the operas: 'I remember having an epiphany listening to and seeing the operas and thinking that's what this music is all about! It's theatre, it's people, it's conversation.'
And how powerfully those qualities feed into these performances – never have the opening tutti of K467 or the finale of K488 sounded quite so buffa-ish, but it's evident in the chamber music too – the players really bringing out the concerto-ish banter in the finale of the First Piano Quartet for instance. And Mozart as precursor to Beethoven is felt too, naturally enough in the D minor Concerto but equally in the solo C minor Fantasy, K475. Intensity is another watchword, with music-making that is stripped bare of any excess and which gets straight to the heart of the matter, whether in Christiane Karg's searing 'Ch'io mi scordi di te?' or in the whole of the C minor Concerto. Mere words are not going to cut it: go and experience this music-making for yourself – it will make the world feel like a better place. Harriet Smith
---
Gramophone Awards 2022 – The Winners
Select an Award-winner below to read full reviews of each of the winning albums and expert insights from our writers. 
Recording Categories
Korngold: Die tote Stadt (Sols; Bayerisches Staatsorchester / Kirill Petrenko)
Ysaÿe: Six Solo Violin Sonatas (James Ehnes)
Josquin: 'Baisiez Moy' (Thélème / Jean-Christophe Groffe)
Mahler: Symphony No 7 (Bayerisches Staatsorchester / Kirill Petrenko)
Bartók. Beethoven. Berg: Violin Concertos (Frank-Peter Zimmermann; Berlin Philharmonic Orchestra / Alan Gilbert, Daniel Harding, Kirill Petrenko)
Beethoven: Diabelli Variations (Mitsuko Uchida)
Enargeia (Emily D'Angelo; Das Freie Orchester Berlin / Jarkko Riihimäki)
Abrahamsen: The Snow Queen (Sols; Chorus and Orchestra of the Bavarian State Opera / Cornelius Meister)
'Round Midnight (Quatuor Ebène; Antoine Tamestit; Nicolas Altstaedt)
JS Bach: St Matthew Passion (Sols; Pygmalion / Raphaël Pichon)
Rachmaninov: Songs – 'Dissonance' (Asmik Grigorian; Lukas Geniušas)
'BariTenor' (Michael Spyres; Strasbourg Philharmonic Orchestra / Marko Letonja)
Ravel: Orchestral Works (Sinfonia of London / John Wilson)
---
Special Awards
Mozart Momentum (Leif Ove Andsnes; Mahler Chamber Orchestra)
If you are a library, university or other organisation that would be interested in an institutional subscription to Gramophone please click here for further information.