Gramophone's Orchestra of the Year 2022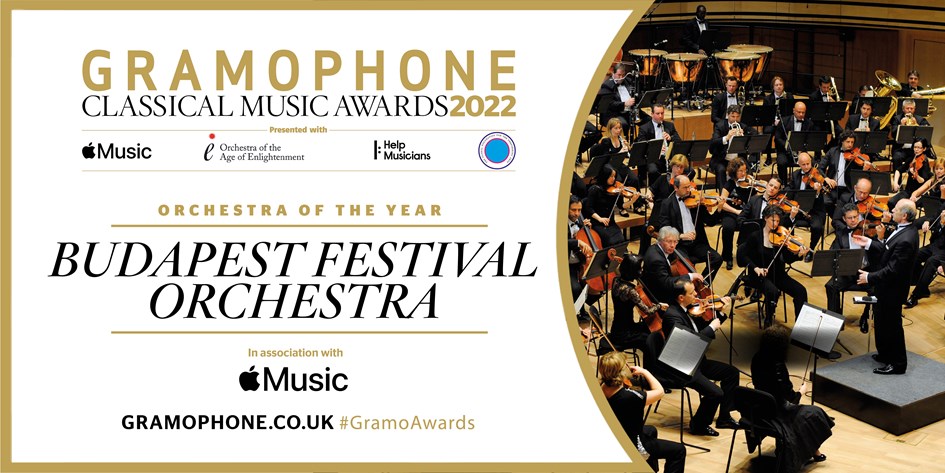 Back in the 1960s and 1970s Hungary's track record for quality symphony orchestras wasn't quite the equal of, say, the Czech Republic (then Czechoslovakia) or Poland. What Hungarian orchestral musicians needed was visionary musical leadership, so when conductor/composer/educator Iván Fischer and pianist/conductor Zoltán Kocsis formed the Budapest Festival Orchestra in 1983, with musicians 'drawn from the cream of Hungary's younger players', as The Times put it, the aim was to make concerts into significant events, and to grant Budapest a new symphony orchestra of international standing, a laudable aim that in the event was handsomely realised.
Kocsis stayed until 1997, when he became Musical Director of the Hungarian National Philharmonic, a title he held until his death in 2016 at the tragically young age of 64. At the time Fischer and his players were already consolidating an enviable reputation, using guidance techniques that centre on listening, the acquisition of knowledge and the development of musical intuition. 'All these aspects can be developed consciously with the orchestra,' Fischer told me when I spoke to him for these pages in December 1997. 'We do exercises to develop hearing; exercises to develop listening to each other, following each other, taking initiatives, not taking initiatives – things which need to be developed and freed within the group.' He insists that section rehearsals are undertaken in a creative way, such as experimenting with passage work, intonation, seating and the like. Time and again, he refers to just a single 'enemy', namely routine. Happily for us, routine is kept securely at bay. With Fischer and his players, you're never quite sure what's in store, though when the evidence presents itself, a high level of musical satisfaction is more or less guaranteed.
Fischer's past rostrum compatriots on disc include Fritz Reiner, Sir Georg Solti, Ferenc Fricsay, George Szell, Eugene Ormandy and many others, and his own musical aspirations are hardly less ambitious than theirs were. The BFO/Fischer catalogue, initially for Hungaroton, then for Philips/Decca and most recently for Channel Classics, has earned numerous critical plaudits. A Decca Bartók series soon became a basic library recommendation, Liszt's Hungarian Rhapsodies, Brahms's Hungarian Dances and various shorter orchestral works by Dvo∑ák were distinguished by tonal lustre, high spirits and authentic folk-style inflections while Fischer's Mahler (he founded the Hungarian Mahler Society) has won considerable praise in these pages from one of our resident Mahlerians David Gutman who, when reviewing the Third Symphony in June 2017, commented that 'Jared Sacks and his colleagues at Channel Classics are famous for setting high technical standards and they surpass their previous efforts here. I doubt whether there has ever been a more precisely focused, more sheerly beautiful recording of any Mahler work.' And that in the context of countless highly recommended Mahler releases.
Fischer's achievement as Music Director of the Budapest Festival Orchestra is without question one of the major musical success stories of the last 50 years. With international tours and the feted series of recordings referred to above he has confirmed his reputation as among the world's most celebrated orchestral conductors, someone whose often innovative interpretations set him apart from even the finest of his rivals. An Iván Fischer/BFO recording is invariably something to celebrate, original and exciting, a new way of hearing things, with added perspectives that probe way beneath the music's top line. If you need a miniature example of his artistry, try the gentle pulsing of Dvo∑ák's gorgeous Nocturne, Op 40 (Decca Eloquence, also available to hear online), the way it takes flight at 3'14" as if launched on the wings of spontaneous infatuation. It'll stay with you for the rest of the day. Rob Cowan
---
Gramophone Awards 2022 – The Winners
Select an Award-winner below to read full reviews of each of the winning albums and expert insights from our writers. 
Recording Categories
Korngold: Die tote Stadt (Sols; Bayerisches Staatsorchester / Kirill Petrenko)
Ysaÿe: Six Solo Violin Sonatas (James Ehnes)
Josquin: 'Baisiez Moy' (Thélème / Jean-Christophe Groffe)
Mahler: Symphony No 7 (Bayerisches Staatsorchester / Kirill Petrenko)
Bartók. Beethoven. Berg: Violin Concertos (Frank-Peter Zimmermann; Berlin Philharmonic Orchestra / Alan Gilbert, Daniel Harding, Kirill Petrenko)
Beethoven: Diabelli Variations (Mitsuko Uchida)
Enargeia (Emily D'Angelo; Das Freie Orchester Berlin / Jarkko Riihimäki)
Abrahamsen: The Snow Queen (Sols; Chorus and Orchestra of the Bavarian State Opera / Cornelius Meister)
'Round Midnight (Quatuor Ebène; Antoine Tamestit; Nicolas Altstaedt)
JS Bach: St Matthew Passion (Sols; Pygmalion / Raphaël Pichon)
Rachmaninov: Songs – 'Dissonance' (Asmik Grigorian; Lukas Geniušas)
'BariTenor' (Michael Spyres; Strasbourg Philharmonic Orchestra / Marko Letonja)
Ravel: Orchestral Works (Sinfonia of London / John Wilson)
---
Special Awards
Mozart Momentum (Leif Ove Andsnes; Mahler Chamber Orchestra)
If you are a library, university or other organisation that would be interested in an institutional subscription to Gramophone please click here for further information.