Gramophone Chamber Award 2022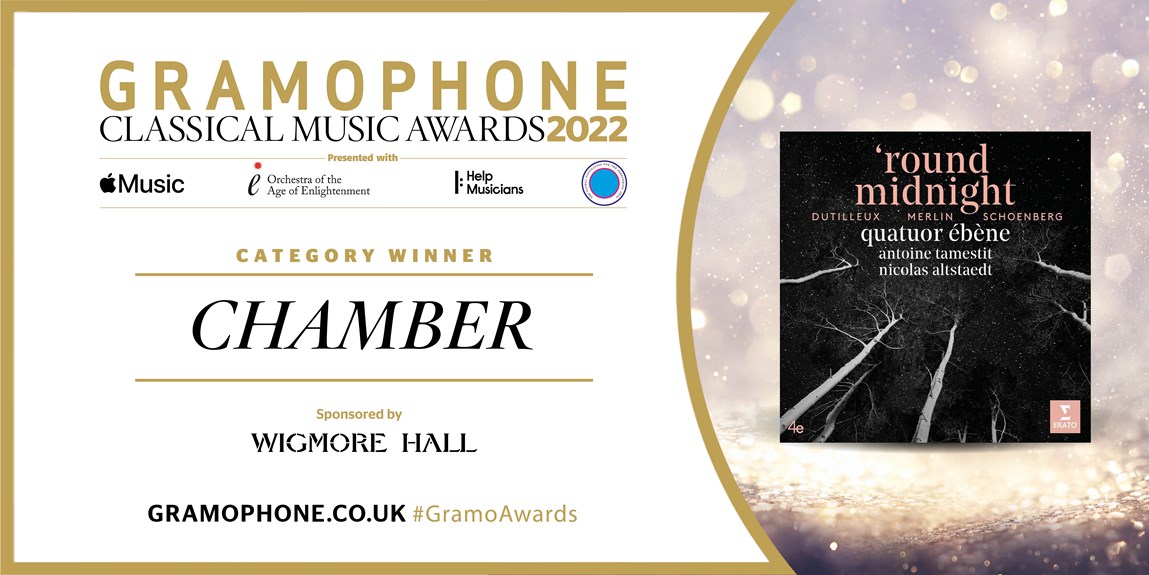 ''Round Midnight' 
Quatuor Ebène with Antoine Tamestit va Nicolas Altstaedt vc
Erato
Fresh from their worldwide tour of Beethoven's string quartets, the Quatuor Ébène come up with an ambitious project centred on the literal passing from day into night, then its metaphorical passing back into day; accomplished by bringing three contrasted works into unlikely accord.
The 'towards night' phase is embodied by Ainsi la nuit (1976), Dutilleux's only string quartet, which typifies his maturity in its coalescing of diverse fragments into a cumulative sequence of anticipations, evocations and afterthoughts. The degree of timbral and textural stratification favoured by the Ébène might risk disunity, yet its placing emotional emphasis on the central 'Litanies' or transcendent aura of the final 'Temps suspendu' confirms an acute concern for the temporal follow-through of this piece in its Proustian formal logic and expressive poise.


'This release testifies to the Ébène's ambition and, moreover, its attainment'

The 'night' phase has been created by the Ébène's Raphaël Merlin, whose penchant for the arranging of 'standards' reaches a new sophistication in Night Bridge (2021) – a 'nocturnal poem' that similarly locates four jazz classics in a fluid context of departures and arrivals. Hence the teasing double-take on Mancini's 'Moon River', acute restiveness found in Porter's 'Night and day', emotional fervour drawn from Young's 'Stella by starlight', then smouldering pathos of Monk's ''Round midnight' as it passes into the gentle radiance of a lever du jour.
The 'towards day' phase is embodied by Verklärte Nacht (1899), and if neither Schoenberg's sextet nor the Richard Dehmel poem that inspired it admits of such a trajectory, the sense of darkness being confronted then overcome is tangibly relayed in a reading as committed to savouring the smallest detail as to elaborating these on the largest canvas. Such an approach might have resulted in overkill were it not that a powerful striving for fulfilment holds one as enthralled by this piece on its own terms as by its role within the Ébène's intended scheme.
Comparisons for Dutilleux and Schoenberg are various but not relevant given the singularity of what is being proposed here. With sound of unsparing immediacy and Merlin's typically provocative notes, this release testifies to the Ébène's ambition and, moreover, its attainment. Richard Whitehouse
---
Gramophone Awards 2022 – The Winners
Select an Award-winner below to read full reviews of each of the winning albums and expert insights from our writers. 
Recording Categories
Korngold: Die tote Stadt (Sols; Bayerisches Staatsorchester / Kirill Petrenko)
Ysaÿe: Six Solo Violin Sonatas (James Ehnes)
Josquin: 'Baisiez Moy' (Thélème / Jean-Christophe Groffe)
Mahler: Symphony No 7 (Bayerisches Staatsorchester / Kirill Petrenko)
Bartók. Beethoven. Berg: Violin Concertos (Frank-Peter Zimmermann; Berlin Philharmonic Orchestra / Alan Gilbert, Daniel Harding, Kirill Petrenko)
Beethoven: Diabelli Variations (Mitsuko Uchida)
Enargeia (Emily D'Angelo; Das Freie Orchester Berlin / Jarkko Riihimäki)
Abrahamsen: The Snow Queen (Sols; Chorus and Orchestra of the Bavarian State Opera / Cornelius Meister)
'Round Midnight (Quatuor Ebène; Antoine Tamestit; Nicolas Altstaedt)
JS Bach: St Matthew Passion (Sols; Pygmalion / Raphaël Pichon)
Rachmaninov: Songs – 'Dissonance' (Asmik Grigorian; Lukas Geniušas)
'BariTenor' (Michael Spyres; Strasbourg Philharmonic Orchestra / Marko Letonja)
Ravel: Orchestral Works (Sinfonia of London / John Wilson)
---
Special Awards
Mozart Momentum (Leif Ove Andsnes; Mahler Chamber Orchestra)
If you are a library, university or other organisation that would be interested in an institutional subscription to Gramophone please click here for further information.