Label of the Year 2022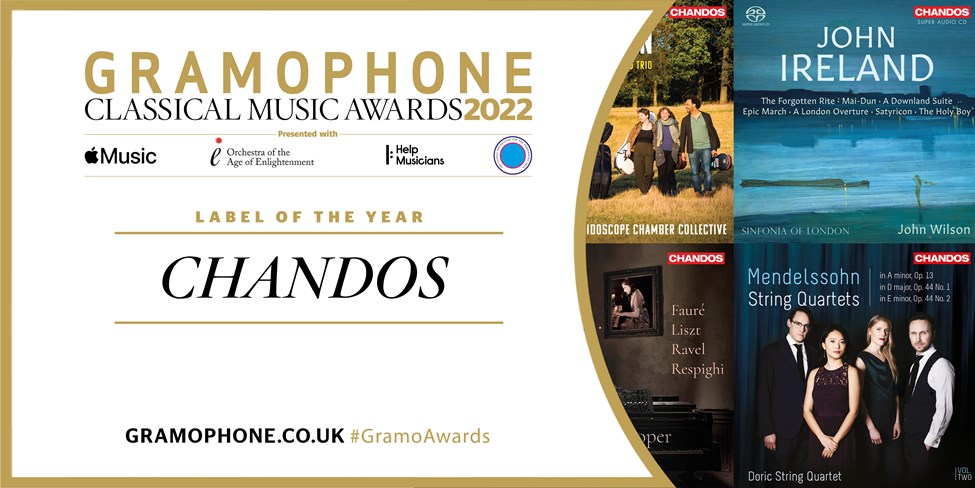 Record labels today are always exploring what defines them, who their audience is (or could be), even what a label – indeed even what a recording itself – actually is.
So it's wonderful to be honouring a label for whom the answers to the above are both simple and largely unchanged from the ambitions of the pioneers at the industry's outset. Gather brilliant artists, make extraordinary music, and capture it in thrilling sound. I say simple, but of course to do even one of those things takes immense experience, skill and belief. Perhaps for me, however, the finest hallmark of a great label is its relationships with its artists, in which unfailing support is rewarded by life-enhancing performances. Chandos Records exemplifies exactly this.


'Chandos is a shining example of exactly what makes recording so special'

Founded in 1979 by Brian Couzens, the company's instinct for excellence emerged early when it recorded a Tchaikovsky symphony cycle with Mariss Jansons. His soon-to-be renowned name became part of a catalogue boasting some of the finest conductors on record, from Neeme Järvi and Richard Hickox, to Edward Gardner more recently. Meanwhile, the brilliant recordings of pianist Jean-Efflam Bavouzet would fill many a shelf on their own, while Chandos artists like the Kaleidoscope Chamber Collective are emerging as leading lights of the next generation.
Now led by Brian's son Ralph, whose engineering is behind the much-praised Chandos sound, the label continues to produce recordings that feel significant before you've even pressed play. But it's perhaps its work with John Wilson that best defines Chandos's ethos. A conductor devoted to recording as an art form, who assembles the most extraordinary line-up of players to make something truly special in the sonic excellence of a studio, the resulting albums are already garlanded by acclaim – including this year's Spatial Audio Award. But then as one of the first independents to sign up to CD back in the '80s, Chandos's embracing of the latest technology is merely a continuation of that commitment to sound.
The past year's diverse riches include Imogen Cooper's deeply personal recital '… Le temps perdu …', benchmark-setting Mendelssohn from the Doric Quartet, the sonic splendour of St Paul's Cathedral's organ from Simon Johnson – and let's not forget that this time last year we named a powerful performance of Britten's Peter Grimes Recording of the Year.
Partnerships long-established and being newly nurtured, albums which add both breadth and depth to the catalogue, a dedication to sound quality: Chandos is a shining example of exactly what makes recording so special. Martin Cullingford
---
Gramophone Awards 2022 – The Winners
Select an Award-winner below to read full reviews of each of the winning albums and expert insights from our writers. 
Recording Categories
Korngold: Die tote Stadt (Sols; Bayerisches Staatsorchester / Kirill Petrenko)
Ysaÿe: Six Solo Violin Sonatas (James Ehnes)
Josquin: 'Baisiez Moy' (Thélème / Jean-Christophe Groffe)
Mahler: Symphony No 7 (Bayerisches Staatsorchester / Kirill Petrenko)
Bartók. Beethoven. Berg: Violin Concertos (Frank-Peter Zimmermann; Berlin Philharmonic Orchestra / Alan Gilbert, Daniel Harding, Kirill Petrenko)
Beethoven: Diabelli Variations (Mitsuko Uchida)
Enargeia (Emily D'Angelo; Das Freie Orchester Berlin / Jarkko Riihimäki)
Abrahamsen: The Snow Queen (Sols; Chorus and Orchestra of the Bavarian State Opera / Cornelius Meister)
'Round Midnight (Quatuor Ebène; Antoine Tamestit; Nicolas Altstaedt)
JS Bach: St Matthew Passion (Sols; Pygmalion / Raphaël Pichon)
Rachmaninov: Songs – 'Dissonance' (Asmik Grigorian; Lukas Geniušas)
'BariTenor' (Michael Spyres; Strasbourg Philharmonic Orchestra / Marko Letonja)
Ravel: Orchestral Works (Sinfonia of London / John Wilson)
---
Special Awards
Mozart Momentum (Leif Ove Andsnes; Mahler Chamber Orchestra)
If you are a library, university or other organisation that would be interested in an institutional subscription to Gramophone please click here for further information.