Gramophone Spatial Audio Award 2022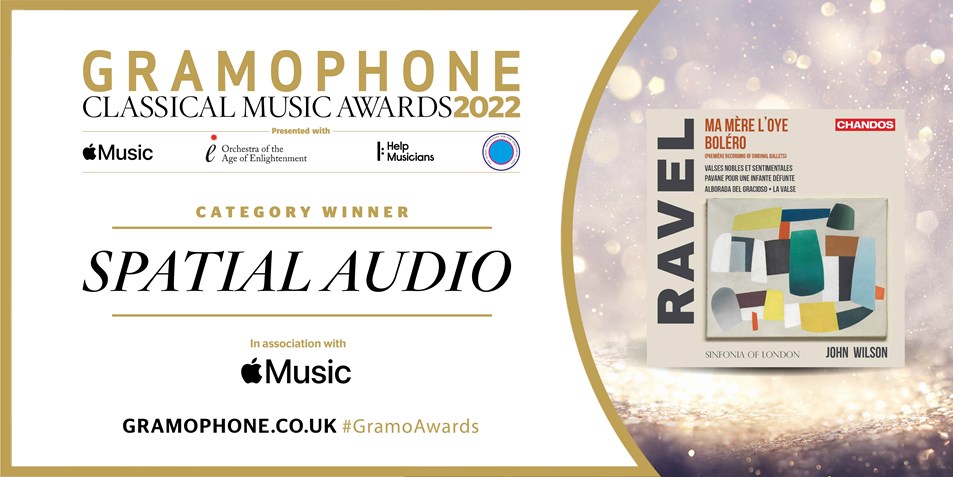 From the dawn of the digital age in 1979 until 1997, Gramophone dedicated one of its annual Awards to Engineering. Several landmark albums were recognised in this way: Debussy's Images conducted by André Previn in 1979 (EMI's first DDD recording), Nocturnes and Jeux led by Bernard Haitink (Philips) the following year, Simon Rattle's first Mahler 2 (EMI again, 1989) and Osmo Vänska's first-version Sibelius 5 (BIS, 1996) among them.
The Spatial Audio Award effectively revives that tradition by commending the excellence of production teams in their application of Dolby Atmos software to what would otherwise be conventional two-channel recordings. First and foremost, however, it should be axiomatic that a recording which attracts special praise for its engineering is worth hearing as a performance. You can put lipstick on a pig but you wouldn't want to buy it at full price (or for that matter stream it on Apple Music).
Looking back over those 20th-century Engineering Awards, certain trends emerge. The great majority of them were made to albums of late-19th/early-20th-century orchestral pieces: music of complex and super-refined textures, especially by French or French-speaking composers. Further awards went to Charles Dutoit in Ravel (Decca, 1985), Michael Tilson Thomas in Debussy (Sony, 1993) and Rattle in Szymanowski (EMI, 1995).
On that basis, it should come as little surprise to find that the two candidates vying for this year's Spatial Audio Award are collections of Ravel and Richard Strauss, two of the most sophisticated orchestrators of the early 20th century. For the Cleveland Orchestra's own-label album of early Strauss tone poems, I can hardly do better than to quote Tim Ashley's original review: Till Eulenspiegel is 'a model of transparency, its restraint and elegance throwing its wit into sharp relief … Welser-Möst's lightness of touch, combined with the transparency of the playing, allows us to hear the work as a scherzo as well as a rondo, and the dividends are enormous.'
Such virtues are only enhanced by the Spatial Audio remastering. When reviewing the label's first release (7/20) I was especially struck by the vivid engineering, which places the listener about a third of the way back in the orchestra's acoustically optimal home of Severance Hall. Spatial Audio further wraps that acoustic around, below and above the listener, broadening the soundstage without artificially isolating individual instruments or sections. No less than the athleticism of the Cleveland strings and the agility of the conductor's voice-leading, the format underlines the visceral impact of inimitably Straussian moments such as the swagger of Macbeth's brass writing and the glittering allure of Don Juan's scoring for harps and celesta.
In the final analysis, however, even the Cleveland engineering had to yield to the Chandos production team (led by producer Brian Pidgeon and engineer/MD Ralph Couzens, with Dolby Atmos mastering by Mike Hatch) for their extraordinarily vivid evocation of Ravel's contrasting sound worlds. We talk of music getting inside our heads in metaphorical terms, but something very near to it happens when a far-off fanfare rings down the curtain on a childhood world of magic and wonder in Mother Goose.
In the division of artistic responsibility between playing, conducting and engineering, one part seems hardly less significant than the others. No concert-hall perspective is achieved but rather a depth of field unique to a private experience, especially (but not exclusively) on headphones. Detail such as the pizzicato accompaniment to the flute melody in Boléro is perfectly resonant yet pitched at the threshold of audibility. One final piece of history: Chandos won five of the old Engineering Awards between 1984 and 1997, more than any other label. A generation on, their marriage of new technology to 'old' music remains second to none. Peter Quantrill
---
Gramophone Awards 2022 – The Winners
Select an Award-winner below to read full reviews of each of the winning albums and expert insights from our writers. 
Recording Categories
Korngold: Die tote Stadt (Sols; Bayerisches Staatsorchester / Kirill Petrenko)
Ysaÿe: Six Solo Violin Sonatas (James Ehnes)
Josquin: 'Baisiez Moy' (Thélème / Jean-Christophe Groffe)
Mahler: Symphony No 7 (Bayerisches Staatsorchester / Kirill Petrenko)
Bartók. Beethoven. Berg: Violin Concertos (Frank-Peter Zimmermann; Berlin Philharmonic Orchestra / Alan Gilbert, Daniel Harding, Kirill Petrenko)
Beethoven: Diabelli Variations (Mitsuko Uchida)
Enargeia (Emily D'Angelo; Das Freie Orchester Berlin / Jarkko Riihimäki)
Abrahamsen: The Snow Queen (Sols; Chorus and Orchestra of the Bavarian State Opera / Cornelius Meister)
'Round Midnight (Quatuor Ebène; Antoine Tamestit; Nicolas Altstaedt)
JS Bach: St Matthew Passion (Sols; Pygmalion / Raphaël Pichon)
Rachmaninov: Songs – 'Dissonance' (Asmik Grigorian; Lukas Geniušas)
'BariTenor' (Michael Spyres; Strasbourg Philharmonic Orchestra / Marko Letonja)
Ravel: Orchestral Works (Sinfonia of London / John Wilson)
---
Special Awards
Mozart Momentum (Leif Ove Andsnes; Mahler Chamber Orchestra)
If you are a library, university or other organisation that would be interested in an institutional subscription to Gramophone please click here for further information.