Gramophone's Young Artist of the Year 2022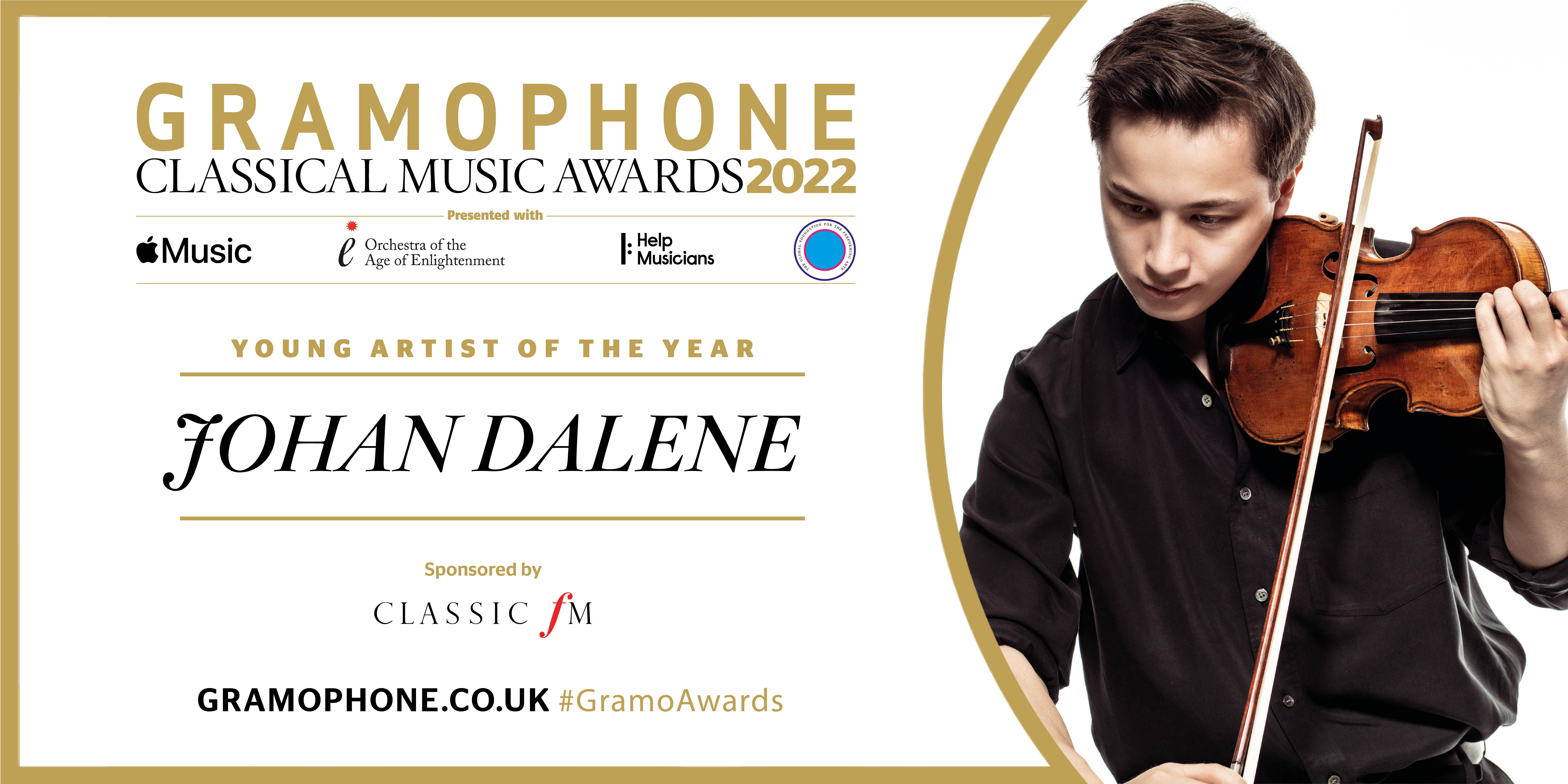 Throughout the Nielsen competition in Odense in 2019, I had an eye on Johan Dalene. Not so much an eye on his progress – I was being paid to keep track of that – as an eye on him. At breakfast in the hotel, he seemed so young and yet so at ease. There was nothing swaggering or confident about him, just a sense of rootedness. He was perhaps the most diminutive individual involved in the competition, yet he was also the most likely to take his place, alone, at a table right in the middle of the restaurant.
And then he picked up his fiddle. From the start, Dalene's journey through the competition was assured – and more. In the early rounds, I scribbled some comments in my notebook: 'Eye contact with EVERYONE / sculpting every phrase / narrating the music / plays like he's directing a film / thinks of the audience but remains himself.' With a poise that only emphasised the genuine excitement of his playing, he sailed into the final, where he gave a performance of the Nielsen Violin Concerto which was full of grind, whimsy and lyricism. Despite the lack of grandstanding, there was only ever one winner.
Dalene is as young as the century. He was born in Norrköping, Sweden, and initially wanted to be a cellist like his father. It was in 2016 that he started to prick up ears, as a resident student at the Verbier Festival. Two years later, he joined the Crescendo mentoring programme – a very Scandinavian talent development scheme that advances a career by calming it down – where he worked with Janine Jansen, Gidon Kremer and Leif Ove Andsnes. A year later, Dalene was ready to conquer the Nielsen competition and enroll as a BBC New Generation Artist.
He did so with qualities that are becoming familiar: a wondrous tone, an elegant straightforwardness and a freshness of utterance that alerts you to characteristics of a phrase without reinventing it. That much was apparent on his debut album with Christian Ihle Hadland (who shares so many of Dalene's qualities but has huge experience too), of which Andrew Achenbach wrote about 'fresh-faced ardour' and musicianship 'judiciously pliable'. Dalene's instrument helped: a 1736 Strad that offers him brawn as well as beauty.
His second concerto album was released earlier this year, and it fell to me to review it. I was taken by the character and gameplay in his Nielsen, an ever so slight advancing of the admirably plain-dealing foundations heard in Odense. Again, I admired his ability to fix a point on a horizon and play, unhurriedly and with a sense of purity, towards it. That paid off in a Sibelius concerto imbued with a sense of tenacious calm but with all sorts of convincing phraseology too. I wasn't at the violinist's BBC Proms debut this summer but can imagine what led one reviewer to conclude that 'the evening undoubtedly belonged' to Dalene.
Dalene is still taught by Per Enoksson at Stockholm's Royal College of Music and takes occasional guidance from local resident Jansen too. He may remain a student, but he is more than a hot prospect – he is an artist already worth savouring. I suspect he will also prove the greatest string player to have emerged from Sweden for generations. Andrew Mellor
---
Gramophone Awards 2022 – The Winners
Select an Award-winner below to read full reviews of each of the winning albums and expert insights from our writers. 
Recording Categories
Korngold: Die tote Stadt (Sols; Bayerisches Staatsorchester / Kirill Petrenko)
Ysaÿe: Six Solo Violin Sonatas (James Ehnes)
Josquin: 'Baisiez Moy' (Thélème / Jean-Christophe Groffe)
Mahler: Symphony No 7 (Bayerisches Staatsorchester / Kirill Petrenko)
Bartók. Beethoven. Berg: Violin Concertos (Frank-Peter Zimmermann; Berlin Philharmonic Orchestra / Alan Gilbert, Daniel Harding, Kirill Petrenko)
Beethoven: Diabelli Variations (Mitsuko Uchida)
Enargeia (Emily D'Angelo; Das Freie Orchester Berlin / Jarkko Riihimäki)
Abrahamsen: The Snow Queen (Sols; Chorus and Orchestra of the Bavarian State Opera / Cornelius Meister)
'Round Midnight (Quatuor Ebène; Antoine Tamestit; Nicolas Altstaedt)
JS Bach: St Matthew Passion (Sols; Pygmalion / Raphaël Pichon)
Rachmaninov: Songs – 'Dissonance' (Asmik Grigorian; Lukas Geniušas)
'BariTenor' (Michael Spyres; Strasbourg Philharmonic Orchestra / Marko Letonja)
Ravel: Orchestral Works (Sinfonia of London / John Wilson)
---
Special Awards
Mozart Momentum (Leif Ove Andsnes; Mahler Chamber Orchestra)
If you are a library, university or other organisation that would be interested in an institutional subscription to Gramophone please click here for further information.