Reputations – Jon Vickers
Richard Osborne
Monday, July 13, 2015
Richard Osborne pays tribute to a tenor with a will as strong as his voice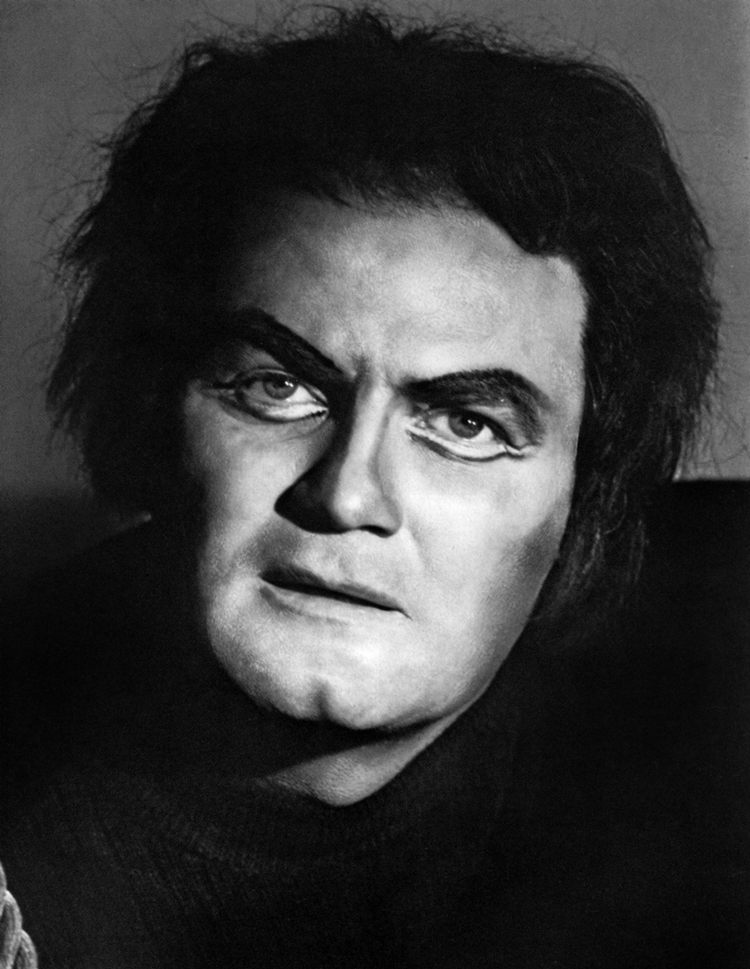 His grandfather was a carpenter and grain thrasher, an English Methodist who had emigrated to Canada in the middle years of the 19th century. His father was a schoolmaster and famously formidable lay preacher. Bow-legged and barrel-chested like his father, Jon was the sixth of eight children, a burly flaxen-haired lad, the creator-in-waiting of a bespoke gallery of operatic roles - Samson and Florestan, Aeneas and Tristan, Otello, Canio and Peter Grimes which he bestrode like a colossus.
'A great performance by Vickers,' wrote David Cairns in a celebrated essay, 'is like a giant sculpture on which the hammer-blows are still visible.' The power was part physical, part moral. The characters into whose mindsets Vickers wormed his way were mostly tragic figures: flawed leaders, social outcasts, sexual obsessives caught in the toils of Eros. The labour the roles involved was immense but here another imperative came into play. Vickers recalled: 'My father would say, "You will do with your might what your hands find to do". No matter what we did in this pursuit of excellence, we did it for the glory of God'.
Vickers was brought up during the Great Depression. From the age of seven he mixed school-work with anything that would help his father and vibrant young mother earn desperately needed dollars. At school, he was judged clever, with a first-rate analytical mind, but he was also practical, down-to-earth, nobody's fool. He could have farmed or made several fortunes in business had it not been for this 'terrible need to sing', the God-given gift which set its own agendas. As a young man he sang oratorio. Even then the voice possessed something of that 'grandeur and veracity of utterance' Cairns would later write about, what theatre director Peter Sellars has called 'intelligence, soulfulness, moral force'. To hear Vickers in 'Thy rebuke hath broken His heart' on the celebrated Beecham recording of Messiah is to hear an oratorio tenor of rare distinction. 'You're damned good, Vickers!' shouted Beecham, thrilling to Vickers's panache and flawless coloratura in 'Every valley', and ruining the take. On the evidence of a live performance Vickers gave in Rome with Barbirolli in 1967, he was also an incomparable Gerontius.
'Every valley' had helped him win a scholarship to Toronto's Royal Conservatory where he was taught to resolve problems by confronting them in Handel arias and the songs of Schubert and Schumann which he came to love. There, too, he was taught to prepare operatic roles by removing all trace of 'Jon Vickers, tenor', inserting instead the inner 'stuff' of the character. Capacity, Vickers has always argued, is never an end in itself; that was Aeneas's mistake and it can be ours too.
Text first and then the music - the nitroglycerine in the mix - was how Vickers prepared. The first fruits can be seen on 'Jon Vickers: Early Telecasts' which includes a memorable Pagliacci, slightly abridged to fit CBC's one-hour slot. To watch this live black-and-white 1955 TV transmission is to visit a prelapsarian world of operatic endeavour in which fine singing, intelligent acting and libretto-based staging is beamed to a mass audience without fear or condescension. Like its lead tenor, it exudes integrity.
Such a voice
The Vickers voice was instantly recognisable; no one sounded remotely like him. Such comparisons as were made, were made with Caruso. 'This is marvellous, perhaps the most Caruso-like singing...on disc since the death of Caruso,' wrote Andrew Porter of Vickers's debut recital, 'Italian Opera Arias'. John Steane pursued the comparison in The Grand Tradition (Timber Press: 1993). 'The kind of sound he will make...at the top of the stave is something other tenors cannot do (just as, though in a different way, Caruso had a quality around that part of the voice unlike anybody else).' Of Vickers's singing of 'Cielo e mar' on that same recital disc, Steane observed: 'It is the work of a big singer: voice, technique and spirit all proportionate'.
The power of Vickers's voice, not least its steepling crescendo, staggered fellow artists. To help 'manage' the phenomenon, his teacher George Lambert had insisted he study the Evangelist's role in Bach's St Matthew Passion (a role Vickers never sang publicly), from which grew his fabled mastery of the art of quiet singing. Such singing, lyrical but freighted with meaning, brought Vickers to the attention of the finest conductors of the age. This was just as well. At the height of his powers, he required conducting of comparable craft and vintage. The roll-call tells its own tale: Barbirolli and Beecham, Davis and Giulini, Karajan, Kempe, Klemperer and 'that wonderful man' Hans Knappertsbusch. Where minor misconductors would destabilise, say, Vickers's singing of the Flower Song from Carmen, Karajan, in the 1965 Salzburg Festival film of the opera, so cultivates the orchestral ground that the song becomes liquid speech, paining sense.
Vickers famously fell out with Georg Solti when he tried to 'teach' him 'Winterstürme' by whistling the melody. (Vickers was compliance itself with colleagues he respected; 'difficult' with those he thought lazy, incompetent or cruel.) He had studied Siegmund, one of his finest roles, with Reginald Goodall, who also worked with him on Florestan, Parsifal, Tristan and Grimes. Reviewing the fine 1961 Leinsdorf recording of Die Walküre in these pages, Alec Robertson observed: 'I have never heard a more appealing, virile and convincing Siegmund,' adding, 'Vickers is free of even the slightest mannerisms of the Heldentenor.' Did mannerism creep in when Karajan asked for an even more mezzo voce portrayal at the 1967 Salzburg Easter Festival? Not entirely. When the production transferred to the Met, Andrew Porter wrote in The New Yorker, 'Mr Vickers did not croon; he sang Siegmund's music freely, fully, easily, with that poetic intensity and incisive utterance of the words for which he is famous'.
In his later years, when adjustments had to be made to the voice and the singing became more idiosyncratic, Vickers was often accused of crooning. In fact, that trademark upward 'lift' had always been there. As David Cairns intuited: 'The scoops are an essential expression of [his style]; they suggest immemorial yearnings, ancient griefs and triumphs dug from the collective unconscious by the sweat of his brow'. Match that with the kind of psychological insight we find in Vickers's later performances of Otello and we have something remarkable indeed.
Like Callas, Vickers specialised in operatic archetypes, characters, in Peter Conrad's phrase, who 'not only tolerate but invite their own renewal'. Between them, Vickers and Colin Davis remade Peter Grimes, to the private fury of the composer who - says Vickers - was too close to the work to see the extent of its greatness. Britten loathed 'interpretation' yet had he not turned Crabbe's poem on its head, driven by nostalgia for the land he had temporarily abandoned and a preoccupation with his own sexuality? For Vickers, Peter Grimes is 'an in depth - in depth - revelation of the entire psychology of human rejection'. A great actor (a great 'embodier' of roles, as Karajan put it), Vickers should be seen in the part as well as heard. Happily, Elijah Moshinsky's matchless Covent Garden production is there to see, a staging which both feeds the reading and encapsulates it.
When Vickers played Saint-Saëns's Samson, Peter Conrad noted, 'his body was like a monolith in the desert, his voice as granitic as the mountains to which he looked for deliverance'. For Handel's Samson, Moshinsky dressed him in a grimy Old Testament robe despite the fact that it was a quasi-period production. Moshinsky explained 'You can't put Jon Vickers into an 18th-century costume; Robert Tear [who later took over the role] you had to because he has no mythic quality.'
Breaking the mould
Vickers was sometimes accused of pushing too far, of breaking the mould of the roles he played: Laca in Jenůfa, Alvaro in La forza del destino, the uninhibitedly promiscuous Nerone in Monteverdi's L'incoronazione di Poppea. And Tristan. Though he was a practised Wagnerian, proud to have been Knappertsbusch's last Parsifal, Vickers mistrusted Wagner in general and Tristan in particular - 'a glorification of Wagner's own immorality' as he put it. Robin Holloway summed up the terribilità of Vickers's Tristan when he wrote of the Third Act of the Karajan recording: 'There is no doubt whatsoever about the stature of this unique tour de force, but it remains an extreme - something unique as if the story were, just this once, literally true [my emphasis].'
Vickers could, indeed, open himself up to psychotic states. A performance of Pagliacci at the Met in January 1978 was so terrifying, there were those present who thought the play-within-the-play was about to become a reality, 'I find Canio one of the truest tragic characters I've ever played,' said Vickers, 'just as true and tragic as Peter Grimes. There's a void of emptiness there that is beyond tears.' Astonishingly, he never recorded the role for LP; equally astonishingly, the 1968 film of Pagliacci, a vibrant La Scala, Milan staging, memorably conducted by Karajan, is barely known. In no other production is the clown's predicament brought so searingly within the tragic ambit.
In the 1980s, Vickers returned to song, to another soul-epic, Schubert's Winterreise. Many thought the reading 'overdone', though Hilary Finch had the courage to ask, where do we draw the line round a cycle of 'shuddering songs' (Schubert's phrase) which the composer himself sang with 'trembling emotion'? Vickers planned to sing more oratorio after his retirement from the stage but a stinging review of a performance of Winterreise wounded him to the quick and he quit.
Recommended recording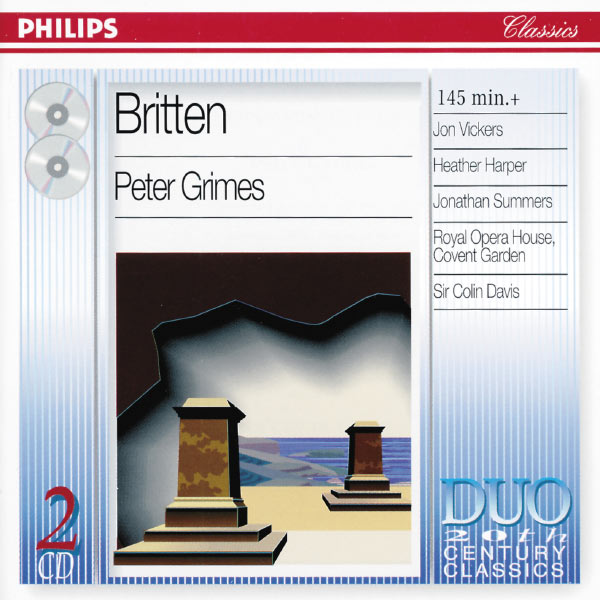 Britten Peter Grimes
Vickers; Harper; Summers; Royal Opera House, Covent Garden / Sir Colin Davis
(Philips)
'The transfer to CD of the Philips recording of Peter Grimes restores to the catalogue one of the most exciting and riveting operatic performances on disc, that of Jon Vickers as Grimes.' Read the Gramophone review
This article originally appeared in November 2004 issue of Gramophone.
Jon Vickers – timeline
1926

Born October 26, Prince Albert, Saskatchewan, Canada

1946

Works for Woolworth's as an assistant manager and troubleshooter

1947

First stage appearance as Frederic in The Pirates of Penzance

1950

Awarded singing scholarship by Toronto's Conservatory of Music

1952

First prize and a CBC Radio contract, 'Our Future Stars', Montreal

1955

Sings Canio for CBC-TV

1956

David Webster invites him to join the Covent Garden company

1957

British debut, Cardiff, as Riccardo in Un ballo in maschera

1958

Enée, London; Siegmund, Bayreuth Festival. Don Carlo with Carlo Maria Giulini at Covent Garden

1959

Debut in Vienna; first Parsifal, London; Médée with Callas in Dallas

1960

Debut at Metropolitan Opera

1961

RCA recording of Otello. Records Radames (Aida) with Solti in Rome

1962

Records Florestan (Fidelio) with Klemperer

1966

First appearance at Karajan's Salzburg Easter Festival (returns for next two years)

1967

First Peter Grimes, New York

1970

Records Florestan again, with Karajan

1971-72

First Tristan, Buenos Aires; records role with Karajan

1973

Records Otello with Karajan (and films it for Unitel the following year)

1978

Records Peter Grimes with Colin Davis at Covent Garden

1979

Gives first public performance of his interpretation of Winterreise (Guelph Spring Festival)

1981

Films Peter Grimes, again with Colin Davis

1988

Retires after singing Parsifal Act 2, Kitchener, Ontario, May 27 -28