Contemporary composer: David Del Tredici
Monday, November 20, 2023
An enthusiastic David Patrick Stearns 'explains' this radical US composer, whose life seemed to feature a series of trapdoors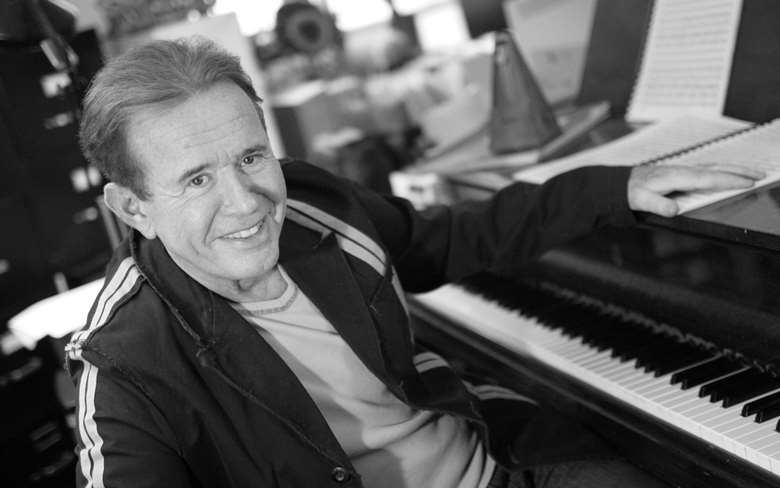 David Del Tredici died on November 18 at the age of 86. In the January 2022 issue of Gramophone, David Patrick Stearns wrote the following fascinating overview of Del Tredici's career, which we reprint as a tribute. A full obituary will appear in a forthcoming issue of Gramophone.
Although the arrival of any reasonably original composer is never predicted, David Del Tredici could never have been invented, envisioned or hoped for. And as time goes on, he doesn't get any easier to explain.
In his 1976 breakthrough with what became his signature work, Final Alice, he was the main composer to lead the US sea change back to tonality – though none of his followers had his Richard Strauss-on-helium gargantuanism, which, along with his obsession with Lewis Carroll's Alice in Wonderland, made his dismissal in modernist circles almost a badge of honour. From there, Del Tredici pushed music beyond the brink of madness, but in ways that wouldn't be fully apparent until Leonard Slatkin and the Detroit Symphony Orchestra rescued his only opera in 2013 (more on that later).
All of that may seem contradictory in light of his recent, better-behaved chamber works that could've been written in the era of Debussy. That, plus his reputation as an overall retro composer, 'seems to have confined him to the margins', wrote David Gutman in his Gramophone review of the composer's last major-label album (DG 447 7532; 2/04), featuring Vintage Alice (1972) and conducted by Oliver Knussen. But contradictions are to be expected with one who's had three compositional voices, first with early modernist works (early 1960s to 1975), then with his famously large-scale brand of tonality (1976-95), and later with quieter, small-scale pieces (1996 to the present) that he continues writing today.
The best and best-known works – roughly 10 Alice pieces in configurations large and small plus two major orchestral works, Tattoo (1986) and Steps (1990) – reveal a storytelling sensibility on a wild ride amid hyper-inventive orchestral writing that is Straussian only on the surface. In fact, Del Tredici's main artistic descendant is the un-Straussian composer Rouse (1949-2019), whose searing, interruptive Symphony No 1 (1986) feels like Alice's purgatory. Fresh, daring and personal (not retro) were the kinds of words that Knussen used to describe Del Tredici in the booklet notes to his DG album. If Del Tredici's works are more readily accessed on recordings than they are in concert, it's because his trademark extravagance is enabled by extra instruments such as saxophone, accordion and banjo, which drive up production expenses. His music also requires distinctively talented performers such as Slatkin, sopranos Hila Plitmann, Phyllis Bryn-Julson and Barbara Hendricks, not to mention orchestras that can go – and stay – over the top.
Del Tredici's biography reads like a series of trapdoors. Born in 1937 in California, he was a piano student at the University of California at Berkeley, but one summer at the Aspen festival he found himself in the company of Milhaud, who declared him a composer. Subsequent influences pulled him in opposite directions: he studied with arch-modernist Roger Sessions at Princeton University, and then at Tanglewood with Copland, who was mainly known for his Americana works but had also intermittently written fine, more modernist ones. But if Del Tredici was ever really a modernist, his brand of it had twists: his 1965 James Joyce-inspired song-cycle Night Conjure-Verse has a mirror arguing back at what it is reflecting.
A book he was given, The Annotated Alice (1960), traced the cultural origins of Carroll's fantastical episodes, which had come back into vogue in 1960s counterculture circles thanks to its surreal imagery. That started him on a decades-long Alice obsession, though first as a modernist (with Pop-Pourri in 1968). When a folk-like tune came to him while swimming, it became the central idea of Final Alice, opening a trapdoor into tonality and something that had been missing in past Alice works. Just as Alice reflects Wonderland from the eyes of an everyday person, tonality was for audiences a solid point of reference amid the composer's wild sense of fantasy and a clear window into what his psyche was communicating all along.
The impact on the larger US composition community can't be overestimated. 'George Rochberg and a couple others were beginning to move to a less academic style of writing, but there hadn't been that big piece – yet. And suddenly, there it was,' recalled Slatkin, who heard the Final Alice premiere in 1976 in Chicago, conducted by Sir George Solti. Slatkin not only scheduled Final Alice with his St Louis Symphony Orchestra but also reinstated 11 minutes that had been cut by Solti (who maintained the cut in his subsequent recording), a passage in which the amplified soprano sings through a megaphone. Slatkin went on to commission In Memory of a Summer Day (1978-80), which had an even more tonal landscape, and won the Pulitzer Prize for music.
In other ways, Final Alice codified the form of future works that are ostensibly concert pieces but storm the walls of the opera house. The central performer is a narrator who moves the story forward and also acts like the eye of an orchestral hurricane. A simple, folk-like melody appears with increasing pervasiveness. Although Del Tredici is perfectly adept at traditional thematic development, he often prefers obsessive restatement of a theme – making it feel like a half-remembered tune that won't go away in Final Alice, or an object of obsession in Child Alice (1977-81), where the composer is like a child playing with a toy until it breaks. Near the end, a new melody appears that takes the piece to another level. At some point, an emergency siren will be heard.
With pieces so huge, these seemingly fragile tunes sometimes make or unmake the entire piece. They're restated so often that they have to be endearing – and reveal at least some new meaning over the course of the piece. This format successfully transfers to Del Tredici's best purely orchestral works, for example Steps – with its demure waltz drifting in the background. Narrators also appear in Del Tredici's forays into non-Alice mythology, including Dracula (1996-98), which is told with eerie nonchalance from the viewpoint of one of the victims, with a gradual conversion to vampirism. Less successful is his Homer-influenced piano work Monsters (2018).
The radically changed 21st-century Del Tredici requires context to understand. His partner Paul Arcomano died of Aids-related causes in 1993 – amid a slow-motion epidemic that during the 1980s and '90s devoured the New York City performing arts community from within. Unlike more recent epidemics, this one had little sense of outward disruption – until audiences saw New York City Opera director Christopher Keene appearing on stage looking gaunt, knew exactly what that meant and gave him an ovation for the ages. Marilyn Horne was an advocate of safe sex, publicly discussing the hazards of using condoms. Jessye Norman enlisted her congregation at Riverside Church in her Aids activism and quietly dropped Mahler from her repertoire, telling me that the music opened wells of sorrow too deep to bear. Del Tredici came out the other side dramatically changed – much more forthright about his sexual identity in works that consciously eschew any artifice. No masks. No secrets. No Alice.
The shock is that pieces with provocative titles referring to sadomasochism come with music that's utterly tame and seemingly not the work of the fantastically manic composer of the Alice pieces. After living in the endless fantasy of Wonderland, Del Tredici seemed to be writing incidental music as a soundtrack to his everyday life. I hear these more recent works and think, 'Tell me something I don't know.'
Would there ever be that opera he was rumoured to be writing in decades past? Looking through his catalogue, I noticed an 80-minute large-orchestra work titled Dum Dee Tweedle which I'd never heard of, premiered by the Detroit SO under Slatkin in 2013. What exactly is it? Obviously, it's some sort of Alice piece drawing on the characters Tweedledum and Tweedledee. The Detroit SO generously supplied an archival sound file and a phone interview with Slatkin. Before getting into Dum Dee Tweedle, I asked about the rumoured opera. 'That's it!' said Slatkin. 'That's his opera!'
Dum Dee Tweedle was finished in piano score in the early- to mid-1990s (published dates conflict), and some scenes were workshopped at the New York City Opera in 2002. Although the opera went unproduced, it was not unnoticed. After hearing an excerpt at the workshop, New York Times critic John Rockwell wrote: 'So call it a stageable symphonic oratorio: the music was gorgeous and comically inventive … and the potential for a dazzling staging would seem limitless.'
Del Tredici mentioned it in interviews occasionally. In the programme notes on his website, he wrote: 'It is a strange irony that as Paul's health declined, leading to his death in 1993, I was writing music that was relentlessly fast, breathless, and "happy".' That description is light years from what one hears. Somehow, the opera had bypassed the composer's personal circumstances. There's artifice upon artifice – two operas within the opera, a ballet and a duet titled 'Oyster's Revenge'; but never does it feel artificial. It's as genuine, complete and singular a world as I've ever heard. Orchestra, chorus, vocal soloists, narrator and a battery of effects including a snoring machine create aggressively competitive tsunami waves of music, intoning and singing, '"The time has come," the walrus said.' Incidental solos are like wild children running in multiple directions that seem spontaneous yet are planned. One point of reference is L'enfant et les sortilèges, but cranked up on every front with the kind of swooping and swooning ups and downs that suggest Ravel gone bungee jumping. Will this dazzling capstone from this deeply influential composer ever re-emerge? How could it not?