Contemporary composer: Dobrinka Tabakova
Hattie Butterworth
Thursday, November 23, 2023
Having fought against pressures inherent in her field, Dobrinka Tabakova has an unwavering reverence for melody and clarity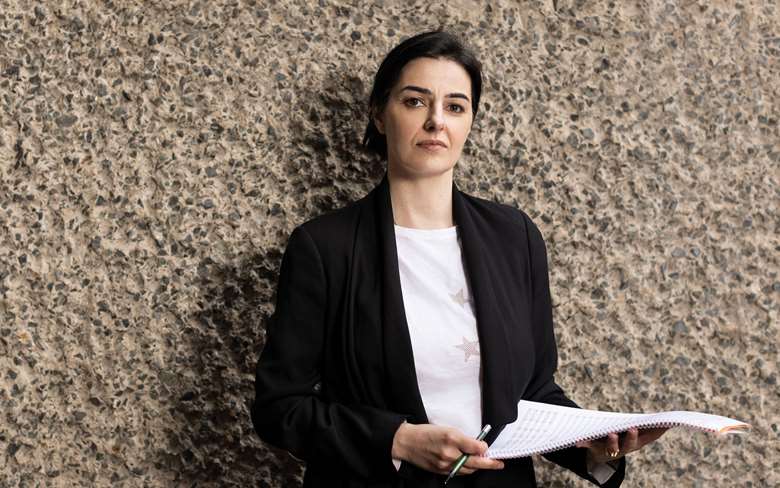 For several months I've had the numerous recordings of Dobrinka Tabakova's Nocturne for solo piano on repeat. She wrote it in her twenties, in 2008; and now perhaps considered 'in vogue', this style of solo piano work feels at home in panoramic drone footage of Norwegian fjords on YouTube. But I added it to a playlist I have named 'cry'. It ignites something deeply emotional within me, and, indeed, much of Tabakova's music engages with a rawness of human experience. Can we call it accessible? It's a term that appears to be used in criticism of contemporary music – 'accessible' is perhaps the antithesis of the richly encouraged 'academic'.
Tabakova tells me about the pressure, deeply embedded in her education, to discard or disguise melody and its roots: 'There was always an expectation of how your score should look in college. It had to have beams across bars and be visually really overwhelming. But that felt more like an exercise to me. I was striving to find the most direct route to expression and notation.'
'Without really knowing it, I was making some kind of a statement with "Praise", but it was simply what I wanted to write'
Born in Bulgaria in 1980, Tabakova moved to London at the age of 11 and began studies in piano and composition at the junior department of the Royal Academy of Music. Aged 14, she won the Jean-Frédéric Perrenoud prize and medal in Vienna for a violin-and-piano piece called Prayer, from which point she plots the start of a real composition trajectory. 'I spent most of my teenage years in libraries, practising the piano or composing, so to have that external recognition meant a lot.' Another achievement came in 2002, when her choral composition Praise won the Barclays Private Banking Prize for an anthem for the Queen's Golden Jubilee celebrations, and was performed at St Paul's Cathedral. The piece embraces the opulent acoustics of St Paul's and builds gently and powerfully, something that one might not immediately associate with a celebratory anthem. 'Without really knowing it, I was making some kind of a statement, but it was simply what I wanted to write,' she recalls.
Tabakova studied at the Guildhall School of Music and Drama in London, subsequently receiving a PhD in composition from King's College London. Among her teachers were Simon Bainbridge, Diana Burrell, Rob Keeley and Andrew Schultz, with other major influences being Xenakis, Alexander Goehr and John Adams. Speaking on BBC Radio 3's Music Matters earlier this year, Tabakova told Tom Service about her meeting with Xenakis at the Centre Acanthes in the south of France in her mid-teens. 'Aesthetically, we are polar opposites – complexity goes against what I want in my scores. But when I met him he was incredibly generous. He looked at me and said, "Don't be afraid to be different."'
The difference came through Tabakova's unwavering reverence for melody and clarity. Earlier works focused on the piano and the influence of improvisation: Modetudes (1998) travels through the seven modal scales, while Halo (1999) explores the instrument's darkness and light, transmuting an experience of a halo of light forming around the moon. Other works such as Frozen River Flows (2005) for oboe and percussion and her string quartet On a Bench in the Shade (2004) take influence from natural imagery. In the quartet, there is a distinctive fight between instrumental parts that move in and out of comfort, between moments of almost folk-like melody and modality and those of restless dissonance.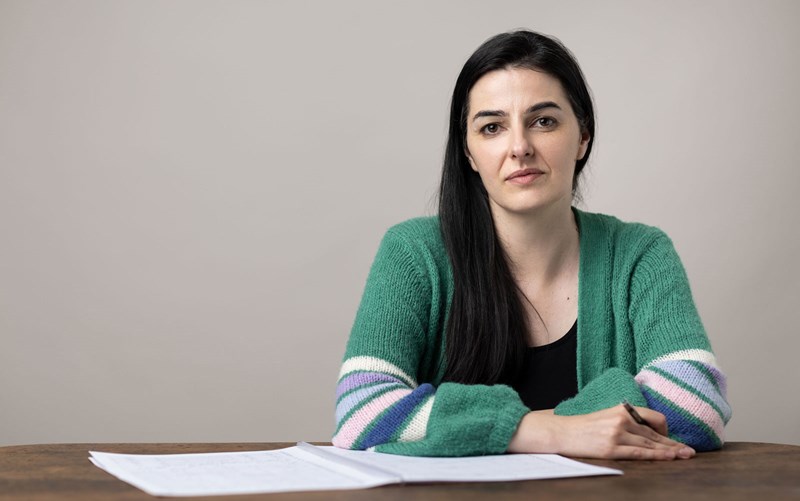 Suite in Jazz Style (2008) for viola and piano was written for viola player Maxim Rysanov, with whom she had previously collaborated on the Bulgarian-influenced Pirin (2000) for solo viola and the Viola Concerto (2004). Suite in Jazz Style emulates different 'flavours' of the jazz repertory, the human-voice-like sound of the viola lending itself to the role of jazz singer and showcasing the range of Tabakova's musical inspirations while she remains grounded in her own sense of voice and idiolect.
The Cello Concerto also arrived in Tabakova's fiercely creative year of 2008, commissioned by the Amsterdam Cello Biennale and written for Latvian cellist Kristina Blaumane. Although the slow movement, 'Longing', often stands alone due to its popularity, Tabakova views the work as 'one seamless form', with continuous ideas transformed and explored throughout its 20-minute duration. Her debut portrait album, 'String Paths' (ECM), showcasing her music for strings, was nominated for a Grammy in 2013. It includes the Cello Concerto alongside Suite in Old Style (2006) for viola, harpsichord and strings, based on 18th-century courtly life, and Such Different Paths (2008) – her string septet exploring a journey through the blocks, registers and colours that build string chamber music.
The booklet notes for 'String Paths' describe 'the spirits of East and West coursing through the pieces, usually hand in hand'. Tabakova's Bulgarian heritage is something that remains central to her identity, both musically and personally. Despite not being drawn to the folk tradition of her native country as a child, she rediscovered it after moving to the UK, and there is a subtle thread of influence that runs through some of her work. A continued connection to Bulgaria looks to be part of her future, too, as her focus soon shifts to a commission for a Lux aeterna in honour of victims of communism. The work will have its premiere in December 2023 in Timisoara, Romania, alongside Requiem movements written by six other composers from former Eastern bloc countries.
Perhaps any sense of Britishness comes through Tabakova's engagement with the choral culture of the UK, within which she has found a distinctive voice and which has led to the most recent recording of her music: two works on The Sixteen's most recent album, 'A Watchful Gaze', demonstrate an inherent affinity for setting religious texts. 'It's a dialogue between you and something else … something bigger' – she explains the experience as one that can be difficult to translate, but a spirituality is present and strongly communicated in her settings. Her Centuries of Meditations for choir, harp and strings was premiered at the Three Choirs Festival in 2012 and selected by the PRS Foundation as one of the best pieces of British orchestral music from the past 25 years. The work celebrates the unique splendour of cathedrals, directly inspired by four stained-glass windows in Hereford Cathedral, with settings of texts by 17th-century poet and theologian Thomas Traherne.
'It can be lonely, just writing.' Tabakova's admission of this feeling of isolation explains her dedication to collaboration, with individuals, choirs and orchestras. Understanding the voice of an ensemble or soloist is an important part of the writing and commissioning process. An extended residency at Truro Cathedral resulted in her second profile album (a 2019 Gramophone Critic's Choice), this time focusing on her choral works, recorded at the cathedral with the BBC Concert Orchestra and cellist Natalie Clein. A residency in 2017-18 with Leipzig MDR RSO was followed by five dedicated years as resident composer with the BBC Concert Orchestra out of which larger-scale orchestral pieces arose, such as her extended project Earth Suite (2018-20), a triptych of orchestral pieces which work both separately and as a whole. The third piece, Timber and Steel, written second, was premiered at the BBC Proms in 2019 to mark 150 years since Sir Henry Wood's birth.
Writing is currently underpinned by Tabakova's residency with the Hallé for the 2022-23 season. This collaboration involves a commission for the Hallé Youth Orchestra and a focus on her chamber music, with performances including Fantasy Homage to Schubert (2013), and Moreni (2007), which again taps into natural influences, transmuting the muffled sounds of rivers flowing beneath the 'moraines' (ancient mountain stone formations). A recording to underline her Hallé collaboration is due to be released on the Hallé label in October. The repertoire features Earth Suite and Orpheus' Comet (2017), alongside the Cello Concerto with Guy Johnston and the Viola Concerto with Rysanov.
Working with young people in the Hallé especially has been an experience that gets to the heart of Tabakova's compositional process – to get inside an ensemble, understand its voice and write music that challenges it, not only technically but also musically and emotionally. What composition is and means is something complex and beguiling if you are, like me, not remotely creative with sound. But when Tabakova explains it to me it finally begins to make sense, because it is, for her, simultaneously personal and universal: 'It's a conversation within you between some of your fears or things that you're happy about in life. And it's sending out questions to a bigger universe and sharing them in this wonderful abstract world of sounds that vibrates.'
---
Recommended recordings
Arise Lord into thy rest. Turn our captivity
The Sixteen / Harry Christophers
Coro (4/23)
Tabakova's collaboration with The Sixteen celebrates Byrd's 400th anniversary through partner psalm settings to the well loved polyphonic works.
Alma redemptoris mater. Diptych
Truro Cathedral Choir; BBC Concert Orchestra / Christopher Gray, et al
Regent (10/19)
Tabakova's choral music shines on this profile album featuring major works for choir and for choir and orchestra.
'String Paths'
Janine Jansen vn Kristina Blaumane vc et al; Lithuanian Chamber Orchestra / Maxim Rysanov va
ECM New Series (6/13)
A work that put Tabakova on the map was undoubtedly her Cello Concerto, which appears here alongside other works for strings, including the septet, Such Different Paths.
---
This article originally appeared in the June 2023 issue of Gramophone magazine. Never miss an issue – subscribe today