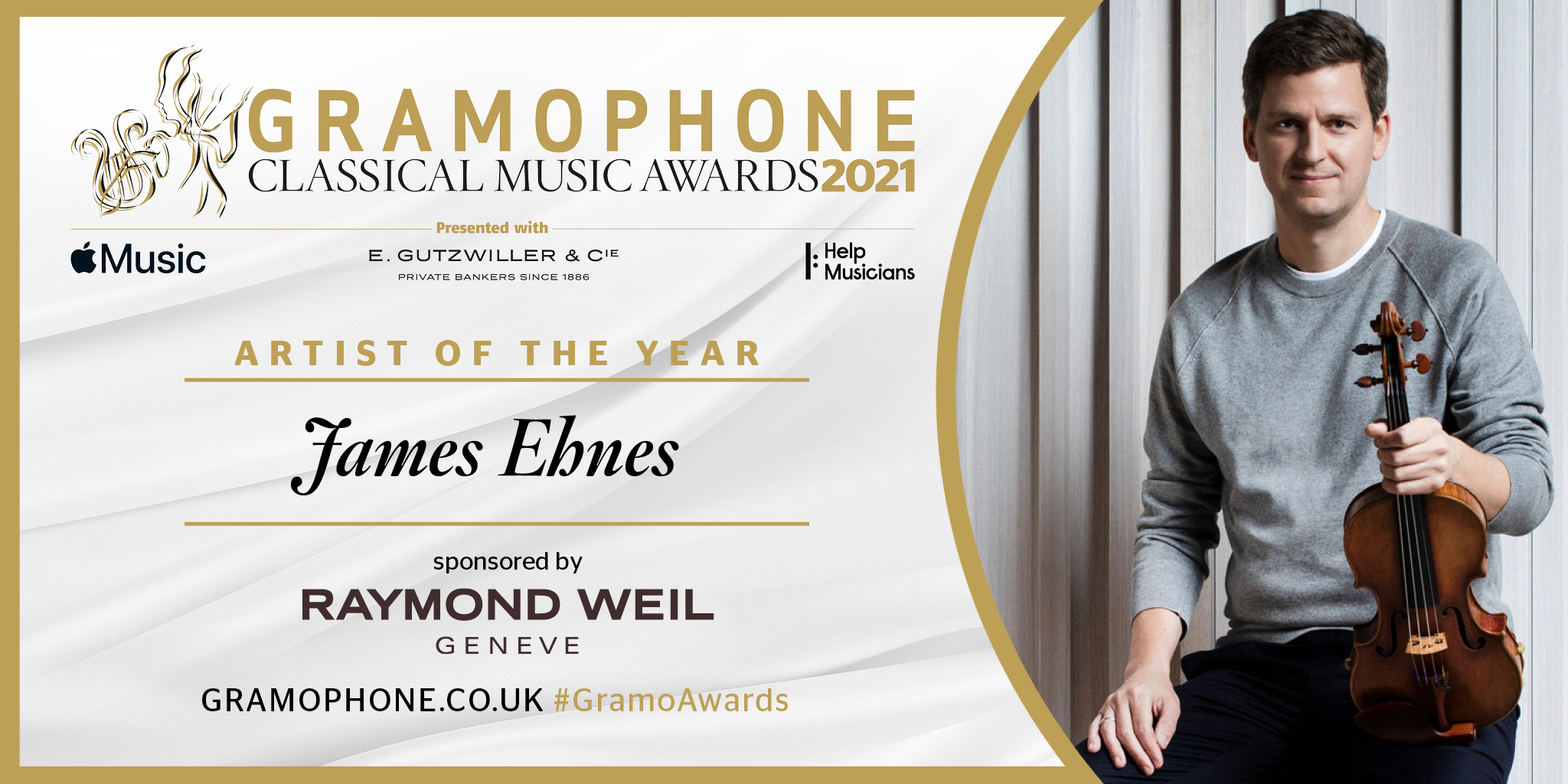 While admittedly I'm writing with the bias of a strings specialist, I can't help but feel that there was a certain glorious inevitability to James Ehnes being crowned 2021's Artist of the Year.
Why? Well, I'll begin with the release at the end of 2020 of the fourth and final instalment of his Beethoven sonata cycle with Andrew Armstrong, because this set on its own would have been enough to warrant the title. Prior to those four albums, had someone asked me to sum up what one could expect from a James Ehnes recording, I would have singled out the flawless technique, the purity of his sound, and the extent to which everything always feels elegant and just right, with no attention-grabbing quirks or determined originalities. That was then precisely what he gave us with his Beethoven sonatas, together with a huge spectrum of colour and articulation being employed to move his musical arguments forwards, and a beautifully balanced partnership with Armstrong. No wonder critics in these pages and everywhere were running out of fresh superlatives as each new volume appeared. What I personally found most impressive, though, was the watertight case these readings have made for modern-instrument recordings of this repertoire. The 'rightness' (there it is again) of what you're hearing from Ehnes and Armstrong completely transcends all debate over modern versus period. Whichever camp you're in, this is the library-building set.
'Ehnes's warm, golden sound is as much a constantly changing story of articulation and timbre as ever, but sounding even more emotionally up close and personal than ever before'
The Beethoven isn't all, though. On to Covid, and while Ehnes was hardly the only major artist who took on the challenge of performing to us from their living room, he did stand out for his single-minded pursuit of a recorded sound to rival what could be produced in a studio: the purchase, upon the recommendation of his Onyx producer Simon Kiln, of a pair of Telefunken M60 microphones with TK61 omnidirectional capsules; emptying his large, wooden-floored Florida living room entirely of its furniture to simulate a studio; capturing not just on his and his wife's iPhones but also an additional film camera. Of the Ehnes lockdown gold which then followed, the crown jewels were, first, six recitals of the Bach and Ysaÿe solo sonatas, presented in audio and picture quality of a professional polish that has ensured that their artistic value remains undimmed over a year later. Then second, the Ysaÿe Sonatas recording released by Onyx this past summer.
It's on this Ysaÿe album that one further aspect of Ehnes's domestic recording project comes even more audibly to the fore. Namely, the fact that he recorded it all in dead of night so as to get the silence he needed. Can you think of another artist who, during that already-bizarre period of isolation, routinely napped during the day in order to spend the night playing their instrument all alone in semi-darkness? I can't. And the result is a recording of an emotional intensity that I think would be hard to replicate in 'normal' recording circumstances, even given the power and punch of these works. Ehnes's warm, golden sound is as much a constantly changing story of articulation and timbre as ever, but sounding even more emotionally up close and personal than ever before.
There's one further moment on this Ysaÿe recording that strikes me as illustrative of what sets Ehnes apart, which is the 'Obsession' opening of No 2, where he's delivered its Bach quotation as the daintiest of detached, fairy tiptoes. It sounds simply like nobody else's, and always with Ehnes there's the impression that he's starting with the notes on the page and applying his own imagination, rather than being influenced by fashion or tradition (something you can also say about his Ehnes Quartet, whose latest offering is a fine Beethoven Op 130).
Add the feast of styles he's effortlessly assumed through the six, from Bach to late-19th-century lushness, and while he may not have intended a self-recorded solo recital to be the follow-up to such a career-defining Beethoven set, I can't help but feel it actually couldn't have been more perfect. Like this award. Charlotte Gardner
---
James Ehnes – Artist of the Year 2021 playlist
Listen to our 'James Ehnes – Artist of the Year 2021' playlist exclusively on Apple Music. If you are not yet a subscriber to Apple Music, it is free for the first month, boasts a catalogue of more than 75 million songs and offers lossless streaming, as well as albums in Spatial Audio. We've produced a guide to introduce the immersive listening experience of Spatial Audio here: Apple Music's spatial audio with Dolby Atmos – what is it and how do you get it?
---
Gramophone Awards 2021 – Recording Categories
If you are a library, university or other organisation that would be interested in an institutional subscription to Gramophone please click here for further information.