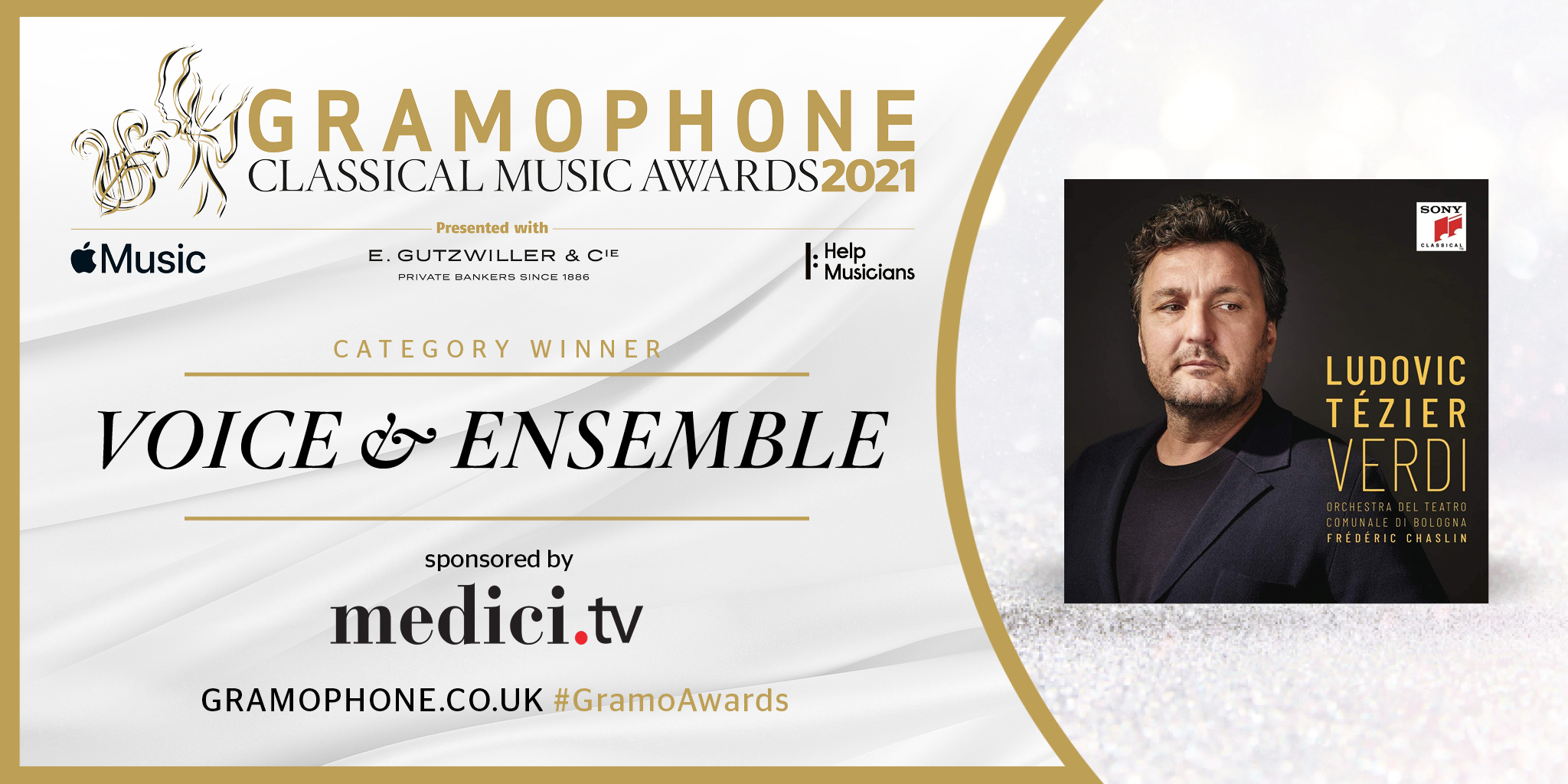 Verdi
Ludovic Tézier; Orchestra del Teatro Comunale di Bologna / Frédéric Chaslin
Sony Classical
Ludovic Tézier has arguably been the leading Verdi baritone on the global stage for the best part of a decade now, even if record companies and, in particular, Covent Garden have been slow to recognise his talents. As such, the Frenchman's first solo album is less a calling card of a singer setting out on a career than a consolidation, a demonstration of mature artistry.
As anyone familiar with Tézier in the theatre or from his few forays on disc – his Forza Don Carlo on DVD from Munich (6/16), for example, or his Amonasro on Warner Classics' Gramophone Award-winning Aida (A/15), both opposite Jonas Kaufmann and Anja Harteros – will know, his is a true Verdi voice. It's big, generously phrased and both forceful and grand, with a broad colouristic range running from knotty torment to aristocratic elegance. Tézier is also a serious singer, deeply engaged with and caring about his craft (in a booklet interview he cites the great Piero Cappuccilli as an ideal).
'This is surely the finest Verdi recital – from any voice type – to have appeared for several years, if not a decade'
The album benefits greatly from programming that puts an emphasis on substantial extracts, several featuring roles that Tézier has made his own. The big scene from Forza is imposing and serious, with the opening recitative suitably tortured. He is superb as both Rodrigue and Rodrigo (we get the character's big death scene in both French and Italian), offering a focus less on theatrics than on impeccable legato and immaculate breath control – Tézier is one of few singers to take the big phrase beginning 'Io morrò/Ah je meurs' in one breath.
There's handsome tone and intensity in the longer Ernani scene, and also lightness to his 'Vieni meco'. Ford's 'È sogno, o realtà?' is vivid and expertly pointed, with the final phrase opening out magnificently. The Traviata, Trovatore and Macbeth arias further showcase Tézier's seamless legato, the latter preceded by a bitingly intense recitative. He is no less fine in extracts from Nabucco and Ballo – 'Eri tu' is delivered with impressive force.
Tézier's Iago is not as snarling as some but an implacable and vocally potent being nonetheless, while his slightly understated acting style makes for a 'Cortigiani' that cuts straight to the heart, even if the lyrical passage at 'Miei signori' (from 2'24") doesn't quite open up as it might.
All in all, though, with idiomatic support from Frédéric Chaslin and the Bologna orchestra, and engineering that captures the voice handsomely, this is surely the finest Verdi recital – from any voice type – to have appeared for several years, if not a decade. Hugo Shirley
Listen to the album on Apple Music
Gramophone Awards 2021 – Recording Categories
If you are a library, university or other organisation that would be interested in an institutional subscription to Gramophone please click here for further information.