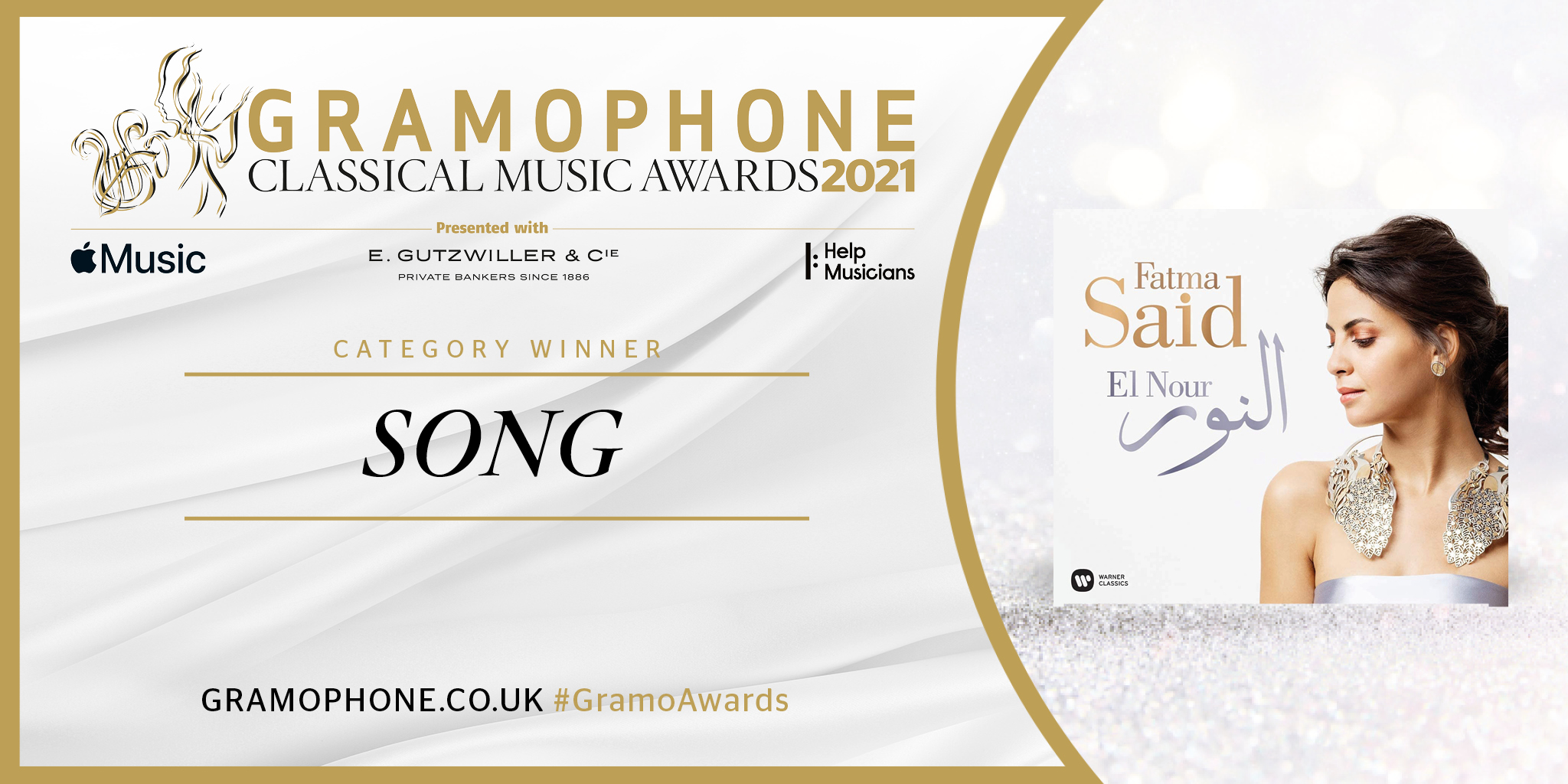 'El Nour'
Fatma Said, Malcolm Martineau, Rafael Aguirre, Burcu Karadağ, Tim Allhoff, Itamar Doari, Henning Sieverts, Tamer Pinarbasi, vision string quartet
Warner Classics
'Wit, spice and plenty of polish' was Neil Fisher's five-star assessment (The Times) of Fatma Said's 2018 Wigmore Hall recital. A lot of that spills over into this enjoyable debut album from the Egyptian soprano, which shares some of the material from that varied London programme. Under the title 'El Nour' – Arabic for 'light' – she presents a recital that crosses cultures and sheds light on art songs from France, Spain and Egypt and popular songs from the Middle East, exploring Mediterranean cultures meeting in very different styles.
'Said is an engaging storyteller, her French diction sharply animated, with shiny top notes glinting brilliantly'
In Shéhérazade, Ravel is more concerned with evoking the oriental atmosphere of Tristan Klingsor's perfumed poetry than depicting specific tales from the Arabian Nights. Said is an engaging storyteller, though, her French diction sharply animated, with shiny top notes glinting brilliantly. I miss the veiled silk of Marianne Crebassa's mezzo in her excellent account with Fazıl Say, and the way Said colours the word 'séduisante' in 'L'indifférent' isn't particularly seductive, but the nasal colouring to describe her master's 'long yellow nose in his white beard' in 'La flûte enchantée' is well characterised. Malcolm Martineau paints vivid pictures at the piano, too, and they are joined in the second song by Burcu Karadağ on the ney, its breathy tones adding a touch of authentic Middle Eastern spice. The ney crops up again in Bizet's 'Adieux de l'hôtesse arabe'.
Six Spanish songs are performed with guitar (Rafael Aguirre) and I wish there had been more. Falla's 'Tus ojillos negros' is darkly seductive, while Said melts in Obradors's 'Del cabello más sutil'. Three of Federico García Lorca's Old Spanish Songs burst with character. I've heard Berlioz's 'Zaïde' performed with guitar, too, but here Martineau is accompanist, along with crisp castanets which – having seen her perform 'Les filles de Cadix' at this year's Bastille Day concert – I assume are played by Said herself.
There are a couple of firsts on the album. Gamal Abdel-Rahim's 'I am the Sultan's Daughter' is a rare example of an Egyptian art song, while Philippe Gaubert's 'Le repos en Égypte' receives its first recording, a lullaby as the Holy Family rest on their flight into Egypt, beguilingly sung. The popular songs from Egypt and Lebanon that close this imaginative album feature traditional instruments such as the qanun and are a fascinating insight into Said's musical background. I'll be fascinated to see where Said goes next. Mark Pullinger
Listen to the album on Apple Music
Gramophone Awards 2021 – Recording Categories
If you are a library, university or other organisation that would be interested in an institutional subscription to Gramophone please click here for further information.