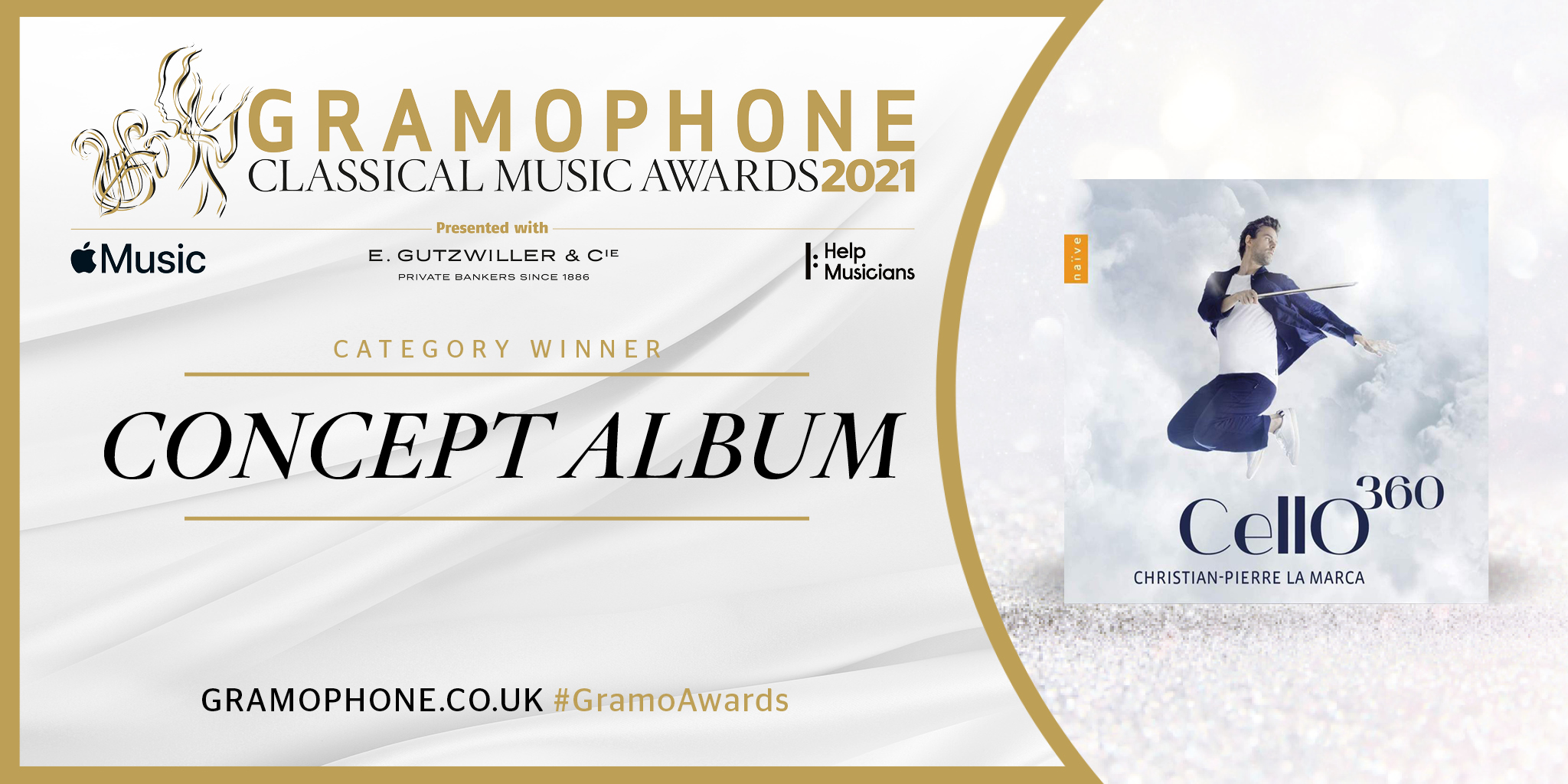 Cello 360
Christian-Pierre La Marca
Naïve
Whoever came up with 'Cello 360' as the title for Christian-Pierre La Marca's first album for Naïve deserves a pay rise. It's hard to think of a more perfect encapsulation of what he's presented: a programme whose starting point was the early and modern repertoire for solo cello and gamba, which then expanded to encompass multi-voice viol consort and vocal music whose parts La Marca recorded himself over multiple takes, plus representations from the worlds of pop and film music. In short, multi-genre, multi-century, multi-texture, showcasing both cello and cellist from a multitude of angles.
It's interesting repertoire, too. Take Marin Marais's Les voix humaines for viola da gamba and continuo, heard here on the cello for the first time. Or the premiere recording of Thierry Escaich's Cantus I (2005) for solo cello. Also the electro-genre Timeless, a Covid lockdown work La Marca created with his partners from the 1163 collective, Marie-Amélie Seigner and Rayann. There's even the odd beautiful surprise, because while Dido's Lament remains multi-voiced and without significant stylistic divergence from the original, Solveig's Song from Peer Gynt has been transformed into a captivatingly intimate solo cello number.
La Marca himself is unfailingly lyrical, stylish and thought through, whether giving his romantic colours full rein through the long lines, portamentos and vibrato of Chaplin's 'Smile' or bounding smartly between the various high-speed pizzicato and bowing techniques required by Sollima's Lamentatio (for which he also puts in an impressive vocal performance), or switching to Baroque bow and period tuning for the Courante from Telemann's Viola da gamba Sonata TWV40:1. I especially love the occasional little embellishments he's brought to the melody of Lennon/McCartney's 'Yesterday', perhaps harking back to what a Baroque player might have done with its simplicity.
Still, the album's most striking aspect is actually its overall presentation. First, the ordering, because it's not chronological but instead based on 'mirroring'. Take Dido's Lament being followed by Ligeti's Solo Cello Sonata, whose opening has a similarly sombre, early-music flavour, and the result is a notable degree of seamless flow. Then the acoustic and engineering, because La Marca and his engineer have consciously gone for close miking in an ample church acoustic (continued in the studio for the electro music), their idea being 'to bring out the details and enhance the differences in sonority'. Some listeners may feel this spins an especially emotionally intense atmosphere. Others may find it a little overdone, and inevitably there's also some audible breathing. In fact, unusually, it may be the engineering more than the contents that will ultimately decide whether 'Cello 360' is for you or not. Either way, I fail to see how a listen will leave you anything other than newly captivated by La Marca as a cellist and all-round musician, and I'm already looking forward to seeing what he and Naïve do together next. Charlotte Gardner
---
Listen to the album on Apple Music
---
Gramophone Awards 2021 – Recording Categories
If you are a library, university or other organisation that would be interested in an institutional subscription to Gramophone please click here for further information.