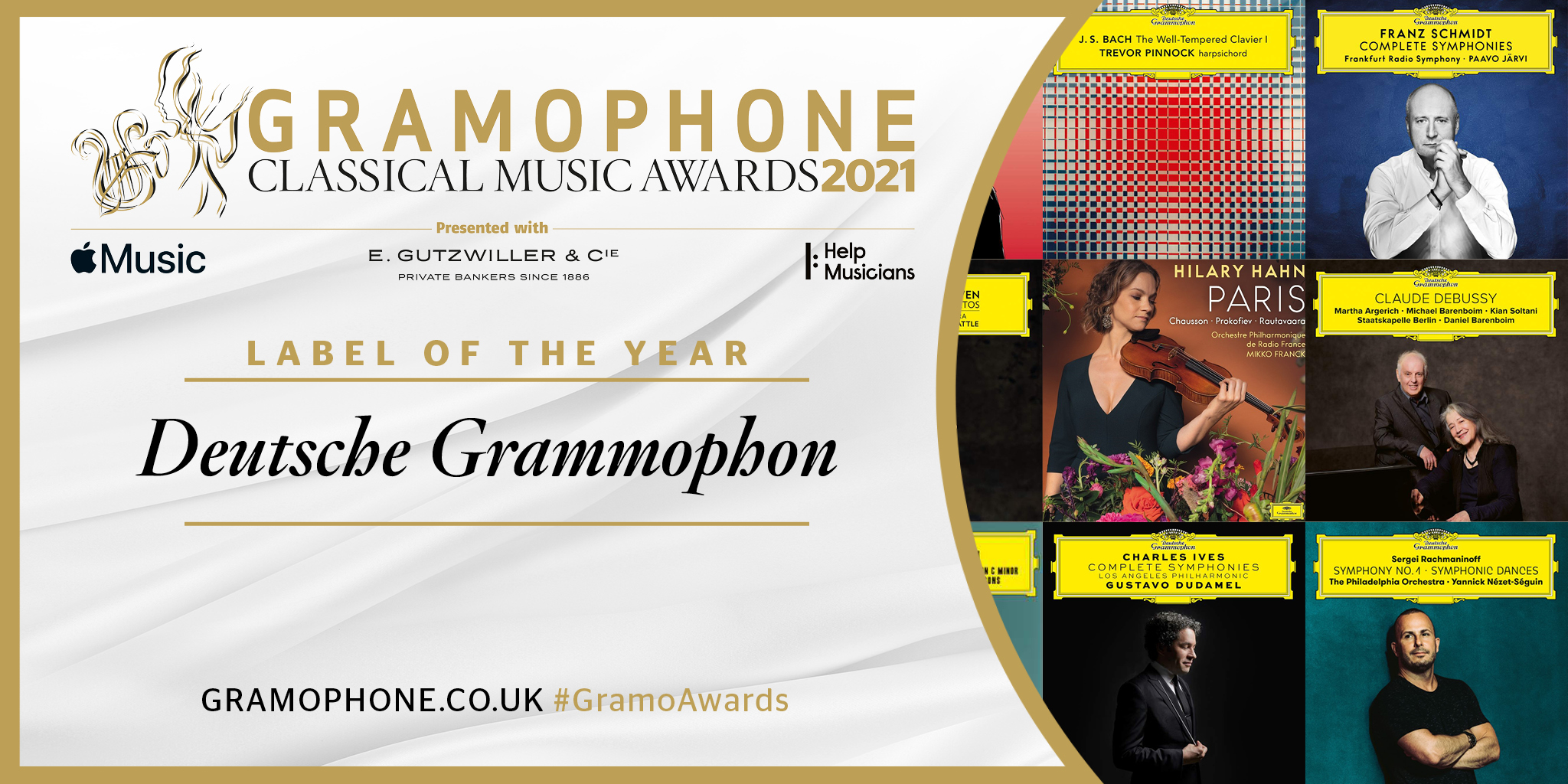 Deutsche Grammophon's catalogue may read like a who's who of the past century of the finest music making – but while proud custodian of that heritage, our 2021 Label of the Year is not a museum. For, just as importantly – indeed even more importantly – the famed Yellow Label's current roster is not only an equally compelling who's who of today's most extraordinary artists, but thanks to its unwavering commitment to nurturing new talent, a brilliant guide to who will be who. And that's so incredibly important.
'With its proud history, progressive vision, and even its iconic and coveted cartouche, Deutsche Grammophon is a shining beacon for classical music'
To cherry pick the stars from its jaw-dropping roster is a pointless exercise, as such a list would roll on to the end of this page and beyond. To take even just one discipline, young pianists as thrilling, challenging and exploratory as Yuja Wang, Jan Lisiecki, Daniil Trifonov, Lang Lang and Víkingur Ólafsson are part of a family that embraces revered masters such as Martha Argerich and Krystian Zimerman – something surely as inspiring to them as to us. Conductors as diverse as Daniel Barenboim, Andris Nelsons, Yannick Nézet-Séguin and Mirga Gražinytė-Tyla not only present the canon afresh, but lead listeners towards new discoveries with a devotion that compels attention and generates gratitude, while few figures dominate their fields as supremely as the likes of soprano Anna Netrebko.
But it's not just about making recordings. It's about making sure the recordings capture the imagination of audiences old and new, through exquisite videos, an attention to imagery that embodies an artist's aesthetic before you even press play, and a commitment to the best possible sound, most recently Dolby Atmos. And, in an age in which the definition of recording is ever evolving, initiatives such as the online concert hall DG Stage are forging new ways to engage with increasingly diverse audiences. Finally, DG sees music as truly outward-facing and global – whether in terms of the geography and cultures of the artists signed, be they from Europe, Asia or America, or the genre and style of music that they make.
Behind all this – behind those artists – lies a dedicated team led by a visionary director who exudes an inspiring personal passion for our art form: meetings with Clemens Trautmann always move from discussing DG's ideas and plans to simply discussing music, which is exactly as it should be. With its proud history, progressive vision, and even its iconic and coveted cartouche, Deutsche Grammophon is a shining beacon for classical music, and one we're delighted to name as our Label of the Year. Martin Cullingford
DG – Label of the Year 2021 playlist
Listen to our 'Deutsche Grammophon – Label of the Year 2021' playlist exclusively on Apple Music. If you are not yet a subscriber to Apple Music, it is free for the first month, boasts a catalogue of more than 75 million songs and offers lossless streaming, as well as albums in Spatial Audio. We've produced a guide to introduce the immersive listening experience of Spatial Audio here: Apple Music's spatial audio with Dolby Atmos – what is it and how do you get it?
Gramophone Awards 2021 – Recording Categories
If you are a library, university or other organisation that would be interested in an institutional subscription to Gramophone please click here for further information.