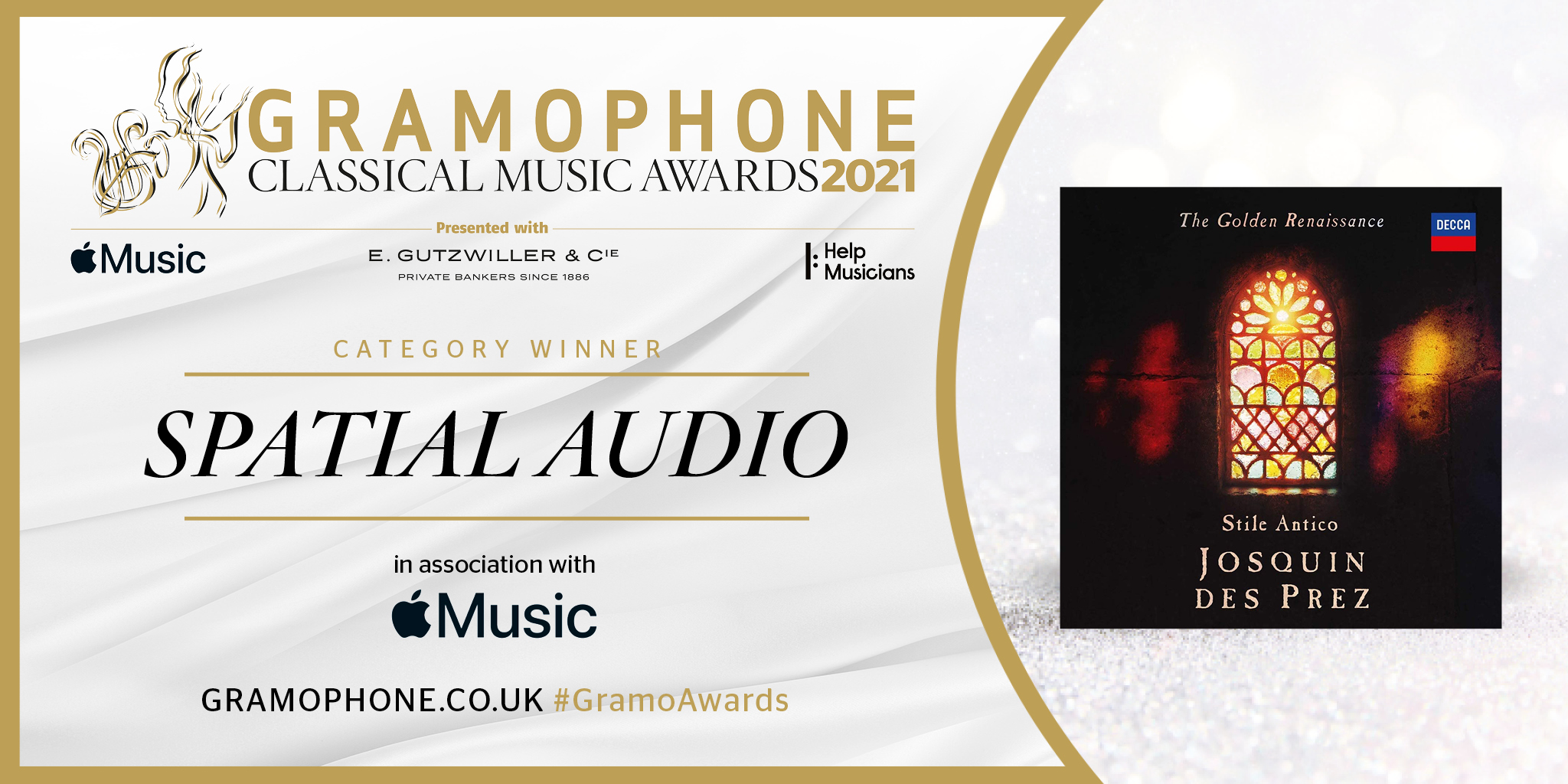 The Golden Renaissance: Josquin Des Prez
Stile Antico
Decca Classics
To commemorate the quincentenary of Josquin's death, Stile Antico opt for a relatively safe but generous programme: his most frequently recorded Mass, accompanied by some of the better-known Marian motets. The Ave Maria … Virgo serena is early, while the canonic Virgo salutiferi and Inviolata, integtra et casta es are (like the Missa Pange lingua) late. The two secular pieces (including a first recording of the spurious Vivrai je tousjours) sit oddly with the overall context and general feel of the recital; not so the two laments on Josquin, which are moving and apposite.
'Virgo salutiferi is a model of placid lucidity, the successive entries of plainchant in the top voice reminiscent of Obrecht. And those final laments make a heartfelt impression indeed'
There is a cohesion and clarity of purpose here that I've not always found in this ensemble's earlier recordings. The tone is luminous, textures are admirably clear; the 'big' sound I recall from previous offerings is better focused and tempos are generally sensible (and at any rate consistent). The centrepiece is the late Pange lingua cycle: despite the many recordings down the years, less than a handful of those currently available have sopranos on the top line. One of those is The Tallis Scholars', whose general approach Stile Antico emulate. Peter Phillips's ensemble sound even more focused, perhaps, but I struggle to get past their habit of leaving leading notes unsharpened (on cadences other than on E and C, of course). Stile Antico immediately give themselves an edge in this respect, but as I've said, there are other reasons for enjoying these performances.
My own preference is for more incisive shaping of lines, less relaxed tempos and fewer obtrusive gear-changes in the longer Mass movements. One remaining niggle concerns the repetitions of words, which obscures the music's melismatic character (particularly in the Sanctus); but for all that, it's hard to fault Stile Antico's execution. In the Marian motets few of these reservations obtain anyway: Virgo salutiferi is a model of placid lucidity, the successive entries of plainchant in the top voice reminiscent of Obrecht. And those final laments make a heartfelt impression indeed. Fabrice Fitch
---
Renaissance polyphony cries out for a great acoustic and though with modern technology a mediocre acoustic can be made to sound like the Sistine Chapel, few engineers would want to do that. Here a lovely acoustic works naturally and has been beautifully captured. It really puts you in the building (All Hallows, Gospel Oak, London) and the silence before the music starts and the die-away are so evocative. The acoustic here is relatively self-effacing because so well handled, and one listens less to the space around the voices but rather to the voices themselves. In a quite delicate and elegant way, and without gimmicks, it opens out four, five or sometimes six voices, complementing Stile Antico's own performance style. There's no sense of something imposed on what Stile Antico would normally do, so you have the sense of them singing in the round without feeling artificially placed in the middle. If anything, you're slightly above them and can hear them in a pleasingly democratic way.
---
Listen to the album on Apple Music
Spatial Audio is available exclusively on Apple Music, which is free for the first three months. Find out more: Apple Music
We've produced a guide to introduce the immersive listening experience of Spatial Audio here: Apple Music's spatial audio with Dolby Atmos – what is it and how do you get it?
---
Gramophone Awards 2021 – Recording Categories
---
Watch the 2021 Gramophone Awards
If you are a library, university or other organisation that would be interested in an institutional subscription to Gramophone please click here for further information.