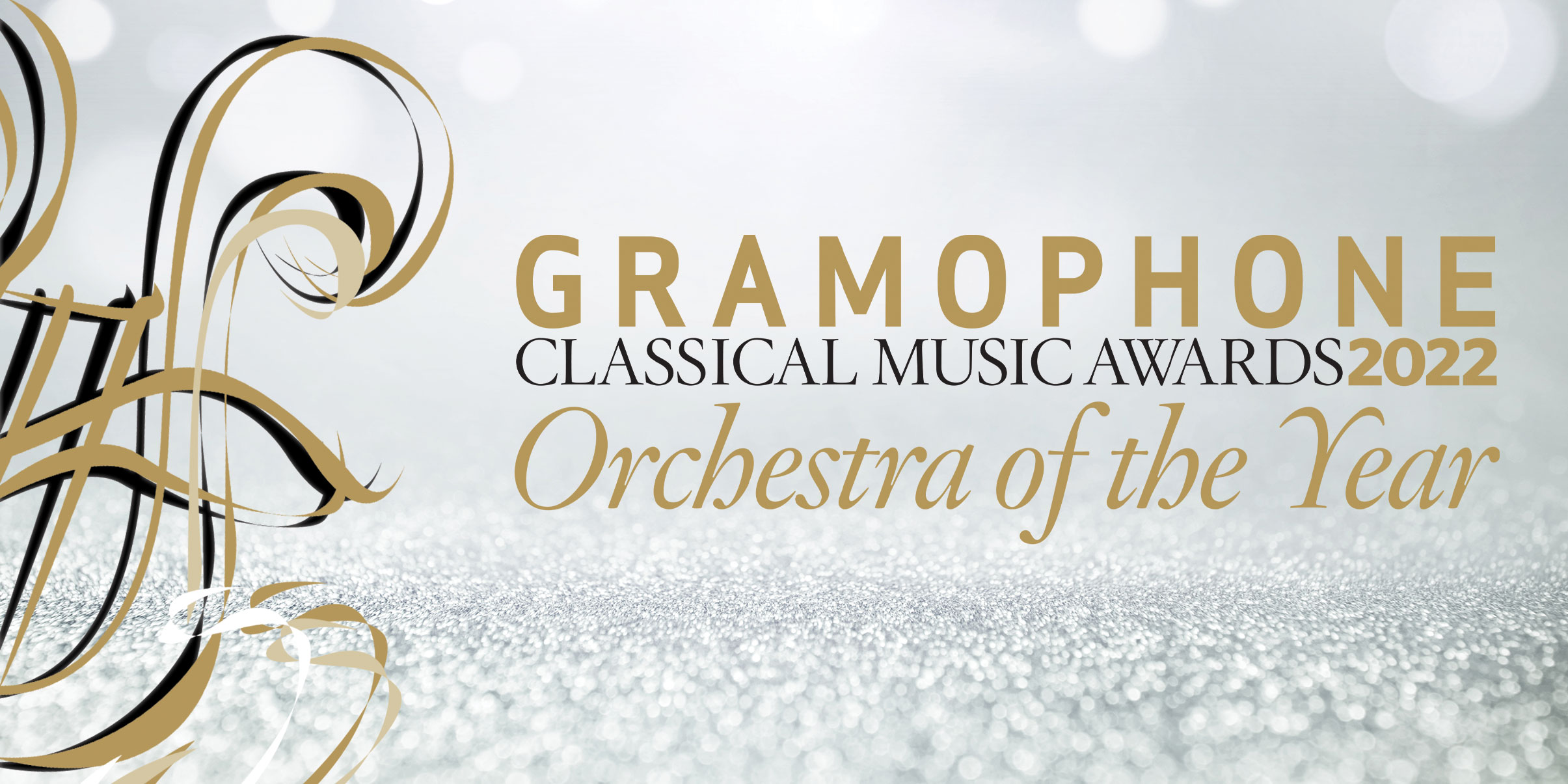 For the fifth consecutive year, the Gramophone Classical Music Awards will be naming an Orchestra of the Year in 2022, the only one of its prestigious awards decided by the public.
Celebrating collaborative music-making at the highest level and reflecting the very best recording activity, previous winners have included the Minnesota Orchestra (2021), the Philadelphia Orchestra (2020), Hong Kong Philharmonic (2019) and the Seattle Symphony Orchestra (2018).
The 10 ensembles nominated in 20222 are: Bayerisches Staatsorchester (Germany), Budapest Festival Orchestra (Hungary), Czech Philharmonic (Czech Republic), The Hallé (UK), Les Siècles (France), Mahler Chamber Orchestra (Europe), Oslo Philharmonic (Norway), Pittsburgh Symphony Orchestra (USA), Sinfonia of London (UK), Vienna Philharmonic (Austria)
Nomination comes as a result of each ensemble impressing Gramophone's editors and reviewers through its work on record, and all ten have released magnificent and often thought-provoking new albums over the past 12 months.
How to vote
Voting opens at noon on Friday, June 10 and remains live until 8am on Monday, September 7.
Explore our summaries of each orchestra's recent activity, key recording recommendations and playlists below to help you decide who to vote for. When you are ready to vote use the voting form at the bottom of this page or follow this link: 2022 Orchestra of the Year Vote. 
Orchestra of the Year 2022 nominees
Bayerisches Staatsorchester (Germany)
The orchestra of Munich's Bavarian State Opera has made a great impression on record this year: in the pit (and on DVD) for Hans Abrahamsen's The Snow Queen and Korngold's Die tote Stadt (of which Richard Bratby wrote that Kirill Petrenko's 'Bavarian orchestra can deliver lushness without limits'). But perhaps the most impressive example of the orchestra's work – in full symphony orchestra guise, and for the first release on its own label – was Mahler's Seventh Symphony which was our Recording of the Month last August and had Edward Seckerson declaring: 'Petrenko demands to be heard and attention paid'.
Recommended recording:
Mahler Symphony No 7 Bayerisches Staatsorchester / Kirill Petrenko (BROrec, A/21)
Bayerisches Staatsorchester playlist:
Budapest Festival Orchestra (Hungary)
The Budapest Festival Orchestra, founded almost 40 years ago by Iván Fischer and Zoltán Kocsis, is one of Central Europe's glories, an ensemble the equal of any, and thanks to its relationship with Channel Classics displayed regularly on record, in magnificent sound. Fischer has fine-tuned the sound of this great orchestra and can draw playing of real class – every performance is a 'festival'. As Peter Quantrill wrote of their Brahms Third: 'the orchestra bends and yields to the music's expressive pulse with an unanimity of purpose that entirely belies the sophistication of Fischer's rubato.' And the Mahler symphony series currently underway has delivered numerous treasures.
Recommended recording:
Brahms Symphony No 3. Serenade No 2 Budapest Festival Orchestra / Iván Fischer (Channel Classics, 8/21)
Budapest Festival Orchestra playlist:
Czech Philharmonic (Czech Republic)
Another great European ensemble, with a heritage that stretches back to 1896 when Antonín Dvo∑ák, no less, conducted the first concert. With some legendary names among its chief conductors, the Czech Philharmonic is now in the excellent care of Semyon Bychkov, a fine conductor and someone who understands the orchestra's traditional colours and style. Their partnership has given us distinctive Tchaikovsky and just a couple of months ago an impressive Mahler Fourth (inaugurating a symphony cycle for Pentatone) enshrining playing that David Gutman described quite simply as 'wonderful'.
Recommended recording:
Mahler Symphony No 4 Reiss; Czech Philharmonic / Semyon Bychkov (Pentatone, 5/22)
Czech Philharmonic playlist:
The Hallé (UK)
For years this storied Manchester-based ensemble was linked to the name of Sir John Barbirolli (its Principal Conductor from 1943 to '70), but after 22 glorious years, The Hallé-Sir Mark Elder partnership has also become the stuff of legend. Thanks to the establishment of its own label, The Hallé's recent performances, and consistently high standards, have been available for all to hear. A Vaughan Williams symphony cycle, recently completed, has renewed the orchestra's traditional relationship with the composer and delivered some truly glorious music-making, with a Ninth, as Andrew Achenbach comments, 'that should … be sought out by all admirers of the composer'.
Recommended recording:
Vaughan Williams Sinfonia antartica. Symphony No 9 The Hallé / Sir Mark Elder (Hallé, 7/22)
The Hallé playlist:
Les Siècles (France)
François-Xavier Roth's superb French period-band this year took on, and magnificently delivered, one of opera's greatest challenges, Debussy's Pelléas et Mélisande. Mark Pullinger enjoyed 'the orchestral contributions of Les Siècles and the lucidity that period instruments bring to Debussy's score'. The colours Roth finds come as no surprise given the superb series of recordings of French music they have already made together (securing Gramophone Awards and Editor's Choices). This month's album of the Ravel piano concertos had Harriet Smith writing of the Left-hand Concerto that 'the opening, which is so often reduced to a murky rumbling, here has the clarity of a finely restored Rembrandt', a review that propelled it to be named our Recording of the Month for July.
Recommended recording:
Ravel Piano Concertos, etc Tiberghien; Les Siècles / François-Xavier Roth (Harmonia Mundi, 7/22)
Les Siècles playlist:
Mahler Chamber Orchestra (Europe)
Emerging from the Gustav Mahler Youth Orchestra in 1997, and nurtured in its early days by Claudio Abbado, the Mahler Chamber Orchestra gathers together about 45 players from 20 different countries. It has established itself as one of Europe's leading chamber orchestras and regularly works with the musical greats of today. Their two 'Mozart Momentum' collections, with Leif Ove Andsnes directing from the piano, as well as working on chamber music together, have been triumphs, drawing praise from Harriet Smith who declared them 'some of the finest Mozart-playing on the planet'.
Recommended recording:
'Mozart Momentum 1786' Mahler Chamber Orchestra / Leif Ove Andsnes (Sony Classical, 5/22)
Mahler Chamber Orchestra playlist:
Oslo Philharmonic (Norway)
To launch a conductor-orchestra partnership with the complete Sibelius symphonies makes quite a statement, but with one of the most sought-after conductors around on the podium, Klaus Mäkelä's recorded debut clearly justified the decision. Deeply impressed by the cycle, Edward Seckerson concluded that 'Mäkelä's cycle is all of a piece, accomplished, insightful and full of the beauty and intrigue that make these works so perennially exciting. An uber-auspicious debut.' While Mäkelä's himself declared his Norwegian orchestra 'a really wonderful group of people, but very serious and really engaged'.
Recommended recording:
Sibelius Symphonies Oslo Philharmonic / Klaus Mäkelä (Decca, 4/22)
Oslo Philharmonic playlist:
Pittsburgh Symphony Orchestra (USA)
Manfred Honeck's tenure, since 2008, at the helm of this superb Pennsylvanian orchestra has really delivered. Sophisticated, classy, stylish playing underscores everything it does. Analysing the PSO's sound in a review of their recent Brahms Fourth, David Gutman wrote that 'though capable of cushioned "European" warmth, the Pittsburgh Symphony has a cleaner, brighter edge than traditionally associated with big-band Brahms. The winds make a tellingly linear contribution, not content with merely poking through saturated string tone at key points.' Next up, Beethoven's Pastoral coupled, as has become a tradition with all their recordings, with something imaginatively unexpected: Steven Stucky's Silent Spring.
Recommended recording:
Brahms Symphony No 4 MacMillan Larghetto for Orchestra Pittsburgh Symphony Orchestra / Manfred Honeck (Reference Recordings, A/20)
Pittsburgh Symphony Orchestra playlist:
Sinfonia of London (UK)
Created, rather like the Philharmonia, as a recording orchestra, John Wilson's Sinfonia of London revives the name (and concept) of the 1950s and '60s 'supergroup' that recorded with Barbirolli and Colin Davis, not to mention setting down numerous film scores. Cast with the crème de la crème of London's orchestral players, the Sinfonia has become a byword for outstanding corporate musicianship and palpable style. Whether in Korngold, Dutilleux, Respighi, Ravel or John Ireland, the Sinfonia magnificently captures a sound world that transfers gloriously to recordings, especially when so faithfully engineered by Chandos. Writing of Ma mère l'oye, Edward Seckerson commented that 'Wilson and his players really capture the piquancy of these exquisite tableaux, their limpidness and fragrance, be it the Prélude with its elfin horn fanfares, the Pavane for Sleeping Beauty or the delicate willow patterning of the Empress of the Pagodas.'
Recommended recording:
Ravel Orchestral works Sinfonia of London / John Wilson (Chandos, 3/22)
Sinfonia of London playlist:
Vienna Philharmonic (Austria)
One of the undisputed great orchestras of the world, steeped in tradition, the Vienna Philharmonic is unique in not having a chief conductor, though in its guise as the orchestra of the Vienna State Opera, Philippe Jordan takes charge. Its corporate identity of peerless strings, elegant winds and punchy brass contribute to its role as 'keeper of the flame' in so much of the core Austro-German repertoire. Of Bruckner's Fourth Symphony (part of an ongoing cycle for Sony Classical), Richard Osborne wrote that 'this mood of inner quiet that underpins both the symphony and this remarkable realisation of it is most evident in the slow movement … which draws from [Christian] Thielemann and the Vienna Philharmonic music making of the rarest pedigree.' And it's a pedigree witnessed the world over every New Year's Day when the Vienna Philharmonic plays music as only it knows how.
Recommended recording:
Bruckner Symphony No 4 Vienna Philharmonic / Christian Thielemann (Sony Classical, 11/21)
Vienna Philharmonic playlist:
Vote for the 2022 Orchestra of the Year
---
– Gramophone Awards Archive –
If you are a library, university or other organisation that would be interested in an institutional subscription to Gramophone please click here for further information.