Artist of the Year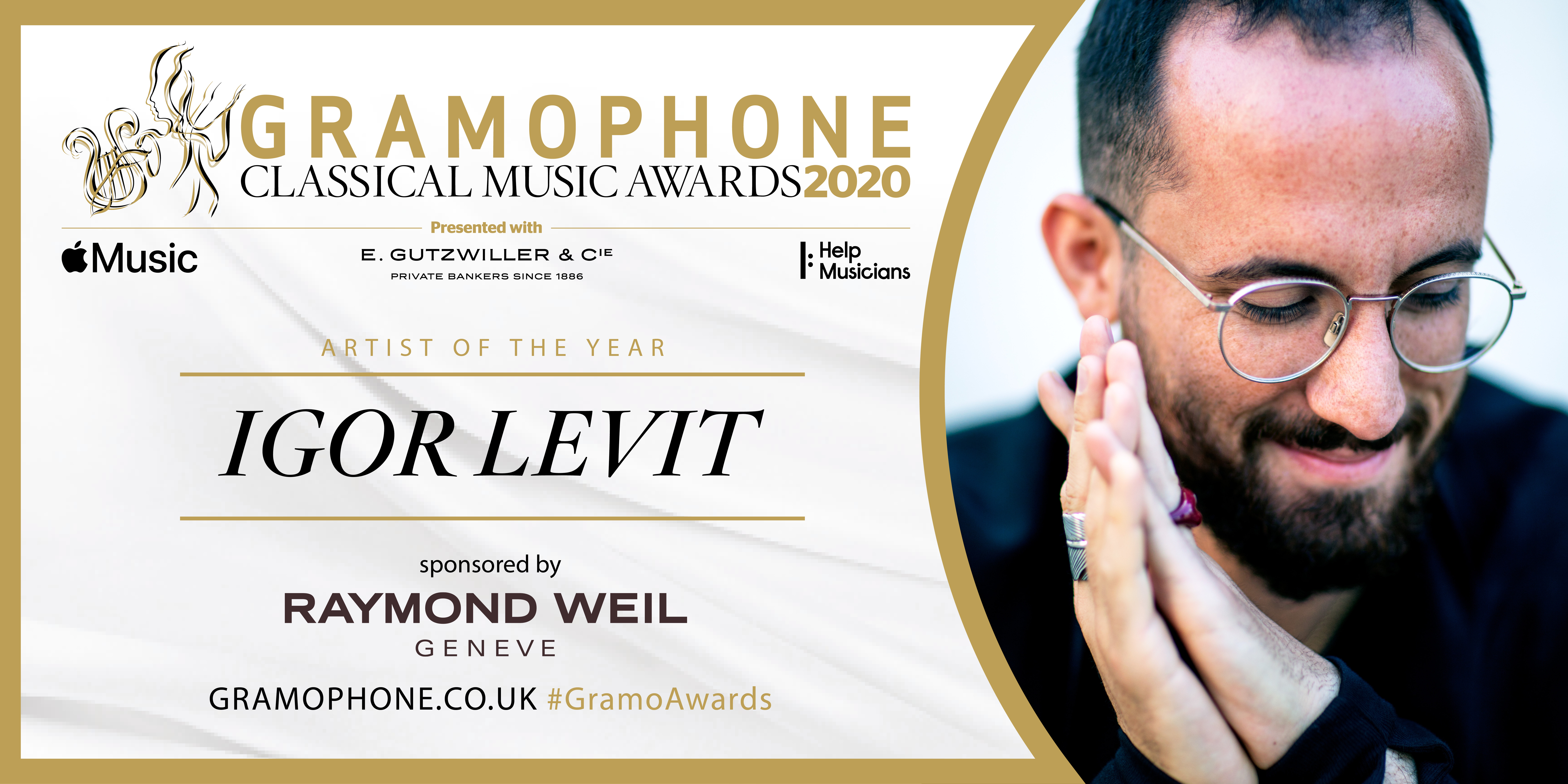 This year, of course, has been unlike any other. In considering an Artist of the Year, it is inevitable that we look beyond a contribution to the range of excellence on record, although Igor Levit's complete cycle of Beethoven piano sonatas emphatically ticks that box. When Sony Classical issued this set in September 2019, the world seemed a very different place. The recording received widespread acclaim, including in these pages (A/19), and is further celebrated in our Awards coverage in the Awards 2020 issue. Yet as worldwide events unfolded, Levit's artistic vision and spontaneity truly came into their own: his response to the consequences of the pandemic, on both a musical and a personal level, confirmed his position as an artist who transcends his art.
In March, as concert venues across Europe closed and live music-making came to a halt, many musicians took to streaming performances from their homes. Levit was not only one of the first, but given his reach and recognition – nowhere more than in Germany, where he is known for his political activism and cultural commentary as well as his piano-playing – he was one of the most visible. Once he had announced a series of Hauskonzerte on March 12, the momentum was unstoppable. While some musicians aimed for solace and distraction, Levit seemed to be on a personal mission. Playing whatever he felt like on the day, he performed with such visceral freedom that each performance was a one-off. The range of repertoire was astounding. Beethoven was, unsurprisingly, a constant presence, but he also played many works that he has not recorded – at least not yet: Schubert's last two piano sonatas; Schumann's C major Fantasie; Mussorgsky's Pictures at an Exhibition; Shostakovich's Piano Sonata No 2 and Op 34 Preludes; and Stevenson's Passacaglia on DSCH, which he played last year at London's Wigmore Hall. Some works led to an unplanned recording project, 'Encounter' (10/20), including Busoni's Bach transcriptions and Feldman's Palais de Mari. To generate such a sense of occasion in any online performance – let alone in an almost-daily series for nearly two months – takes an artist of unique authority.
The culmination of these online concerts was his performance of Satie's Vexations – as much a concept as a work of art, comprising a single page to be played 840 times. Performances – not that there have been many – can last around 20 hours, although Levit despatched the work in a relatively brisk 15 and a half. He has long wanted to play this work, and just needed an appropriate opportunity. The monotonous repetitions of Satie's curious imagination resonated with the circumstances of the pandemic lockdown, and Levit judged this to be the right piece at the right time. Moreover, he embraced the fact that people online tend to dip in and out of things, and welcomed the reality that listeners would drop in at any point and stay as long as they wanted. Those who stayed with this performance – even, as I did, for just a few hours – will have shared something of the journey, as Levit varied his tempo and dynamics, as well as his seating (or standing) position, and as his inevitable fatigue fed into his improvisatory response. A concept it might be, but when played with such fierce conviction this piece comes alive as a work of art.
It is more than an incidental point that this marathon performance raised €25,000 for out-of-work musicians.
Alongside events gained were events lost. Of the many cancelled concerts of 2020, one stands out: on May 1, Levit was to have played Busoni's mammoth Piano Concerto at London's Royal Festival Hall with the LPO and Antonio Pappano – typical of a pianist who relishes every challenge thrown at him. I asked Levit – rather rhetorically, it must be said – if we will still get to hear him play this concerto. His eyes narrowed in determination: 'You bet! I can't tell you how many hours I've spent on that work, and I'm not going to let them go to waste.' Let's hope Sony have the microphones running. Tim Parry
— RECORDING CATEGORIES —
— SPECIAL AWARDS —
If you are a library, university or other organisation that would be interested in an institutional subscription to Gramophone please click here for further information.