Lifetime Achievement Award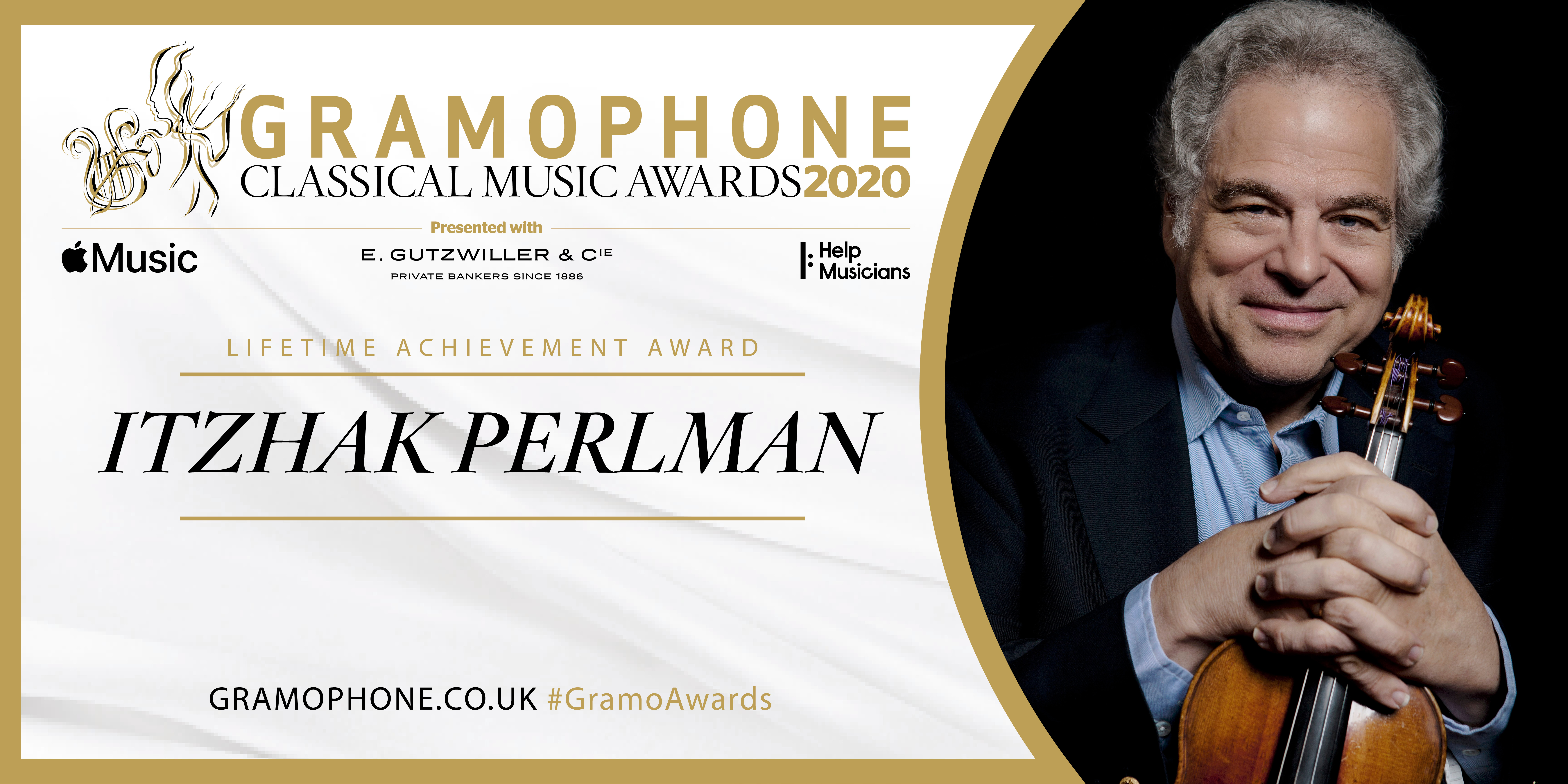 Talk of a 'Lifetime Achievement' has a finality about it, but the vital spark that is Itzhak Perlman shows no sign of dimming. As I write, he is celebrating his 75th birthday, yet in a recent interview he cheerfully told the Chicago Tribune: 'I'm not thinking 75. When I pick up the violin, and I start playing, I say to myself: "Oh, 75 is pretty good. Things are still working!"'
He has been honoured by three American presidents – even playing 'live' at Barack Obama's 2009 inauguration (the performance was actually pre-recorded due to the cold weather) – and an Israeli prime minister. His recordings have garnered innumerable awards. His videos have won four Emmys. He has had three of the costliest fiddles at his disposal, by Stradivari, Guarneri del Gesù and Bergonzi.
Yet over and above this worldly success, he ranks among the great humanists of the string-playing sphere, alongside such names as Busch, Casals, Oistrakh Snr and Szigeti. He has too ready a sense of humour to be a saint or a high priest: still, he has borne bodily affliction with grace and dignity and has been both a role model and a spokesman for disabled people.
We British encountered Perlman in the late 1960s as one of a golden generation with Pinchas Zukerman, Jacqueline du Pré, Daniel Barenboim, Vladimir Ashkenazy and Zubin Mehta. Amid all the banter preserved on Christopher Nupen's films, a quiet authority about his playing marked him out even in that company.
We heard a prodigiously virtuosic violinist with an opulent, beautiful tone and a seamless scale without undue emphasis on the G string. Studies with Dorothy Delay and Ivan Galamian had given him one of the finest bow arms, capable of delivering phrasing of breadth and subtlety. Galamian, almost as legendary a guru of the bow as his own teacher Lucien Capet, imparted a style consciousness to Perlman that was as effective in Franco-Belgian pieces as in music of the Austro-German or Russian schools.
Young Itzhak had certainly travelled far from those early days in Tel Aviv: having fallen in love with violin sonority at the age of three, he was at first refused entry to the Shulamit Conservatory. The next year a polio attack left him with drastically reduced mobility. He did make it to the Conservatory and Academy of Music, giving his debut recital at 10 after receiving devoted tuition from Rivka Goldgart. At 13 he took the well-trodden path to the Juilliard School, New York. Since 1975 he himself has taught, not least through the imaginative Perlman Music Program initiated in 1994 by his wife Toby, and Suki Sandler.
He began his studio career with two concerto discs, and so far has given us all the major concerted works – some more than once – except the Reger and Bloch: his sole Bloch is Nigun. Notable in his recorded repertoire is the vast range of chamber music: among his first discs were the Prokofiev sonatas (RCA) and the Franck Sonata and Brahms Horn Trio (Decca), both with Ashkenazy (plus Barry Tuckwell in the Brahms). The duo with this pianist bore abundant fruit; Lynn Harrell joined them for trios; and Perlman has also worked with pianists Barenboim, Bruno Canino, Martha Argerich and Emanuel Ax. With Zukerman he made up a string duo (yielding, besides superb duets, much-loved accounts of the Bach Double and Mozart Sinfonia concertante) and, with Harrell added, a string trio. With Ax and Yo-Yo Ma he recorded the best Mendelssohn piano trios since the Oistrakh Trio. So, unlike many star soloists, Perlman has been clubbable and collaborative.
Like Leonid Kogan, he has consistently held the key to Beethoven's deceptively simple Violin Concerto; and Perlman scores over the serious Ukrainian with his touches of humour in the Rondo. Writing about Perlman for Gramophone in 2015, I chose his 1989 live performance with Barenboim to represent him. Those investigating the star-studded 1982 Huberman Festival set (Helicon) may find Perlman's Beethoven with Mehta and the Israel PO even more sublime (save for one note in the Larghetto!).
In the violinist's other Holy of Holies, Bach's unaccompanied Sonatas and Partitas, his 1986-87 studio recordings – using two violins – represent a noble testament; while at the other solo extreme, his Paganini Caprices almost scorch your speakers.
Perlman's favourites among his recordings are the Mozart violin concertos (DG). My own choices include his moving, musing Elgar on the same label, and a coupling of the Kreutzer and Franck sonatas with Argerich (Warner) that could well sum up this great musician of courage, heart and soul. Tully Potter
— RECORDING CATEGORIES —
— SPECIAL AWARDS —
If you are a library, university or other organisation that would be interested in an institutional subscription to Gramophone please click here for further information.