Choral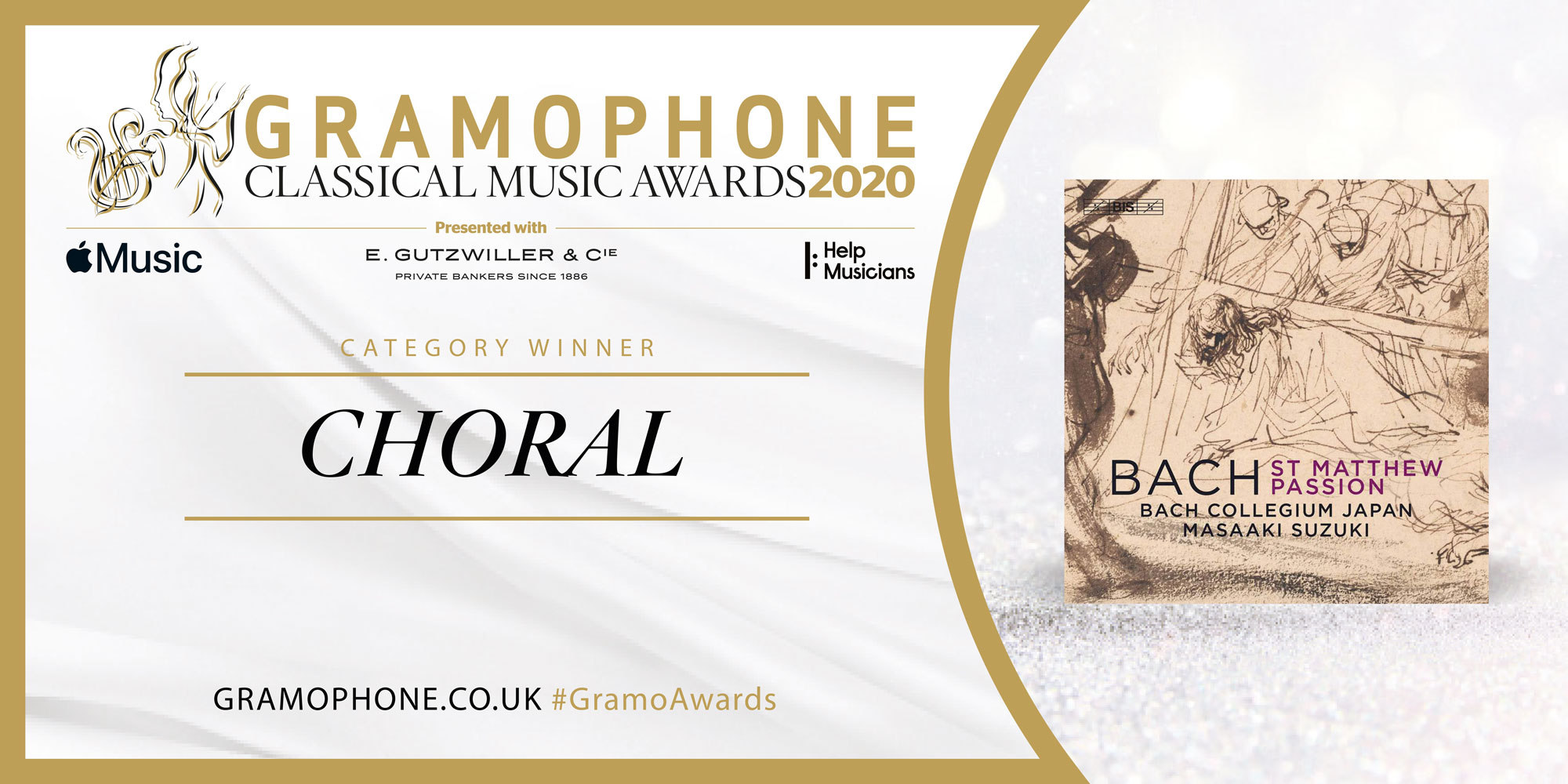 BACH St Matthew Passion
Bach Collegium Japan / Masaaki Suzuki ​
(BIS)
The Gramophone Review
To embark on a second recording of the St Matthew Passion 20 or so years after an admired reading with many of the same musicians from Bach Collegium Japan might, one would imagine, have been governed by a specific set of motivations. On the evidence of this powerful, superbly framed and exceptionally judged account, Masaaki Suzuki may instead have reached a point where, over decades of intensely dedicated Bach performance, a revisiting simply became a necessary rite of passage – as it has for many before him.
Those who have traced Suzuki's Bach direction of the last few years, alongside a burgeoning series of enterprising organ volumes, will have noticed a subtle but interesting shift in the realms of emotional risk and dramatic thrust. This is not to say that his performances of Bach's choral works have ever been anything but an exploration of the inner meaning of how music, imagery and text converge in clearly projected ideals. But from the outset here, the music feels embedded in a broader and freer set of expressive ambitions than ever.


'If Bachians have found Suzuki's performances a touch imperturbable on occasion, this recording throws down the gauntlet on almost every level. A revelatory reading of an eminent Bach interpreter in his prime'

Suzuki's vibrantly conceived vision extends to open-shouldered and passionately projected choral contributions, the lived-in storytelling of the burnished Evangelist of Benjamin Bruns (Peter's denial is like a dagger to the heart), the switches between human frailty and febrile physicality of Christian Immler's Jesus and Suzuki's winning attribute of giving the music air and momentum at the same time. As a result, the ritual of each tableau and its reflective suite of arias is given genuinely memorable character. The opening growls with the same prescient foreboding and authority of the very best accounts of the past 70 years, whether Karl Richter's first or Harnoncourt's final reading.
The lingua franca of this recording is Suzuki's incessantly perceptive blend of directly projected imagery and inward devotion, underpinned by theatrical fervour in the narrative; one never doubts Bach or Suzuki's belief in its importance for mankind. The musicians convey it with infectious zeal in the white-hot conviction of tenor Makoto Sakurada's open-throated Daughter of Zion sequence (from No 19, 'O Schmerz!'); illuminated by light and shade in the instrumental accompaniment, soloist and chorus combine in an essay of unbearably imminent suffering. On the other end of the spectrum, the peroration offers a luminous solace – and what collective beauty Bach Collegium Japan bring to the heart-stopping 'Mein Jesu, gute Nacht' – to the redemption that will follow. No danger here of the final chorus ending in a morose slough of despond.
The quality of soloists in any recording of the St Matthew will significantly define its sustainable fortunes. Apart from a couple of underwhelming movements ('Können Tränen' is not vocally settled), the vast majority of arias represent the highest quality of Bach-singing. Damien Guillon is a commanding presence, with a quality of sound that carries both line and text with purpose and panache (listen to the opening of Part 2 as an exceptional example). Aki Matsui, a young and communicative singer, may not quite have the radiance and experience of Carolyn Sampson, but then few in this medium have. The latter's wonderful 'Aus Liebe' reveals both a ravishing suspension of belief and pungent discipleship.
The high points are numerous: 'So ist mein Jesus nun gefangen', as luminously persuasive as you'll hear (though Fritz Lehmann's 1949 version takes some beating), Damien Guillon's visceral 'Erbarme dich' – which grows in stature – and a 'Mache dich' from Christian Immler of grounded humanity. Yet there are dimensions of engagement between singers and instrumentalists that instil a sense of spontaneity in the variety and richness of timbre which I hadn't heard to this extent in Bach Collegium Japan. The bass lines drive the music forwards, the crowd scenes declaim with quicksilver interpolations to the Evangelist's cries and tempos are allowed to push and pull at key moments. Generic early music politesse is relegated to the shadows.
This reappraisal of the St Matthew (the earlier version from 1999 does appear studied and self-conscious in comparison, for all its estimable virtues) takes us on a journey which will continually enthral, move and surprise. If Bachians have found Suzuki's performances a touch imperturbable on occasion, this recording throws down the gauntlet on almost every level. A revelatory reading of an eminent Bach interpreter in his prime. With each SACD coming in at over 80 minutes, it is squeezed on to two discs, offering excellent value. This certainly has the effect of bringing the two parts of the Passion closer together, to the serious benefit of our ears and imaginations.
(Jonathan Freeman-Attwood, April 2020)
Listen on Apple Music
— RECORDING CATEGORIES —
— SPECIAL AWARDS —
If you are a library, university or other organisation that would be interested in an institutional subscription to Gramophone please click here for further information.