Recital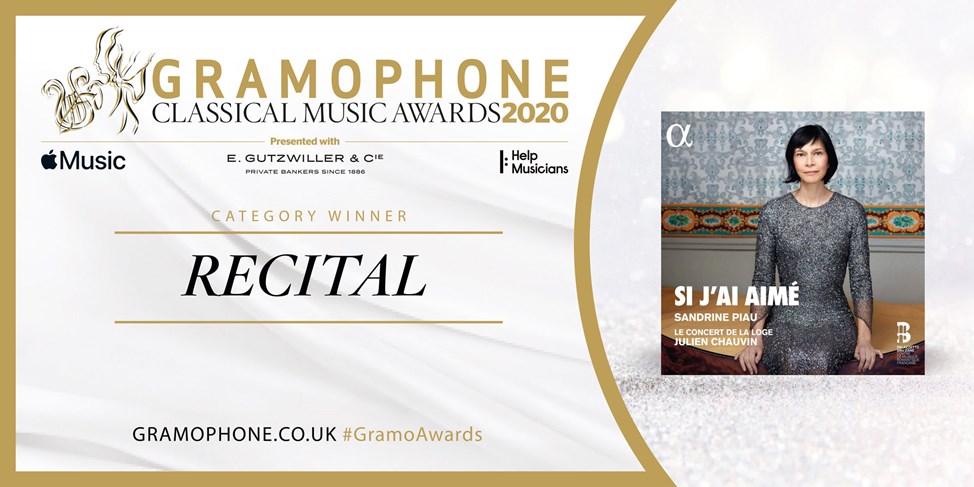 SI J'AI AIMÉ
Sandrine Piau; Le Concert de la Loge / Julien Chauvin
(Alpha Classics)
The Gramophone Review
This attractive disc finds Sandrine Piau and Le Concert de la Loge, with their conductor Julien Chauvin, exploring French orchestral songs from the late 19th century, a popular genre at the time, albeit one with a curious history. Though the form had an impeccable pedigree, with Berlioz's Les nuits d'été and Duparc's orchestral mélodies paving the way, very few of the major composers who came in their wake, with the notable exception of Saint-Saëns, gravitated towards it, despite a growing demand, it would seem, for orchestral songs in the concert hall. Debussy and Fauré, one notices, almost pointedly stayed away.


'With her silvery tone, immaculate sense of line and telling if understated way with words, Piau is very much at home in this repertory'

Much of Piau's programme consequently consists of unfamiliar songs by relatively unfamiliar composers, though she emphasises their debt to Berlioz by including 'Au cimetière' and 'Villanelle', along with his orchestration of 'Plaisir d'amour'. Surprisingly, however, she gives us nothing by Duparc, who is represented here solely by the purely orchestral Aux étoiles. Much of what Piau has discovered is extremely fine. Théodore Dubois seems to have been a song composer of some stature, sensitive in his word-setting despite a fondness for indifferent poets, and with a wide if eclectic stylistic range that encompasses the mock-18th-century bawdry of 'Sous le saule' from his Chansons de Marjolie and the troubled chromaticism of 'Promenade à l'étang' from Musiques sur l'eau. Vierne's 'Beaux papillons blancs' from his Op 11 Mélodies is a piece of infinite and genuine charm, beautifully orchestrated, and once again we're reminded of how good Saint-Saëns's songs can be: 'Extase' is a ravishing, discreetly erotic Victor Hugo setting that deserves to be much more widely known.
With her silvery tone, immaculate sense of line and telling if understated way with words, Piau is very much at home in this repertory. There's grace and elegance in both Saint-Saëns's 'Papillons' and Dubois's worldly wise 'Si j'ai parlé … si j'ai aimé'. Massenet's 'Le poète et le fantôme', with its ambiguous mixture of irony and regret, is beautifully done (the 'ghost' that haunts the poet is his memory of past affairs). 'Au cimetière', meanwhile, gets what has to be its creepiest performance on disc. The high key and the almost bleached tone that Piau adopts create an impression of something truly unearthly and sinister, though it wouldn't be half as effective without Chauvin and his orchestra, who make the chordal throbs sound like erratic heartbeats, while the woodwind phrases seem to hover in the air like spectral voices from another world. He, and they, are outstanding throughout, unearthing subtleties in music that is often quite simply but always effectively scored. It's a most engaging disc. And is there any chance we could have a complete Nuits d'été from Piau and Chauvin at some point, preferably soon?
(Tim Ashley, August 2019)
— RECORDING CATEGORIES —
— SPECIAL AWARDS —
If you are a library, university or other organisation that would be interested in an institutional subscription to Gramophone please click here for further information.