Opera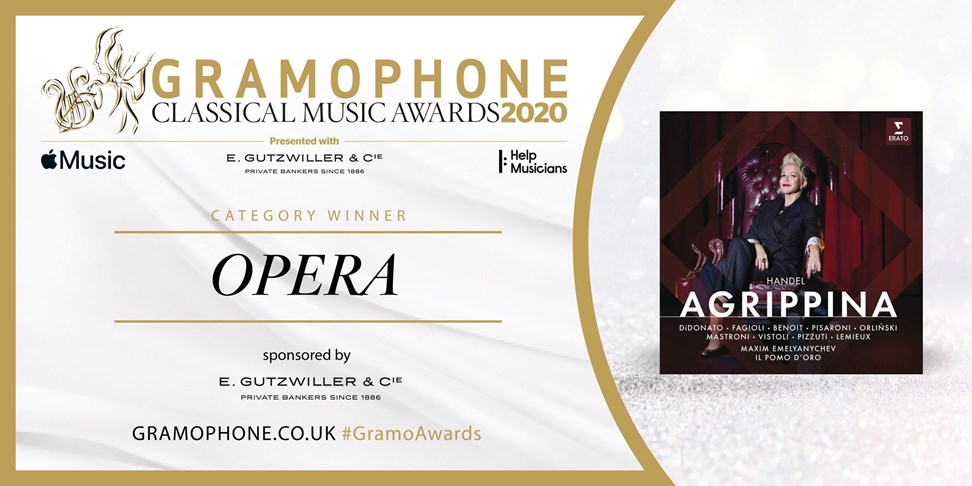 HANDEL Agrippina
Joyce DiDonato; Elsa Benoit; Luca Pisaroni; Franco Fagioli; Jakub Józef Orliński; Andrea Mastroni; Carlo Vistoli; Biagio Pizzuti; Marie-Nicole Lemieux; Il Pomo d'Oro / Maxim Emelyanychev
(Erato)
The Gramophone Review
The climax of Handel's Italian sojourn, Agrippina ran and ran after its sensational Venice premiere early in 1710. As told by the composer's first biographer, John Mainwaring, audiences were 'thunderstruck by the grandeur and sublimity of his style, for never had they known till then all the powers of harmony and modulation so closely arrayed, and so forcibly combined'. Handelian 'grandeur' and 'sublimity' – beyond anything the Venetians had experienced – are fitfully glimpsed in the music for the Machiavellian tiger mother Agrippina and Ottone (Otho), the only character in the opera with a shred of integrity. Modern audiences, though, are more likely to be struck by the music's piquancy and charm. In essence an antiheroic comedy, Agrippina is arguably the lightest and, in a half-decent production, funniest of his operas: a tart satire of sex (the women hold all the cards) and political corruption that unfolds in compact, snappy arias, many of them quarried from Handel's Italian cantatas. Early audiences doubtless picked up many a contemporary resonance, not least the sybaritic, self-important Roman Emperor Claudius as a caricature of the aged Louis XIV and/or Pope Clement.
A few months before he conducted Barrie Kosky's wacky, witty production at Covent Garden, Maxim Emelyanychev made a commercial recording of Agrippina in Italy with his own period orchestra and three of the Covent Garden cast, including Joyce DiDonato in the title-role and Franco Fagioli as her unlovely son Nero. The results are at least a match for the excellent recordings by John Eliot Gardiner (Philips, 6/97) and René Jacobs (Harmonia Mundi, 1/12), both with slightly different texts. This new recording uses the edition by Peter Jones and David Vickers based on what was performed in Venice rather than Handel's autograph. Inter alia, we get a longer ballet sequence at the end and a touching continuo aria 'Spera alma mia' (replacing the flighty 'Bella pur') that adds a note of tenderness to Poppea's character.


'DiDonato effortlessly dominates proceedings with her mix of hauteur, sensuous beauty of tone and acute, specific characterisation'

As at Covent Garden, DiDonato effortlessly dominates proceedings with her mix of hauteur, sensuous beauty of tone and acute, specific characterisation. Double-speak is her default setting; and even at her most ingratiating, as in her blithe aria to Poppea 'Non hò cor', DiDonato never lets you forget that here is one of the most ruthlessly manipulative women in Roman history (and there is plenty of competition). The American mezzo releases her inner Amneris in the magnificent, troubled soliloquy 'Pensieri, voi mi tormentate', and finally makes peace with her husband Claudius in a meltingly sung 'Se vuoi pace', a ravishing minuet aria that Handel reworked for a revival of Belshazzar nearly half a century later.
As Agrippina's rival in manipulation, the French soprano Elsa Benoit is a delectable Poppea, both knowing and sympathetic. She luxuriates in her physical allure in 'Vaghe perle', and wraps Nero around her little finger in the bouncy gigue 'Col peso'. In sexual charisma Benoit's Poppea eclipses both Donna Brown, for Gardiner, and Jacobs's pallid Sunhae Im. At Covent Garden Franco Fagioli played Nero as a tattooed teenaged psychopath. Tattoos apart, the future emperor certainly comes across as neurotically unstable in Fagioli's over-the-top performance. Though his tone can be plummy and his words indistinct, he dispatches his two showpieces in Act 3 with his trademark devil-may-care bravado. As Nero's temperamental opposite Otho, Jakub Józef Orliński sings with rounded tone and a sure feeling for Handelian line, whether in his hushed, inward account of the great lament 'Voi che udite' or in the exquisite 'Vaghe fonte', with its gently purling recorders.
Luca Pisaroni uses the subterranean depths of his bass to good effect as the faintly absurd Emperor Claudius, though he sounds too lugubrious in his love song to Poppea 'Vieni o cara' – one of the opera's loveliest tunes. Carlo Vistoli and the teak-voiced bass Andrea Mastroni make their mark as the hopelessly besotted double act of Pallante and Narciso. At times I felt that the recitatives could move at a more natural conversational pace, as they do on the Jacobs recording. But Emelyanychev's direction of his responsive band – fierier than Gardiner's, less interventionist than Jacobs's – combines fizzing theatrical energy with due regard for the opera's more reflective moments. A word, too, for the eloquent first oboe, a crucial player in this opera. With DiDonato nonpareil in the title-role and a uniformly strong cast, this now becomes a first choice for Handel's Venetian masterpiece.
(Richard Wigmore, March 2020)
The Opera Award is sponsored by E. Gutzwiller & Cie, Banquiers
— RECORDING CATEGORIES —
— SPECIAL AWARDS —
If you are a library, university or other organisation that would be interested in an institutional subscription to Gramophone please click here for further information.