Gramophone's Choral Award 2023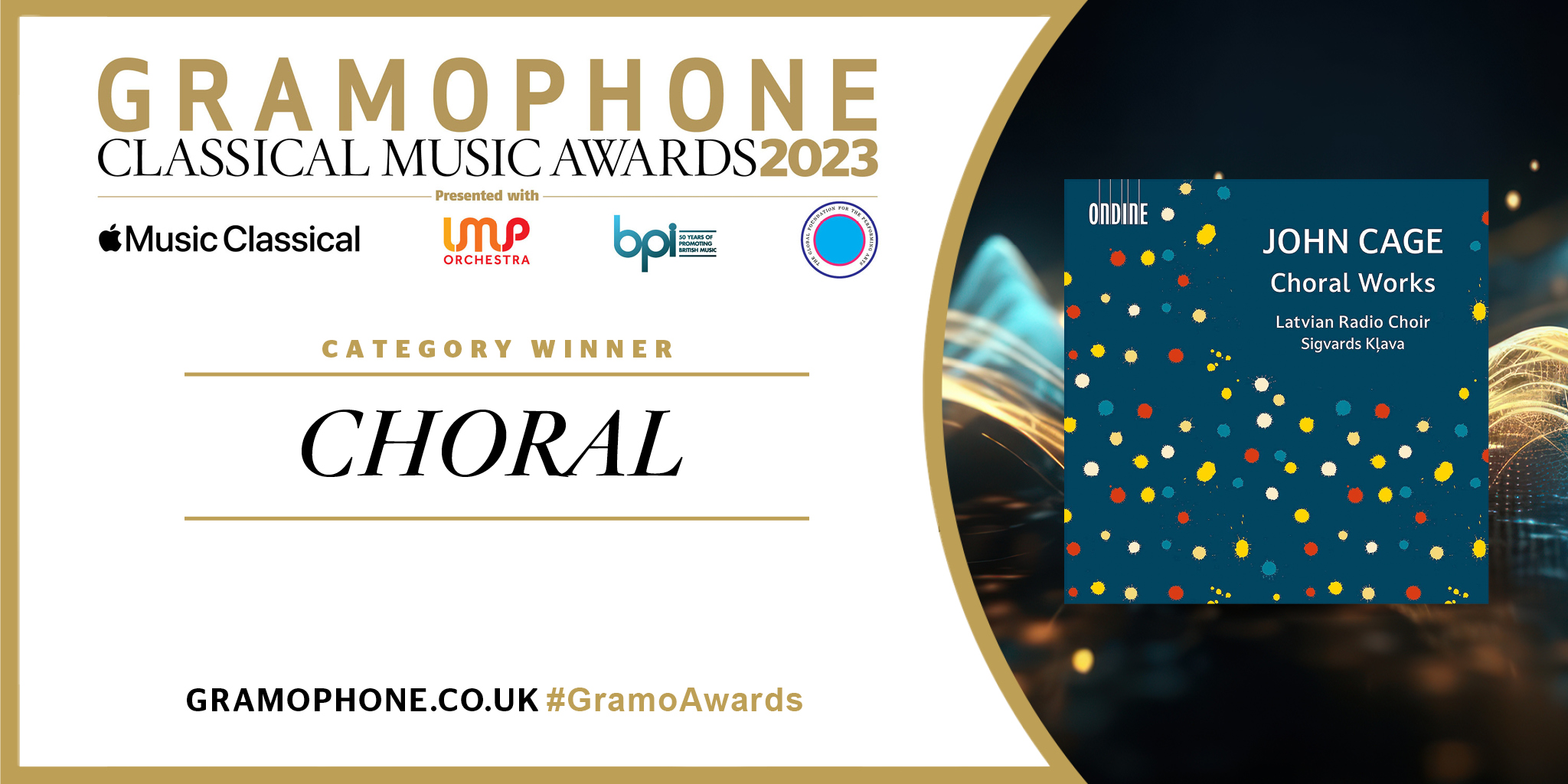 Cage Choral works
Latvian Radio Choir / Sigvards Kļava
Ondine
John Cage, a Gramophone Award winner: who would have thought it? If only he were still with us: he would surely have given the most erudite and witty acceptance speech. The tribute he paid to his friend Morton Feldman may serve instead as a citation for this revelatory album of choral pieces: 'The music may actively remind us of nothing so that its no-continuity will let us allow our lives with all of the things that happen in them to be simply what they are and not separate from one another.'
Cage looked at the world with childlike wonder and curiosity, the exemplar of Baudelaire's dictum, 'Genius is nothing more nor less than childhood recovered at will.' These pieces require no special affinity with the avant-garde or study of the composer's chance procedures. The opening five-minute Five (denoting the number of parts) is simply entrancing, floating free from the bogus mysticism of much modern choral music.
By contrast, there is a homespun simplicity to the Hymns and Variations that belongs to the same American tradition as Appalachian Spring and Home on the Range. The wordless Four6 rejoices in the lamb, and in all of creation, no less than Britten's setting of Christopher Smart or Messiaen's catalogue of birds do. The Latvian Radio Choir chirp and croak and baa and buzz away in a glorious earthly firmament that could have defined the term 'immersive sound experience' years before it was ever coined.
Finally, by chance (and Cage was ever sensitive to the operation of chance on our lives, happy and sad), the Award pays a providential tribute to the memory of the late longtime Gramophone contributor Peter Dickinson, who gave Cage a voice through his own words and music-making. He would have been entirely delighted by this album, and he would have wished for the rest of us to share in his pleasure. Peter Quantrill
Read the original Gramophone Review
Recording categories

Special Awards
If you are a library, university or other organisation that would be interested in an institutional subscription to Gramophone please click here for further information.