Gramophone's Contemporary Award 2023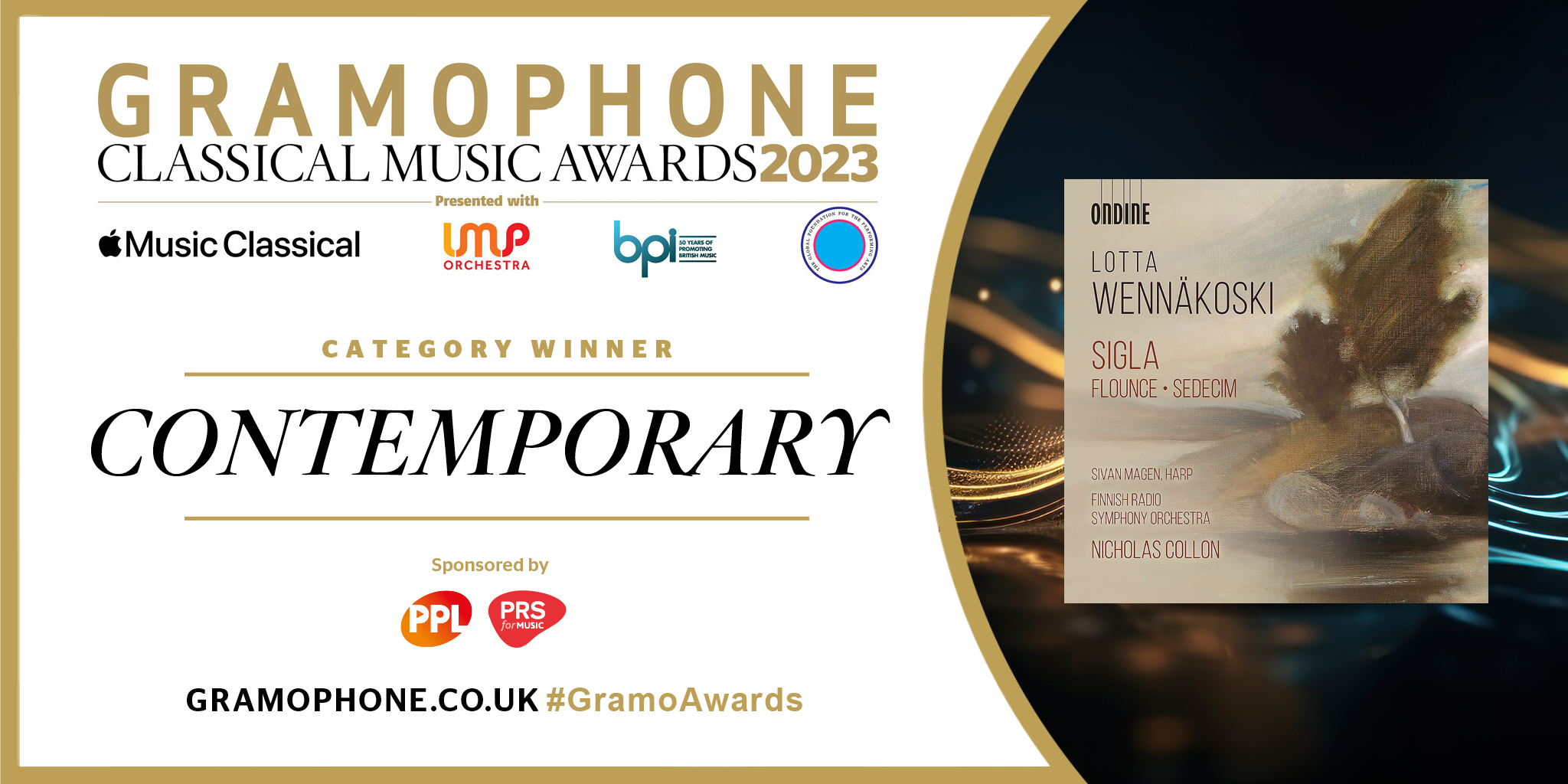 Wennäkoski Sigla. Flounce. Sedecim
Sivan Magen hp Finnish RSO / Nicholas Collon
Ondine 
Lotta Wennäkoski's music is a coat of many vivid colours. This recording of three recent orchestral works offers an ideal introduction to the Finnish composer's dazzling, mesmerising sound world.
First up is whacky, mischievous Wennäkoski in the form of Flounce. Premiered at the Last Night of the Proms in 2017, this pocket-sized five-minute overture blasts into musical space, buoyed by searing string glissandos, booming percussion, and rapid flutter-tonguing on woodwind and brass. The composer's instructions tell us that Flounce's exaggerated gestures are not meant to be taken too seriously, and the Finnish Radio Symphony Orchestra under Nicholas Collon pitches it to near-perfection.
If Flounce presents Wennäkoski at her most vivacious and tongue-in-cheek, Sedecim is serious, thoughtful and circumspect. Composed in 2016 to mark the centenary of the Sibelius Academy Symphony Orchestra, the three-movement work casts its net much wider. The first draws on the brief, turbulent life of Finnish poet Edith Södergran (1892-1923), which is contained in the smudged sounds, swirling figures and obsessive ticking clocks scattered across the movement's fissured dimensions. We are transported to the harrowing killing fields of the First World War in the second movement – a macabre wasteland of brittle, broken tunes swaying unsteadily in a musical no man's land amid haunting, disembodied voices humming wordless tunes in the eerie night. Melodic fragments from Melartin's Fifth Symphony (premiered in 1916, a century before Sedicim) are woven into the third movement, with an ingenious quasi-passacaglia of staircase-like harmonies seemingly never-ending in their spiral-like descent.
Can one talk of textbook Wennäkoski? Perhaps not, but the harp concerto Sigla (2022) comes close – soloist and orchestra caught up in an intricate, sensuous and spectral-inspired dance in contrast to Flounce's devilish two-step dance, with harpist Sivan Magen at the very top of his game. Pwyll ap Siôn
Read the original Gramophone Review
Recording categories

Special Awards
If you are a library, university or other organisation that would be interested in an institutional subscription to Gramophone please click here for further information.