Gramophone's Orchestral Award & Recording of the Year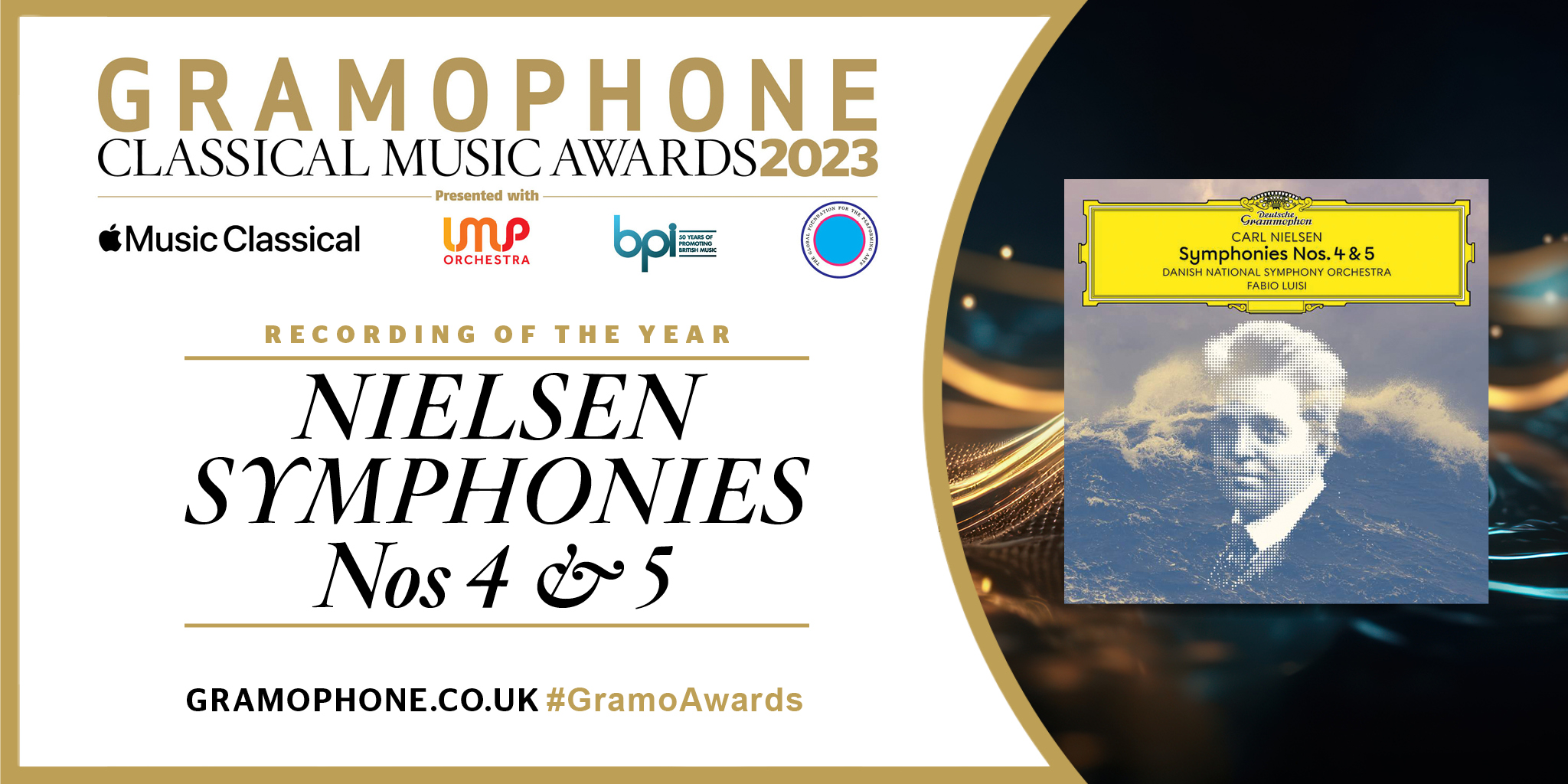 Nielsen Symphonies Nos 4, 'The Inextinguishable' and 5
Danish National Symphony Orchestra / Fabio Luisi
DG
There will be Gramophone readers who have been on intimate terms with Nielsen's symphonies for far longer than Fabio Luisi has. But the Italian conductor's unlikely fascination with the Danish composer has brought with it a discoverer's verve that characterises his new recordings of the composer's symphonies just as much as fastidious detail, remarkable recorded sound and the sense of an orchestra connecting with this music on a deep, personal level do.
Luisi is the first Italian conductor to have set down a complete recording of Nielsen's symphonies and concertos, and the shift in colour and temperament is telling. Nielsen's symphonies are not untouchable national monuments for Luisi. A major characteristic of his cycle is his total engagement with the scores and determination to eek out every ounce of expression, an approach often considered distasteful in Scandinavia. Comparisons with Leonard Bernstein – whose revisionist, muscular interpretations on Danish soil had such a transformative effect on Nielsen's international reputation – are inevitable.
'These performances aren't entirely uncontroversial, but Nielsen has surely never sounded better on record'
Nielsen invites curious gradations of subtlety and objectivity, and Luisi proves revisionary and fascinating on both counts. Where more overt phraseology might have been expected, his gentility pays dividends. Where gentility has previously been prioritised, the iron-strength of Luisi's grinding voices lends the music an inexorable force. There have been fine recordings of Nielsen's Fourth and Fifth Symphonies in recent years that haven't quite shaken off the feeling of an orchestra charting new waters. The Danish National Symphony Orchestra, with top-drawer instrumental soloists and a heft that never obscures detail, knows exactly where it is, even when its Chief Conductor is pointing out vistas it might not yet have seen.
It's the orchestra's collective strength and power that signals a special performance right from the start of Nielsen's wartime Fourth Symphony, The Inextinguishable, and is set in relief by Luisi's operatic handling of Nielsen's thrilling moments of breakaway lyricism. Conductor and orchestra make much – perhaps more than anyone since Bernstein – of the moments of release that characterise both symphonies: in the closing pages of the Fourth (played with almost Wagnerian radiance – what would Nielsen have made of that?), and in the wholesome embrace of the blazing E flat major sunlight that follows the battle between orchestra and snare drummer in the Fifth.
But what has made this a standout recording among such eminent finalists – and, indeed, so many laudable orchestral releases over the course of the year? To be reminded of Nielsen's extraordinary originality and rigour has counted for much, for sure. But Luisi's Nielsen cycle for DG also reinforces what a considered studio recording can do. There are no slip-ups or audience noise here, even if the atmosphere is consistently high-octane and frequently tensile. More importantly, huge attention has been given to resonance and silence. The orchestra sounds with rare clarity and transparency in a defined but reverberant space that offers it the room both to unleash volleys of power and trace lonely solo lines. These performances aren't entirely uncontroversial, but Nielsen has surely never sounded better on record. That, if nothing else, is Gramophone Award-worthy. Andrew Mellor
Read the original Gramophone Review
Recording categories

Special Awards
If you are a library, university or other organisation that would be interested in an institutional subscription to Gramophone please click here for further information.