Gramophone's Orchestra of the Year 2023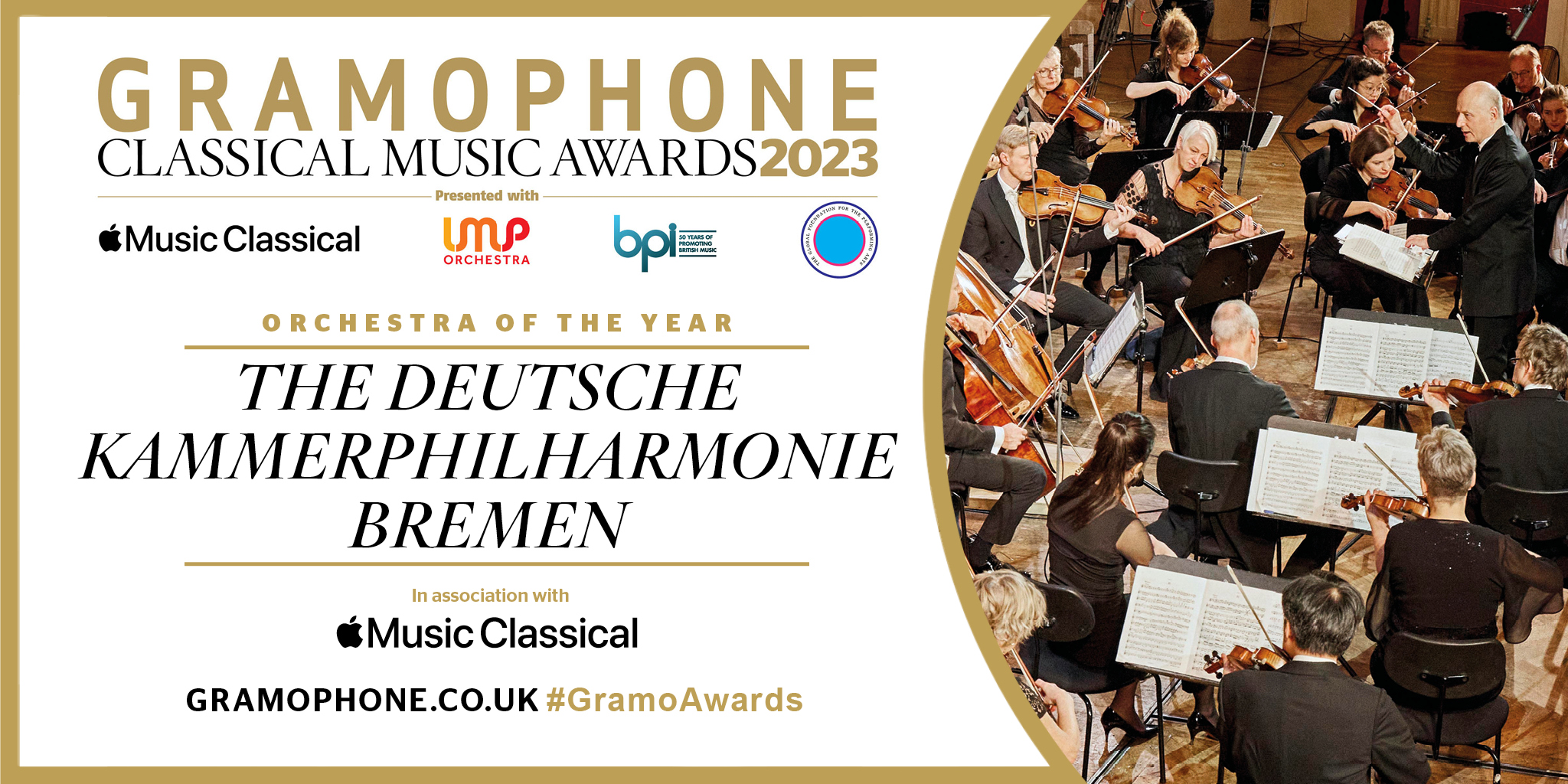 It's about time Germany's most exportable chamber orchestra - though one which can expand in size when repertoire requires - was named Gramophone's Orchestra of the Year. Anyone who regularly reads or writes for the magazine will know The Deutsche Kammerphilharmonie Bremen is never absent from its pages for long. When it does appear, it's usually being fulsomely praised: cited as the purveyor of a benchmark or appreciated for the myriad new perspectives it has brought to a work. As this Award is decided by a popular vote, it's reassuring to see that approval mirrored by the wider public.
This is an orchestra from which absolute precision is a given. To that, it adds a freshness and freedom of approach that lifts music vividly off the page. As a prolific recording orchestra, it knows how to play for the microphones. Those microphones, in turn, have helped hone extreme discipline and agility in the ensemble as well as a remarkable specificity of volume and a vivid sense of phrase. The results have made the orchestra friends around the world.
These days, the orchestra is almost inseparable from its Music Director of almost two decades, Paavo Järvi. Pervading the Estonian's tenures in Cincinnati, Frankfurt, Paris, Toyko and now Zurich, Bremen has been the one constant. On record, Järvi has taken the orchestra through the staples of the Austro-German repertoire from Beethoven to Brahms to Schumann. Most recently, they have gone back to fundamentals of orchestral craft with the launch of what Mark Pullinger recently suggested 'could well be a Haydn series to relish' (6/23).
For other conductors, the orchestra has recorded Schubert, Stravinsky, Vieuxtemps, Weill and – for which it's also nominated for a recording category award this year – Weinberg. Despite its tendency to play on the front foot, this is an ensemble that soloists apparently seek out to record with ('attentive to every small detail', to lift words from Rob Cowan's review of its recent Beethoven/Stravinsky collaboration with Vilde Frang and Pekka Kuusisto, 11/23 – another short-listed album this year). Ultra-reactive, it has been directed on record by violinists (Hilary Hahn, Renaud Capuçon, Daniel Sepec, Christian Tetzlaff, Lisa Batiashvili), cellists (Steven Isserlis, whose 2017 album of cello concertos was nominated for a Gramophone Award), clarinettists (Martin Fröst), trumpeters (Alison Balsom), pianists (David Fray) and most recently a baritone (Matthias Goerne). There have been pioneering documentaries and site-specific video recordings.
All the while, the orchestra retains its strong personality. I suspect many were hooked, as was I, when it embarked a good few years ago upon what would prove one the finest modern-orchestra-period-sensibility Beethoven cycles available. The ensemble's range of expression, its ability to grade vibrato, its incisive phraseology, its deep sense of ensemble listening and its highly nuanced collective response to emotional colour do for Beethoven what, frankly, they do for almost every other composer it touches. Andrew Mellor
Recommended recording
Haydn Symphonies Nos 101, 'The Clock' & 103, 'Drum Roll'
The Deutsche Kammerphilharmonie Bremen / Paavo Järvi
RCA Red Seal
Recording categories

Special Awards
If you are a library, university or other organisation that would be interested in an institutional subscription to Gramophone please click here for further information.