Gramophone's Lifetime Achievement Award 2023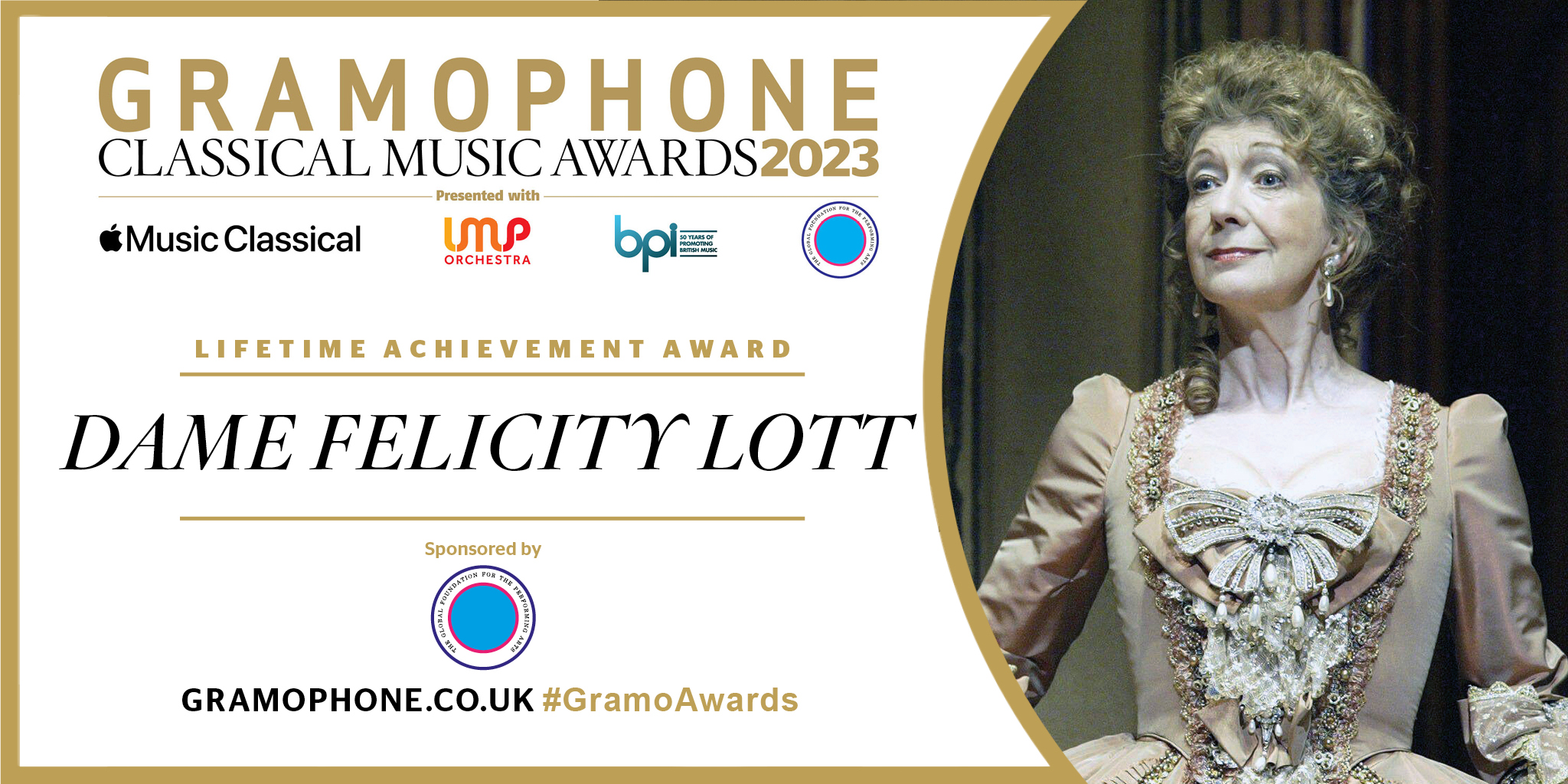 A few years before the pandemic, London's National Theatre put on a lavish production of Sondheim's Follies. It was worth seeing twice, and the second time round there was a new singer in the role of Heidi Schiller. As she started her Lehár-like solo, warm memories began to stir. The limpid phrasing, the beauty of voice, the elegant demeanour – surely this could only be one singer?
Even years after she had stepped back from regular performances in the opera house, Felicity Lott was unmistakable. Some singers are revered, others are loved, and it is fair to say that Dame Felicity belongs in the second group. While she had the fine vocal technique and authority on stage that might have invited reverence, it is the warmth of her performances – 'humanity' seems the right word – that one remembers above all.
It is hard to pinpoint when she first came to notice. I think I must have missed her debut at English National Opera as Pamina in 1975, though I did catch her in the premiere of Henze's We Come to the River a year later at the Royal Opera House.
Clearest in the memory are the early recitals by the Songmakers' Almanac, founded by Graham Johnson in the same year. These were wonderfully convivial evenings, in which songs were presented in themes, by poet or subject. Three of the four in the group – Lott, Ann Murray and Anthony Rolfe Johnson – went on to have international careers, and how well they blended, all perfectly musical, lyrical singers, with not an overbearing personality among them.
A handful of recital discs on Hyperion capture those heartwarming collaborations, though not apparently the 1997 one entitled 'If Fiordiligi and Dorabella had been Lieder Singers', in which Lott and Murray had the audience touched, entertained and, finally, in stitches.
Lott was one of those singers emerging in the 1970s who were equally adept in the opera house, in concerts and in recitals. What a well-cultured generation they were to enjoy success at the highest level in every branch of vocal art. Lott's was a voice that was limpid, warm, gleaming – a classic lyric soprano. Its home territory was Mozart and Strauss, and looking back we can see that Lott forms part of an illustrious line, arriving on the international scene a few years after Kiri Te Kanawa and a decade before Renée Fleming.
There was a lot of Mozart in the early years. Everybody will have their own memories, but I would choose her Fiordiligi ('an English rose', said Opera magazine) in the elegant ENO production of Così fan tutte, set against a backdrop of the Bay of Naples with the two sisters bearing parasols like young ladies from Jane Austen's finishing academy.
For Lott herself, Countess Almaviva in Le nozze di Figaro was the favourite. The lambent lyricism of that role suited her to a tee (listen to her recording with Bernard Haitink, though he is stolid in her two arias), and her willowy, aristocratic poise on stage was ideal. Of Donna Elvira she professed herself less keen: 'Nobody wants her, there's something profoundly depressing about singing that lady. I used to get very moved, very caught up emotionally … and was always crying all over the place.'
Even so, it is Strauss that made the biggest impact throughout her career. She was to become such a major presence as the Marschallin in Der Rosenkavalier that many people will have forgotten she started as Octavian in the super-stylish 1980 Glyndebourne production with stage and costume designs by Erté. Once she had stepped up to the Marschallin, she took the role worldwide, to London (at the Royal Opera House in 1987), Brussels, Madrid, Munich, Paris and San Francisco, and gave very special performances at the Metropolitan Opera, New York, and in Vienna, both under the baton of Carlos Kleiber ('the most wonderful experience'). The latter can be seen on DVD and is a classic, not least for the Marschallin's radiant opening of the trio.
Other Strauss in her repertoire included Arabella, the Countess in Capriccio, Christine in Intermezzo and, of course, Vier letzte Lieder. The Chandos recording of those with Neeme Järvi can confidently be recommended (12/87), but I cannot forget an extraordinary concert at the 1992 Edinburgh Festival. The conductor was Klaus Tennstedt in the sunset years of his career. He started slowly and progressed ever slower and slower to the point where any soprano would surely be struggling for breath, and yet Lott soared rapturously, apparently unconcerned. Does memory play tricks after such a long time? No – I have just found the performance on YouTube and she is amazing.
A love for the French language, and a degree in it, determined one other major strand of her career. Her operatic engagements in France started early, her first international appearance being Charpentier's Louise in Nancy (1979), followed by La veuve joyeuse (The Merry Widow) there and at the Théâtre du Châtelet in Paris. The latter became a home for more French roles, one of the happiest being Hélène in Offenbach's La belle Hélène, preserved both on CD (A/01) and DVD (3/02). This involved a lot of spoken dialogue – in French, naturellement – and I once remarked to a friend who had fluent French that I could understand her more clearly than I could the native French singers. He agreed, saying that that is one of the reasons why the Châtelet audience loved her.
There are plenty of French mélodies among her many song recordings. Try the Harmonia Mundi discs of songs to poems by Hugo and Baudelaire (7/85, 4/88), or her contributions to Hyperion's jumbo surveys of Chabrier, Chausson, Fauré, Gounod and Hahn, many of them accompanied by Graham Johnson.
Beyond those, her discography includes fine recitals of English song, the Governess in Britten's The Turn of the Screw (6/94) and Elle in Poulenc's La voix humaine (1/02), and recordings of most of what is mentioned above. Here is a lifetime achievement that can be enjoyed forever on disc.
A short postscript: I mentioned to a neighbour that I was writing this profile for Gramophone and he recalled an occasion when he and some friends were at a restaurant celebrating a double birthday. By chance, Dame Felicity walked past the table and he asked if she might be willing to sing Happy Birthday. Without hesitation, she gave an impromptu performance with the words 'Happy birthday, dear whoever you are!' and then floated away, smiling. How generous! How delightful! Richard Fairman
Recording categories

Special Awards
If you are a library, university or other organisation that would be interested in an institutional subscription to Gramophone please click here for further information.