Gramophone's Spatial Audio Award 2023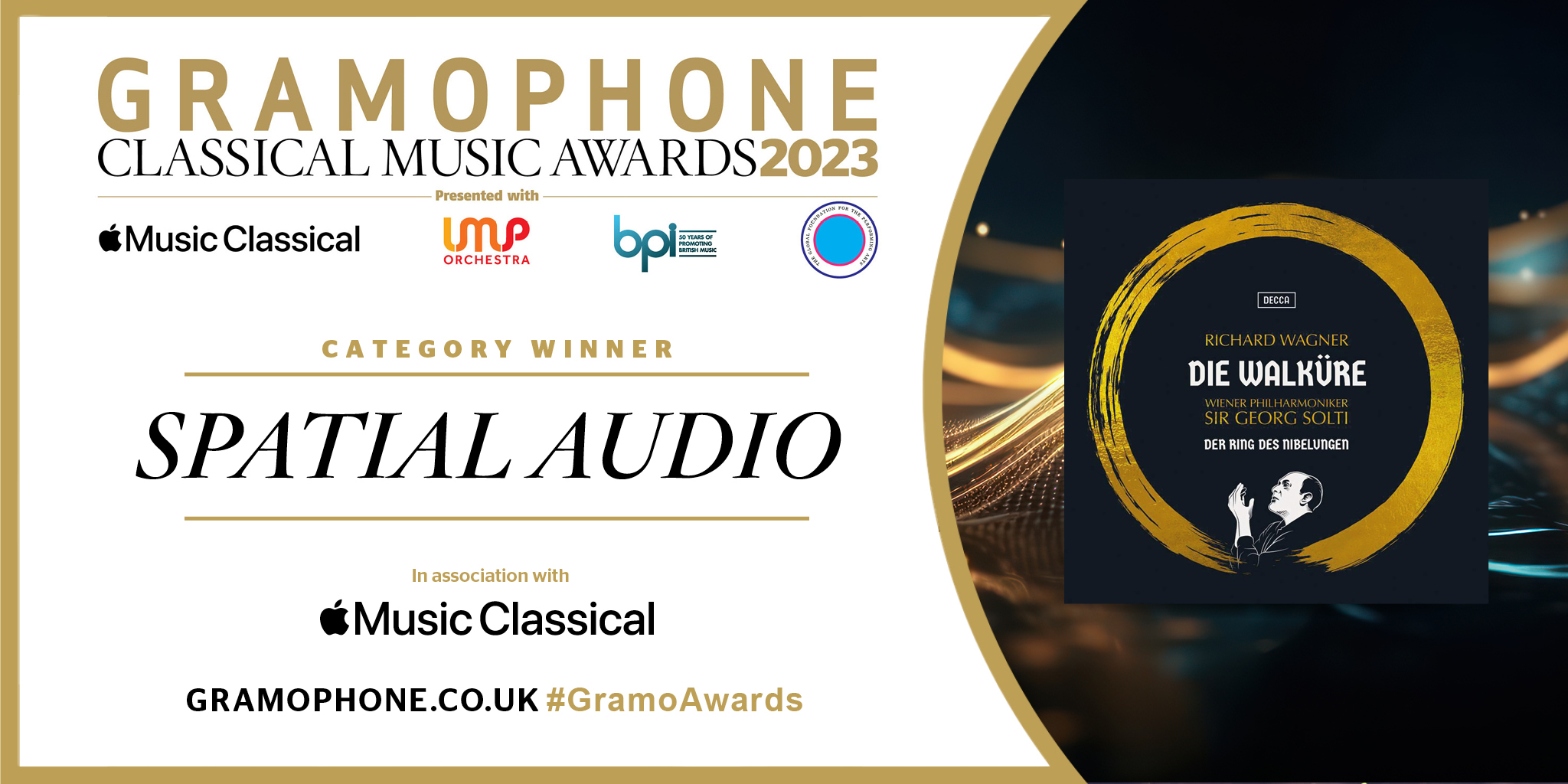 Wagner Die Walküre
Soloists; VPO / Sir Georg Solti
Decca
Ever since its completion, with this recording of Die Walküre in the autumn of 1965, the Solti Ring has won no shortage of accolades. This award is made more specifically to recognise the work of the Decca transfer engineer Philip Siney and the producer Dominic Fyfe, who have shown themselves such assiduous and loving curators of this landmark in gramophone history.
To listen, late in 2023, to the Second-Act strife between the Wotan of Hans Hotter and the Fricka of Christa Ludwig, is to hear modern and past eras fused with an unnerving sense of dislocation. It is the kind experienced on a visit to Dürer's house in Nuremburg, say, or reading Middlemarch, in that you are 'there', present with the protagonists, as much as you are here, now. We are so accustomed to Hotter's voice as emblematic of a past ('golden'?) age of Wagner singing, that to find it growing not older over the years but younger, in this latest remastering for Spatial Audio, takes a period of adjustment. Every syllable of his monologue is confided and poured into our ears as though we had taken the place of Birgit Nilsson's Brünnhilde, at her father's feet.
The sound of the Vienna Philharmonic, too, belongs unmistakably to its time, no less evocatively so than the low hum of traffic outside the Sofiensaal which periodically serves to remind us where and when we are. The soft-grained, melancholy cantabile of Alfred Boskovsky's clarinet, the nervous intensity of Roland Berger and his colleagues in the horn section, no less than Solti's marshalling of the unique growl from the lower strings, resist comparison with modern counterparts, yet the remastering invites it.
Many of these tonal refinements are also present on Siney's remastering for LP, which offers pleasures of its own beyond the deluxe packaging, exemplified by the carpet of dew and pinpricks of light to open James King's 'Winterstürme' solo in Act 1. Where Spatial Audio brings a new perspective on Wagner's drama, and John Culshaw's realisation of it in the studio, is in the kind of complex movement between characters that sweeps the Second Act to its end. Régine Crespin so vividly overwhelmed, both by the orchestra and by Sieglinde's plight; the bar-by-bar arrival of Nilsson to deliver her Todesverkündigung; the ensuing battle, throwing voices and instruments hither and yon. Where Culshaw and his colleague Gordon Parry were working in two dimensions of stereo perspective, left to right and back to front, Siney's Spatial Audio remastering has added the top-to-bottom third dimension of the soundstage, and opened out a sense of the Sofiensaal behind and around us.
It is instructive to return to Culshaw's memoir of the project, Ring Resounding, and to be reminded that the end of the Walküre sessions were nearly derailed by a run-in with the orchestra. Exactly on time, Wotan's Farewell was completed, Hotter singing 'with such nobility and sorrow as words cannot describe'. Then everyone went their way, with no speeches or parties, leaving the Decca team to its editing work. Without unduly betraying the moment-to-moment accidents and vulnerabilities of so vast an undertaking, the new remastering serves powerfully to remind listeners to the Solti Ring, old and new, of its specific place in history. Peter Quantrill
Recording categories

Special Awards
If you are a library, university or other organisation that would be interested in an institutional subscription to Gramophone please click here for further information.