Gramophone's Concerto Award 2023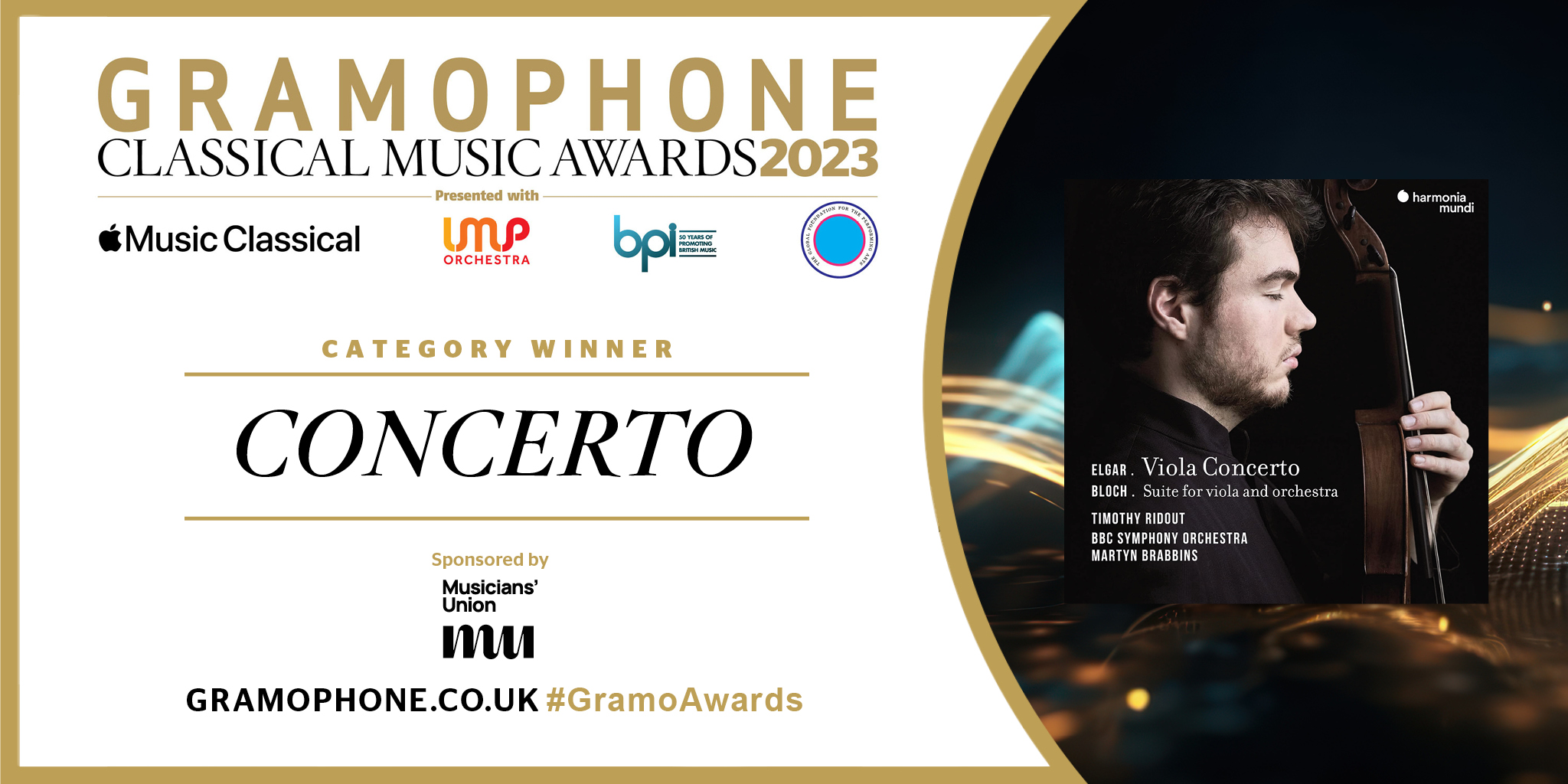 Elgar 'Viola Concerto' Bloch Suite For Viola and Orchestra
Timothy Ridout va BBC Symphony Orchestra / Martyn Brabbins
Harmonia Mundi
Let's not beat about the bush: it takes something to make Elgar's Cello Concerto work on the viola, to make it convincing even in those moments where a transposition up into the viola's higher registers somehow appears to make the original score's dark gravity come unstuck. Hence, no doubt, why so few viola players have adopted Lionel Tertis's 1929 transcription, let alone recorded it, and hence also why Timothy Ridout's recording represents such an achievement – because this is a magisterial performance in anyone's book.
To begin at the beginning, that famous opening solo statement is served up with a heart-rendingly noble combination of smooth attack, spacious pacing and mahogany-toned pathos. Indeed, Ridout's lovingly captured tones are so very big, rich, strong, dark and vibrant that you have to remind yourself that when the orchestra eventually picks up from him to present the theme it's the viola section that delivers it – he and they sound like two such different, albeit mutually complementary, beasts. Onwards, and while those high-register transpositions certainly come as mini-shocks, Ridout's voicing never fails to convince and compel; and the whole is underpinned by a profound sense of partnership between the soloist, the conductor Martyn Brabbins and the orchestra.
Then what an interesting pairing in the Bloch Suite of 1920, with its neat vice versa element of being a work originally for viola which later got transcribed for cello – and what a luminous reading, the score's multiple colours, exoticism and rhythmic panache front and centre, from every musician. It's peerless. In fact, it seems unlikely that either of this recording's performances will be surpassed by anyone anytime soon. Charlotte Gardner
Read the original Gramophone Review
Recording categories

Special Awards
If you are a library, university or other organisation that would be interested in an institutional subscription to Gramophone please click here for further information.