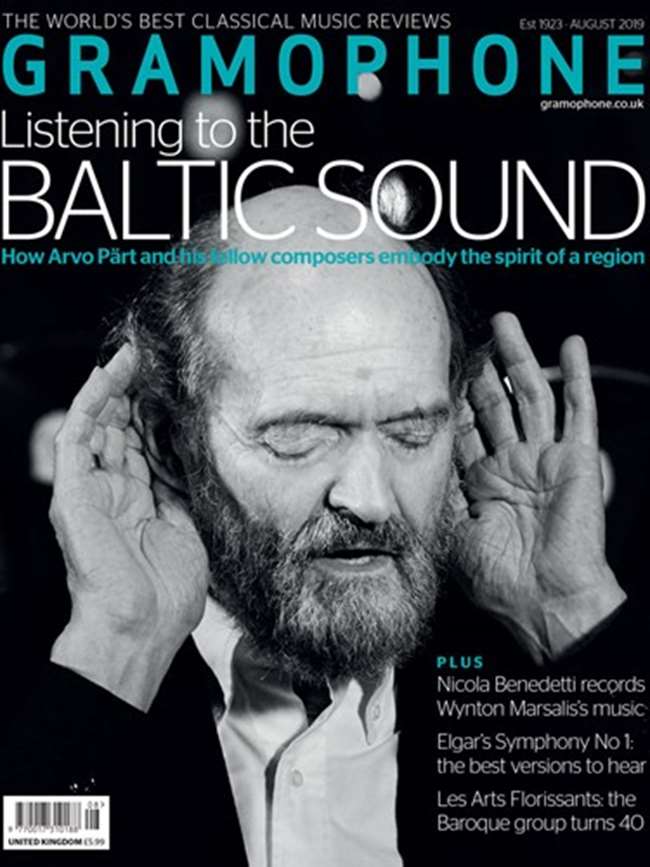 Gramophone | August 2019
Baltic choral music | Nicola Benedetti records Wynton Marsalis | Elgar's Symphony No 1: the best versions to hear | Les Arts Florissants: the Baroque group turns 40
For the August issue of Gramophone we explore how Arvo Pärt has increased the profile of Estonian choral music, leading to similar developments in Finland, Latvia and Lithuania; Ivan Moody speaks to key exponents in this burgeoning area to explore what links the choral music of these countries.
Elsewhere, Charlotte Gardner meets violinist Nicola Benedetti to discuss the concerto written for her by jazz legend Wynton Marsalis, and Lindsay Kemp interviews William Christie and Paul Agnew to talk about the history and future of Les Arts Florissants, the early music ensemble founded 50 years ago.
In addition, for this issue's Collection, Geraint Lewis listens to multiple versions of Elgar's First Symphony and chooses his top choice.
Plus, don't miss our expert critics' opinions of the newest classical releases: which will be named Editor's Choice, and which overall recording will be crowned Recording of the Month?
Never miss an issue – subscribe to Gramophone, the world's leading classical music magazine, today!