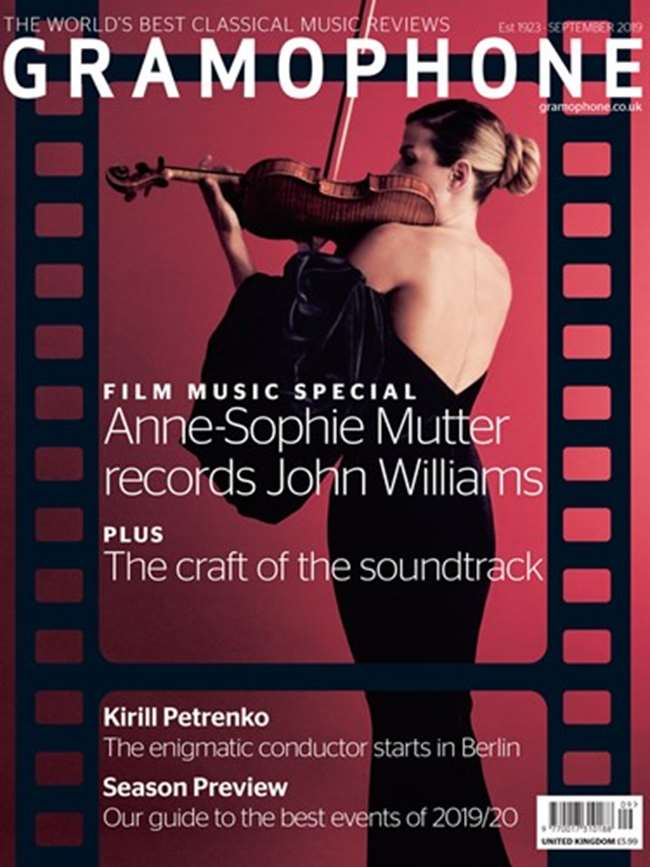 Gramophone | September 2019
Film music special: Anne-Sophie Mutter records John Williams | The craft of the soundtrack | Kirill Petrenko interview | Season Preview - the best events of 2019/20
For the September issue of Gramophone, Neil Fisher interviews the legendary violinist Anne-Sophie Mutter about her new DG recording of some of John Williams's most famous movie themes, specially transcribed for her by the composer himself.
Elsewhere, James McCarthy explores what it means to be a film composer today with Benjamin Wallfisch, and Hugo Shirley solves the enigma surrounding the Berlin Philharmonic's new Chief Conductor Kirill Petrenko.
Plus, our much-anticipated annual Season Preview highlights the best upcoming concerts across the UK, Europe and North America.
In addition, for this issue's Collection, listening to multiple recordings of Schumann's Second Symphony reveals how tastes have evolved, says Richard Whitehouse – but which version is the 'one to own'?
And, as always, don't miss our expert critics' opinions of the newest classical releases: which will be named Editor's Choice, and which overall recording will be crowned Recording of the Month?
Never miss an issue – subscribe to Gramophone, the world's leading classical music magazine, today!