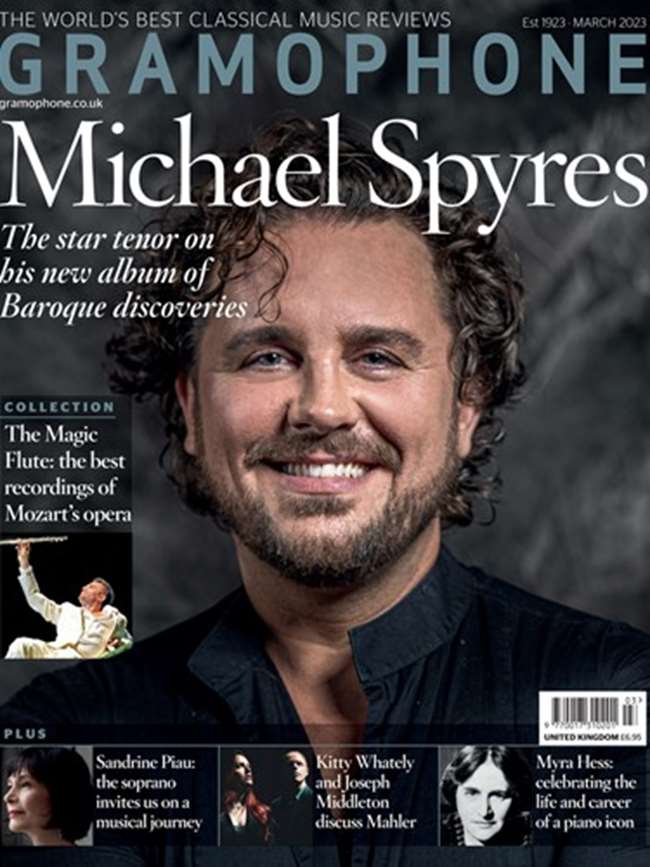 Gramophone | March 2023
Any new recording from the tenor Michael Spyres is an event, and 'ContraTenor' on Erato is no exception. A spectacular follow-up to his Gramophone Award-winning 'BariTenor', it offers a daring range of Baroque repertoire including several first recordings. Mark Pullinger chats with him about this album and much more.
Also in the issue, after a gap of more than 20 years, the fortepianist Robert Levin and the Academy of Ancient Music are completing a cycle of Mozart's piano concertos: Lindsay Kemp discusses the project with Levin as they reflect on Mozart, period-instrument performance and the changing musical landscape.
And soprano Sandrine Piau tells David Patrick Stearns about her new album on Alpha, 'Voyage intime', charting a journey in song encompassing German Lied and French mélodie.
This month's Collection is on Mozart's Die Zauberflöte, with Richard Wigmore trawling through many decades of recordings in search of the finest examples.
Our Icons feature sees Jeremy Nicholas offer a detailed and appreciative celebration of the artistry of the pianist Dame Myra Hess, while the Contemporary Composers feature focuses on the music of Chickasaw composer and pianist Jerod Impichchaachaaha' Tate.
In Classics Reconsidered Guy Rickards and Andrew Achenbach discuss Colin Davis's recording of Sibelius's Third Symphony with the Boston Symphony Orchestra (1976), and in our My Music feature we meet actor Chukwudi Iwuji.
Plus, as always, the latest classical music releases are reviewed by our world-leading panel of experts, with the best albums named Editor's Choices.